While preparing to host a get-together you stopped by your local cheese boutique shop. Next thing you know you are home setting up your appetizer platter and Iberico Cheese is the key component. What wine shall you serve with it? What is the best Iberico cheese wine pairing?
The good news is that Iberico Cheese has a mild yet complex flavor profile that pairs nicely with many wines. Iberico Cheese pairs well with medium-bodied and medium tannin wine with fruit aromas. Try wines like Rioja, Garnacha, Malbec, or even cava. 
Like any food pairing, we need to know a little about what we are combining. Let us take a look at what exactly makes Iberico cheese so exciting.
Where is Iberico Cheese From?
Iberico cheese is from central (Castilla Leon) Spain. It gets its name from its region of origin. The Greeks used to call the area that is now Spain and Portugal the Iberian Peninsula.
Also called Queso Iberico, it is considered the most popular cheese in Spain. It is served as a table cheese and often used as a melted cheese as it does well in cooked recipes.
Much like wine, Spain created Denominations of Origin Certification for cheese production in the country.
The designations were created to make sure the names on labels upheld the expected high quality and consistency. They mandate what areas the cheese can be made in and other standards of production that are required.
Iberico Cheese Characteristics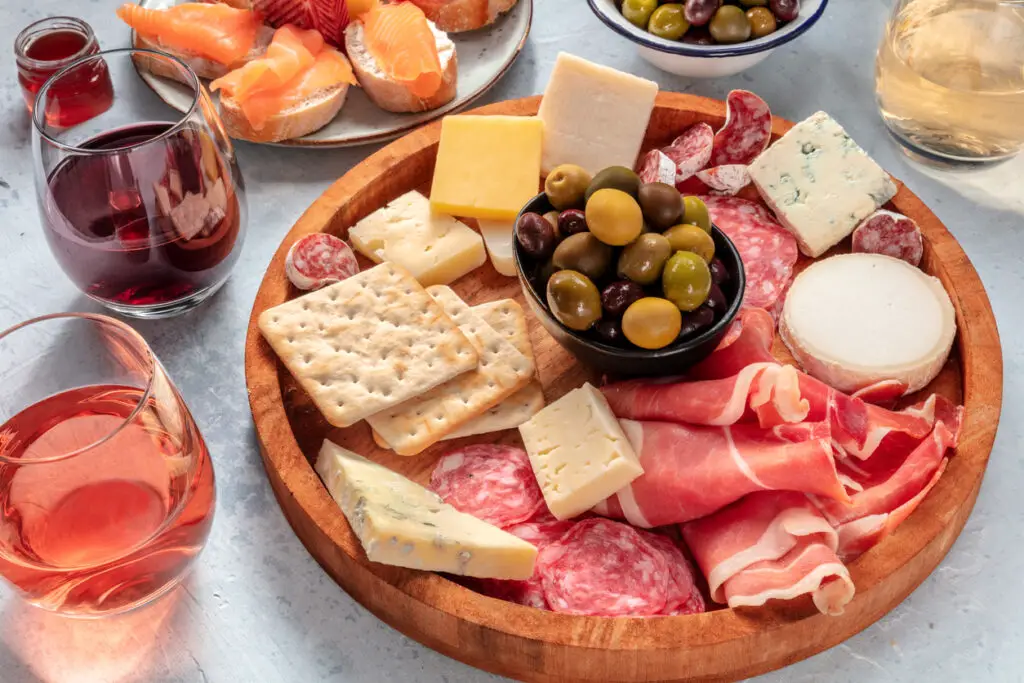 Iberico Cheese is often confused with its Spanish cousin Manchego, but its flavor is less intense. Both look similar and are sold with a plastic rind. Iberico rinds have a characteristic flower imprinted on the top of its rind.
Author Note: It is a pasteurized pressed hard cheese made with a blend of three types of milk from cow sheep and goat. Iberico Cheese has a mild flavor, aromatics, and an oily texture. It will have sporadic "eyes" or holes in the cheese.
Much like other pressed non-cooked cheeses, it is smooth and buttery. It is a whitish-yellow firm cheese with mild aromatic components
All cheese sold with the Iberico on the label is required to be made from fresh milk with specific proportions of each type of milk. It must have no more than 50% of cow's milk, at least 15% of goat's milk, and 15% of sheep's milk.
Cow's milk adds mass and smoothness. The Goat's milk contributes to herbaceousness and tartness. Rich buttery flavors are provided by the sheep's milk.
Iberico cheese comes in two varieties. One called semi-cured is aged from 1 to 3 months and the other called cured is aged from 3 to 6 months.
Basics of Pairing Cheese and Wine
Cheese and wine have an undeniable appeal for each other. Wine and cheese platters have found their place as a mainstay for cocktail parties. With the endless choices of both wine and cheese varieties, how do you choose the best combinations?
Cheese types can be soft to hard, aged, smoked, and flavored. Some cheese is sweet while some are savory. They vary in creaminess and some have specialty rinds.
Likewise, wine ranges in flavors, aromas, sweetness, styles, and textures. How do you know which wine to pick for your cheese platter?
Pay attention to dominant flavor profiles. If you pair a strong wine with a delicate cheese you will not get to experience the subtleties of that cheese. It is the same if reversed. A subtle wine will taste flat when consumed with a bold cheese.
Aim to match wine and cheese with similar texture levels. Muted soft cheese will be highlighted with aromatic, sparkling, or light white wine. Reds tend to stand up better to cheese with strong characteristics.
Plan to combine a full-bodied red wine with sharp or aged cheese to match the strong flavors. A cheese with peppercorn will bring out black pepper aromas in a stronger red wine.
The protein in the cheese will soften the tannin in red wine.
When in doubt a good rule of thumb is to pair cheese that is from the same region that your wine is from. They tend to be a good combination.
Because wines are grown in the same terroir that the animals feed, from whom cheese is created, they will have similar compounds. This gives them complementary flavors and aromas.
Pairing Iberico Cheese with Wine
Iberico is a hard cheese with a complex flavor profile that is rich and aromatic without extreme intensity. You may find fruit and nutty notes in this cheese. It has a firm, oily, rich, and buttery texture.
It's firm texture and richness points you to wines that have balanced acidity, fruit, and tannin. Look for fruit-driven reds, oaked medium body whites, or sparkling wines.
Iberico cheese sometimes has faint notes of baking spices and rosemary. Choose wines that have these flavors and aromas to boost the overall intensity of the pairing.
While Iberico cheese has complex aromatic notes and a rich texture it is overall a mild cheese that will pair well with many types of wine.
Red Rioja and Iberico Cheese Pairing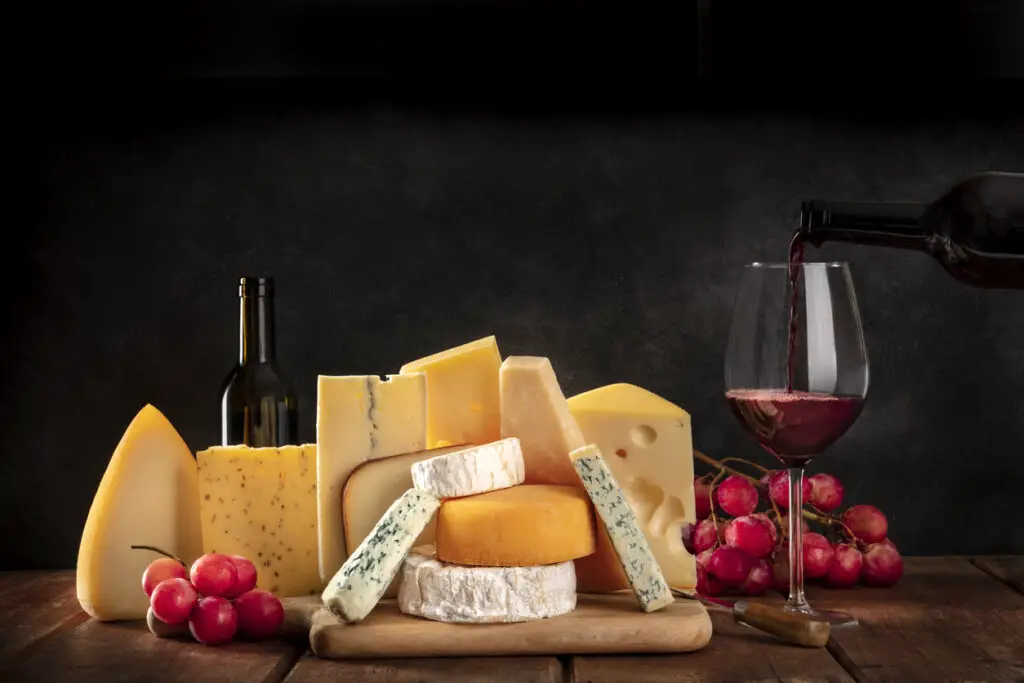 The first great Iberico Cheese wine pairing is with Rioja. As Spain's most well-known red wine made from Tempranillo grapes, it is a shoo-in wine to serve with Iberico cheese.
Rioja wines are savory with flavors like cherry plum and vanilla. This dry wine is medium in body, tannin, and acidity giving it a backbone without overpowering the nuances of the cheese.
The wine's structure dusty tannin and bright acidity in this wine will create balance with the creaminess of the cheese.
Mencía and Iberico Cheese Pairing
Author Note: Another Spanish red wine called Mencía will create a magical experience when paired with Iberico cheese. It has a medium body, tannin, and acidity that is akin to some styles of Pinot Noir.
Aromatic and full of crisp fruit it will offer incredible balance and complexity to this pairing. Along with its fruit notes, it presents mineral elements like granite or gravel which makes it even more dynamic.
Malbec and Iberico Cheese Pairing
This wine, primarily from Argentina, is known for its juicy dark fruit flavors like jammy plum and black cherries. It is rich, moderately acidic with round tannin.
Choose an oaked Malbec to enjoy notes like cocoa powder and leather. Malbec plays well with the tanginess that the goat cheese provides. It's a great choice for an Iberico Cheese wine pairing.
Brunello di Montalcino and Iberico Cheese Pairing
Brunello di Montalcino is an Italian wine made with 100% Sangiovese grapes. Young Brunello promotes bold fruit flavors astringent tannin and high acidity. Older Brunello softens offering sweeter dried fruit aromas with creamy tannin and less punchy acid.
Iberico will stand up to both types, but if you are able to get your hands on an aged Brunello you will be able to enjoy the subtler notes of both the wine and cheese.
Pinot Noir and Iberico Cheese Pairing
Another great Iberico Cheese wine pairing is with Pinot Noir. Pinot Noir's flavor profile can vary widely depending on where it is produced. Generally is known for its medium body, berry aromas, and herbal notes. It is a fairly versatile wine for food pairing.
Iberico's firm texture pairs nicely with Pinot noir. The acid in the wine cuts through the cheese's butteriness and its berry notes complement the cheese's tartness.
Garnacha and Iberico Cheese Pairing
Garnacha (also called Grenache) is a red grape that is often used for blending but is fantastic on its own. It is high in alcohol, medium-bodied, and has moderate acidity.
It pairs well with most cheese but compliments goat cheese the most. The juicy bold fruit of the wine will enhance the savory aspects of the cheese.
Beaujolais and Iberico Cheese Pairing
This light red wine from France is made from Gamay grapes. Low in tannin, it is an easy-drinking wine that pair well with many types of food.
It has a high acidity that is perfect for Iberico cheese's richness and tart raspberry and cherry notes that match the sourness in the cheese.
It is best to serve it slightly chilled with Iberico cheese.
Sauvignon Blanc and Iberico Cheese Pairing
Like Pinot Noir, Sauvignon blanc can vary widely in flavor depending on where it is from. It tends to have bright stone fruit and herbal notes of varying degrees.
A milder sauvignon blanc from a warm climate will offer more tropical fruit and mild acidity that will complement the mild nuances of the cheese.
A tart cool-climate sauvignon blanc will have the acidity that will clean your palate and balance the butter and oiliness from the cheese.
Verdejo and Iberico Cheese Pairing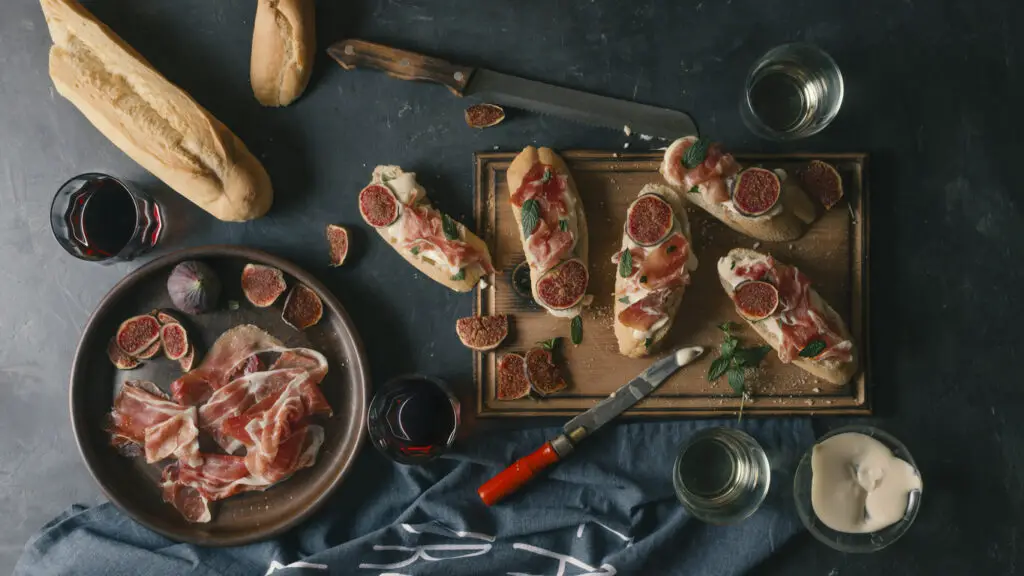 Author Note: As a Spanish white wine, Verdejo knows how to make Iberico cheese shine. It is dry with high acidity that exhibits flavors like lime and grapefruit. Many find its characteristically like Sauvignon Blanc.
This wine finds its place as a delightful palate cleanser. Its citrus flavors sing through dishes with melted Iberico cheese.
Cava and Iberico Cheese Pairing
Younger Iberico cheese will offer a faint sweetness that is accentuated by sparkling wine like Cava or Champagne. It tends to have a soft carbonated texture and fresh stone fruit flavors.
The bubbles in the wine add texture and clear the palate of the rich cream in the cheese.
Aged cava sometimes offers a rich toasty component that will bring out the richness in the cheese.
Conclusion
Iberico cheese is a firm Spanish cheese made from cow, goat, and sheep milk. It has flavors that are tart, herbal, and creamy. This slightly oily cheese is mild making it an easy cheese to pair with many wines.
Medium-bodied red wines with a little tannin and fruit match Iberico cheese the best. Look for Spanish wines like Rioja, Garnacha, or even Cava.
Don't be afraid to experiment to see what combinations you prefer. The combinations of cheese and wine are endless, and you will enjoy the journey. We hope you enjoyed this article on Iberico Cheese wine pairing.
To living a full-bodied life,
Wesley