Everyone always talks about wine and cheese, but what about the other forgotten food on the charcuterie board. Salami is a delicious appetizer that actually matches quite well with wine. But, just as with cheese, you must be careful when creating a combination. So, what is the best calabrese salami wine pairing?
Calabrese is a spicy salami made with paprika and is the perfect pairing for a light-bodied red wine like Zinfandel. The spiciness and acidity of Zinfandel will pair excellently with the fattiness and decadence of the salami.
Let's dive deeper into the details of this delicious pairing!
Zinfandel
You may already know this, but the origins of Zinfandel wine are in Croatia and Italy. The alternative Italian name for this wine is Primitivo. It comes from the old Latin word "primativus" and the old Italian word "Primaticcio," which both mean "first to ripen."
This grape's present homeland is America, and the people even celebrate National Zinfandel Day there. It is celebrated on the 3rd Wednesday in November, near to Thanksgiving, when it is served with turkey.
Brief History of Zinfandel
Zinfandel came to the US from Europe at the beginning of the 19th century and was an immediate success in the winemaking regions of Napa and Sonoma, and these remain its leading producers today.
It took a year of work and much DNA proof to show that this grape is actually from Italy, and then to go more in-depth and show that the first seeds were actually found in Croatia. Linguists also argue about the origins of this wine because of its different and complicated names, like Tribidrag and Crljenak Kaštelanski.
Nowadays, it doesn't really matter where this grape is from because 99% of Zinfandel wine producers are based in America. In fact, it is now a signature wine of the US. But, there is also a large amount of these grapes grown in South Africa and Australia, where they are made into wines also called Zinfandel and Primitivo.
Aromas and Taste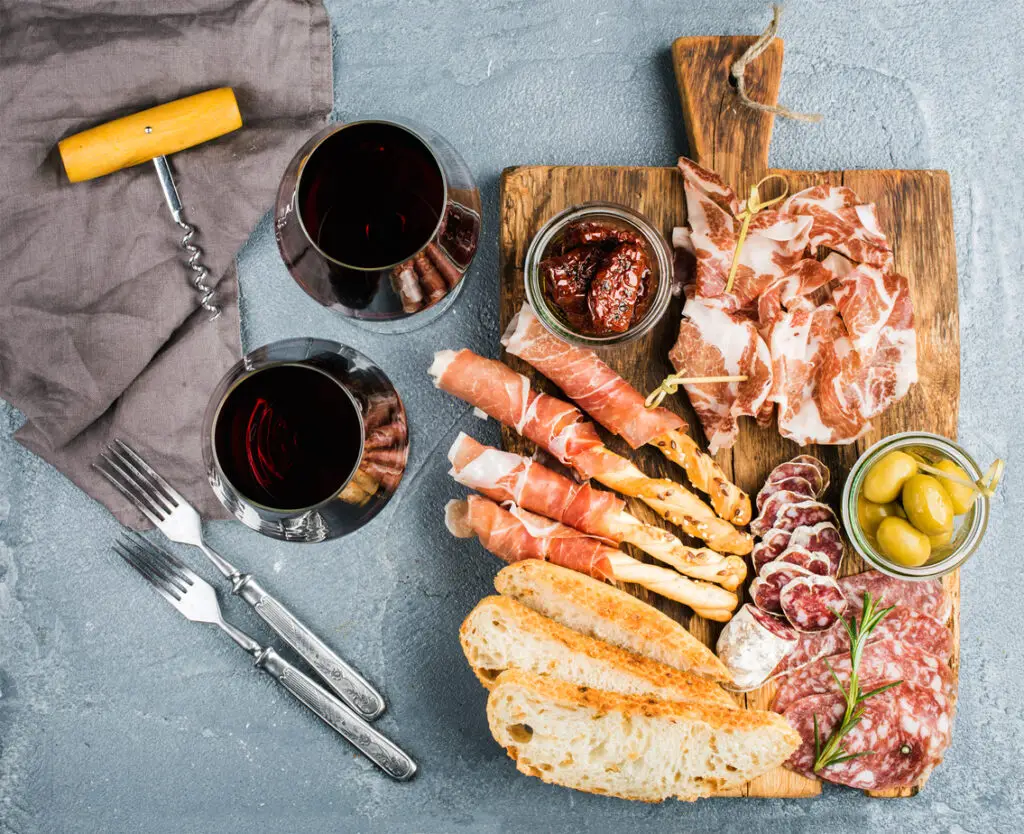 Author Note: Zinfandel has an aroma similar to baked fruits fresh from the oven. These aromas are mostly associated with cold weather and the winter holidays. There are also hints of some berries and stone fruits, which later turn into cinnamon and sweet tobacco.
Zinfandel wine is bold and fruit-forward. These are jammy, fruity and smoky, along with exotic spice notes in this bottle. The primary flavors are jam, blueberry, cherry, plum, black pepper, cranberry, and licorice. When you take a sip of Zinfandel, it first introduces candied fruitiness and then follows up with spices and finishes on a smoky tobacco note.
This style of wine has characteristics taken from other reds. It is dry, medium-bodied with medium-high tannins and a normal acidity. But surprisingly, it also has a high alcohol percentage of more than 15% ABV.
Wines Compared to Zinfandel
In contrast to other red wines, Zinfandel is lighter in color than, for example, Cabernet Sauvignon or Merlot. But compared to a light-bodied red wine such as Pinot Noir, Zinfandel has a balanced tannin level and high acidity that makes it taste bold.
Most of these wines have higher alcohol levels than most other reds, ranging from 14% to 17% ABV. Higher alcohol tends to add an oily texture and a more significant, bolder body.
Food Pairings for Zinfandel
The spicy and savory-sweet, oily qualities of any dish like some Calabrese salami would make it a perfect pairing partner for Zinfandel, as it is rich in alcohol.
As we already know, Zinfandel is a perfect match for Calabrese salami. It is also great with anything barbecued. This can be chicken, pork, lamb or beef, and seafood. You should also try enjoying it with ribs, grilled chicken, roast lamb, pulled pork, burgers, pork chops, and blackened salmon!
Try making dishes with vegetables that have intense flavors to bring out the fruitiness of Zinfandel, like roasted tomatoes, red peppers, caramelized onion, or roasted squash. Baked beans are another great dish for this wine.
When thinking of cheese for Zinfandel, go for a creamy and bold flavored one, like sharp cheddar, smoked gouda, or grilled halloumi. With this wine, we would also recommend eating cow and sheep milk cheeses like Manchego or Trentingrana. To endure the alcohol amount in Zinfandel, you are surely going to need creamy and fatty cheese.
When it comes to spices, anything done on smoke or charred would be a lovely option. These include spices like cajun, cumin, black pepper, black tea leaf, cardamom, cinnamon, sage, rosemary, fennel, black tea leaf, coffee, and cocoa. Also, you can use ginger, cloves, garlic, turmeric, cayenne, nutmeg, vanilla, coriander, and saffron.
Other Salami and Wine Pairings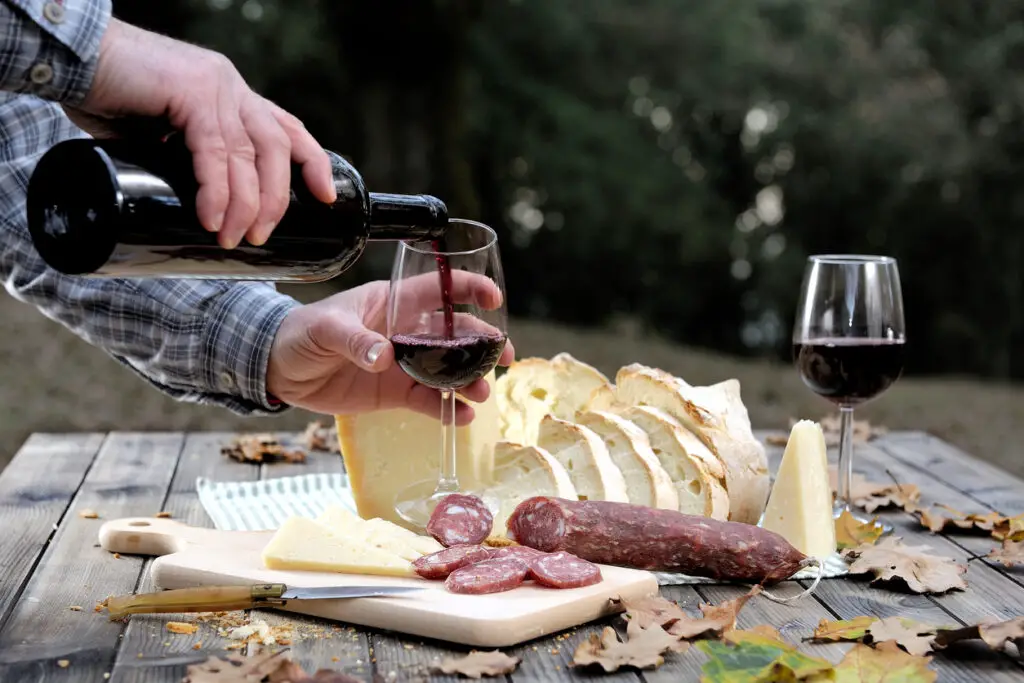 Now that we have talked about the best Calabrese Salami wine pairing, we can move onto other delicious wine and salami matches. This guide will help you when you are preparing a dinner party or a charcuterie board for your family.
Fennel Salami
Author Note: One of the most traditional Italian salamis, fennel, originates from the Tuscany region. Anyone who has been reading this blog for some time will know just how high a reputation this region holds among lovers of the Italian wine industry.
Native Italians like to call fennel salami finocchiona. But whichever the name you decide to use, the product is always a spicy treat that often doesn't match well with some complex wines that you might normally think to be good partners to this type of salami.
Usually made with fennel seed, this salami pairs best with a mildly acidic wine that also has a slightly low alcohol content. This forms the perfect contrast between the fruitiness of the wine and the spiciness of the salami. It also means that the various flavors aren't battling for the same spot on your tongue; instead, the wine refreshes your palate after the spicy attack of the salami.
So, an acidic white wine is the best option here. A Riesling is a good choice, though you should go for a German version of this wine, rather than the Italian ones with more alcohol. The Dr. Loosen Dr. L Riesling 2016 is a very nice choice. If you'd rather opt for a Tuscan wine, get the Antinori Mezzo Braccio Bianco 2013. It has a higher alcohol content but is a wine that makes really good use of its Riesling.
Chorizo Ibérico
Let's travel away from Italy now to find a salami that is much more popular in the world. Chorizo Ibérico originally comes from Spain and has a spiciness similar to fennel salami. But, it also has a slightly richer taste, which makes it difficult to find wines that match well with it.
We would recommend opting for an even sweeter wine to go against the extra fat and richness of this salami.
If you want to stay on the Spanish theme, then any fortified sherry bottle should do the trick. Try out the Emilio Hidalgo Sherry Pedro Ximenez!
But if you prefer an Italian product, then your best option is a sherry grappa. Try the Sibona Grappa Reserve Sherry Wood Finish. It tastes sweet and powerful, with a slightly woody tone to help go against the salami's spiciness.
Genoa Salami
Let's get back to Italy with another rich salami. Genoa usually contains a mixture of pork and beef, which is what makes it different from most other types of salami. It also has garlic in it, which plays a major role when selecting a wine pairing. If you get really lucky, the producer may have used a red wine from Genoa while making this salami.
Once again, we recommend opting for a white wine with high acidity. This is because the garlic in Genoa salami gives it a certain power that a sweeter wine may not mix that well with.
Go for a good Sauvignon Blanc to get the perfect acidity level that can overpower the garlic attack. Surprisingly, sparkling white wines, like Prosecco and Champagne, also pair well with this salami.
Molina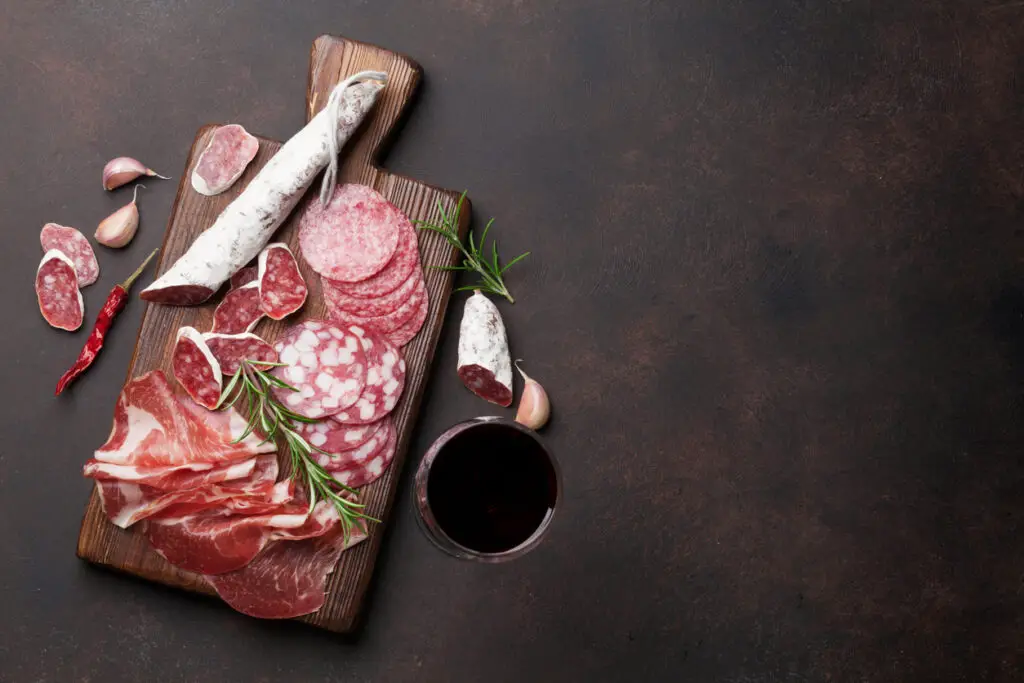 With black peppercorns and garlic, this delicious salami is a staple in many Italian charcuterie boards. Of course, it does provide a little spice and aroma, so it is best when enjoyed with wines that have more delicate flavors. You shouldn't choose a wine that is overpowering. The worst mistake you can make is choosing a powerful wine that will drown out the taste of this flavorful salami. When enjoying this Italian salami, opt for a fruity, dry, and crisp pinot grigio, light Zinfandel, or even a pinot noir.
Wild Boar
Author Note: Being the rarest of the salamis from this list, wild boar has a pretty strange and unique flavor along with fairly high-fat content. This is because many salami producers mix the lean boar meat with a fatty pork belly.
It's still a gamey meat, so it's unlikely that a white wine is going to have the power and flavor necessary to pair well with it. You should choose a fairly light read, but we would also recommend a dry Rosé as a better option for this salami. If you wish, you can also experiment with a sparkling rosé as well!
Our Last Toast
Salami and wine are an amazing pairing! This is especially true for combining calabrese salami with Zinfandel wine. But, as always, keep in mind that these are only suggestions. Don't be afraid to experiment and try out new and unexpected pairings.
Try to consider textural and flavor differences, and you may find a new match that you fall in love with. Well, now this is making you hungry, isn't it? So, what are you waiting for? Get your salami and wine out, and enjoy your evening! we hope you enjoyed this article on Calabrese Salami wine pairing.
To living a full-bodied life,
Wesley