Say you're having friends over last minute for a glass of wine. You check your wine rack, ah-hah, you are ready with that neat bottle of Petit Sirah you have been excited about. But wait, shouldn't you put out a few nibbles for your guests? After you scour your fridge, you have collected a variety of cheeses and arranged them eloquently on a presentation board. But what cheese goes with Petite Sirah?
The best cheese to pair with Petite Sirah is either a strong cheddar or goat gouda. Petite Sirah is a full-bodied wine with a lot of structure and bitter tannins. You will need to pair it with flavorful cheese to create balance with the wine. Other great options are bold cheeses like blue cheese and camembert.
When creating a cheese pairing with Petite Sirah, look for options that are sharp, aged, or smoked.
Petite Sirah
To understand how to pair Petite Sirah we need to know a little about the wine.
Regardless of what you may assume, Petite Sirah is not a variation of the more commonly known Syrah. They are completely different grape varietals.
Syrah, also called Shiraz, is mostly found in France and Australia. Petite Sirah is a much darker and tannic wine than Shirah.
Author Note: A cross between Syrah and Peloursin grapes created Petite Sirah. It is also called Durif, named for the man who discovered it. He brought it to the United States in 1984 where it was marketed and began to rise into the wine scene.
It was given the name "petite" because its grapes are very small. They look similar to Syrah but have more clustered bunches and are an opaque color that is almost black. Petite Sirah gets its intensity from the grape's dark color, concentrated juice, and a large amount of skin contact during fermentation.
Petite Sirah is a fairly uncommon varietal and is not widely produced. It may be rare but it is worth seeking out. It is a fantastic food-friendly wine that should be added to any wine cellar.
The History of Petite Sirah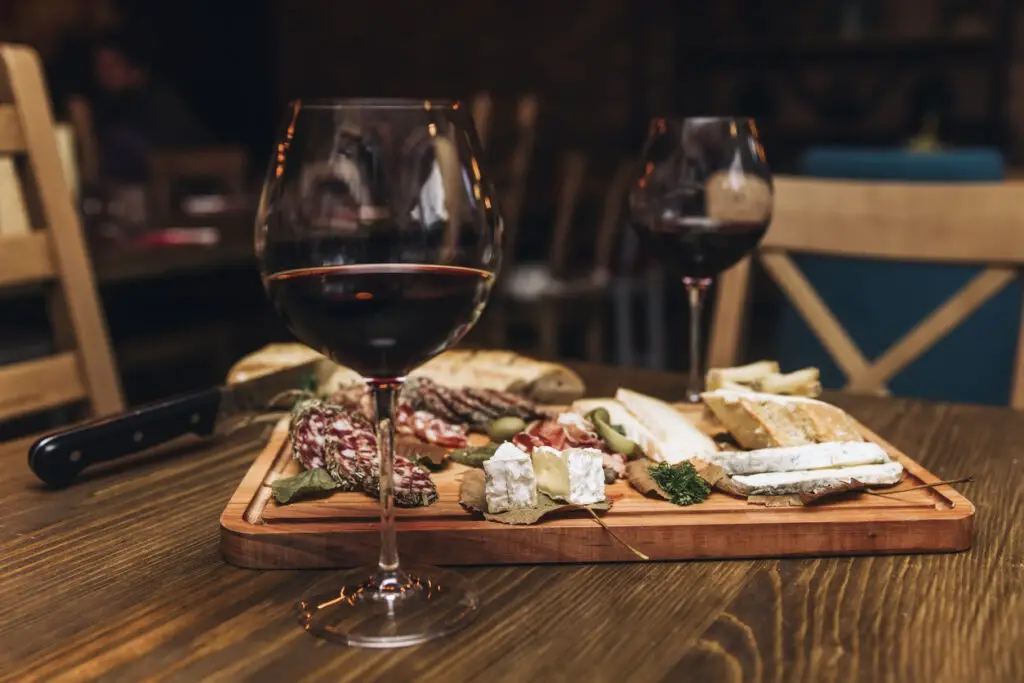 Petite Sirah was discovered in Northern France. Today it is mostly produced as a single varietal wine in California. The top regions in California that produce Petite Sirah include the Central Valley, North Coast, North Valley, Central Coast, and Sierra Foothills. It grows best in warm dry climates.
It is common for Petite Sirah to be combined with Cabernet Sauvignon and Zinfandel to create additional texture in a wine blend. Petit Sirah adds deep color and rich tannin to wine blends.
As a full-bodied red wine, it offers bold fruit, strong tannin, and high alcohol. It has an Inky dark color and will deliver flavors like black cherry, blueberry jam, black pepper, and dried rosemary., It is aged in oak which imparts spices like tobacco, hazelnut, and dark chocolate.
Petite Sirah requires long oak aging to smooth out its extreme tannin. Most wineries age this wine for many years, but if aged for too long with will lose much-needed acidity.
A nice benefit of the high tannin content is that it contains a much higher percentage of antioxidants than you would with light red wine. Who doesn't want health benefits in their glass of wine?
Petite Sirah is best presented after a few hours in a decanter. You will want to serve a bit cooler (around 65 degrees Fahrenheit) than room temperature. This will smooth out astringent tannin and bring out more floral and mineral characteristics.
Petite Sirah is often more affordable than other full-bodied red wines. You'll get more flavor for your buck.
Pairing Cheese with Wine
It seems cheese and wine go together like peanut butter and jelly. It is a match that is undeniably delightful. Depending on the cheese you choose your pairing can be as enjoyable as a homemade PBJ on white bread or a gourmet sandwich with the finest ingredients.
The variations of cheese appear to be endless. Much like wine, It can have many different flavors and textures.
It can be soft to hard, aged, smoked, and flavored. Some cheese is sweet while some are savory. They vary in creaminess and some have specialty rinds. How do you know which one goes best with your glass of wine?
Author Note: Watch for dominant flavor profiles. If you match a bold wine with a mild cheese you will not get to enjoy the subtleties that the cheese has to offer. The same goes in reverse. A delicate wine will taste flat with a harsh cheese.
Try to put together wine and cheese with similar texture levels. Muted soft cheese goes better with sparkling or light white wine. Reds tend to be a nicer pair to cheese that have strong characteristics.
If you enjoy sharp or aged cheese opt for a full-bodied red wine to match the bold flavors. A cheese with peppercorn is a great example.
When in doubt a good rule of thumb is to pair cheese that is from the same region that your wine is from. They tend to be an automatically good combination.
Because wines are grown in the same terroir that the animals feed, from whom cheese is created, they will have similar compounds. This gives them complementary flavors and aromas.
What Cheese Goes with Petite Sirah?
While we know Petite Sirah pairs nicely with many types of cheese, read on to find some top combinations.
Wine with bitter tannin creates balance when matched with fatty rich foods. highly tannic Petite Sirah will pair well with the richness in cheese. It has enough flavor to hold up to strongly flavored cheese.
Cheese that is described as funky can be a fun pairing. Salty cheese will compliment Petit Sirah's heavy fruit. Herb infused cheese is also a great option.
Blue Cheese
Smokey blue cheese is a nice compliment to the heavy spice in Petite Sirah. The dark fruit character of the wine balance the nutty flavors in the cheese.
Blue cheese often has a funky tangy flavor that can create an enjoyable synergy with wine. Drinking Petite Sirah with a juicy blue cheeseburger will have you licking your fingers for more.
Goat Gouda
Goat Gouda from the United States makes a good companion to Petite Sirah. It is aged which makes it sharp and somewhat sweet. It often has a caramelized finish.
Cooked fruit flavors in the wine mingle with the cheese flavors almost giving the impression you're eating a dessert pie. The origin of the wine and cheese let you know this will be a pairing success.
Author Note: This combination is flavorful to stand alone or try goat cheese risotto with caramelized onions for even more impact. Petite Sirah will withstand the boost in flavor nicely. Goat Gouda also pairs well with merlots.
Camembert
Camembert has mushroom flavors and barn-like characteristics that go well with Petite Sirah's earthy aromas. Again, the dark berries in the wine will tone down the bitterness and keep any excess of savory notes from lingering on your palate.
Thyme and garlic backed camembert will be a star appetizer at your next holiday event when paired with Petite Sirah.
Swiss Cheese
Melted Swiss cheese often has sweet and salty notes. Its creamy nutty profile highlights the creaminess of aged Petite Sirah.
Try a tomato pesto panini with melted swiss cheese. This savory and creamy meal pairs well with the wine's body and fruitiness.
Gorgonzola
Gorgonzola can be creamy with robust pungency. Petite Sirah holds up to its big fruit and tannin. The oaky vanilla profiles of the wine accentuate the creaminess of the cheese.
A dinner of bacon spinach gorgonzola pasta will shine with Petit Sirah at its side.
Sharp Cheddar
Sharp Cheddar is known for its bite. Add Petite Sirah to the mix and the combo seems completely approachable and ready for enjoyment.
Why not try a macaroni dish made with cheddar cheese with Petite Sirah? It will put a fun spin on this childhood dish.
Chimay
Chimay is a Belgian cheese made from cow's milk compliments the deep fruit in Petit Sirah.
Sip on this wine with a big bowl of onion soup topped with melted Chimay cheese. A perfect way to finish a wintery day.
With so many cheese options you have an endless way to pair Petite Sirah with cheese. Try a few of our suggestions above and then create your own inventive pairings.
Serve a cheese plate with the wine or create recipes focused on the flavor profiles of cheese and Petit Sirah. You will be able to create crowd-pleasing combinations in no time!
Conclusion
Try not to overthink pairing cheese with wine. Pick types of each that you prefer. Remember to choose wines and cheese that have similar flavor profiles or characteristics that balance each other. Look at key flavors, textures, and the intensity of the cheese.
Petite Sirah is a lively red wine full of tannin and black fruit flavors. This luxurious wine is a fantastic match for creamy cheese with bold flavors. It offers earthiness and dark fruit components that are easy to match with food.
Choose to pair strongly flavored cheese with this wine. Smokey blue cheese and Camembert are fantastic matches for Petite Sirah. Add a cheese we listed above to your next recipe for a stellar dinner.
Next time your friends are about to arrive (or you are going on a first date) you will have no fear about matching your cheese plate with Petite Sirah. Place some cheese you know compliment the wine and add a few experimental options for fun.
Enjoy the lovely experience that Petite Sirah and cheese can offer!
To living a full-bodied life,
Wesley