Wine drinking is a ritual that needs its own equipment, ceremony, and rules. Drinking straight from the bottle isn't wrong, but wine etiquette requires the use of proper glasses. So, let's focus on two types of glasses today. How is a Bordeaux vs. Burgundy Glass different?
Bordeaux glasses are the tallest among the red wine glasses and have a broad bowl. Burgundy glasses have an even larger bowl than Bordeaux glasses with a narrow top. This design helps the drinker taste the nose of a Burgundy wine more effectively.
Want to learn more about Bordeaux vs. Burgundy Glasses? Great!
Let's discuss the topic of Bordeaux vs. Burgundy glasses.
Bordeaux Glasses
Bordeaux is a world-famous wine region, and the most popular wines are from here. It's also one of the largest French winemaking regions. People always confuse Bordeaux as one particular wine type, but this isn't true, of course.
Bordeaux is famous for its red wines which are made from Cabernet Sauvignon and Merlot grapes. The red wine of Bordeaux is the red Bordeaux Blend. Bordeaux wines are affordable for most people and cost around $25-$30.
It's only vineyards ranked worldwide but French Bordeaux estates are classified too.
White Bordeaux is rare in production, and they are made mostly from Sauvignon Blanc and Sémillon. There are two famous styles of white Bordeaux. One is more fruity and light, the second is creamy and rich. The light fruity ones are usually more affordable. The other type is hard to find and tends to be more expensive.
Author Note: If you go deep for Bordeaux wines, there are differences even in which bank the vine grows. They have Right Bank Bordeaux and Left Bank Bordeaux, but this is a story for next time.
As we mentioned above, Bordeaux wine glasses are the tallest red wine glasses; they have a wide bowl, but not as comprehensive as other red wine glasses.
The distance that the glass height creates between the wine and the mouth helps the ethanol dissolve before getting to the nose and allows more oxygen to soften the tannins that contribute to the wine's bitterness. They say that Bordeaux glasses are best only for Bordeaux wines, so let's see some of them and why they are so special.
Riedel Cabernet Sauvignon Glasses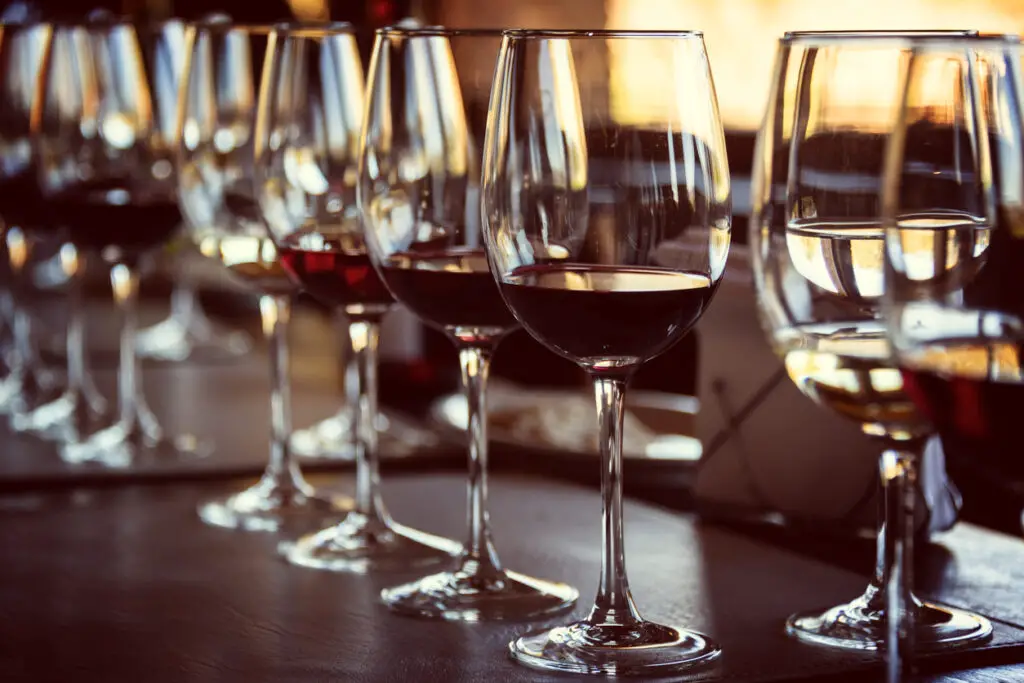 If you need quality wine glasses, you go for a Riedel. Riedel is an Austrian manufacturer company that praises themselves as the inventor of varietal-specific stemware, and they did this about 300 years ago.
We will not discover a new America if we say that Riedel crystal Bordeaux glasses are top-notch. They feature a delicate rim that enhances the wine's taste, while a large bowl brings its aroma to life. Let alone; these glasses are dishwasher safe! Enjoy.
Schott Zwiesel Red Wine Glass
As we know how Bordeaux glasses should be made (with a large bowl), we can now improvise about the look, as they do not necessarily need to be all round. So if you like innovations, these Schott Zwiesel crystal glasses are for you.
They have geometric bowls with crisp, straight lines. If you don't pay attention to the shapes and size, this is the right choice for you as these glasses can hold 18.6 ounces, which is quite a fair amount, but not as much as the other glasses for Bordeaux. You can take a look at them here.
Waterford Sauvignon Wine Glass Set
The critical aspect of the right Bordeaux glasses is the large bowl, which improves the wine aroma. Waterford is the best among the wine glasses as it holds up to 640 milliliters of wine at one time. Isn't this fantastic? In the set, there are two glasses, and they need to be hand-washed. But who cares when they can hold the half bottle? Check them here.
RÖD Wine Red Wine Glasses
What can be a better gift than Bordeaux glasses? You can give them as a birthday present, take them with you to a housewarming party, or even to a wedding (the couple is surely going to need alcohol one time or another).
RÖD Wine packaging is incredible; they put the glasses in a big, beautiful box that makes the gift even better.
And the three crystal glasses are nothing to scoff at either: They each have sizable bowls. The set comes with an e-book if you're a beginner that outlines wine regions, pairings, and more. This is like a wine feast. Check them out!
Burgundy Glass
Bourgogne, or Burgundy as it sounds in English, is a relatively small region in Eastern France with a patrimony of red wines like our favorite Pinot Noir, white Burgundy Chardonnay, and Beaujolais. Despite the region's size, Burgundy is one of the essential winemaking areas in the world.
The most expensive wines in the world belong to this region. The leading grape that grows here is Gamay, which is a purple-colored grape, but even the white wines are made from its blends. Despite the Gamay vine's role, critics recognize two main vine kinds in this region: Pinot Noir and Chardonnay. Those are the leading producers of Bourgogne Rouge and Bourgogne Blanc.
A Burgundy glass has a large bowl, even more extensive than a Bordeaux glass, with a narrow top. This design makes wine touch the tongue's tip, which allows flavor hints to be noticed. The broad bowl allows aromas of delicate wines to accumulate.
The thin rim makes the wine (or any liquid) easy to drink from this type of glass.
Let's see what glasses you can pick for Burgundy wines and especially for Pinot Noir.
Zalto Denk'Art Burgundy Glass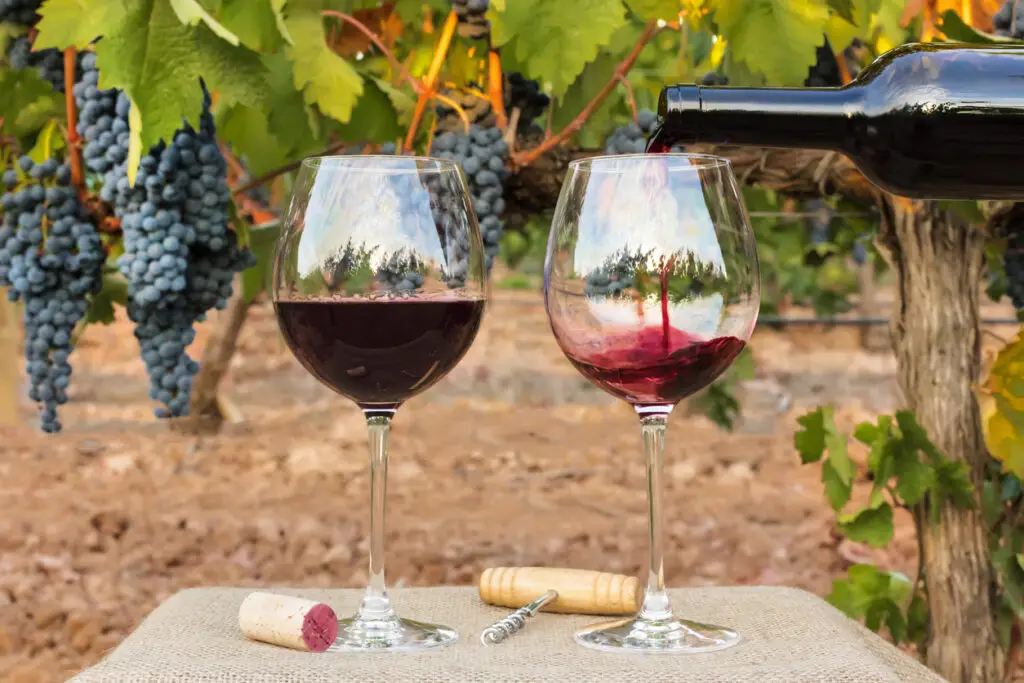 Since Pinot Noir is exceptional, this region-specific wine glass is perfectly suited to the red, aromatic grape. The wide bowl lets lots of oxygen in, which exchanges those releases of aroma, focusing the typical sweet fruit notes of Pinot Noir. Zalto glasses deliver a paper-this rim and slender stem that seems fragile yet proves regular firm use. These hand-blown crystal glasses are expensive but like the wine, like the glass. If you want to pick an excellent suit for your Pinot Noir, keep these in mind. You can check them out here.
Spiegelau Burgundy Wine Glasses
Author Note: Spiegelau wine glasses are the ones you will often find in white-tablecloth restaurants across New York and other major cities (we love them in America). The glasses have a lightweight, elegant shape that sometimes people confuse for Riedel. But they're a lot less expensive.
Suppose you drink fine wine every night (at least we hope so) you need an everyday glass that is elegant, beautiful, and not too pricey. Those Spiegelau Burgundy Wine Glasses are the best choice, and they have an excellent price for a set of four. Have a look here.
Bormioli Rocco 18-Ounce Red Wine Glasses
These glasses are the best for a blind test. They are light, durable, and transfer all the hidden aromas and taste notes that the wine can hold. This red wine set has a broad enough bowl to work the aroma with a laser-cut and ultra-thin rim that aids in the tasting.
Bormioli Rocco 18-Ounce Red Wine Glasses are designed for sommeliers. If you plan to become one or want to feel wine A to Z, consider buying them here.
Libbey Signature Greenwich Red Wine Glasses, 24-ounce
Libbey Signature red-wine stems are one of the best value fine-wine glasses on the market, with an overflowing 24-ounce bowl size. Those glasses are not as fat-bottomed and bulbous as all the Pinot Noir glasses, but the way they are shaped (they have an angular shape) makes a lot of room so you can swirl and release the wine fragrance.
They are very classy and beautiful. You can buy them here.
Riedel Veritas New World Pinot Noir Glass
These glasses' producers created the machine-blown crystal Veritas line by Riedel with both region and grape in mind.
This New World Pinot Noir glass design features a tulip shape and thin, seamless rim allowing for easier swirling, sniffing, and sipping of delicate Pinots.
New World Pinots usually feature a riper fruit profile than their savory cousins in France, an attribute these glasses were designed to accentuate. Give a go here.
Riedel O Stemless Glass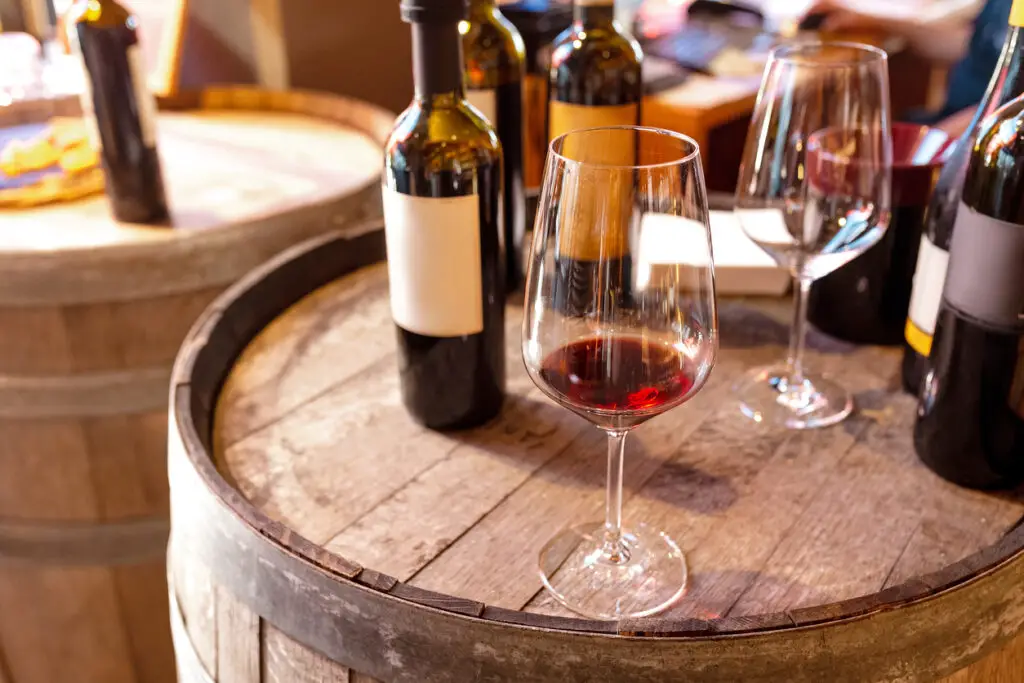 We have outfitted an article for you on why you hold a wine glass by its stem, but if you have no time to read it, you can go for those glasses with no stem.
Those glasses are a lot of fun to drink and very comfortable to hold, even if you have small hands.
Author Note: Great goblets against a modern stemless design come off as delightfully hedonistic style. They hold 23.8 once capacity and feel significant in the hand as the goblet is wide-bottomed.
Those Riedel Stemless glasses are great for your dinner parties and an innovative way to serve the wine. The risks of breaking the glass lessen as there is no fear of clicking the glasses held to be the stem. Check here.
Parting Thoughts
When we decide to drink wine, we make all the necessary preparations to be in the mood. We choose the right food with it, light the candles, and pick the best utensil to make the wine evening perfect (if you don't do so, it's time to change). We hope you enjoyed this article on the differences between a Bordeaux vs. Burgundy Glass.
The wine choice is the most crucial part of the evening, and you surely would go for a great red from Bordeaux or Burgundy. You want to feel all the aromas that the wine suggests. So you need to choose the right glass to fully enjoy your evening!
To living a full-bodied life,
Wesley