Everyone in the world deserves to taste french wine, even your ex. And respectively everyone deserves to learn about french wine and not only. But, this can be somewhat confusing. So, what is the difference between Chateauneuf du Pape vs Bordeaux?
Most red Bordeaux wines blend traditional Bordeaux grape varieties such as Cabernet Sauvignon, Merlot, Cabernet Franc, Petit Verdot, and Malbec without any restrictions. Chateauneuf du Pape's regulations allow for up to 13 grapes, eight red and five white, to be used to make the wine. Bordeaux's tend to be more full-bodied than Chateauneuf du Pape, but both wines often have a robust flavor profile.
Let's now go deep into details and learn about the flavors, food pairings, and other facts about these unique wines.
What Type of Wine is Châteauneuf du Pape?
Chateauneuf du Pape is a French wine variety known for its bold red blends. The blends' base is Grenache grape, though unofficially, the famous grape varieties used to make Chateauneuf du Pape wine are twenty! But officially, the region makes its both red and white wines using up to 13 different grapes.
Historical Break
Just like it always is with french wine, Chateauneuf du Pape was a village before it was a wine appellation or an AOC. In fact, Châteauneuf du Pape is a charming little historic town located between Orange and Avignon's cities in the Rhone valley of South-Eastern France.
Chateauneuf du Pape literally translates from French into "the new castle of the Pope" because, in the early 14th century, the Pope of the Catholic Church was relocated from Rome to Southern France and the city of Avignon.
The Popes and the locals have enjoyed Chateauneuf du Pape for many centuries. But their fame on the international or even national wine scene is not that old. Châteauneuf du Pape AC, the appellation was one of the first to be recognized by the INAO, the French wine authorities back in 1920, so it is one of the oldest official appellations in France.
Yet, the global fame of Chateauneuf wine didn't really take off before WW2 and even more so under the modern influence of international wine critics starting in the 1980s.
Climate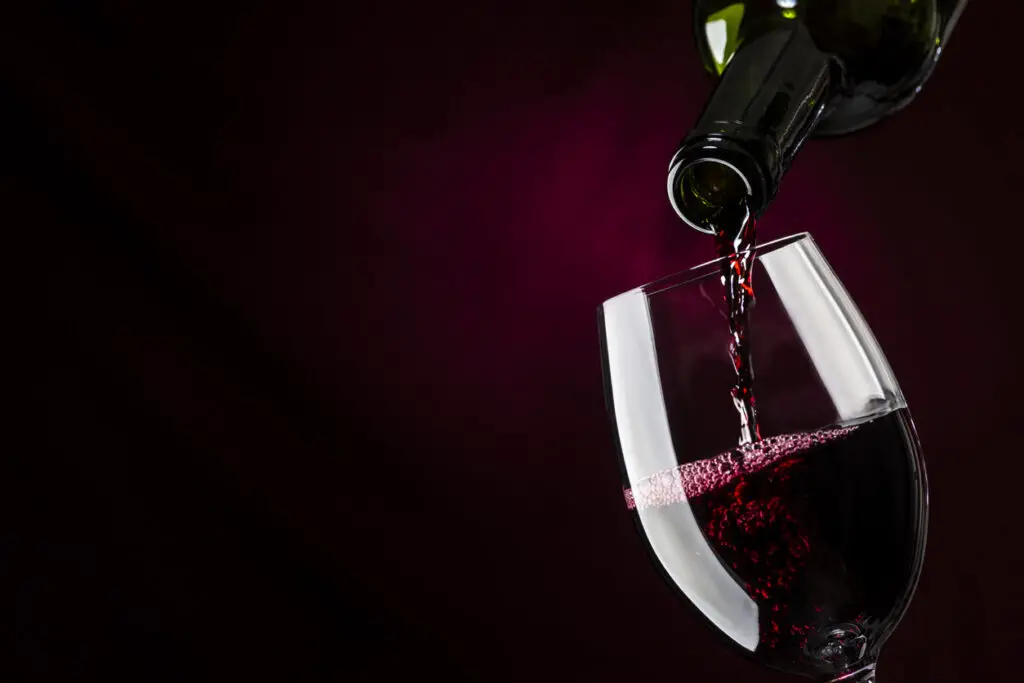 Author Note: As you expect, the climate of Chateauneuf du Pape is the Mediterranean: dry, warm in winter, hot in summer, somewhat harsh and rough for the vines. This is what gives wines their concentration, in combination with the soil, of course.
Environment
Soils vary a little around Chateauneuf depending on where you are (like everywhere else). But they always vary around sandy and pebbly-dominant soils.
The archetypal Chateauneuf soils that everyone has in mind are those incredibly covered in round pebbles deposited by the Rhone river, that the French call the "galets roulette" translating to rolled river pebbles.
Aromatics of Châteauneuf du Pape
As these wines are rich and bold, you smell some cherry liqueur and baked fruits, especially baked apples, then it fades into plum and prune, and sometimes into red berries like cranberry.
Those flavors are coming from the Grenache that is used in the wine blends. Simultaneously, the Syrah and Mourvedre add notes of black pepper, sweet spices, and earthy tones to the aromatic profile.
Mouth Feel
When the wines are young, the textures can be lush, lusty, and luscious. In contrast, they take on silky characteristics with age.
The Taste of Châteauneuf du Pape
It is interesting how the red wines of Chateauneuf du Pape are made from 13 different grapes, but they share the same taste characteristics in the bottle. They have a very bold flavor of kirsch and express tastes of fresh red and black cherries, strawberry, and black raspberry.
These wines also have some herbal notes typical of the region, like garrigue, a scrubland of sage, rosemary, and lavender. Those reds also adopt leather, dust, violet, and thyme flavors, which we consider earthy flavors. Not forgetting the aging process, the Chateauneuf du Pape wines express the flavors of oak, smoke, tobacco, cedar, clove, vanilla, and toast.
Aging Process
Chateauneuf du Pape red wines habitually age 10–20 years, depending on producer, vintage, and style. White wines age up to about ten years.
How to Serve Châteauneuf du Pape vs Bordeaux
French wines can be difficult, and they love to be treated properly. This includes, of course, the serving. Serve these wines after opening for about one hour, and less for older wines. They should be enjoyed cool, below room temperature or slowly steamed at around 60–65 ºF / 16–18 ºC.
Food Pairings
The spicy and savory-sweet, oily qualities of any dish would make it a perfect wine pairing partner with Châteauneuf du Pape wines, as it is itself, rich in alcohol. It can overpower many foods, so it's essential to choose dishes with very intense and complex flavors.
Meat Dishes
Unlike Bordeaux, it can pair with spicier meals due to its blend of Syrah. Red meat, especially beef, and lamb, go great with Châteauneuf du Pape, but gourmets prefer to pair it with game meat. Duck is the best option, followed by white beans, garlic sausage, and streaked bacon.
The key to reaching the best results is slow-cooking. By the way, seafood and chicken-based dishes should be avoided when Chateauneuf du Pape is served.
Options For Vegetable Lovers
Try to use vegetables with intense flavors to bring out Chateauneuf du Pape's fruit, such as roasted tomato, red peppers, caramelized onion, or roasted squash. Baked beans are highly recommended, too.
Cheese
Chateauneuf du Pape pairs perfectly with pungent cheeses like Affidelice, Epoisses, and Pont l'Eveque, due to its earthy aromas.
Bordeaux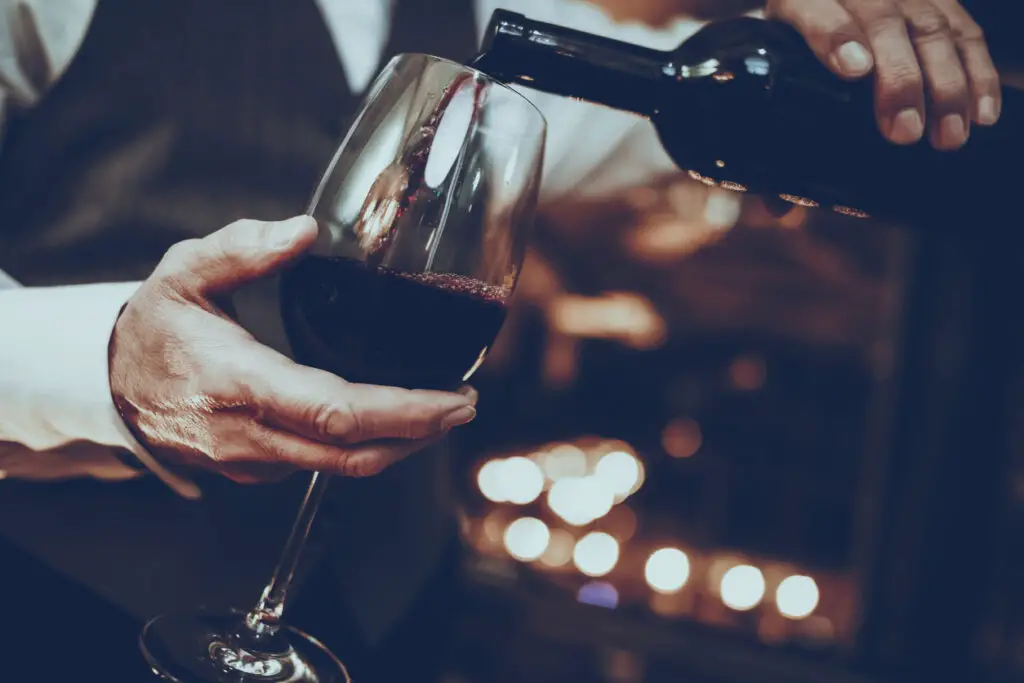 We talked about Bordeaux wines much in this blog, as the most famous French wines are from Bordeaux. This is one of the largest French winemaking regions and certainly one of the world's most famous ones. People always confuse Bordeaux as one specific wine type, but this is not true, of course. Let's see which wines come from Bordeaux.
A large amount of Bordeaux wines are red and made from Cabernet Sauvignon and Merlot grapes. Also, one thing you should know about the red wine of Bordeaux is the red Bordeaux Blend. These are some of the most copied wines worldwide and include Cabernet Sauvignon, Merlot, Cabernet Franc, Petit Verdot, and Malbec (with a tiny amount of Carménère).
Author Note: A great bottle of Bordeaux wine costs around $25-$30 and is affordable for most people. Red Bordeaux is served with meat grills and vegetables, sometimes with cheese. Also, note to store them at a maximum of 18°C.
It's only vineyards ranked worldwide and in France, but when it comes to Bordeaux, the estates are classified too.
Bordeaux Wine Classifications
Four Bordeaux classifications will help you browse around the wine regions and top estates to find your wine.
There is Médoc (established in 1855), Sauternes and Barsac (1855), Graves (1959), and Saint-Emilion, which was established originally in 1955, then was updated five times in 1969, 1985, 1996, 2006, and 2012.
A very minimal amount of Bordeaux wines are white. They are made mostly from Sauvignon Blanc and Sémillon. There are two famous styles of white Bordeaux. One is more fruity and light, the second is creamy and rich. The light fruity ones are usually more affordable. The other type is hard to find and tends to be more expensive.
Aromas of Bordeaux Blends
Black Currant, Plum, Graphite, Cedar, Violet are the most common flavors of Bordeaux wines. They also go with earthy notes of wet gravel or pencil lead. The tannins in Bordeaux wines are often so high that wines will age for several decades.
Taste
Depending on the region where the Bordeaux is bottled, the wine taste profile can range from more tart fruit to sweeter ripe fruit. When you taste the wines, they burst with mineral and fruity notes that lead into prickly, savory, mouth-drying tannins.
How to Serve Bordeaux
Bordeaux wines are exquisite, even just their bottles (beautiful labels and classic green glass). So they should be served the same way! Enjoy this wine after at least 30 minutes of opening. Be careful so that the temperature in the room will be around 65 °F / 18 °C.
Food Pairings
Bordeaux wines' boldness compliments the umami in the meat, and the dish's fat content smoothes out the wine's grippy tannins. Bordeaux wine will taste sweet and fruity against this rich meaty backdrop.
Meat with Bordeaux
Unlike Chateauneuf du Pape, Bordeaux is highly recommended with red meat and fantastic with it. Roast pork and black pepper steak are the best choices but can also be alternated by filet mignon, beef brisket, buffalo burgers. You can also go the French route and try chicken liver, pot roast, venison, duck, goose, or dark meat turkey.
Vegetables
If you are thinking of becoming vegetarian but don't know what to pair with your favorite Bordeaux, think of roast potatoes, lentils, mushrooms, onion, green onion, green bean, and casserole.
Cheese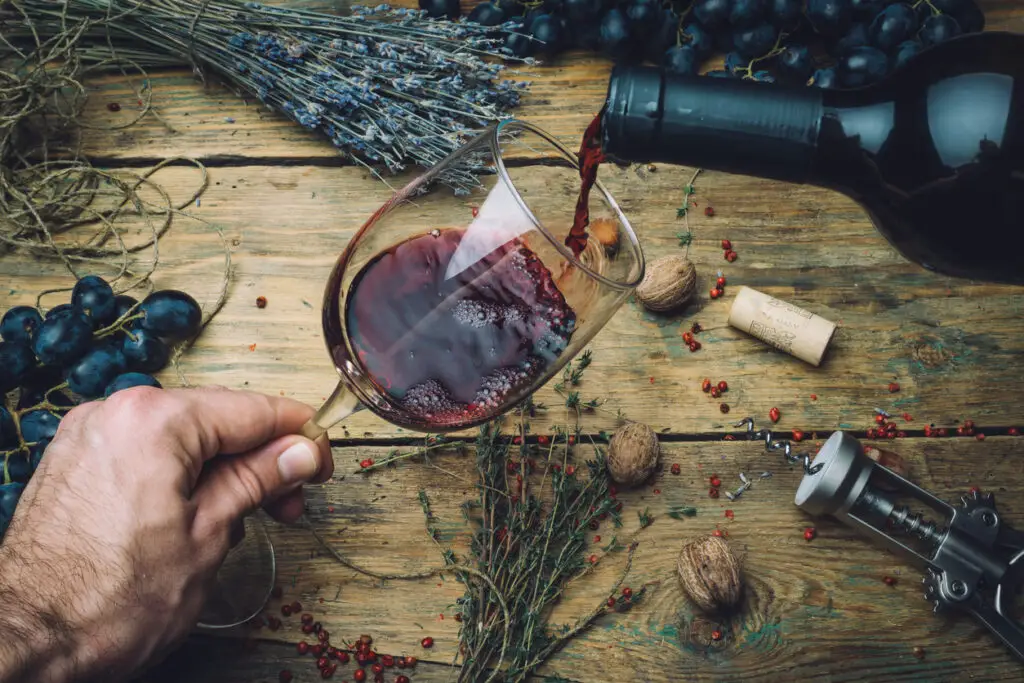 Bordeaux reds are the ones that can make a great couple with different types of cheeses, like Ossau Iraty, Basque cheeses, manchego, swiss cheese, comté, white cheddar, provolone, or Pepper Jack.
Herbs and Spices
Author Note: Bordeaux wines prefer dressed food, so you can improvise with your favorite herbs and spices as much as you want. We recommend using black pepper, white pepper, oregano, rosemary, mustard seed, cumin, coriander seed, and anise.
White Châteauneuf du Pape
Only 7% of Chateauneuf du Pape wines are white. They one of the rarest of French white wines, though in the line of the most prestigious. These whites are delicious, and they are some of the French most full-bodied and rich whites. They are paired with food wonderfully and go well with fish and duck breast, and generally all kinds of meat.
Unlike Châteauneuf whites, Bordeaux whites are as famous and widespread as the reds. There are two major styles of Bordeaux whites; light and fruity or rich and creamy.
Those whites go well with all food that has basil, lime, avocado, or garlic in their ingredients.
Farewell
Sometimes making a choice can be difficult, especially when it comes to French wines. So buy them both and pamper yourself with a good wine from Chateauneuf du Pape and Bordeaux. We hope you enjoyed this article on Châteauneuf du Pape vs Bordeaux. Good wine is never enough!
To living a full-bodied life,
Wesley