Food and wine have a complicated relationship. Sometimes they get along, and sometimes they don't. It can be very hard to find a good pairing, especially if your food and wine have bold flavors. Mole sauce is a traditional Mexican sauce that is sweet and spicy, so pairing it with alcohol can be a challenge. Now the question is, what wine goes with mole sauce?
Syrah, Cabernet Sauvignon, Zinfandel, Shiraz, or Petite Sirah all go well with mole sauce. The heavy flavor and thick texture of a well-made mole sauce require a full-bodied and fruity red wine. These are all options that would be perfect with mole sauce dishes.
Let's dive deeper into these pairings, shall we?
Mole Sauce
Before we get into finding what wine goes with mole sauce, we must prepare it first! Here is a basic recipe to help. Keep in mind that you are always free to experiment, and this isn't the only way to prepare this delicious sauce.
Ingredients
2 cups of chicken broth
2 dried guajillo chiles
2 dried ancho chiles
3 dried chipotle chiles
1 dinner roll (in small pieces)
2 corn tortillas (small strips )
2 tomatoes, cut in half
5 tomatillos, cut in half
1 tablespoon lard1 onion, thinly sliced
½ head garlic, sliced
⅓ cup peanuts, chopped
¼ cup raisins
2 tablespoons cumin seeds
1 tablespoon dried thyme
3 cinnamon sticks
5 whole cloves
5 ounces dark chocolate, chopped
1 cup chicken broth
3 tablespoons white sugar
1 teaspoon salt
Instructions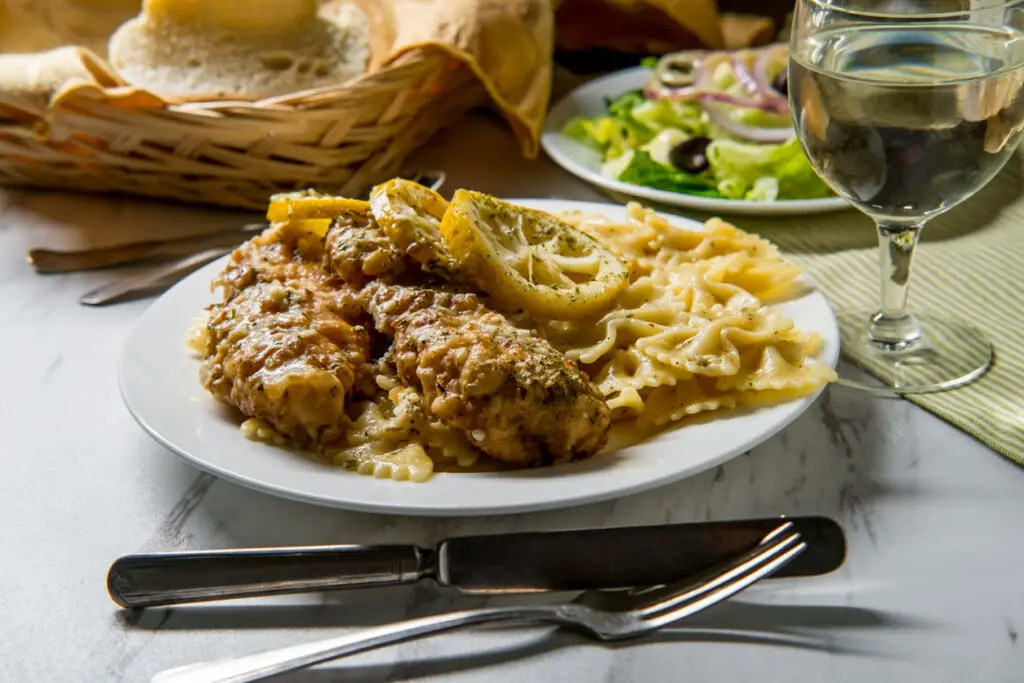 To prepare the sauce, start by toasting the guajillo chiles, ancho chiles, and chipotle chiles in a pan on medium to high heat, and stir constantly. Continue stirring until it is warm and aromatic, and this should take around 3 minutes.
Author Note: While you are doing this, heat up 2 cups of chicken broth in a saucepan until you see it simmer. This should take you around 5 minutes. After, transfer both the broth and the peppers into a blender.
Next, toast dinner rolls and tortilla strips in a pan on medium heat and constantly stir until they are light brown. This should be around 3 minutes, and then transfer these into the blender with the broth.
Let the chiles, bread, and tortillas soak in the chicken broth while they are fully submerged until you feel them soften, and this should take about 10 minutes. Blend this combination until the texture is smooth.
Then, cook your tomatoes and tomatillos in a skillet on medium heat until they are soft and blackened, so around 4 minutes for each side. Add these to the blender as well.
After this, melt the lard in a skillet on medium heat. Add onion, garlic, peanuts, raisins, cinnamon sticks, cumin seeds, thyme, and cloves, then cook and stir for about 6 minutes. Take out the cinnamon sticks and whole spices; then add your onion mixture to the blender, and blend until the texture is smoother.
Pour out the chile puree into a saucepan on medium heat. Add in chocolate, chicken broth, salt, and sugar. Let the mixture simmer, and stir until the chocolate is melted and the sauce is thick, which should take about 10 to 15 minutes.
Then, pour out your sauce, and it is ready to serve. So, now the question remains. What wine goes with mole sauce? Let's get to the answer!
What Wine Goes With Mole Sauce?
Shiraz
Shiraz is a great option to serve with mole sauce. It is bold and full-bodied, so it will go perfectly with the striking taste of the delicious sauce. The color of this amazing wine is opaque and ruby-purple, and it consists of concentrated fruit jam flavors with hints of blueberry and blackberry.
This wine has some big and ripe tannins, so if this isn't your thing, then you should look for another bottle. Not each bottle of Shiraz is fruity, and a few may have hints of smoked meat like beef jerky and bacon with black pepper and spices, but these are tastes that also compliment mole sauce well.
The alcohol concentration of Shiraz also depends on where it is from and the weather of the vineyard. Shiraz wines from colder regions tend to have lower alcohol percentages, as do wet and cold vintage bottles.
Bottles from warmer regions, or dry and hot vintage bottles, usually have higher amounts of alcohol. A typical Shiraz from a warmer region will have around 14.5–15.5% alcohol, while those from colder regions will have a lower number. Shiraz wines are a great pairing for any food but go especially well with mole sauce.
Cabernet Sauvignon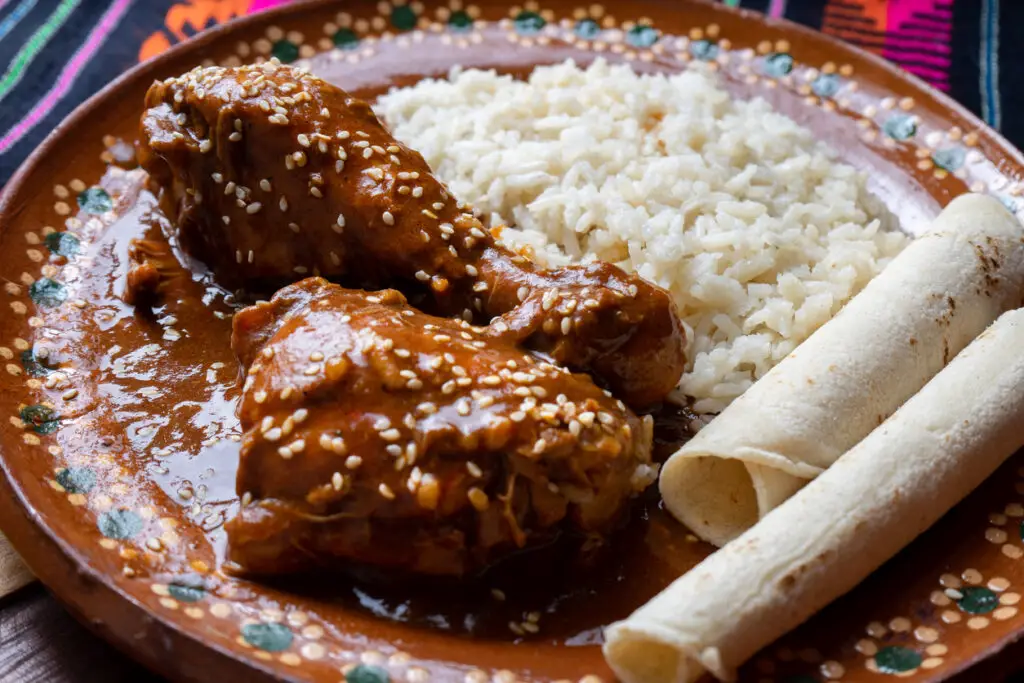 Cabernet Sauvignon is a grape grown in many different climates throughout the world, so flavors really vary. Fundamentally it is a full-bodied red wine with notes of dark fruits and savory tastes like black pepper and bell pepper. Let's take a closer look at the two main styles of this wine.
Old World
Cabernet Sauvignon that is from Bordeaux and tastes floral, with slight hints of graphite, violets, and tobacco is perfect for mole sauce. When you first smell a Bordeaux, you will also notice black cherries and licorice along with the earthy notes. It is kind of like imagining you have a leather bag with a lot of black cherries and you are holding it to your chest while sitting in a meadow. Mouth-watering right?
New World
Cabernet Sauvignon that comes from New World countries, is usually fruitier than their Old World siblings. But, they do have flavors of Black Cherry, Licorice, and Black Pepper all mixed together with a little bit of vanilla. These usually have a little less acidity and tannins but may also have higher alcohol amounts, ranging from 13.5-15.5%.
Zinfandel
Author Note: Another excellent answer to the question of what wine goes well with mole sauce is Zinfandel. In fact, many people think this is a wine that is usually overlooked but really pairs amazingly with many foods.
The main flavors of Zinfandel are jammy like blueberry, cherry, plum, boysenberry, cranberry, and sometimes licorice with occasional hints of black pepper. When you drink a sip of this wine, it often starts off with candied fruitiness, then comes the spice and tobacco-like smoky ending.
Zinfandel is slightly lighter when it comes to color if you compare it to Cabernet Sauvignon and Merlot. Although it is only a light-bodied red wine, the moderate tannin and high acidity levels make it taste very bold and powerful, which is perfect for mole sauce.
Generally, most Zinfandel bottles have a high alcohol level ranging from around 14 – 17%. This higher alcohol percentage adds to the oily texture and bigger, bolder body of the wine.
Petite Sirah
Although named similar to Syrah, Petite Sirah is its own distinctive wine. It can be hard to summarize how Petit Sirah tastes without traveling to a few regions first. Here are a few tasting notes on this wonderful wine, depending on where it is from.
Lodi and Central Valley, California, USA
The inland valley areas in California, including Lodi and Clarksburg AVAs, is where you are going to find many old Petite Sirah vines. These wines will have the same opaque color full of jammy fruit flavors.
You should expect aromas of blackberries, brambles, some black pepper, and notes of vanilla from aging in oak. On the tasting palate, tannins that are rich and bold will complement the sweet berry flavors, and the acidity is very smooth. The average price of these is around $15-$20, so very affordable for a dinner party with mole sauce.
Sonoma and Coastal California, USA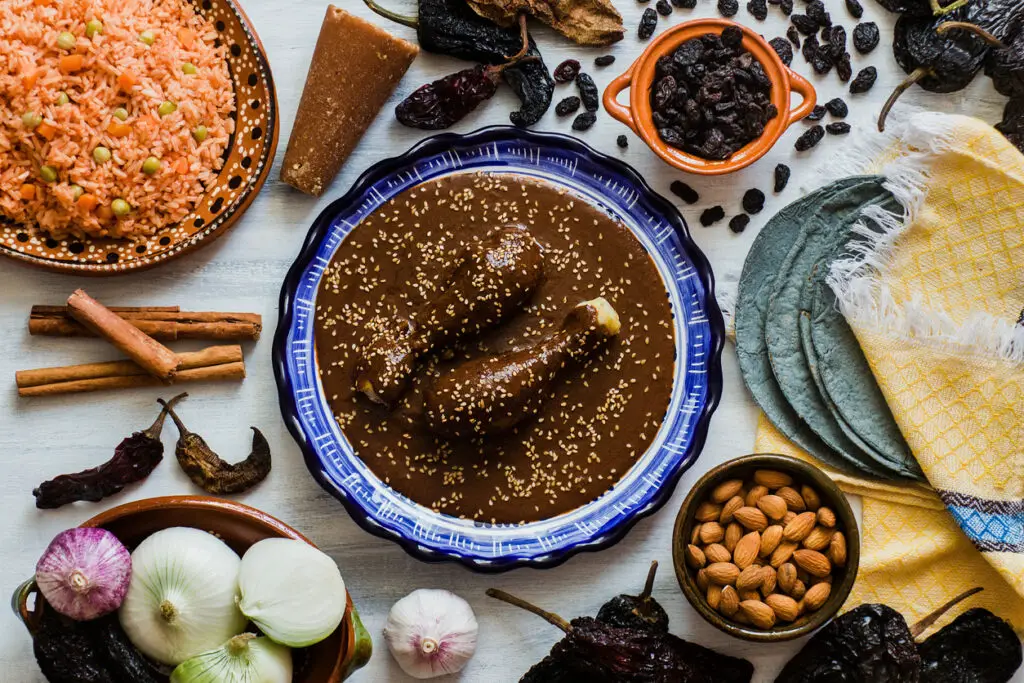 Author Note: Sonoma and the northern coastal areas have a slightly cooler climate than Napa and the inland areas of California. These wines usually taste more "deep," with a touch of earthy/espresso hints that are more intense than their inland siblings.
You should expect aromas of blackberries, plums, dark chocolate, menthol, and usually some hints of vanilla or lavender (comes from aging in oak). Once you take a sip, you are going to taste berry flavors, espresso, and mocha, along with dense tannins. The average price ranges from $18–$25, so it is also very affordable.
Napa and Coastal Ranges, California, USA
It isn't easy to find a 100% Petite Sirah in the Napa region since most winemakers focus on Cabernet Sauvignon, which is more popular. But, if you are very determined, you will surely find your bottle. You should also check out the less popular coast range AVA's, including the Lake County and mountain AVA's in the Monterey AVA.
These wines are intensely colored and will stain literally anything they touch, so don't plan on wearing your brand new white blouse. You should expect aromas of blueberries along with notes of acacia flowers and graphite.
The palette will taste like bold flavors of blueberries, cocoa, fresh black pepper, and crushed rocks with a late onset of bold and intense tannins. The average price of a bottle is at least $30, so this is on the pricier side.
Conclusion
As you can see, there are many wines that go along with mole sauce. In fact, finding wine is all about experimenting, so you don't have to stick to only these options. We also really like pairing Sangiovese with mole sauce. Pick up a mystery bottle of wine from the store and try it out! Who knows, maybe that will become your next go-to wine.
So, what are you waiting for? Grab your keys and go on the adventure to find your perfect bottle of wine.
To living a full-bodied life,
Wesley