Unusual name, right? If you have never heard about this wine, you may be confused right now. But don't be. You are in the right place, and you will now learn everything about the Moselland Cat Riesling.
Moselland Cat Riesling is a wine type that comes from Germany. It is known for being sold in cat-shaped bottles, but that's not the reason it is called Cat Riesling. The story of this wine is based on a legend of a cat who really loved this wine.
As Moselland Cat Riesling is made from the Riesling grapes variety, let's talk about it first, then return to our cat.
Briefly About Riesling
Riesling wine was born in the Rhine region of Germany. It slowly made its way across the border to France, Luxembourg, Austria, and Italy before really spreading around the world.
Riesling wine has a colorful German heritage. Today, it has appeared as one of the most collectible white wines among top connoisseurs worldwide. Isn't it strange how this kind of sweet white wine has conquered the hearts of serious wine enthusiasts? However, there are some dry Riesling wine types as well.
Dry or Sweet?
Author Note: Traditionally, most Riesling wines are on the spectrum's sweeter end to balance their high acidity. Now, there is also a fair share of dry (as in, not sweet) Riesling for those who prefer a slender-tasting wine.
Dry Riesling: Usually, the dry bottles come from the regions of "Trocken," Alsace. The non-german Riesling from the USA, Washington State, is also labelled "dry," and is known as New York Riesling. Also, most Australian Riesling is from Clare and Eden Valleys.
Sweet Riesling: Sweets are more popular, for sure. There are German Pradikat Riesling (including Kabinett, Spätlese, etc.), most value-driven Riesling (sub-$10), and Riesling labeled "sweet" or "feinherb."
Pale or White?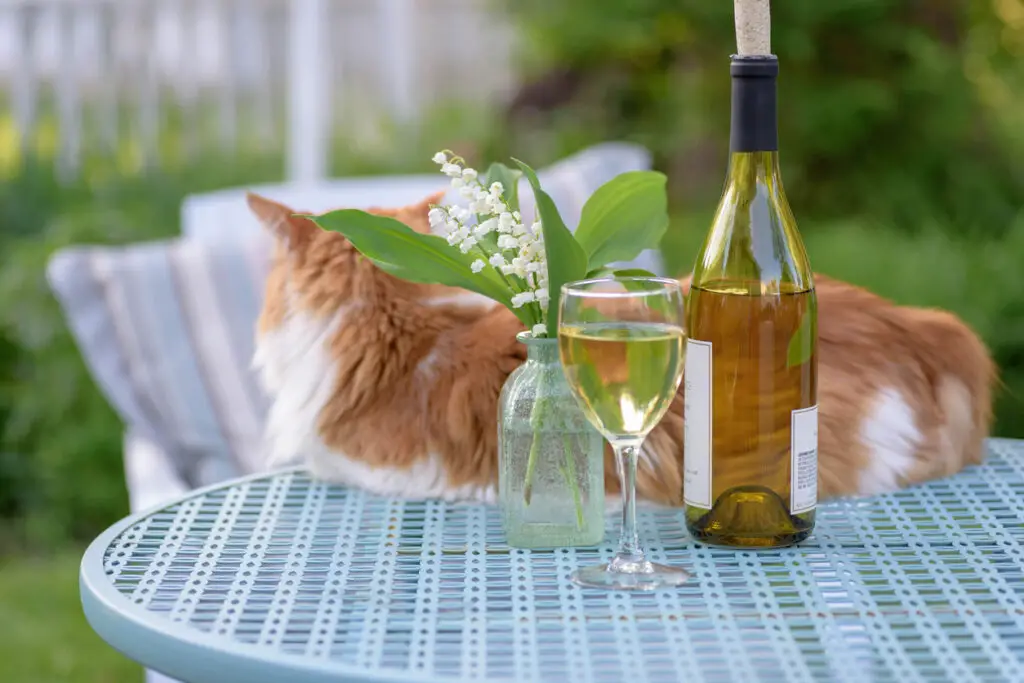 Riesling is a white grape variety, and it is usually not blended with others to make wine. But due to its aging environment, it can change its color from pale straw, transparent to a deep yellow. We should note that the grapes are also suchlike; they can be pale white and yellow, depending on how ripened they are.
Aromatics
The aroma takes to the citrusy scents like lime and Meyer lemon from the first smell, but they turn more tropical like pineapple. The parade closes with velvet apricot. All this range of bouquets shines with some nectarine, peach, apple, ginger, and pear from time to time. The sweet aroma takes you to the valleys and garden blossoms and then reminds you of honey, honeycomb, and beeswax.
You may be surprised by reading this, but people often sense petrol and diesel aromas. This has nothing to do with natural petrol, just the specific scent of the grape variety.
Taste
On the palate, dry Riesling is going to have rather a high acidity and low levels of sweetness. But the taste is always excellent and intense. Rieslings from warmer climates are going to be a bit more full. So slightly lower acidity and a slightly higher level of sweetness mean they are medium-sweet Riesling or sweet Rieslings.
The taste is very strong, and you can feel it with the first sip, even if the wine is ice cold. This aromatic wine proposes original fruit aromas of orchard fruits like nectarine, apricot, honey-crisp apple, and pear. Besides fruit, you'll often feel notes of honeycomb, jasmine, or lime peel, along with a unique aroma that is related to petrol or petroleum wax. On the palate, Riesling has high acidity, equivalent to the levels in lemonade.
Author Note: If you enjoy the taste of dry Riesling, you probably love the aromatic style, the dryness. Then you are also going to like the Torrontes, a wonderfully fragrant and charming grape variety from Argentina.
Food Pairings
When you say Riesling, think spice. The reason is the Riesling's sweetness and acidity, and it makes the perfect harmony with spicy food. Strong Indian and Asian spices are an ideal match with Riesling.
A classic pairing with Riesling is spiced duck leg. And remember, not only meat dishes can be spiced, so you can take your vegan plate and add whatever you like. Jalapeño is a plant!
There are some bean mixes and sauces that can be incredibly spicy too. Just switch on your imagination when you enter the kitchen.
Meat
The most recommended meat pairings with Riesling are duck, pork, bacon, chicken, shrimp, and crab. Fishes usually are good with white wine, but not in our case. You can grill, fry, and steam the meat kinds, whatever you prefer. The main thing is not to forget the right seasoning with them.
Vegetables
Tempeh is a traditional Indonesian dish made with soybeans and is a great companion of Riesling. Also, roasted squash is paired wonderfully with this wine along with roasted vegetables with natural sweetness, including red onion, bell pepper, eggplant, and carrots. Just mix them up in salads and serve with meat dishes.
In addition to all those, let's include coconut as a plant, which is the recommended fruit with Riesling.
Cheese Pairings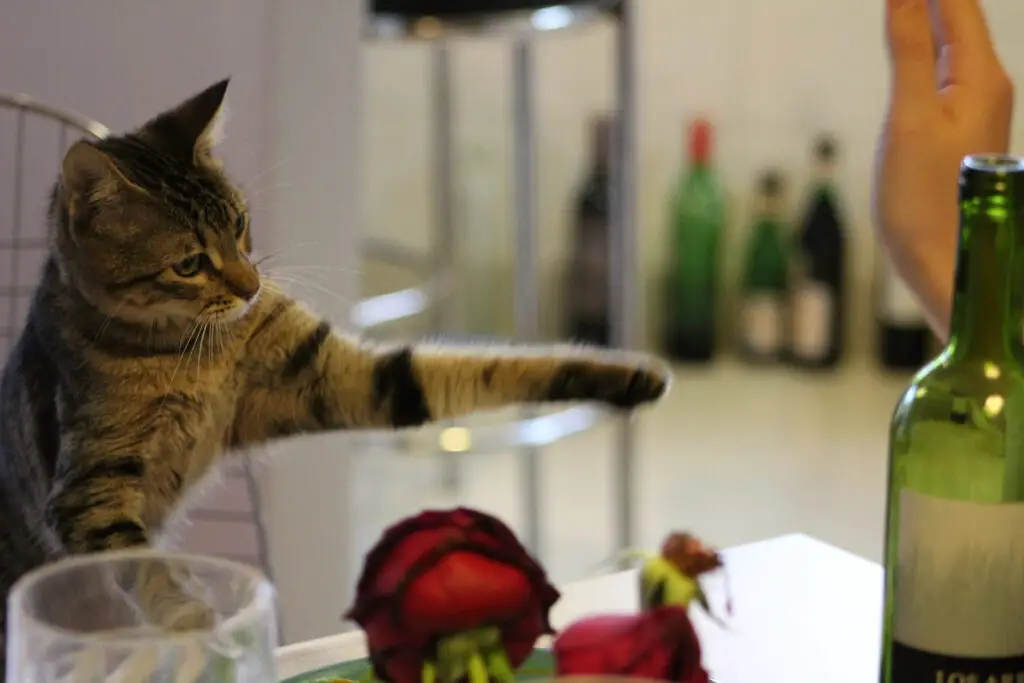 Cheese is the perfect combination with Riesling wines, seriously. Any kind of cheese is fantastic with this wine, but the most friendly are cow cheeses.
Herbs and Spices
Many highly spiced and fragrant herbs including Ginger, Clove, Cinnamon, Allspice, Turmeric, Cayenne Pepper, Madras Curry, Sichuan Pepper, Shallots, Soy Sauce, Sesame, Marjoram, Basil, Rice Vinegar, and Teriyaki Sauce are a perfect match for a glass of Riesling.
The Legend of The Moselland Cat Riesling
Now, let's get to the myth at hand. Many-many years ago, so much that we can not even count, people sold wine in the land called Germany in the small town of Zell. There were such types of wine that even the winemakers haven't tried yet. One day, three friends came to that town of Zell to buy wine. They wandered in the local market so long that their feet were tired and swollen.
Then, they approached a stand in the market and asked the tradesman to let them sit near. The man did so and asked why they were here. When he learned they came to buy wine, he opened his barrels and poured wine for the strangers.
They tasted some and were about to point out the next barrel when suddenly, a night-black cat jumped in front of them. It sat on the barrel and arched its back, and swiped its paw at anyone who approached it.
The strangers bought that wine barrel that this cat had "chosen" from them. They were sure it held the best wine. Little did this cat know that it was going to have a whole wine type named after it.
From Legend to Business
Some people made the legend into a successful business. In the 1800s, many individuals who grew vines joined together to create small wine-growing cooperatives. The aim was to move more efficiently with joint forces.
In 1969, significant cooperatives merged with Hauptkellerei Koblenz to create the largest wine-growing cooperative in  Rheinland-Pfalz. As a result, they have created Moselland, which is located in Bernkastel Kues.
Author Note: The famous cat bottle is the calling card of the company. Everyone tends to buy them and try the wine. It is a perfect decoration on a Halloween table, especially the black one, for all the non-superstitious people․
Sixteen Shades of Cat
A can has nine lives and sixteen colors(in our case). They are black, blue, clear blue, clear green, clear pink, gold, green, orange, pink, purple, red, scuba blue, silver, white, yellow, and rose gold.
The grapes of Riesling are fermented and stored in stainless steel, temperature-controlled, and sterile tanks. The alcohol amount in each bottle of cat is 10%. The wine is full-flavored with pear and citrus aromas. It is stirring on the palate, as well as crisp and fruity. The mouthfeel holds a nice sweetness balanced with the typical ripe Riesling acidity. It perfectly pairs with lighter or spicy cuisine and even on its own.
Those Moselland Cat Riesling bottles are made purely from Riesling grape variety. The hub of production is Rheinhessen, Germany.
If you were counting the colors, you might have noticed that there were only fifteen of them. That is because the sixteenth bottle of Moselland Cat Riesling is a Rosé bottle.
Moselland Rosé Cat Bottle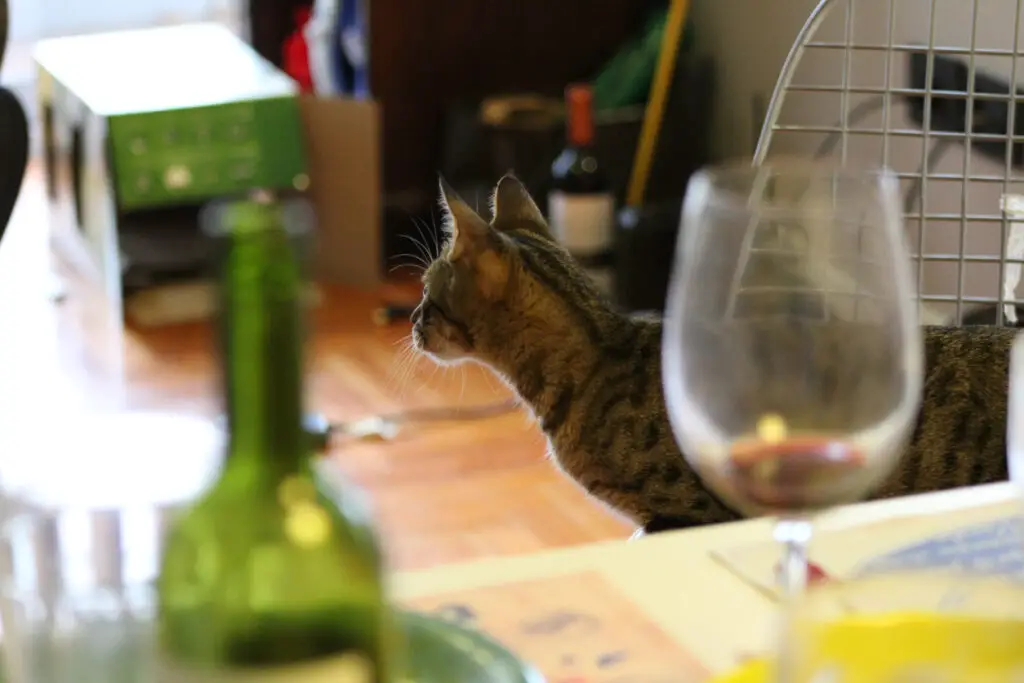 Moselland Rosé Cat Bottle is from the vintage collection. It was produced in 2018 in Pfalz, Germany. This wine, unlike the others, is made from Pinot Noir grapes. It contains 12% alcohol in it.
While aging, the grapes are pressed immediately after pulverizing and then fermented with selected yeasts in temperature-controlled stainless steel tanks until bottling.
The taste palate browses among the red berries. This crisp and fresh Pinot Noir Rosé is lively with cherry and strawberry aromas. It offers an excellent taste experience. This wine goes well with starters, white meat, and pasta.
Happily Ever After
Sometimes it takes more than a lifetime to make fairytales come true; there is no Magic Carpet in the stores! But some people do make the legends become a reality. The cat that jumped on the barrel of wine now carries wine in itself.
Moreover, it changed its colors fifteen times from black to all the colors on the rainbow. As a result, we have a great wine with the most creative packaging and a whole legend behind it. Go to the nearest wine shop, pick your cat, and take it home.
Let all the black cats show you the best wines in the world, and bring good luck to you. And if you're not superstitious about waiting for cats to point on the wine, visit our blog and find out more. Cheers!
To living a full-bodied life,
Wesley