Baked ziti is a dish everyone loves. It is basically Lasagna without all the fuss. Essentially a pasta casserole made with ground beef or Italian sausage, Ziti pasta (or penne), tomato sauce, some browned garlic, and of course, lots of delicious cheese. This is a dish that is a favorite for dinner parties, so you may find yourself wondering, what is the best baked ziti wine pairing?
Baked Ziti pairs best with balanced red wines such as Zinfandel, Chianti Classico, Montepulciano, Barbera and Pinot Noir.
Let's take a closer look at exactly what makes these wines so perfect for pairing with baked ziti.
Baked Ziti and Chianti Classico Pairing
Dishes with lots of tomato sauce ask for a pairing of acidic red wines such as Chianti Classico. With heavy tannin reds such as Merlot, Shiraz, Malbec, and Cabernet Sauvignon, the acidity of the tomato sauce will make the red wine taste metallic and flat. Balanced wines with some acidity like Chianti Classico still have enough tannin to hold up to the meaty taste of Baked Ziti, but the acidity makes sure the wine's fruity flavors also shine.
Full-bodied Chianti Classico is also available, and this means it has more tannins. If your baked ziti is heavier on the meat and cheese side, then this would pair perfectly with a full-bodied Chianti.
With Chianti, you will get a dry red wine with a medium body and aromas of cherries, raspberries, strawberries, and a slight touch of pepper. The fruit flavors and acidity of the Chianti are refreshing and unclog your mouth of all the dense molecules that baked ziti provides. This makes each bite taste as fresh as the last.
The peppery and earthy hints of Chianti add an extra level of complexity to this pairing and complement the garlic, herb, or onion added to your baked ziti.
Baked Ziti and Zinfandel Pairing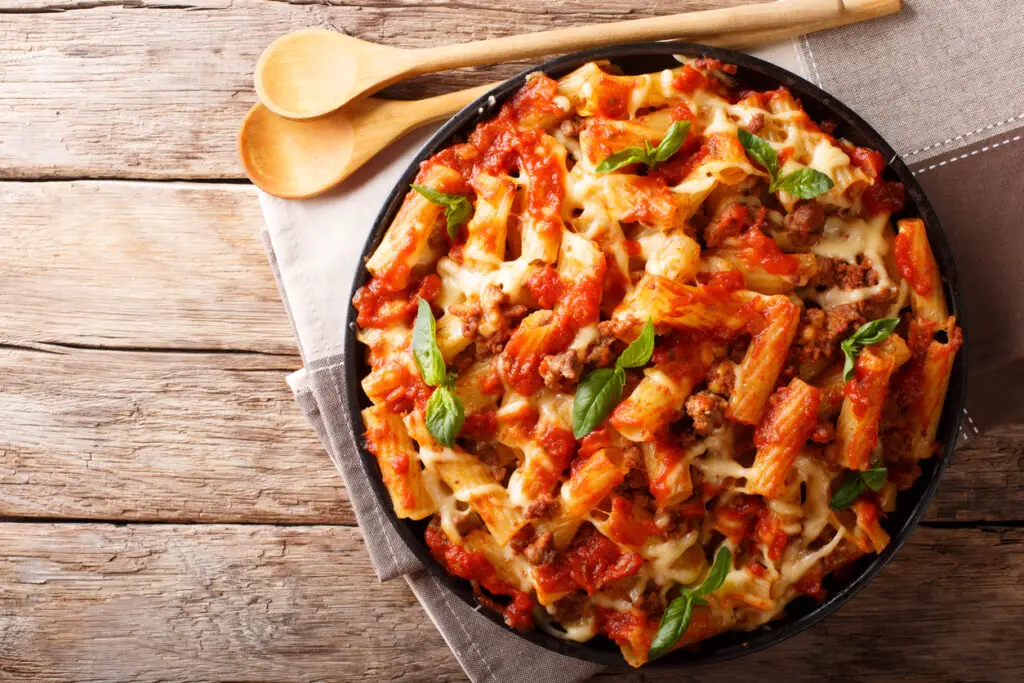 Zinfandel is a versatile red wine that matches nearly everything. Zinfandel tends to come off as acidic and somewhat sweet, which is something you will need when a recipe includes tomatoes. With a nice medium-body, Zinfandel can also go against the meat, cheese, and ziti pasta, which might overpower a lighter red wine.
Author Note: It is a red wine with hints of a smoky flavor, and this is amazing with anything baked. The smoky notes complement the roasted, baked ziti notes, adding more depth and richness to each forkful.
Baked Ziti and Montepulciano Pairing
Montepulciano is a juicy and medium-bodied red wine grape from Italy. Its naturally high acidity makes it the perfect pairing for baked ziti. Montepulciano can be found in lots of Italian red wines like Montepulciano d'Abruzzo, Biferno, or Rosso Conero.
This makes it hard to pinpoint what contrasting and complementary flavors you may get as it highly varies. When searching for a Montepulciano based red wine to pair with baked ziti, stick to medium-bodied wines to make sure the acidic and earthy notes add a layer of depth to your dinner party pairing.
Baked Ziti and Barbera Pairing
Barbera is an Italian wine that is light and fruity with rustic herbal and earthy notes that complement any herbs, onions, or garlic used in your Baked Ziti. Balanced with just the right amount of acidity, Barbera is perfect beside anything sharp and tangy such as tomato sauce.
The fruitiness of Barbera also brings out the sweetness of the ziti sauce.
Barbera is low in alcohol, so it never really numbs your senses. Sometimes when a person drinks too much, the taste and hunger receptors are dulled. A glass of Barbera won't make this happen, so you can thoroughly enjoy your plate of baked ziti.
Baked Ziti and Pinot Noir Pairing
Pinot noir with its bright wild strawberry notes and hints of dark cherry and blackberry forms a refreshing pairing with the rich cheese, meat, and pasta flavors of baked ziti. It has notes of forest and earthiness that allow for complexity and complementing the onion and garlic flavors.
Pinot Noir is mainly acidic, although it may sometimes be aged in oak with some tannins in the mix. If the tannins are light, it won't clash with the tomato sauce of baked ziti.
General Food and Wine Pairing Guide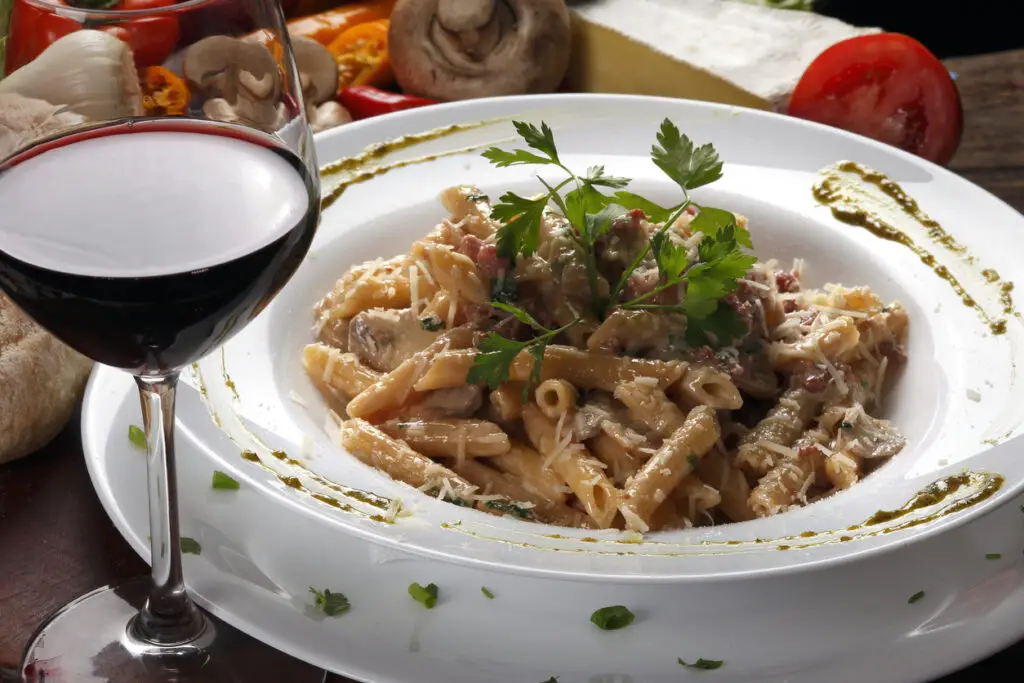 Author Note: Do you have a hard time matching food and wine? We are here to help you out with this somewhat confusing task. These tips will cover all the basics of what you should and shouldn't do when pairing wine and food.
Red Wines with Red Meat: This is one of the most simple tips that are easy to remember and is going to help you make quick pairings. The reason that red wine goes so well with red meats, like steak, is because it has the ability to soften the proteins in the meat and enhance the fatty flavors. This softening occurs because of the tannins found in red wine.
White Wine with Light Meat (Fish or Chicken). White wines go nicely with fish since the acids in the wine add to the taste of the fish, making it fresher. Just like how lemon is squeezed on fish to enhance the flavor, white wine will have the same impact due to its acidity.
If you can use the same adjective to describe the food and wine, then it is most likely a pairing that will do great. For example, sweet wines are great with sweet foods. A good example is fruity desserts and tarts with sweet wines.
Sometimes, pairing wines with meats or fishes that have a heavy sauce can be tricky. The best way to deal with a dish like this is to pair the wine with the sauce instead of the meat. This makes for a better experience since some sauces can clash with wine. For example, avoid pairing bitter sauces with bitter wines because the bitterness will build and create an unfavorable flavor.
Pairing Methods
There are many ways to approach wine and food pairings, but all pairings fall into one of two categories. These are congruent pairings and complementary pairings.
Congruent Pairings
With a congruent pairing, the food and wine will have several similar compounds and flavors. This may be a sweet wine paired with a cake, a red wine with a buttery flavor paired with a buttery potato dish. The important factor to creating congruent pairings is to always ensure that the wine is not overwhelmed by the food.
When this overwhelming occurs, it makes the wine taste bland. The benefits of congruent pairings are to let the wine and the food enhance the flavors of each other. Red wines are a great choice for creating congruent pairings.
With aromas and flavors from cherry to earthy, red wines are very versatile and easy to match with food. Take a glass of full-bodied Syrah, and it will have a similar flavor profile to your favorite grilled meat, making it the perfect congruent pairing.
Complementary Pairings
On the opposite side, complementary pairings are based on combinations that have no compounds or flavors in common but instead complement each other. These flavors in the food and wine are balanced through their contrasting elements.
Rosé, White, and Sparkling wines make for excellent choices to create contrasting pairings. A sweet white wine along with a spicy dish is going to let the sugar in the wine cool down and balance out the dish's spiciness.
Another great complementary pairing is salty dishes with white wine. The saltiness from the food decreases the sweetness in the wine to bring out the fruity taste and aromas of this wine. A glass of Pinot Grigio or Chardonnay will pair perfectly with a bowl of salty popcorn or fried dishes.
Food Flavor Profiles
Salt
Salt is usually found in a variety of different foods but mainly fried foods, sauce, and potatoes. These foods can really have an impact on the flavor profile of a wine. This means the best pairings for salty foods are sparkling or acidic wines. Acidic wines balance the flavors within a dish and create a perfect pairing.
 Acid
Author Note: Acidity is commonly found in both food and wine, so many complementary and congruent pairings are possible. Acidity can enhance the freshness of both the wine and the food. When forming a pairing, the acidity of the wine must be at least equal to that of the food, or the wine will taste boring.
So, your wine should be more acidic than your food. Salad dressings are usually high in acidity, so pair the salad with wine according to the dressing and not the contents.
Bitter
When it comes to bitterness, avoid congruent pairings. Pairing bitter with bitter will only express the bitterness in both the food and wine and make the whole experience unpleasant. Instead, try complementary pairings with acidic wines such as off-dry Riesling and Zinfandel.
Wrapping Up
Feeling a little hungry, now aren't you? Well, who wouldn't be after talking about all this delicious food and wine? If baked ziti is on the menu tonight, now you know the options of wines to choose from.
But, if you are planning on cooking or baking something tonight, keep the congruent and complementary pairings in mind. It is up to you which of the pairings you create, but we are sure it is going to be a great combination no matter what. Remember, these are only tips and not rules. We hope you enjoyed this article on baked ziti wine pairing.
Finding a good wine and food combination is all about experimentation, so don't be afraid to mix and match. Have a nice evening!
To living a full-bodied life,
Wesley