Grenache Blanc is a lush white wine with intense notes of green fruit and spices. Unlike many white wines, it is expressive and sturdy enough for flavorful food pairings. So what is the best Grenache Blanc food pairing?
Meals with exotic spices and citrus components make great Grenache Blanc food pairings. It is the perfect wine for anything from grilled fish to ethnic food.
Its robust nature and brightness make it a great wine to pair with a variety of cuisines.
Here we will give you some background on Grenache blanc and some suggested food pairing options. Let's dive into the top options for a Grenache Blanc food pairing!
Origins of Grenache Blanc
Originally identified in Northern Spain, Grenache Blanc is a mutation of the red varietal Grenache (noir). From Spain, the grape made its way to France where it was popularized mostly in wine blends.
Today Grenache blanc is mostly in France and Spain. You will also find other regions producing it such as the United States, South Africa, and Croatia.
It is often blended with Roussanne. In fact, The Roussillon region hosts half of all the Grenache Blanc plantings in France. It is well known as being part of the Châteauneuf-du-Pape blend.
Grenache blanc is even used in red blends for example Côtes du Rhône Villages AOP.
It is also produced as a single variety and in wine blends in Spain. Here it is also called Garnatxa Blanca or Garnacha Blanca and is mostly found in the Priorat, Alella, Aragon, Navarra, and Terra Alta districts.
In the United States, Grenache Blanc is promoted by the "Rhone Rangers." This is a group of American wine producers that advocate for the use of Rhone grape varietals outside of France.
We should point out that its cousin, Grenache Gris, is also a mutation of Grenache Noir. It is a different grape that has similar characteristics to Grenache Blanc.
Author Note: Grenache Blanc vines are vigorous and can produce too many grapes that water down its flavor. Viticultural techniques are important to produce concentrated grapes for flavorful wine.
It grows well in warm dry climates and is partial to sand, limestone, and clay soil.
This grape is very malleable. It will do well using a variety of winemaking methods such as malolactic fermentation, extended skin maceration, lees stirring, and oak aging.
When low temperatures are used during fermentation, young Grenache Blanc can exhibit unique fresh dill aromas.
Grenache Blanc Flavor Profile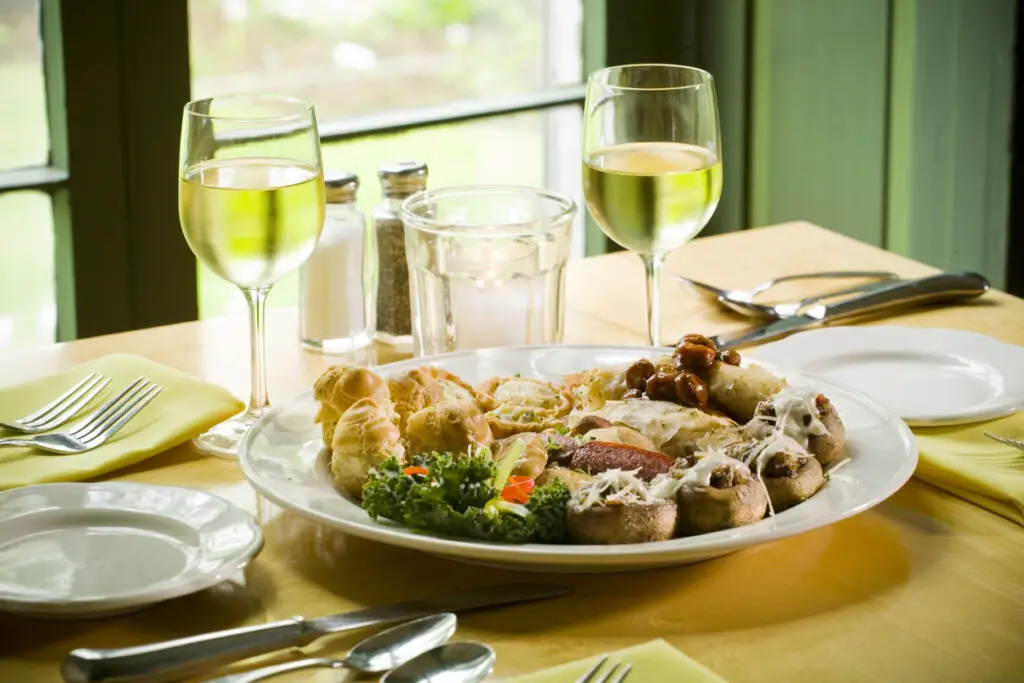 This full-bodied white wine fills the gap between Sauvignon Blanc and Chardonnay. It is a dry wine with surging alcohol percentages and mild acidity.
It exhibits intense flavors that begin juicily and transform into herbaceous mineral notes ending with a spicy finish.
With a straw yellow color, it offers citrus notes like lemon zest, lime peel, green apple. Other common fruit flavors are green plum, white peach, honeydew melon, unripe mango, and pineapple.
Grenache Blanc flavors and aromas also include honeysuckle, apple blossom, fennel, fenugreek, cumin seed, and other dried herbs.  You might find yourself tasting brioche, persimmon, lemon curd, or baked apple.
It often has wet gravel, salty or mineral qualities.
Styles using malolactic fermentation or lee aging will present creamy characteristic. Oak use provides toasty, coconut, and nutty notes similar to Chardonnay.
Grenache Blanc Food Pairing
This plump wine is rich, ripe, and spicy making it a marvelous match for flavorful foods. When pairing this wine highlight what goes well with its tropical green and sweet spicy notes.
You can match Grenache Blanc with some dishes that are traditionally seen as red wine meals like a spiced lamb. Ethnic food is a fantastic match for the spice and citrus aromas in Grenache Blanc.
One key thing to remember is to avoid hot spicy menu items. The high alcohol in the wine will make the heat burn unfavorably.
If you are looking to serve it with cheese try soft creamy cheese like Brie, Camembert, or Crème Fraiche. Slightly hard cheese with nutty flavors like Jarlsberg, Comté, or Swiss is also good options to serve with Grenache Blanc.
Below we share some Grenache blanc pairing ideas. Give some of these a try or keep your imagination open to try some of your own!
Grenache Blanc and Moroccan Tagine
The spices and ingredients of Moroccan Tagine complement and enhance the aromas and flavors in Grenache blanc.
Preserved lemons and ginger in the dish bring out the lemon zest and citrus in the wine. Baking spices in both melds together and balance the zestiness of the combination.
Mineral and saline components of the wine help cut through the richness of this dish.
Grenache Blanc and Lemon Asparagus
Whether you are a vegetarian or serving this as a side, roasted lemon asparagus and Grenache blanc shine together.
The tart green characteristics of the wine match the baked lemon in the dish while the wine's dried herbs soften the asparagus bitterness.
Grenache Blanc and Paella
Prawns, saffron, and lemon are common ingredients of Paella. These flavors echo what you will find in Grenache Blanc.
Grenache Blanc's salinity showcases the prawns while its citrus spice reflects saffron spice and lemon in the dish.
Grenache Blanc and Pork Chops with Spiced Apples
There's something very enjoyable about a savory and sweet combination.
Author Note: Dried herbs and toasty notes in the wine infused with the pork chop's savory aspect. Baked spiced apples add a little fruity sweetness that is highlighted by the zing of the green fruit flavors in the wine.
Grenache Blanc and Raman
The ripe green fruit in Grenache Blanc livens up a bowl of ramen. Its herbs and spices contribute to the warming effect of the soup. It has enough body to not be overpowered by the salty soy and miso flavors in the dish.
Grenache Blanc and Mahi Mahi
Mahi Mahi is often cooked with lemon, olive oil, butter, and garlic. Try this dish with a Grenache Blanc that was aged in oak or went through malolactic fermentation.
The creaminess of the wine is seductive when paired with this dish. Its zesty green notes will add balance and flair to this buttery fish.
Grenache Blanc and Shrimp and Vegetable Tempura
The salty minerality of Grenache blanc compliments this dish. Its bright citrus notes of lime pear and green apple enliven the delicate shrimp and cut through the deep-fried breading.
Choose a new world style of Grenache blanc that does not have oak to electrify this rich dish.
Grenache Blanc and Chicken Satay
This juicy tangy skewer boasts ingredients like soy sauce, lime, ginger, turmeric, and lemongrass. When dipped in peanut sauce it becomes an undeniable match for Grenache Blanc's nutty nature.
Grenache Blanc's intense aromas of lime peel and Meyer lemon notes build up the Thai spices in the dish.
Grenache Blanc and Chicken Tandoori
This Indian dish is made by roasting chicken in marinated yogurt and spices. Garam masala and other aromatic spices in Tandoori surge when blended with Grenache Blanc's spicy notes of cumin, nutmeg, and anise.
Toasty characteristics along with lychee and peach in the wine add dimension to this smokey flavored dish.
Grenache Blanc and Orange Chicken
Grenache Blanc's richness and fruit bring out the best in this Chinese dish.
This dish will make the wine juicier and bring out more its tropical fruits like mango lychee and tangerine. The wine's long spicy finish lends to the sweetness in the dish.
Grenache Blanc and Bouillabaisse
This traditionally French stew is full of seafood and Provençal herbs and spices. The layers of flavor in this dish interplay with the layers of the wine.
Seafood always pairs well with the citrus notes in the wine. Here we have the added notes of spice and minerality that the wine ushers into the combination leaving your tastebuds truly satisfied.
Grenache Blanc and Grilled or Roasted Vegetables
Grilled vegetables like zucchini, squash, eggplant, and onions are a great side option for Grenache Blanc.
The wine's minerality and herb flavors of fennel, dill, and cumin seeds act as an extra topping to grilled vegetables. Styles that have toasty characteristics blend well with the charr from the grill.
Grenache Blanc and Artichokes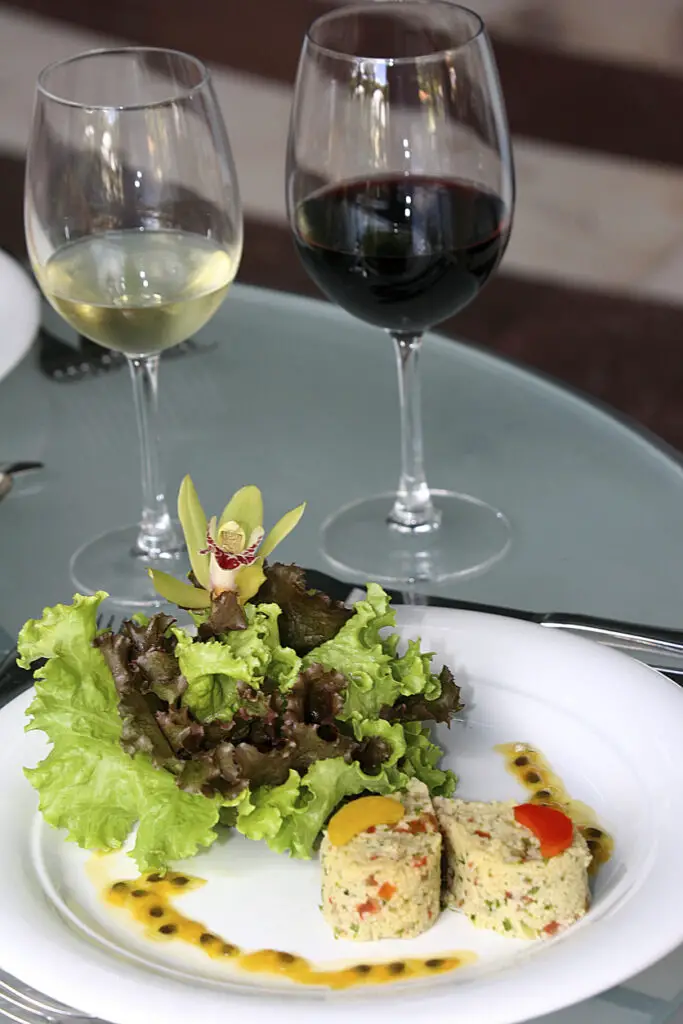 Artichokes are known to be a troublesome partner for wine. They contain compounds that make the wine taste sweeter and flabbier than they actually are.
Choose crisp styles that are not made with oak that have a lot of green notes and minerality. It also is a better combination when artichokes are served with cream or cheese.
Serving Grenache Blanc
Author Note: Grenache blanc is somewhat temperamental and oxidizes very easily. Care must be taken to store it under consistent conditions away from extreme light and temperature fluctuations.
Most Grenache Blancs are meant to be drunk young soon after release. You typically will not cellar this type of wine; however, some can age 1-5 years.
Again, because it tends to oxidize you do not want to use a decanter for this wine.
Chill Grenache Blanc to reduce the burn from the alcohol. Serve it between 45 and 50 degrees Fahrenheit in a classic white wine glass.
Conclusion
Grenache Blanc is the mutated cousin of red Grenache originally from Spain. It is often used as a blend but can also be found as a single varietal.
This rich white wine is full of intense green flavors and aromas that offer minerality mid-palate and a long spicy finish. It has soaring alcohol levels and soft acidity.
Grenache Blanc is a delightfully diverse wine to pair with food due to its full body and flavorful palate. It is packed with bright and spicy notes that are sturdy enough for flavorful food pairings. Mineral and salty characteristics and to its dynamic character.
Meals with exotic spices and citrus components make great Grenache Blanc food pairings. It is the perfect wine for anything from grilled fish to ethnic food.
Be sure to try Grenache Blanc with your next meal that is full of character and flavor. We hope you enjoyed this article on Grenache Blanc food pairing.
To living a full-bodied life,
Wesley