White wines are the ruling queen of dinner parties, but finding their perfect food pairings can be difficult. It isn't just matching your favorite food to your favorite wine. There are many delicate details that go into creating these duos. Let's choose one wine to match with food today. Now, what is the best Albarino food pairing?
Albariño is best with all types of seafood, especially white fish. Try out dishes with white meats and some leafy greens. Other food, including seafood risotto, fish tacos, oysters, clams, mussels, and anything else from the sea, is also a great match for this white wine.
Let's get into the details of this delicious wine, where it's from, and what food it goes well with!
All About Albariño
Before learning more about Albariño food pairing, let's go over its history. Albariño is a delicious crisp and refreshing white wine that is the ideal match for seafood. When one says wine in Spain, everyone's minds go to this signature wine. It comes from the northwestern coast of Spain near Rias Baixas in Galicia. In fact, this region is known for being the birthplace of Albariño.
Author Note: If you are ever in the area and love wine, then you will be in heaven. Many wine-related events are organized here year-round, so check it out and plan your trip accordingly!
If you have ever heard or read the name "Alvarinho," then you have interacted with Albariño already. That is the name for this wine in Portugal. Albariño is also made in California and other regions in the United States. If you are in the mood for a light, citrusy, and vibrant white wine, then this is surely the bottle for you. Let's see what else we can learn about this delicious wine.
What Are The Characteristics of Albariño?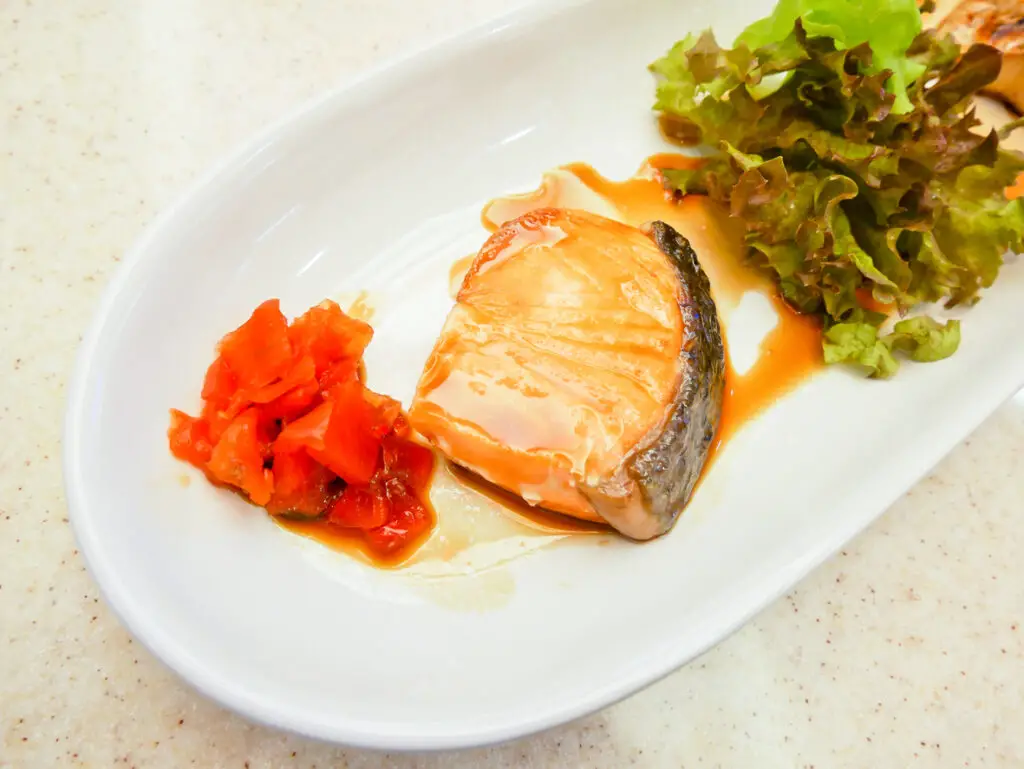 Albariño is a bright and clean wine. There are a variety of delicious flavors and aromas trapped in this small bottle. Uncork it and discover the magic of Spanish wines.
The winemaking process here rarely involves oak aging, so you don't have to worry about overpowering vanilla flavors. You are going to taste "pure" grapes, so be prepared for crisp aromas and tastes. If you feel your lips puckering after a sip, then you are drinking real Albariño. It has notes of citrus and mineral along with a moderate acidity, which explains why it's such a good dinner party drink.
What Does Albariño Usually Taste Like?
The main flavor notes in Albariño are apricots, limes, oranges, almonds, minerals, and sometimes a slight hint of saltiness. Depending on the bottle, you may also note tastes of tangerines, grapefruits, nectarines, pineapples, and sometimes wildflower floral hints. These are a factor when considering options for Albariño food pairing.
Of course, the more minor flavors and aromas change according to the specific winemaker since everything from the terroir to the machinery affects the taste of the wine. You may also notice flavors that we don't, and that is truly the art of wine.
What Is The Structure of Albariño Like?
Albariño is a very "medium" wine. We mean this in a good way, of course. It is a medium-bodied wine, so it's not too light but also not overwhelmingly heavy. This is an important factor to consider when doing an Albariño food pairing.
Wines with a medium structure are great for pairing with food! Albariño has a medium to high acidity level, meaning your mouth will start to water after a sip. This makes the next sip that much more delicious.
The alcohol level of Albariño is very moderate. You won't feel a burn when you drink it, but it also won't go down like water. Once you try this wine, you will start to appreciate how beautifully balanced it is! And that is exactly what makes it so special.
Where Does Albariño Come From?
Spain
Abariño is the heirloom white grape wine of Spain. Most vineyards are found primarily in the Rias Baixas region of Galicia. This also explains why this wine is the best match for all types of seafood.
Top Tip: The wines from the Galicia area are fruity with notes of citrus, apricots, minerals, and some saltiness because of the oceanic location! They are somewhat oily but also bright and refreshing.
Portugal
Portugal isn't far behind in terms of quality when it comes to producing Abariño, especially bottles from the Vinho Verde region. This area is actually located close to the Spanish Abariño-producing region but has much more land. The bottles from Portugal are usually more affordable. These grapes are also added to other wines to make delicious blends that taste zesty and bright. They are also lower in alcohol and have a lighter body.
The USA, Argentina, Brazil, and New Zealand also have some regions that cultivate and produce Abariño wines. Here are some specific details on where exactly these grapes grow.
Spain: ~32,500 acres (mainly Rías Baixas)
Portugal: ~14,300 acres (mainly Vinho Verde)
California: ~300 acres (mainly the Central Coast)
Uruguay: ~150 acres
Other Areas: Australia, Argentina, Chile, Brazil, New Zealand
What Are The Best Abariño Food Pairings?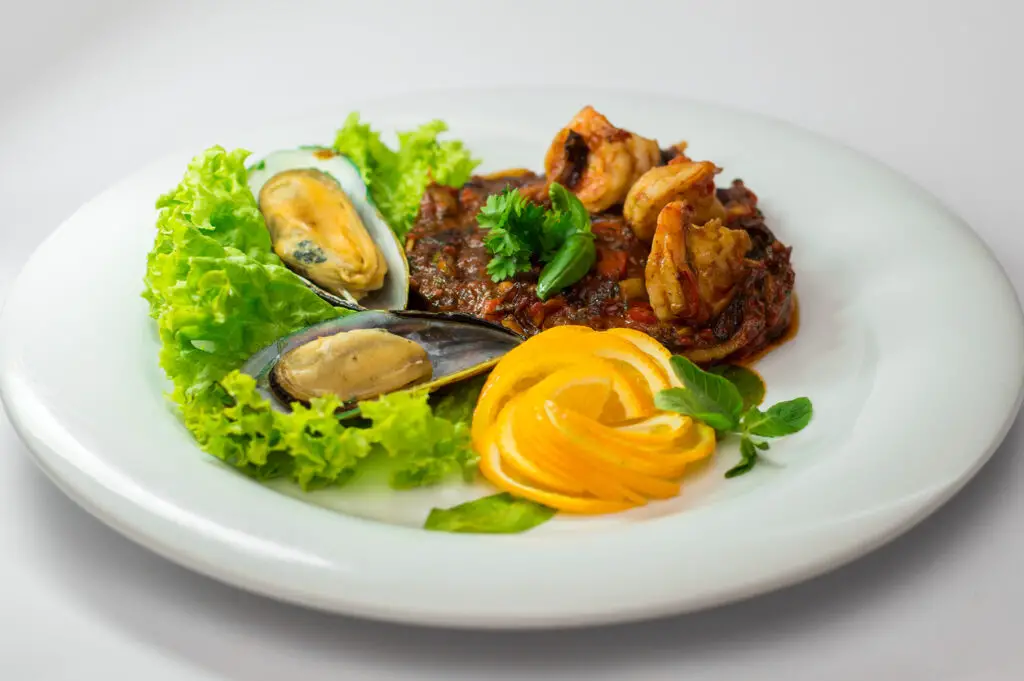 As mentioned above, Abariño is the best friend of all types of seafood, but let's dive deeper.
Meat Pairings
Some form of light meat, fish, and any seafood is the ideal pairing for Albariño. We recommend seafood risotto, fried fish tacos, mussels, clams, and oysters.
As we saw above, Albariño grows near the coast of water. The universe itself has decided that seafood is the ideal pairing for this wine. These refreshing citrus flavors and slight saltiness go especially well with any type of shellfish.
Another seafood dish we all know and love is sushi. The Albariños body perfectly complements the rice, while the saltiness is a match for this fish. So pick up a bottle of Albariño and your favorite rolls for a delicious evening.
If you aren't a seafood person, then go for some Thai food or just any Caribbean dish. These flavors are powerful enough to handle the wine. But, keep in mind that your dish shouldn't be too spicy; otherwise, your wine will be overpowered.
Cheese Pairings
Burrata and other soft cheese are the ideal pairings for a bottle of Albariño. Manchego, gouda, feta, and similar semi-hard cheeses are also an amazing pairing with a refreshing and citrusy bottle of wine.
Vegetable Pairings
Fresh green herbs, like salsa verde, compliment the Albariño flavors very well. Try making a salad with all your favorite green vegetables and add some spices and herbs as well. Spanish tapas, grilled vegetables, Caprese, and even a caesar salad make for an amazing pairing with this wine. As you see, this wine is diverse enough to complement all types of dishes.
Our Top Four Albariño Wines
Here are some of our favorite wines to try!
Mar de Frades Albariño, Rías Baixas, Spain 2019
This wine tastes like summer in a bottle. A windy yet hot evening on the beach, a freshly caught platter of seafood (oysters, prawns, and crab), surrounded by close friends, and a chilled bottle of Albariño wine. It truly is the dream, isn't it? Especially during the current lockdown, buying this bottle of wine is the closest you can get to a beach in Spain.
Author Note: And it surely does cost less than a ticket to Spain, only about 15 USD. You can really taste the distinct fruitiness and tanginess of wine in the Mar de Frades Albariño. So purchase a bottle, prepare one of the dishes mentioned above, and enjoy your evening of daydreaming!
Do Ferreiro Rías Baixas Albariño Cepas Vellas 2015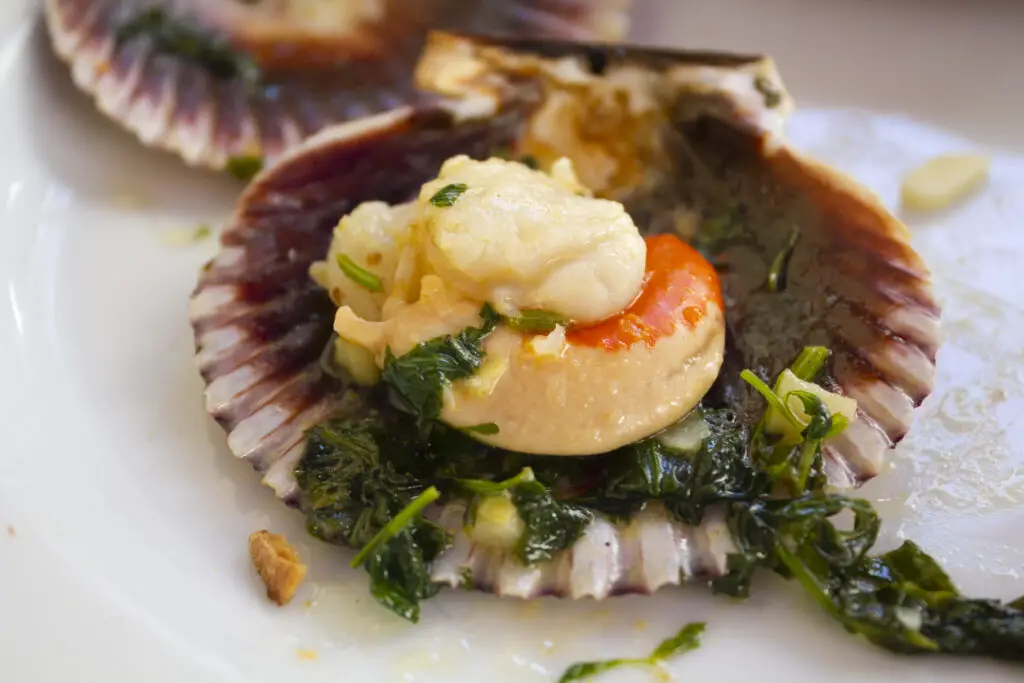 This wine is priced at a slightly higher level of $50, but we know exactly why. It has an incredibly complex and rich structure with a taut and tense texture. You can even taste the luxury after a single sip. The delicious mineral flavors really jump out in this wine, which makes it a perfect pairing for oysters and clams. An extra-long period of aging has really added to the flavors of the wine, making it impossible to find this degree of flavor in any other bottle. Surely one of our favorites, we urge you to try it out!
Burgans Rias Baixas Albariño, 2011
The bottle can hardly contain the explosive acidity and fruit flavors of this wine. Taste the Mediterranean feelings in a glass and experience dancing on a sunny beach at home! The very distinct white peach and honeysuckle flavors can only be found in this style of Albariño. It is a very lively wine without being intimidating in any way. In fact, this may be the most approachable wine on our list. So, don't be afraid to buy a bottle next time you're at the store, and you'll see what we mean.
Bodegas Terras Gauda Abadia de San Campio Albariño, 2012
Priced at only $30, this Albariño is fruity and fun. In fact, these two adjectives tell you all you need to know about this wine. It really leaves an impression even after a single sip. The flavors of pear, apple, and all types of citrus make the wine taste ripe, meanwhile being complement by the underlying smoky minerality. Last but not least, the nutty aftertaste really leaves us wanting more of this complex and rich wine.
Conclusion
We consider Albariño to really be one of the most underrated out there. It is basically a Spanish beach on a bottle and drinking it will make even winter feel like summer. We hope you enjoyed this article on Albariño food pairing.
This wine tastes very fruity and vibrant, especially paired with a complementing platter of juicy seafood. Seafood and Albariño is truly a match made in heaven, so what are you waiting for? Prepare some chubby prawns, pour yourself a glass of Albariño, and enjoy your evening with some mellow jazz. That's our plans for tonight anyway!
To living a full-bodied life,
Wesley