You may think how can such a delicate drink like white wine pair with a type of fast food. Or you would now think that not all the burgers are really fast food. To avoid such arguments and contradictory thoughts, we will talk about the white wines and burgers separately, and then see how good is a white wine pairing with burgers.
We strongly believe that the best white wine to pair with burgers is Chardonnay. The meat's fattiness and any cheesy, fluffy toppings help break through a little bit of the wine's acidity. Bubbles are also ideal for lightening up heavier, salty foods (one reason beer works so well). A Cava from Spain will be a more budget-friendly alternative, although some people swear by Champagne with burgers.
As we promised, let's see what burgers are the best, which ones make a great pairing with wines, what whites are best for burgers.
Brief History of Burgers
The history of burgers is surrounded by legends, with several interpretations of events telling the story of how and when this beloved traditional food began. We don't know for sure who was the first to create such a well-known menu staple, but we know a lot about how this sandwich has evolved.
Some reports claim that in Hamburg, Germany, the hamburger originated in 1758. While this origin is disputed, it is widely recognized that at the 1904 World Fair in St. Louis, USA, the burger came to be prominent. It was here that it was referred to by a newspaper, the New York Tribune, as "a food seller's innovation." Although there is no conclusive proof to settle this argument, the burger quickly became a beloved favorite in the USA and globally.
From here, it wasn't long before the burger chains we know and love today began to emerge. Six of the major chains, including the 'big two,' McDonald's and Burger King, began to pop up between 1921 and 1969, and by 1985, they reported that 1 out of every six visits to any restaurant was to the 'Golden Arches,' McDonald's.
Author Note: Burgers not only make customers happy, but they are a very successful business, with 50 million sold each year in the US, and burgers contributing $73 billion (£55 billion) each year to the US economy, compared to £3.3 billion generated by the UK high street.
Fun Facts About Burgers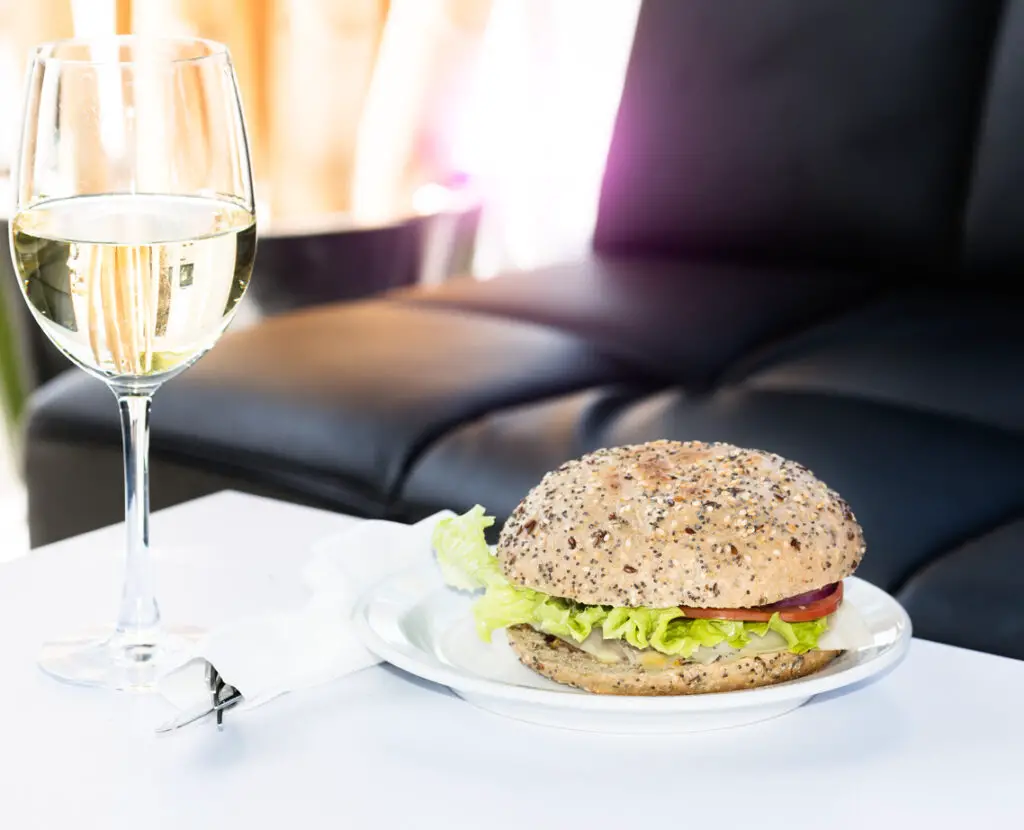 People claim that America's oldest burger chain belongs to White Castle. In 1921, their first location opened, where burgers cost just 5 cents each.
The Big Mac was the world's most famous burger, and it was launched in 1968 and sold for 49 cents.
The Glamburger is a burger with edible gold leaves, caviar, and lobster. It also consists of black truffle, Kobe beef, venison, and a duck egg, one of the most prized burgers ever. The burger, created by the Honky Tonk restaurant in London in 2014, costs £ 1,100.
The world's most expensive hamburger (isn't it the Glamburger?!) is made at Juicy's Outlaw Grill in Corvallis, Oregon, and is also the giant hamburger in the world, weighing 777 pounds.
Best Burgers To Try
There are millions of kinds of burgers, and we have chosen some of them for all the tastes; red meat, poultry, fishburgers, and veggie burgers.
Beef Burgers
A traditional ground beef burger, especially if it's grass-finished beef, can be a healthy, high-protein meal, which we'll tell you more about in a second. Beef is one of the best sources of B12, a vitamin that is important for red blood cells and energy production.
And while it is ranked the worst, this is primarily due to how many beef burgers are ruined-it is challenging to find burgers that do not have descriptors such as "double patty," "onion shoestrings," and "crispy bacon."
One way to ensure your beef burger cravings are fulfilled is to go for grass-finished, not just grass-fed, in the most wholesome way possible. Yeah, it's going to cost you a little more (and that's on top of choosing grass instead of grain-fed), but it's worth it because it's leaner.
Too many people pay a grass feed premium, but what they don't know is that the animal is typically fed maize and soy for the last two months, and it can be GMO to boot.
Veggie Burgers
Traditional veggie burgers are very satisfying and a great way to slash artery-clogging saturated fat when used to replace hamburgers. If you choose veggie burgers, that will reduce exposure to heterocyclic amines, the carcinogens produced at high temperatures when meat is cooked on the grill.
However, since some of them are just as high in calories as regular burgers, veggie burgers are not the leading ladies on our list. Some of the premade ones are also rather big and contain a lot of oil. On top of all that, the Diet Twins clarify, many store-bought veggie burgers are filled with sodium. Some are manufactured with soy, while others are stuffed with legumes.
To make it easier for you, you can choose from the veggie burger list.
Chicken Burger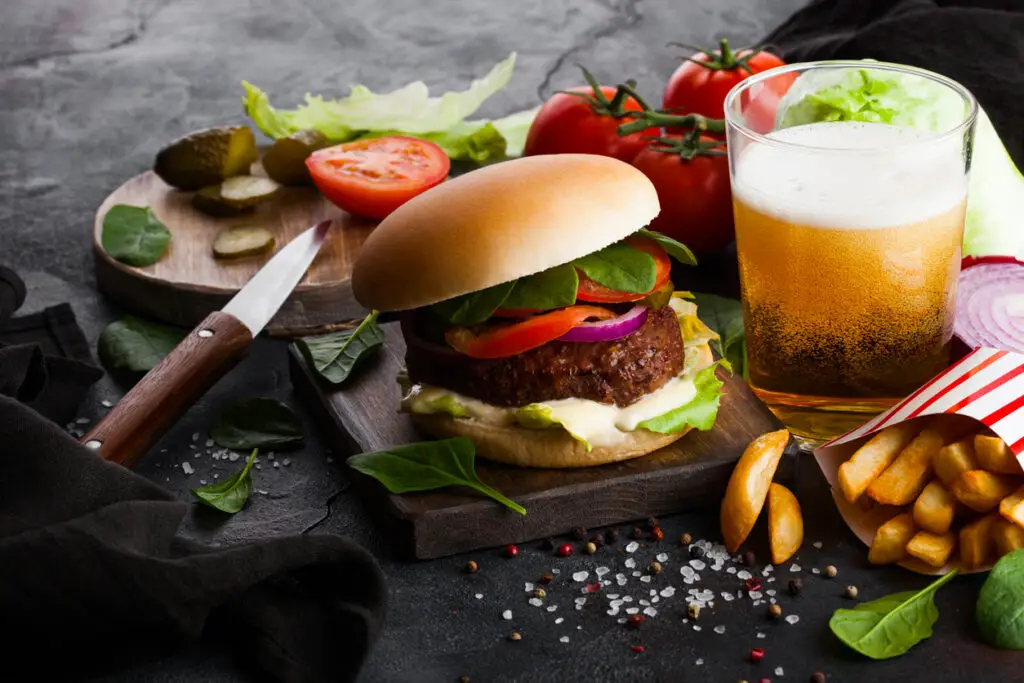 As many people prefer to call it, a chicken burger or sandwich contains a boneless filet of chicken, assorted toppings, and bread. It is possible to shred, deep-fry, roast, or barbecue the meat, and the sandwich can be eaten either hot or cold. There are several variants, but chicken wraps and open-faced versions of the chicken sandwich also exist.
Author Note: History tells that in 1946 when an Atlanta restaurant owner called Truett Cathy created an alternative to the iconic hamburger, the first chicken sandwich was invented. In a bun, he put a slice of boneless grilled chicken filet and called it Chick-fil-A.
Fishburger
Catholic businessman Lou Groen, a McDonald's franchise owner in Cincinnati, invented the sandwich in 1962; his store at 5425 West North Bend Road was in a primarily Roman Catholic area, resulting in reduced hamburger sales Fridays due to the Roman Catholic tradition of abstaining from meat on Fridays.
Nowadays, fish burgers are on the line of the favorites of pescatarians and not only. Besides, as fish goes fantastic with white wines, this burger is our favorite for this article.
White Wines
You probably meet white wines in our blog too often. We love those ladies and try to "persuade" you to love them, also. But for today's post, we will set aside the whites that complement burgers. As we discussed already, Chardonnay is a good choice as well as sparkling whites. So let's move on and see what is so special about these wines.
Chardonnay
The full-bodied and mature flavor of a good Chardonnay wine is a favorite of wine connoisseurs and lovers. Many enjoy the exuberant charms and low acidity of this wine, while the lack of powerful scent makes it a perfect drink to pair with anything. Nothing stops you from enjoying a casual glass of wine on a rainy afternoon, but there are a few details that go into getting the most out of your bottle.
The famous Chardonnay wine is named after grape variety that is used to produce this wine. Chardonnay grapes are green-skinned and widely utilized in white wine production. This grape originated in the Burgundy region of eastern France, which was famous for having many vineyards but is now grown everywhere.
The Chardonnay grape tastes neutral, and many of the flavors associated with the wine are derived from other influences like terroir and oak. It is made into many different styles of wine, from crisply mineral wines to tropical fruit flavors.
This wine's fruit notes vary according to the weather of the particular region where it was made. Chardonnays that undergo malolactic fermentation may have softer acidity and fruit tastes with some hazelnut notes.
Champagne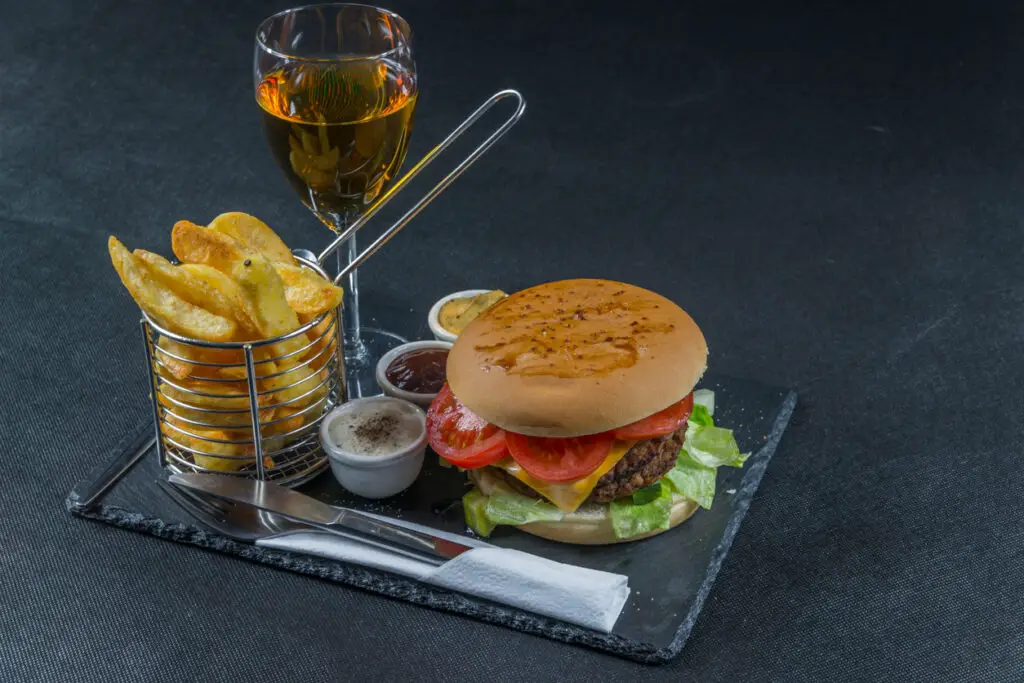 Author Note: True Champagne is only the one that comes from the region of Champagne in France. French people are proprietors of their drinks. For example, the brandy can only be called Cognac when it is made in that region.
So, Champagne is an alcoholic drink produced from specific types of grapes grown in the Champagne region. These bottles follow rules that demand, among other things, specific vineyard practices, sourcing of grapes exclusively from designated places within the Champagne region, specific grape-pressing methods, and secondary fermentation of the wine in the bottle to cause carbonation.
The grape selection is essential as not you can use any wine grapes in Champagne making. The finest grapes, Pinot Noir, Pinot Meunier, and Chardonnay, are used to make almost all kinds of Champagne, but small amounts of Pinot Blanc, Pinot Gris, Arbane, and Petit Meslier are vinified as well.
Only these specific grapes grown according to special conditions and in a particular area may make Champagne.
After the aging process, the bottle is shaped, both manually or mechanically. The process is called remuage (or "riddling" in English), during which the unique shape of the Champagne bottle is made. All the sparkling wine bottles more or less look like this, no matter if they are a Magnum or a Nebuchadnezzar.
Final Thoughts
We are always happy to suggest innovative solutions about wine and food pairings to you. The most important part of the best dinner is your favorite dishes and wines on the table and your favorite people around the table. So grab a bottle you enjoy, grill those patties, and enjoy an evening of wine and not-so-fast food!
To living a full-bodied life,
Wesley