Many activities are impossible to enjoy during the COVID-19 pandemic. One of these is traveling to the French or Italian countryside for a wine tasting tour. If this sounds like something you miss doing, then we are here for you. Whether it is for Valentine's day or you just want to enjoy a wine evening with your loved one, you may be wondering how to set up a wine tasting at home for two?
Setting up a wine tasting at home is easy peasy. Just pick out two wines each, research food pairings, taste the unique notes and enjoy your evening!
Let's take a closer look at how you can design the perfect wine tasting afternoon for you and your partner!
How to Plan a Wine Tasting At Home For Two
Pick a Theme
For a fun evening of wine tasting, start off by picking a theme. This will help you in choosing the wines, the food, and in general the mood of the evening. With this step, you can get imaginative to keep the tasting fun and focused. If you wish, you can also get some party decorations centered around the theme for that perfect Instagram picture opportunity.
Here are some ideas to help with choosing the theme.
Horizontal Wine Tasting
With this theme, you will be tasting different wines that come from the same vintage or are part of the same style of wine. You can find the subtle differences in the styles of winemaking according to the producers and then choose your favorite. This means purchasing wines that are the same varietal, from the same region, made in the same year just in different styles. For example, the 1999 Red Burgundies or 2001 Robert Mondavi Cabernet Sauvignons.
Vertical Wine Tasting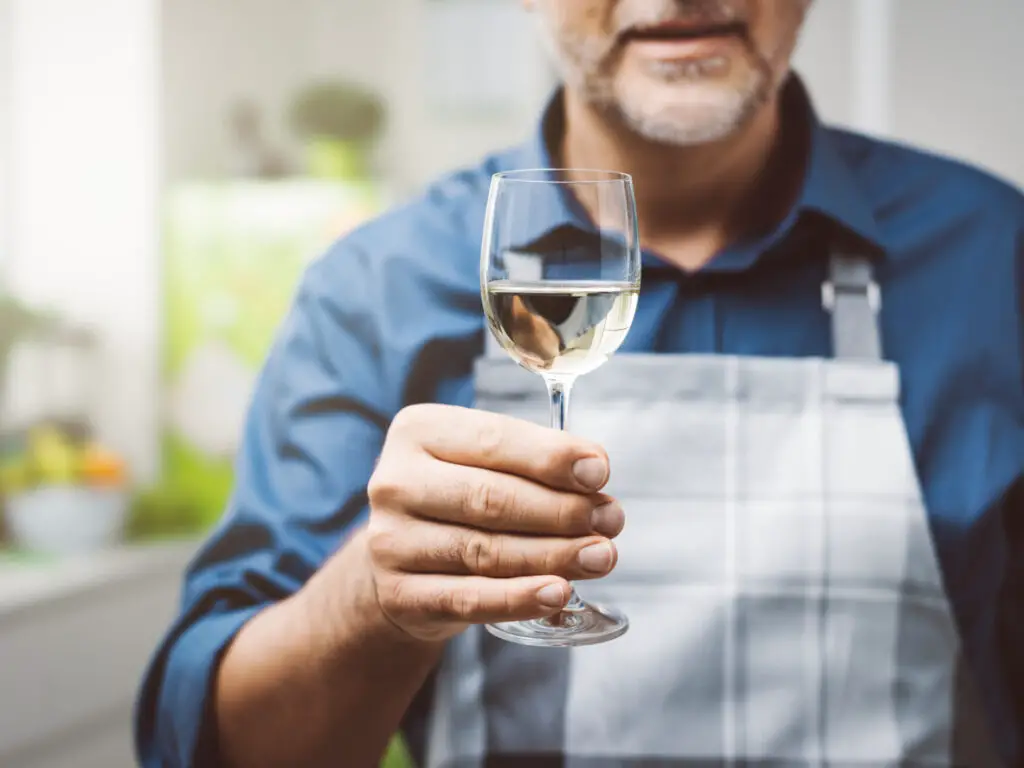 Author Note: With vertical wine tasting, you will purchase one wine made over a span of years. Each vintage will have its own unique characteristics as well as similarities with the rest. With this type of tasting, you will see how different the same wine can be, how weather affects wine, and how the composition changes over the years.
Geographic Wine Tasting
To really see how the soil and weather of a specific region can change the wine, this is the evening theme for you. Try purchasing different wines from the same region to notice what they all have in common and what is unique to specific wines—for example, select multiple Chenin Blancs from South Africa or Sangioveses from Italy.
Same Wine, Different Regions Tasting
This type of wine is a bit self-explanatory. Choose a single type of wine like Sauvignon Blanc that was made in different countries like France and New Zealand.
Blind Tasting With Prices
 This tasting theme is really fun. Both you and your partner pick two wines that are luxury and expensive, and two that cost less than $20. Then, you both take turns tasting the wines to figure out which are expensive and which are everyday wines. Most people guess wrong, but who knows, maybe this is a game you are good at!
Grape Variety
This tasting theme is also very easy to understand. It allows you to have more options while shopping for wines as well as tasting a whole range of styles. The subtle differences are what you will notice when tasting wines made with the same grape.
Wine Tasting Music
Music is a crucial part of any fun event; it decides the mood for the evening. This is part of the journey to whatever region your chosen wines are from. If you have selected French or Italian wines, then add Italian and French music to your playlist. Think of summer nights by the beach and find music to match this mood. If you are trying wine from New Zealand, then upbeat and dancing music is the way to go.
But, keep in mind that this isn't really a party. Keep the volume of your music low, enough to be heard in the background but not enough to interfere in conversations.
Choose The Wines
Once you have chosen your themes, next comes picking the wines. You and your partner can go shopping for your bottles together, or alone if you wish it to be a surprise. If you are doing the price range tasting theme, then it is best that you go alone, so the guessing is more fun. Do your research before going out to purchase the wines, so you are all set once you get there.
Create Food Pairings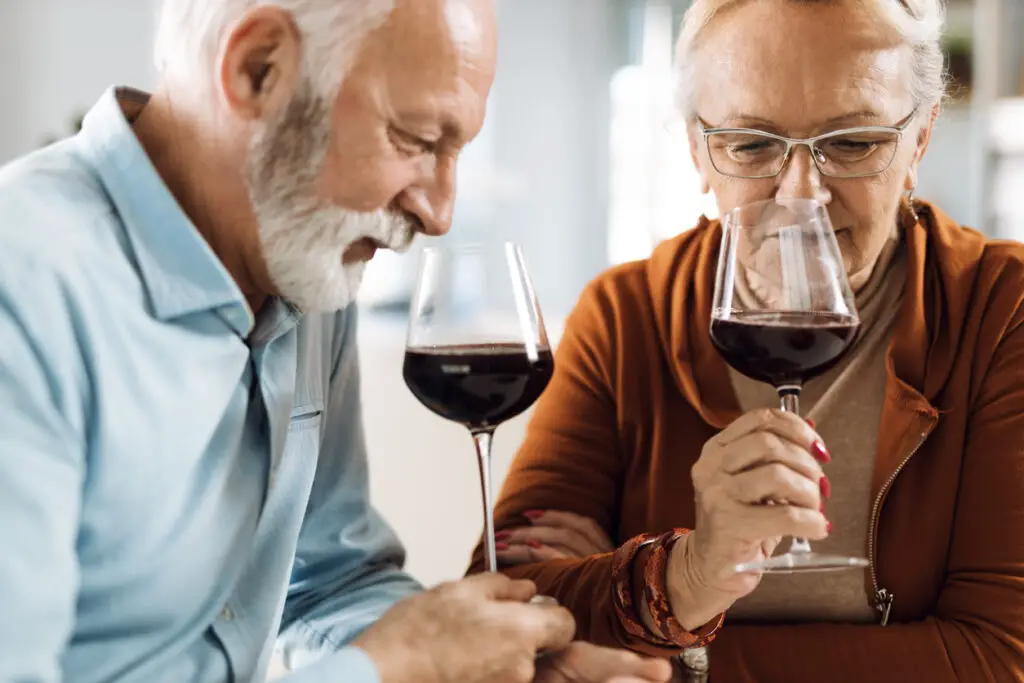 Wine shouldn't always be enjoyed alone. Food pairings are a must for a fun wine tasting night. For this step, you should do some research to find recipes you enjoy. You don't have to stress about what food you make, but there are a few general rules you should follow. Your wine must always be more acidic than your prepared food, along with being sweeter as well.
Their intensities should match as well, to avoid overshadowing some of the flavors. Red wines match best with bold meats and anything red, and white wines are better for lighter meats like fish and chicken. You can read more about pairings on the internet, but here is a short summary of generally well-enjoyed pairings.
Vegetables with dry whites (Sauvignon Blanc, Pinot Grigio, Albarino) and sparkling wines
Roasted vegetables with dry whites, light reds (Pinot Noir, St. Laurent), and medium reds(Merlot, Grenache, Zinfandel, Sangiovese)
Soft and hard cheese goes with every wine except for the dry whites
Starches are a great pairing for all wine styles
Fish matches well with dry whites, sweet whites, and rich whites
Light fish like crab is good with rich whites and light reds
White meat with rich whites, light reds, and medium reds
Sweets are great with sweet whites and dessert wines.
Noting Each Wine
Top Tip: Remember, you aren't planning a wine-drinking evening, but a wine tasting one. So take each sip carefully. Discuss the wine with your partner. What are the appearance, smell, and taste like? Is it dry or off-dry? Maybe it is very sweet, bitter, or acidic.
How is the after-taste, is there one at all? Discuss the smells and scents as well. For an easy trick, you can find many printable wine tasting sheets to help you keep track of your findings.
When tasting red wine, you are most likely to notice hints of blackberries, cherries, cranberries, figs, raisins, plums, raspberries, and floral notes.
White wines tend to taste more like kiwis, citrus, apricots, and pineapples. These have more floral and tropical flavors. Reds are full of tannins and sometimes bitter; meanwhile, whites are acidic.
Choosing Your Favorites
Once you are done with the tasting, discuss what you have noted down with your partner. Pick which one was your favorite from the line-up, and see if they also chose the same one. Maybe this will become your go-to wine that is always in your cabinet!
Essential Checklist for a Wine Tasting Evening
Once you are ready to get your night started, here is a handy list of essentials you will need.
Wine opener or corkscrew
Water
Decanter for airing the wine
A funnel
Wine pourers (non-mandatory)
Dumping bucket(especially needed if you have 4+ wines to try)
Paper for notes
Pencils and pens
How to Taste Wine Like A Pro
When tasting wine, always take a sip and not a large gulp. Try to suck on it to aerate the wine and move it around in your mouth, like you are drinking through a straw. Along with noting the subtle fruity, floral, herb, mineral, and other flavors, you should try to understand if the wine is balanced, harmonious, rich, evolved, or complete.
Balanced
Author Note: Balanced wines should consist of some of the four basic tastes, which are sweet, sour, salty, and bitter. Sweet wines will be sweet due to the residual sugar, while the bitterness comes from the tannins in red wines.
These flavors should be well-balanced in wines, and they shouldn't taste too much of anything, such as sugary or bitter.
Harmonious
A harmonious wine has all the flavors combined in one bottle. These wines tend to be on the younger side. Although all flavors are present, they are also noticeable on their own, so try to take note of the subtle differences.
Complex
Complexity is usually hard to notice at first, so it may take a few wine-tasting evenings for you to get the hang of noticing this. The easiest flavors to recognize are the fruity ones and vanilla if your wine has aged in oak. Complex wines consist of more than just these flavors; they are a combination of various aromas and tastes. If you start to notice the more hidden notes in a complex wine, then you know you are on the way to becoming a true sommelier.
Complete
A complete wine is a wine with all of the above-mentioned characteristics. It is a rich and delicious wine with a satisfying finish. These wines aren't easy to find, so if you do stumble upon one, make sure to cherish every last sip.
Wrapping Up
Now you have everything you need to plan your own wine tasting night at home! So go shopping, get your wines, food pairings, and start sipping. If you don't notice the different flavors right away, don't get disappointed. The most important part is that you have fun and enjoy your evening of activities with your loved one. We hope you enjoyed this article on wine tasting at home for two.
To living a full-bodied life,
Wesley