It seems a glass of white wine is pretty timeless. During summertime, there is crisp and clean Sauvignon Blanc. Are you looking for wintertime wine? You would probably go for rich Chardonnay. There are many white wine varieties, but let's look specifically into two of them: Chablis vs Sauvignon Blanc. So what's the difference between Chablis vs Sauvignon Blanc?
The main difference between Chablis vs Sauvignon Blanc is that Chablis is a region where wine is made mostly of Chardonnay. Sauvignon Blanc is its own varietal of grape. As far as flavor differences, Chablis is much drier compared to Sauvignon Blanc. Sauvignon Blanc is generally a much sweeter taste profile.
Now let's take a closer look to discover the uniqueness of both these wines, analyzing their origins, what unique characters they both have as well as what makes them different from one another.
Chablis
History
You are probably familiar with France's Burgundy region, where the majority of best quality wines initially originated. Chablis is the northwestern district of the Burgundy region. Grapevines around this region usually produce dry white wine, best known for its purity of aroma and taste.
A basic bottle of Chablis is unoaked, vinified in stainless steel tanks, which is also a unique characteristic for this variety. Generally, what makes Chablis different from other Burgundy white wines, is that it typically involves much less influence of oak.
In terms of climate and geography, the Chablis region shares many similarities with the Champagne region of France. The peak summer growing season lasts long; on the other hand, cold and harsh winters can last until May. A year with too much rain and low temperature tend to produce more acidic wines.
Historically, wine in the Chablis region was aged in old feuillete barrels. These barrels were neutral but did not share oak characteristics such as vanilla, cinnamon, coconut, etc. Moreover, hygiene was very difficult to control in these old barrels, which resulted in flaws during the winemaking process.
Author Note: It was not until the 20th century when many advances occurred in the process of winemaking and aging. The use of oak became popular in Chablis when various winemakers in the late 20th century went back to wooden barrels in winemaking, using oaks.
Chablis is made 100% from the Chardonnay grape variety. According to various wine experts, Chablis is a perfect illustration of Chardonnay wine's "purest" form. Winemakers in Chablis want to emphasize the uniqueness of the terroir primarily. Cool climate and calcareous soil help to maintain higher acidity, which is noticed in Chablis wine. Let's now explore what primary flavors Chablis offers to wine lovers.
Chablis Taste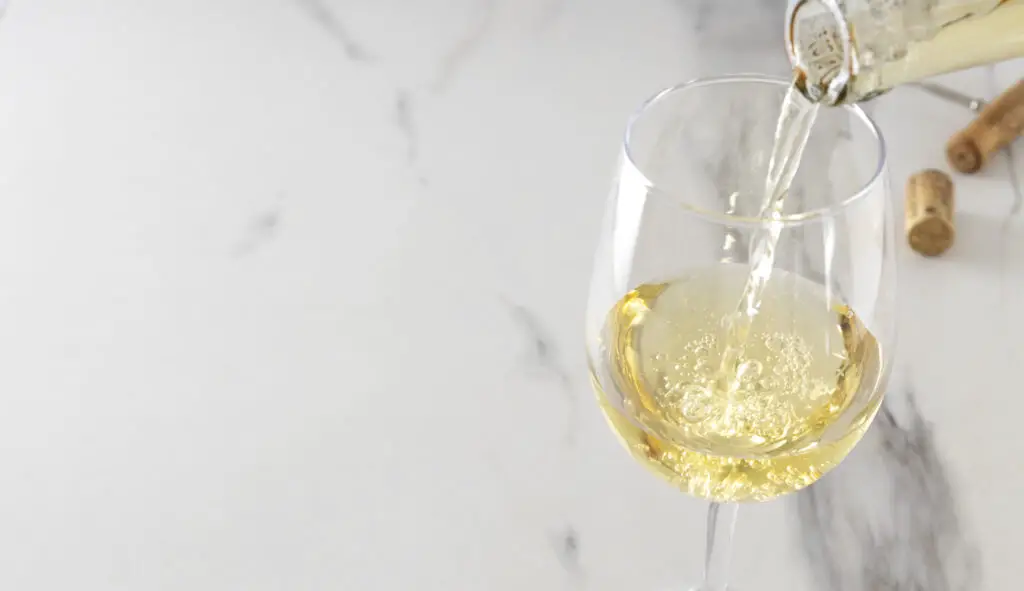 Now that we are familiar with Chablis history, let's see what it tastes like. Usually, wines from the Chablis region are known for citrus and white flower aromas, filled with dry, light-bodied citrus and pear flavors. A typical bottle of Chablis rarely has flavors of butter, which is also an indicator of oak aging.
The unique and elegant taste of Chardonnay from Chablis is thanks to the soil quality, climate, and extraordinary winemaking process of the region. The best bottles of Chablis express all the uniqueness of the region as well as characters: honeyed aromas, floral, and minerality.
Vineyards, called Premier Cru, and Grand Cru, are among the best in the region of Chablis. A typical bottle of Premier Cru wines would have a little more concentration and intensity. There are approximately 40 Premier Cru sites, and each of them has unique characteristics: some a little more floral, others have more minerality, and so on.
On the other hand, Grand Cru is less widespread in the Chablis region. A bottle of Grand Cru is more complex, has more character, and is considered the region's pinnacle. As we have already discussed, Chablis wines are different from other regional wines in terms of fermentation and aging. While the majority are fermented and aged in stainless steel barrels, Grand Crus are often matured in new oaks.
Chablis Food Pairings
According to various wine experts, a glass of Chablis is a kinetic wine choice, which is a perfect table companion. Arnoud Valour, former head of Chablis and Grand Auxerrois Wine Bureau, states that the most important thing is to choose the right Chablis for your dish. As we have already discussed, there are different types of Chablis wines, varying from one vineyard to another.
Generally, a bottle of Chablis can perform two functions at the table: it either cuts through the richness of certain dishes or highlights the richness. For example, 2 to 3-year-old unoaked Chablis will do great with smooth vegetable soups or grilled fish with butter and parsley.
On the other hand, a more mature bottle of Chablis will perfectly pair with richer style seafood such as baked crab or seared scallops.
Now that we are familiar with Chablis wine origins and unique characteristics, we can identify differences between other wine varieties. But before analyzing the differences between Chablis and Sauvignon Blanc, let's dig deeper into Sauvignon Blanc's history too.
Sauvignon Blanc
History of Sauvignon Blanc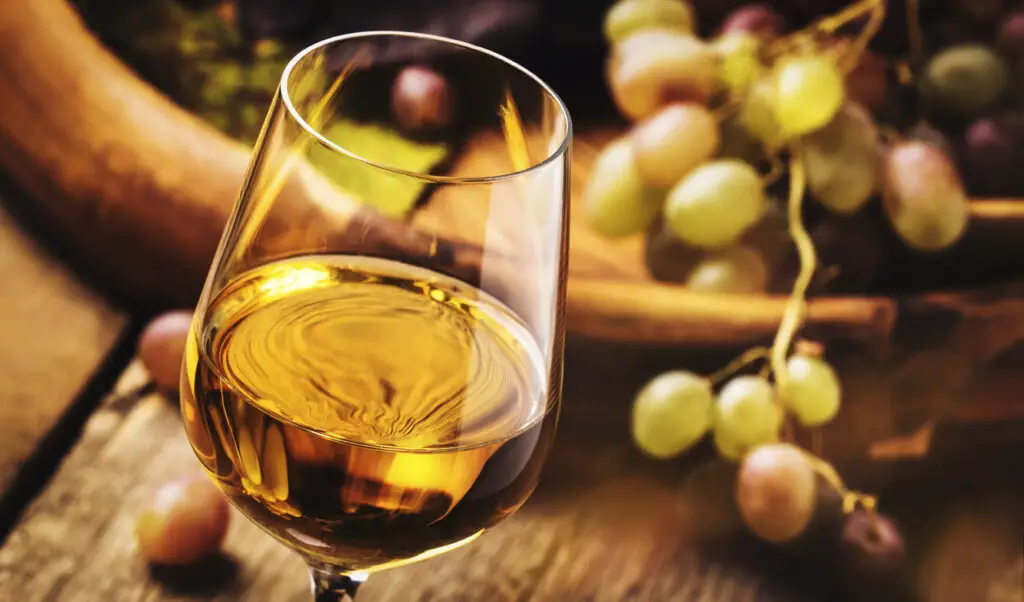 Many refer to Sauvignon Blanc as an unmistakable white wine, with pleasant herbal flavors and racy acidity. This grape varietal grows nearly everywhere, thus offering various styles and flavors. Although nowadays, Sauvignon Blanc is among the most popular wine varieties in the world, its origins trace back to the Loire Valley and Bordeaux region of France.
What is special for growing Sauvignon Blanc grape is that it buds late but ripens relatively early. This characteristic allows grapes to perform well in sunny climates when it is not exposed to overwhelming heat. In areas exposed to higher temperatures, grapes will over-ripe, producing wines with dull flavors and flat acidity. Because of global warming and rising temperatures, nowadays, farmers harvest Sauvignon Blanc earlier than they used to in the past.
It is also interesting to know the name origin of Sauvignon Blanc, which derives from the French word "Sauvage," meaning wild. As we have previously mentioned, the grape has its roots in France and has been planted in the Bordeaux region for around 500 years. But Sauvignon Blanc has had its popularity spread across New Zealand.
In the 1970s, when the grape was firstly introduced in New Zealand, winemakers realized that the geographic conditions and climate were perfect for ripening Sauvignon Blanc. Over the last 20 years, Sauvignon Blanc gained worldwide fame and is now planted all over the world, from Australia to New Zealand, to Chile, California, and South Africa.
Sauvignon Blanc Taste
Interestingly, Sauvignon Blanc from different regions varies not only in taste but color. For example, if your wine has a pale straw color, you can assume the grape was from cooler regions. On the other hand, deep gold color is an indicator of Sauvignon Blanc being from warmer regions. Sauvignon Blanc has a unique aromatic flavor blend, including green peppers, gooseberry, grapefruit, lime, or passionfruit.
Most of the bottles of Sauvignon Blanc are produced in a medium-bodied, dry style. This wine variety is relatively easy to drink, with moderate acidity and elevated acidity.
Author Note: Dry style bottles of Sauvignon Blanc are fermented in stainless steel barrels, contributing to the crisp texture. The flavors of dry Sauvignon Blanc include passion fruit, grapefruit, white peach, and bell pepper. Note that the barrels in which wine has aged play a great role in the flavors.
For example, if Sauvignon Blanc is aged in oaks, it will also have vanilla and custard notes. You may also notice differences in tastes if the country of origin is different. For example, in New Zealand and California, winemakers would like to leave a gram or two of residual sugar to add richer texture to the wine.
Although it is rare, you can also taste a sweet Sauvignon Blanc. Unlike the dry ones, it has flavors of marmalade, saffron, and apricot. Because this wine variety has many characteristics of its own, you will usually find just a wine varietal (wine made from a single grape variety) rather than blended with other grapes.
Sauvignon Blanc Food Pairings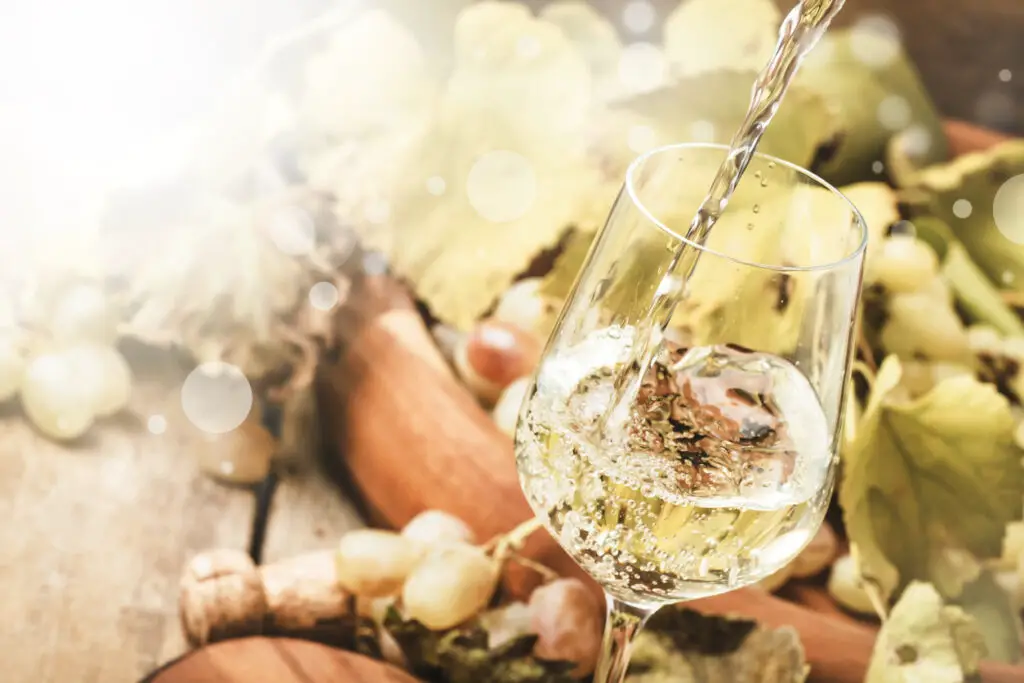 Sauvignon Blanc is a great pairing with herb-driven sauces on fish, chicken, or tofu. Wine experts also recommend having a glass of Sauvignon Blanc with Vietnamese or Thai cuisine. As the wine itself is light, the food pairing should also be light.
Author Note: An excellent pairing would be chicken, turkey, pork, crab, or lobster with light herbal sauces. If you want to have a romantic date night pairing Sauvignon Blanc with cheese, go for soft and flavorful cheeses like goat cheese, burrata, mozzarella, feta, or parmesan.
General Differences Between Chablis vs Sauvignon Blanc
Now that we are familiar with both of the wine varieties, their origins, and taste uniqueness, let's discuss their general differences. The first and most important difference is that Chablis is a region in France where the homonymous wine is made.
The grape variety from which Chablis wine is made is Chardonnay, while Sauvignon Blanc is the grape variety itself. Sauvignon Blanc is much more famous compared to Chablis and is grown nearly anywhere across the globe due to its adaptable character.
Another important difference is that Chablis is much drier compared to Sauvignon Blanc. The reason behind differences in dryness levels is that Chablis is usually aged in stainless steel barrels, involving much less influence of oaks, compared to Sauvignon Blanc. Although both Chablis and Sauvignon Blanc are considered dry wine varieties, Sauvignon Blanc Is generally much sweeter.
Wrapping Up
Both Chablis and Sauvignon Blanc are exceptional wines originating from France. Although one is made from Chardonnay, another from Sauvignon Blanc, these two wines' main difference is the dryness level. No matter which one you choose, a perfect dinner matching is guaranteed! We hope you enjoyed this article on Chablis vs Sauvignon Blanc.
To living a full-bodies life,
Wesley