If you're into red wines, you've probably found several cabernets and other full-bodied red wines you like. Maybe even a merlot or malbec that suits the bill. But what about pinot noirs? Many wine enthusiasts try french pinot noirs and struggle with them. European pinots are often described as thin and complicated. But then you try a pinot noir from Oregon, and you're surprised – it's delicious! Why is Oregon good for pinot noir?
Oregon is good for pinot noir for many reasons, but the biggest reason is the "terroir" (a French word describing the natural environment where wine is produced) is ideal for pinot noir grapes. Pinot grapes thrive in regions like the Willamette Valley where the grape growing season is slightly longer than in France.
But there are many other reasons why Oregon is good for pinot noir. And in this article, we're going to go over all of them! Get ready to learn everything about Oregon pinot noirs – from why they grow so well in Oregon, to some of our favorite producers. 
Let's get started!
Oregon's Ideal Pinot Noir Growing Environment 
As we mentioned above, the biggest reason why Oregon is good for pinot noir has to do with the growing climate for pinot grapes. Oregon has several regions that are perfect for growing pinot noir. It's also at almost exactly the same latitude and longitude as Burgundy in France.
But what exactly does this mean? What are the ideal climate attributes for pinot noir? 
Temperature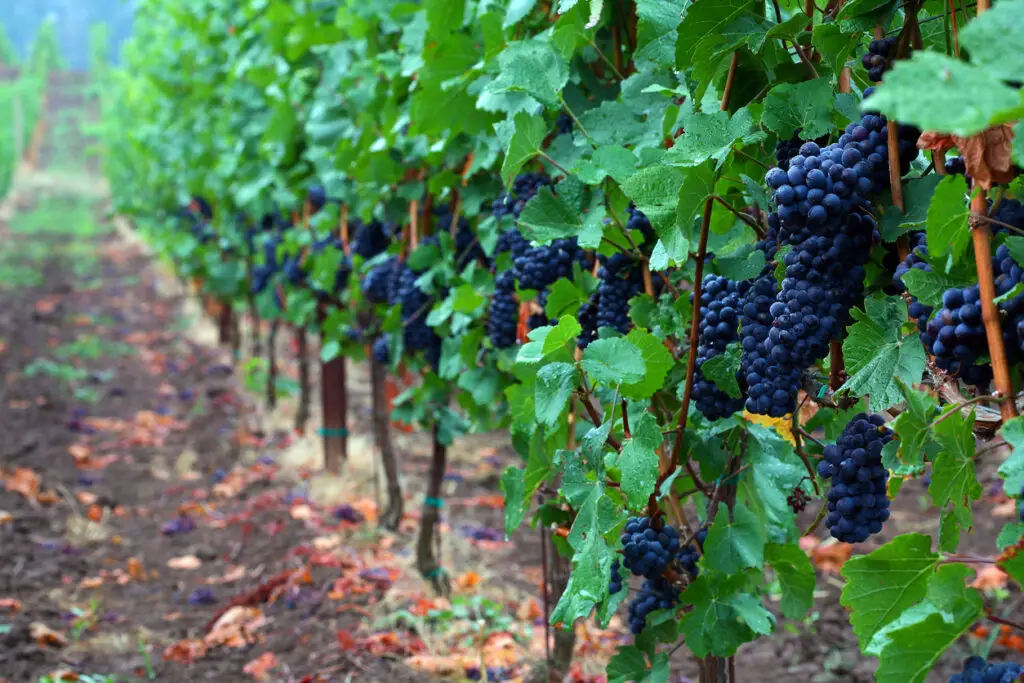 Pinot noir thrives in climates that have warm summers, but not too hot. Napa Valley and California, in general, are too hot for proper pinot noir growing.
Author Note: On the flip side, pinot noir does not stand up well to overly cold climates or climates that can have late frosts in the spring. Pinot noir grapes buds early in the growing season (sometimes as early as March) and will get damaged if there are overnight frosts during this period. 
Since the Willamette Valley is so close to the pacific ocean, it rarely gets below freezing and early season frosts are rare.
Hydration
Pinot noir requires a decent amount of hydration from rain to grow properly, however too much will cause the grapes to mold. Again, Oregon's climate fits the bill perfectly. Oregon gets a decent amount of rainfall in the winter and spring but then dries out in the summer.
If you tried to grow pinot noir farther north into Washington state, the grapes would get too much rain and grow mildew. 
Soil
In line with the above needs for moisture, pinot noir also needs the correct soil composition for optimum growth. The soil needs to have decent drainage to prevent standing water, but also enough dirt and compost to give the grapes the nutrients they need to grow.
Oregon has fertile ground that's not too rocky but also provides enough texture for the correct amount of water run-off.
Oregon's AVAs
Oregon actually has six AVAs where wine is grown. Dundee Hills is best known for pinot noir, but the other regions can also support the grape. McMinnville also a great region for full-bodied pinot noirs. We'll quickly list them below for reference.
Dundee Hills

Ribbon Ridge

Chehalem Mountains

Yamhill-Carlton

McMinnville

Eola-Amity Hills
Why is Pinot Noir Expensive?
You may have noticed that pinot noir can be quite expensive! The top producers in Oregon will charge $60 to $100 a bottle without blinking. This is because pinot noir is a difficult grape to grow correctly.
It also produces less fruit than other grape varieties, which means winemakers don't have as many grapes to work with. If you're interested in learning more on why pinot noir is expensive, check out our article dedicated to it.
What Does Oregon Pinot Noir Taste Like?
If you've never tried Oregon pinot noir, you're in for a treat. Full disclosure: our founder grew up in the Willamette Valley, so our views on pinot noir may be a bit biased. 
Oregon pinot noir is a medium-bodied red wine, with a complex and inviting flavor profile. Most tasters describe the wine as fruit-forward, with raspberry, strawberry, and black cherry notes when first tasting the wine. 
After the first few flavor notes come to a long and complex finish, with earthy notes such as truffle and mushroom to round out the wine. There can also be hints of vanilla and cinnamon depending on how much oak the winery used in their barrelling process.
Oregon pinot noir is relatively high in acidity and low in residual sugar. It's also not as alcoholic as other red wines, with most Oregon pinot noirs having ~13% alcohol content.
One of the reasons why Oregon pinot noir is popular with wine enthusiasts is that it is a very versatile wine. Since it's medium-bodied, it's great to enjoy by itself as well as with food. There are also many different tasting notes for trained palettes to explore.
Should You Let Oregon Pinot Noir Breathe?
As with any wine, it can be a good idea to let it breathe before enjoying it. This is especially true for older wines that may need some time to volatilize odors and byproducts. Since Oregon pinot noir can be aged for many years, you should definitely consider letting it breathe.
We recommend letting Oregon pinot noir breathe for at least 30 minutes after opening. Ideally, you should open a bottle of pinot noir and pour it into a decanter before enjoying it. 
Top Tip: The decanter will allow more wine to aerate faster and also help the wine warm up to room temperature if you were storing it in a cooler.
After an aged Oregon pinot noir has opened up, you'll notice it's flavors are more pronounced. Aerated pinot noir also tends to taste more full-bodied and often pairs better with heavier foods.
If you plan on drinking your Oregon pinot noir with dinner, be sure to let it breathe!
What Food Pairs Well with Oregon Pinot Noir?
As we mentioned earlier, unlike other pinot noirs Oregon pinot noir pairs well with a variety of foods. Depending on what you enjoy eating, there are many options for appetizers and main courses that go well with Oregon pinot noir.
Here are some of our favorites.
Mild to medium cheeses.

Steak or Surf and Turf.

Duck.

Salmon.

Roast chicken.

Pasta dishes with red sauce or robust mushroom sauces.

Salami and chorizo.

Olive pate with rustic bread.

French bread with olive oil.

Pizza.
And many more! We encourage you to use this list as a starting point then try out your own favorite foods to see what you like pairing the most with Oregon pinot noir.
How Much Does a Good Bottle of Oregon Pinot Cost?
Lucky for you, there are plenty of great examples of Oregon pinot noir that can be had for $30 to $40. This price will fluctuate depending on how good the vintage was that year, as well as the producer you pick from. 
Oregon pinot noir used to only be found on the west coast, but as the region gains notoriety you can often find several bottles at wine shops around the country.
As promised we'll give you several of our favorite Oregon pinot noir producers below.
Domaine Drouhin
Domaine Drouhin is actually a well-known wine producer from Burgundy France. They recognized that Oregon had the ideal conditions for growing pinot noir back in the 1980s. So, they bought a plot of land to start a winery run by several of the family members.
Their flagship pinot noir costs under $50 and are a great example of a fine Oregon pinot noir. You really can't go wrong with any of their bottles, so we recommend buying whatever bottle is at a price point you're comfortable with.
Domaine Serene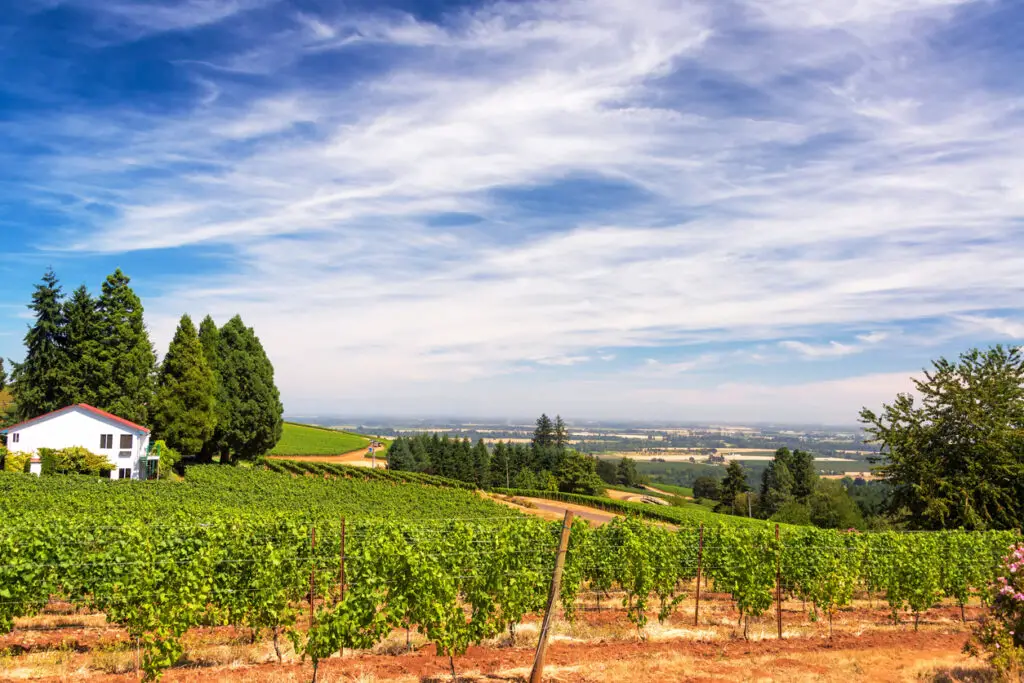 Another great (and probably more famous) Oregon pinot noir winery is Domaine Serene. Domaine Serene was founded in 1989 by the Evenstad family who moved from Minnesota with the dream of starting a winery. 
Author Note: That dream was quickly realized as their pinot noirs gained critical acclaim almost right away. Domaine Serene's wine tends to be more expensive than Domaine Drouhin, but their pinot noir is considered one of the best from Oregon.
Bethel Heights
Bethel Heights is also a great option to enjoy Oregon pinot noir. Founded by several friends in 1977, Bethe Heights is located just outside of Salem and is known for producing Oregon pinot noirs that won't break the bank.
If you're on a bit more of a budget, or just starting to like Oregon pinot noirs, we recommend getting a bottle from Bethel Heights.
Ending Thoughts
Once you've had a good Oregon pinot noir, you'll most likely be hooked. In a time when a good bottle of cabernet sauvignon easily costs over $100, a good Oregon pinot noir will be under $50. 
On top of that, Oregon pinot noir is more versatile than most other red wines! As we discussed earlier, it is a great wine to enjoy both by itself and with food. 
We hope you now understand why Oregon is good for pinot noir, as well as some of the hallmark characteristics of Oregon pinot noir. If you've never tried it before, you owe it to yourself to buy a bottle from one of the wineries we listed above. You won't regret it!
Hopefully, you found this article useful and informative. If you have your own favorite bottles of Oregon pinot noir you would like to share with us and our readers, feel free to shoot us a note in the comments below.
To living a full-bodied life,
Wesley