We don't know about you, but one of our ultimate summertime dishes is surf and turf. There's nothing more indulgent than enjoying grilled meat and seafood. But having two very different tasting dishes brings up a conundrum for what wine you should drink. What is the best wine to pair with surf and turf?
It depends on your taste in wine, but we think the best wine to pair with surf and turf is pinot noir. A full-bodied pinot noir will stand up to a juicy steak, but will also not overpower the more delicate flavors of seafood. Pinot noir is the best wine to pair with surf and turf.
Author Note: But there are plenty of other options if you don't want to drink pinot noir or don't have a bottle to open! In this article, we'll cover all the different options of wine you can choose to pair with your surf and turf. We'll also go over why certain wines are good choices while others aren't.
Get ready to have the best surf and turf wine pairing ever!
What Wines Pair Well with Surf and Turf
As we mentioned earlier, there are actually a lot of options for wine that pairs well with surf and turf. While we think a pinot noir is a great option if you want to drink one wine that goes well with both, you can also plan to drink wine that goes well with your favorite of the two. 
Let's go over the best wines for surf then we'll cover turf.
Best Wines for Seafood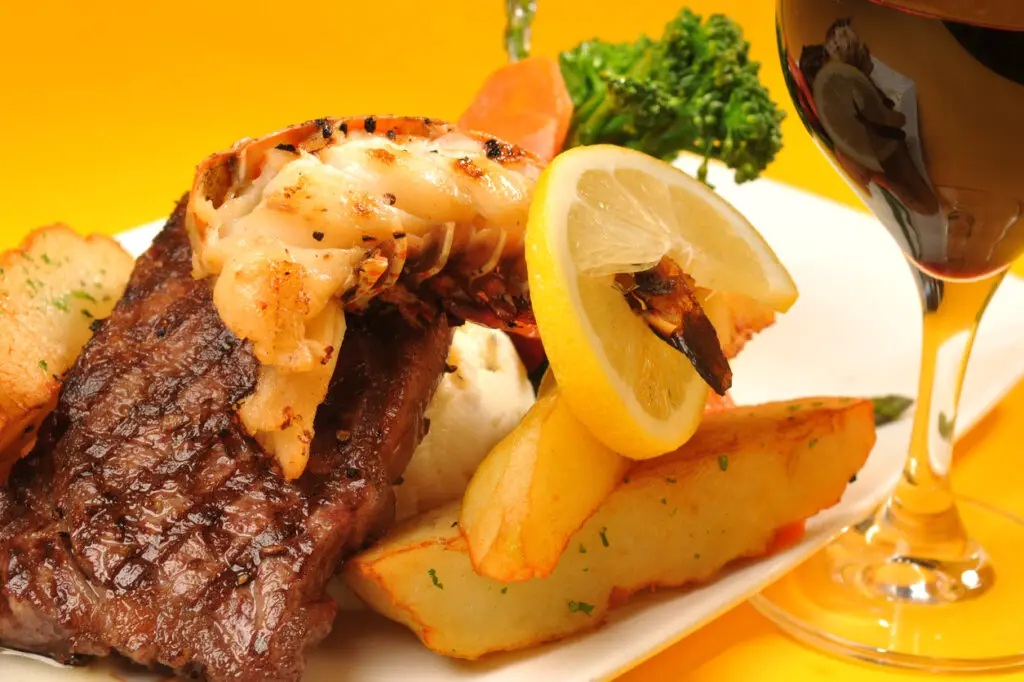 Seafood is the surf portion of your dinner. Seafood typically has more mellow, nuanced flavors and pairs best with a more subtle wine. But this depends on the type of seafood you plan on eating too! If you like eating spicy seafood, then a more bold wine can be a better choice.
For bold-flavored seafood (think cajun spiced fish, blackened fish, and shrimp, or Asian seafood), we like to drink a syrah or cabernet sauvignon. That's right – a very similar choice to what you might drink with your steak or turf! You can also get away with other fruit-forward red wines, such as petit verdot or a GSM.
Author Note: For more subtle-flavored seafood (like fish with white sauce, butter grilled prawns, or scallops), we recommend drinking a glass of white wine or rose. Chardonnay, sauvignon blanc, and dry rieslings or gewürztraminers all pair well with lighter flavored seafood.
The issue with these lighter wines, however, is that they don't really go with grilled meats (unless your grilled meats are spicy, then the reisling might hold its own).
Best Wines for Grilled Meats
For the second half of your surf and turf dinner, there are also plenty of options that pair well. Grilled meat has bold, succulent flavors, which will overpower a more subtle wine with ease. That is why we almost always pair our grilled meats with robust reds.
For most grilled meats, you'll want to pair them with a cabernet sauvignon or other bold red – such a syrah, malbec, red blend, petit sirah, or GSM. These strong-flavored wines will have the tannins and acidity to cut through the grilled meat's fat and heavy flavors. 
There are some exceptions, however. If you're using a white sauce to add to your grilled meats (potentially a bleu cheese sauce or mushroom sauce), then you can get away with lighter wines. This is when a medium-bodied pinot noir shines. You might also find that extra brut champagne will do the trick. 
The Easiest Solution
You might be thinking this is a lot to remember. Also, what if you don't know of any pinot noirs or extra brut champagne that you like? Have no fear; there's a very easy solution that is often the solution we choose: pick out two wines!
That's right if you're having a big dinner with friends over, why not pick out two wines? This is the easiest solution as it allows you to optimize for both surf and turf. Go ahead and open that bottle of heavy-handed Australian shiraz. It won't go with your seafood but it will rock your grilled meats.
For your seafood, pick out your favorite sauvignon blanc and bask in its nuanced glory. Your scallops or grilled shrimp will never taste better.
This is usually what we end up doing when we serve surf and turf. No one complains about more wine!
How to Cook Surf and Turf for a Wine Tasting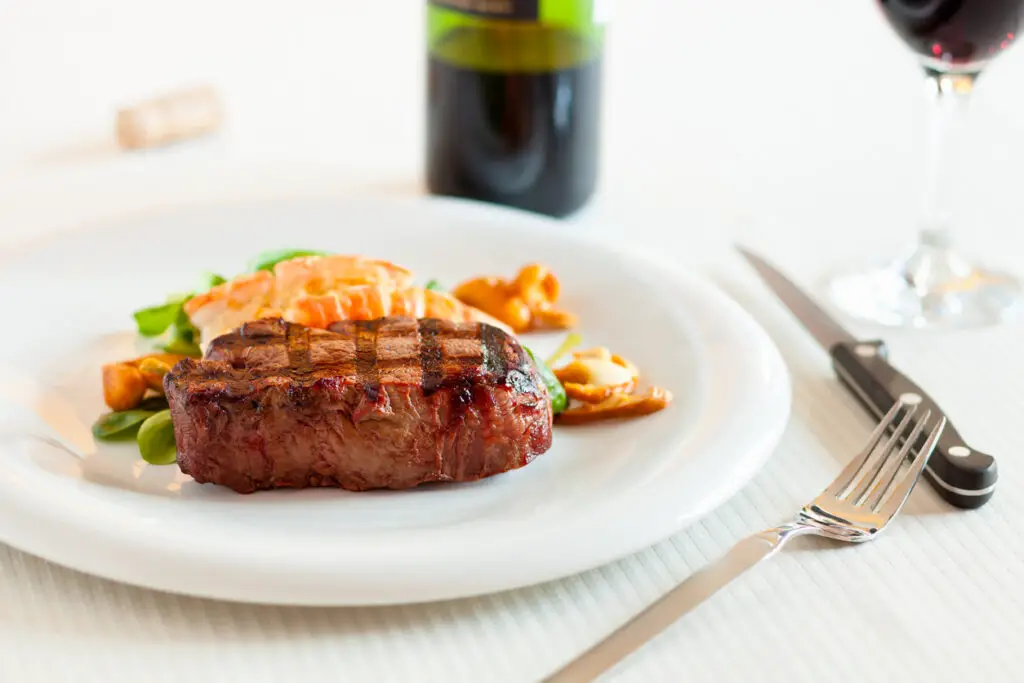 Now that we've convinced you there are plenty of great options for the best wine to pair with surf and turf, let's go over our favorite surf and turf recipes. We cook this all the time in the summer, and sometimes even in the winter! That's one of the perks of living in California. 
When to Open Your Wines
Before we dive into our favorite recipes, let's quickly go over your wine serving strategy. If you're having friends over, you'll want to do some prep ahead of time. We always like to serve sparkling wine as our first summertime drink, so make sure you've chilled it ahead of time. 
Top Tip: If you forgot or just bought your sparkling wine or prosecco, check out how to chill wine in three minutes. If you're serving both a bottle of white wine and red wine, you'll also want to chill your white wine ahead of time as well. 
You should also take your red wine out of the cellar to let it warm up to room temperature earlier in the day.
For your red wine, we recommend opening your bottle and decanting it approximately 30 minutes before serving your surf and turf. This usually means right before you turn your grill on.
How to Cook Your Turf
Now let's get into how to cook our favorite grilled meat: steak. Steak is the best turf to go with surf and turf, and it's a classic. Here is our favorite way to grill steak.
The first step is to dethaw or warm up your steaks. If they're frozen, pull them out of the freezer and leave them on your counter for at least 8 hours to dethaw. If they're in your fridge, pull them out one hour ahead of time.

We like to season our steaks with only salt and pepper. Some people like putting on other rubs, but we find the beef flavor to be great just on its own. We also like to drizzly some extra virgin olive oil on them so they don't stick.

Turn your grill on to high. If you have a charcoal grill and the time to fire it up, we recommend using chunk charcoal instead. Charcoal has a

much higher radiant temperature

which will give your steaks a delicious crispy outer crust.

Wait until your grill has heated up to over 400 degrees Fahrenheit or your charcoal is red hot.

Lay your steaks onto your grill and close the lid. Start your timer and wait three minutes. 

After two minutes flip your steaks onto their other side and check how well done they are. You're looking for a nice brown crust to have former.

After the next three minutes are up you can either check their temperature with a meat thermometer or feel how firm they are. If you're using a thermometer, we like to pull them off once the inside reaches 120 degrees Fahrenheit. If you're judging your steaks by feel, they're done when the firmness

matches the inside muscle of your thumb

.

Take them off the grill, let them sit for several minutes to cool down, then enjoy!
How to Cook Your Surf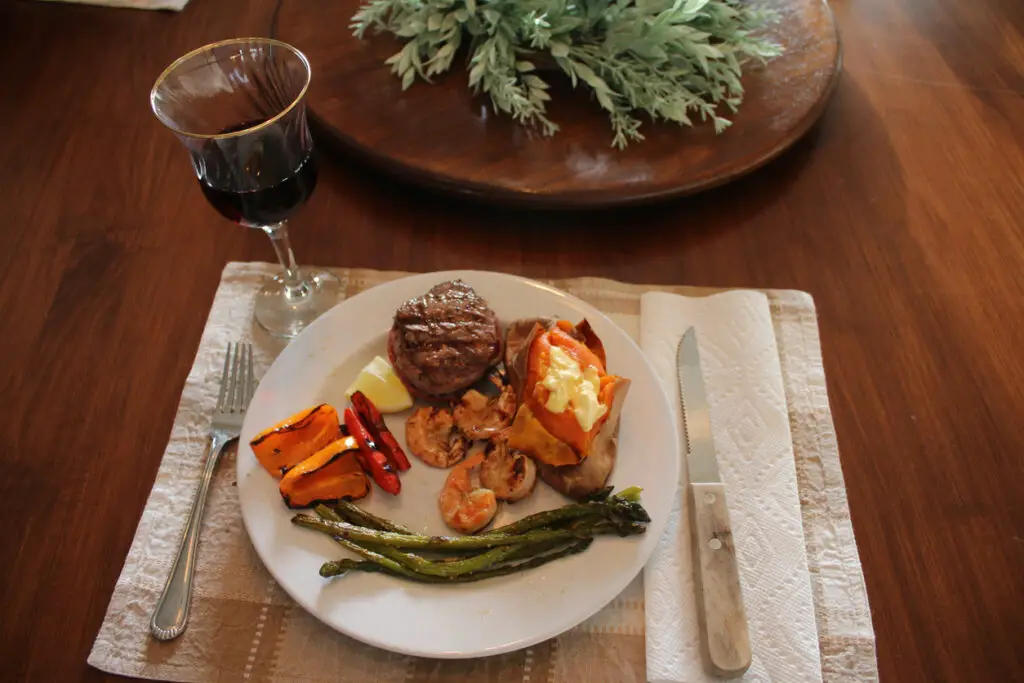 With the first portion of your dinner done, it's time to start on the second. We like to season our surf with three things: olive oil, salt, and fresh-pressed garlic. Here's our recipe for the best-grilled seafood.
Quickly wipe off the meat fat from your steaks and turn your grill down to medium. Seafood cooks much faster than beef and you don't want to burn your surf!

Lay your seafood down on the grill and cover for two minutes.

After two minutes, open the lid and flip your seafood over. Now let it cook for another two minutes.

To determine if your seafood is done, check to see if there is any portion that is still translucent. This works especially well for scallops or shrimp. On the flip side, you don't want your seafood to be overdone. So if it's starting to feel firm or rubbery, take it off immediately. Seafood will continue to cook after you've removed it from the grill.

Let your seafood rest on a plate for several minutes to cool down, then serve.
Our 2023 Surf and Turf Recipe
Ingredients:
2 (8 ounce) beef tenderloin steaks
2 (6 ounce) lobster tails
3 tablespoons unsalted butter
2 tablespoons chopped fresh parsley
1 tablespoon chopped fresh chives
1 tablespoon chopped fresh tarragon
1 garlic clove, minced
Salt and pepper, to taste
Olive oil
Red wine of your choice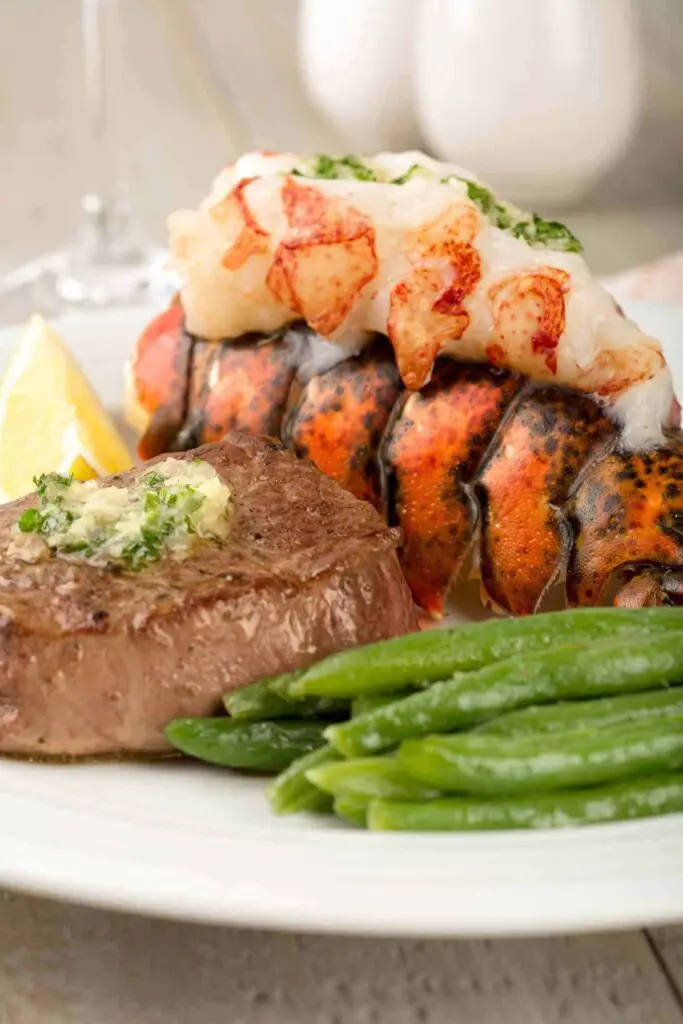 Instructions:
Preheat the oven to 400°F.
Melt 2 tablespoons of butter in a small skillet over medium heat.
Add the parsley, chives, tarragon, and garlic and cook for 1 minute or until fragrant.
Season the steaks and lobster tails with salt and pepper.
Brush the steaks and lobster tails with olive oil.
Heat a large oven-safe skillet over high heat.
Add the steaks to the skillet and sear for 2-3 minutes per side or until a crust forms.
Move the skillet to the oven and cook for 5-7 minutes or until the desired doneness is reached.
In a separate skillet, add the lobster tails and cook for 3-4 minutes on each side or until the meat is opaque and slightly browned.
Add the remaining tablespoon of butter to the skillet and baste the lobster tails with the melted butter for 1-2 minutes.
To serve, place the steak and lobster tails on a plate and spoon the herb butter over the top.
Pair with one of our suggested wines
Parting Thoughts
As we mentioned earlier, surf and turf is one of our favorite dishes of all time. Something about combining two of the best-grilled dishes and its affiliation with summer makes it an all-time best. It's also one of our favorites because you can enjoy so many different types of wines with it as well.
After reading this article you now know that the best wine to pair with surf and turf is pinot noir, however, there are also so many other options and strategies for getting the most out of your pairing. 
We like using it as an excuse to open up multiple bottles of wine and share different tasting and flavors with the whole party.
We hope you found this article useful! Surf and turf is a surprisingly easy meal to put together. If you pick out a great wine to go with it, your dinner guests will surely be impressed.
To living a full-bodied life,
Wesley