Are you thinking about having your favorite pasta with a glass of wine? If you need advice for successful pairing, the first thing you should know is that the match should be based on the sauce rather than the pasta type. Today, let's discuss what wine goes with Carbonara?
The wines with a touch of acidity, including Pinot Noir, Montepulciano, or Chianti, pair perfectly with Carbonara. The reason is they pair well with Carbonara is that they cut through the rich sauce without overwhelming the Pancetta or bacon flavors.
Let's take a closer look to find out which characteristics of these wine varieties make them absolutely perfect for Carbonara.
Wine and Pasta Pairings
Nothing compares to a delicious pasta meal with a glass of wine. However, matching a dish with a glass of wine may not be as easy as it seems. There are various criteria that should be taken into account.
One of the most important factors is that your chosen wine should not overpower the dish. It may sound difficult at first, but by following certain steps, you will choose the right wine. So, what wine goes with carbonara? To enhance your experience, we have prepared some tips that will make your dinner unforgettable!
#1 Best Red Wine That Goes With Carbonara
If you're a beginner wine drinker then a Pinot Noir is the choice for you. If you're looking for something a little more complex than the Chianti will be the best red wine to pair with carbonara.
#1 Best White Wine That Goes With Carbonara
Pinot Grigio is the #1 winner for best white wine that goes with carbonara. In fact most Italians will opt for a Pinot Grigio or Gavi when they make a homemade carbonara.
Should I Have Red or White Wine With Carbonara?
The decision of red or white is always up to the drinker. There are many amazing options for both red and white when it comes to pairing it with carbonara. With that open-ended response in mind, our personal opinion is that more red wine pairs best with carbonara. Grab a Chianti, Pinot Noir, or montepulciano and you are good to go. It's hard not to pick red for this pairing when so many delicious wines work!
Tips on Wine and Pasta Pairings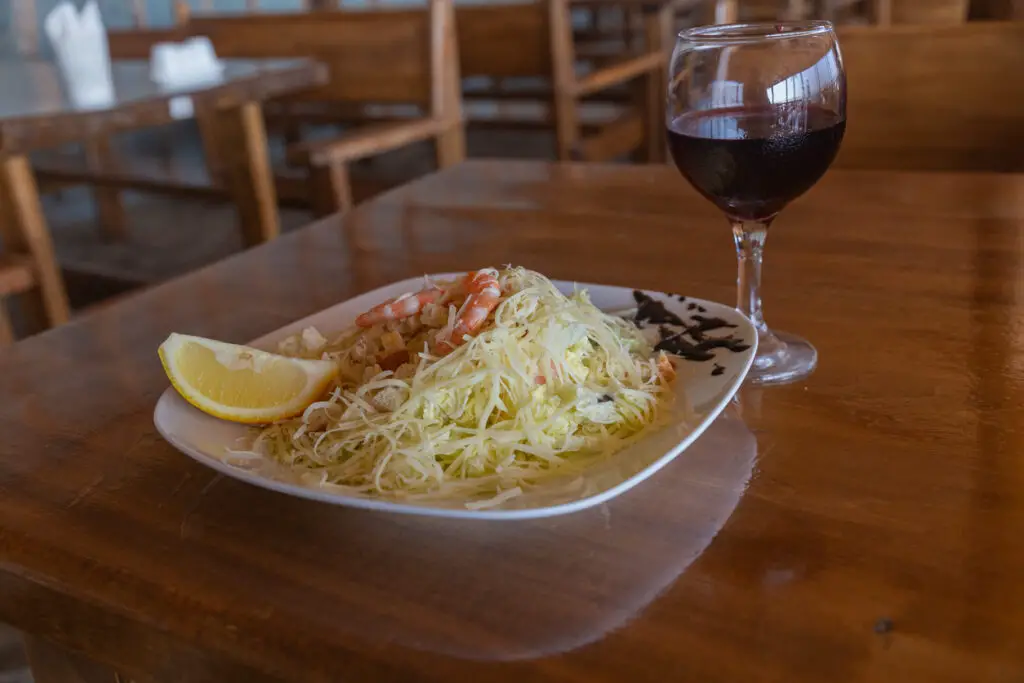 In general, the most important factor to consider while pairing food and wine is the "weight," which is the balance between the weight of the food and the body of wine (heavy Cabernet Sauvignon or more delicate Pinot Grigio). The key is to pair heavy food with heavy wine and vice versa. To enjoy the experience, you should choose a wine that will complement the flavor of the sauce. Let's look into some of the best pasta and wine pairing examples.
Author Note: If you are a fan of tomato-based pasta dishes, keep in mind that those dishes are acidic; thus, you should pair them with medium-bodied red wine. In case of choosing the wrong wine, the acidity of the red tomato sauce will make the wine taste bland.
On the other hand, cheese-based pasta dishes will pair absolutely perfectly with pretty much any wine. But there are some wine varieties that sommeliers love to pair with cheese, including light-bodied Chardonnay that will bring out the creaminess of the cheese.
If you are a seafood fan, medium-bodied light whites are what you need. Dry and crisp white wine like Pinot Grigio would be a perfect option not to overpower the freshness and flavor of the seafood.
Now that you know how to pair some of the pasta dishes with wine let's take a closer look and find out what wine goes with carbonara?
Wines that Pair Well with Carbonara
Pasta with creamy bacon and egg sauce is among the most favorite dishes, but what wine goes with carbonara? As sommeliers love to recommend, you should look no further than their common home, Italy. Pinot Grigio is among the best carbonara pairing options.
But if you would like to have a glass of red wine, Montepulciano is another great option. Apart from classical pairing options, it may sound surprising to know that Pinot Noir is another great choice as well. Let's see what makes these wines the perfect pairing option with carbonara.
Chianti Classico
A fresh and youthful Italian Chianti from Tuscany is one of the best options not only for carbonara pairing but pasta in general. Chianti is made mainly of Sangiovese grapes with approximately 15% content of other grapes.
When you take a sip, you will feel the bright flavors of strawberry, cherry, and cherry tomato. Additionally, Chianti has great acidity with a spicy and smoky finish, making it an excellent pairing option with most Italian dishes, including pasta, pizza, bruschetta, lasagna, etc.
When answering the question of what wine goes with carbonara, the first criteria to mention is choosing a bottle of wine that does not overwhelm the carbonara's pork flavors. Chianti Classico is light enough not to mix the flavors or overpower the meal.
A glass of Chianti is high in acidity, meaning it will cut through the rich flavors of carbonara and lift the unnoticed flavors forward for you to discover the meal in a new and more delicious way! So, if you are a big fan of red wine and pasta combination, Chianti Classico is one of the greatest options worth trying.
Montepulciano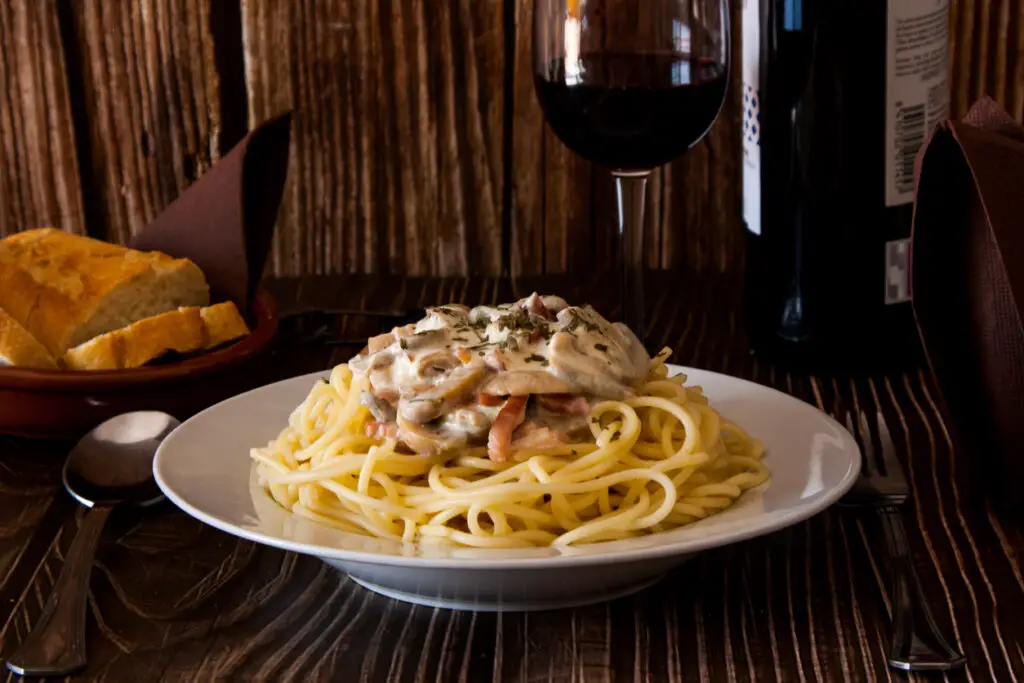 A robust and rustic Montepulciano, known for its rich aromas and flavors, is another great pairing option for carbonara. Montepulciano is a medium-bodied wine with fairly high levels of acidity. The most noticeable flavors of Montepulciano include herbs such as oregano and pepper, as well as black fruits, including plums, boysenberries, and sour cherries.
Author Note: As this wine variety has an intense amount of tannins, it is best when paired with rich and fatty food. Montepulciano has all of the classic Italian hallmarks: full of bright yet approachable fruit taste, which complements the palate without mixing the flavors.
Other than carbonara, you may try a glass of Montepulciano with meaty pizzas or fatty beef burgers. Although these may not sound too elegant, sommeliers recommend trying this extremely delicious combination. You can also try Montepulciano with robust Italian dishes, such as those with rich tomato sauces.
Overall, a glass of Montepulciano is a perfect option for enhancing your palate.
Gavi
Gavi or Gavi di Gavi is made of an acidic white grape named "Cortese" from the Piedmont region of Italy. It is another excellent option to pair with carbonara sauce for its various characteristics. Made exclusively from one grape variety, Gavi is an Italian style dry wine, both medium-bodied and medium acidic. When you have a sip of this wine, you will notice how perfectly it reflects the terroir.
The fresh and mineral acidity comes from the mineral-rich solid of the Piedmont region of Italy, where Cortese wine variety grows. The bouquet is mainly floral, offering aromas specifically of white flowers, lemons, green apples, and honeydew. Although the Cortese variety does not offer high levels of alcohol, it is undoubtedly an age-worthy wine.
When it comes to food pairing, generally Gavi di Gavi is known for its amazing addition to fish meals, so carbonara is a less popular but delicious option for you to try. If you are a fan of white wine, Gavi is an excellent option for you to have a perfect pasta dinner.
Pinot Noir
You may find it surprising to know that Pinot Noir is another great match with carbonara. As wine enthusiasts love to say, many people do not recommend Pinot Noir with carbonara, not because they do not match, but simply because people have a perception that any Italian dish should be paired with Italian wine. The reality is Pinot Noir, by its nature, goes pretty well with carbonara, and here is why.
Pinot Noir is a fruity red wine with high levels of acidity to cut through an egg, butter, olive oil, and cheese in carbonara sauce. It also pairs well with bacon and ham (whichever you prefer to put in carbonara). While light and fruity, Pinot Noir has a character where you will find notes of forest floor and barnyard, which perfectly complement the pork flavors.
Pinot Noir's acidity strips the fatty flavors off your tongue, so each bite is as fresh as the first one. Moreover, a glass of Pinot Noir is refreshing against the saltiness of bacon or ham in your meal. So, if you are open to new experiences, Pinot Noir is a great choice, to begin with!
Pinot Grigio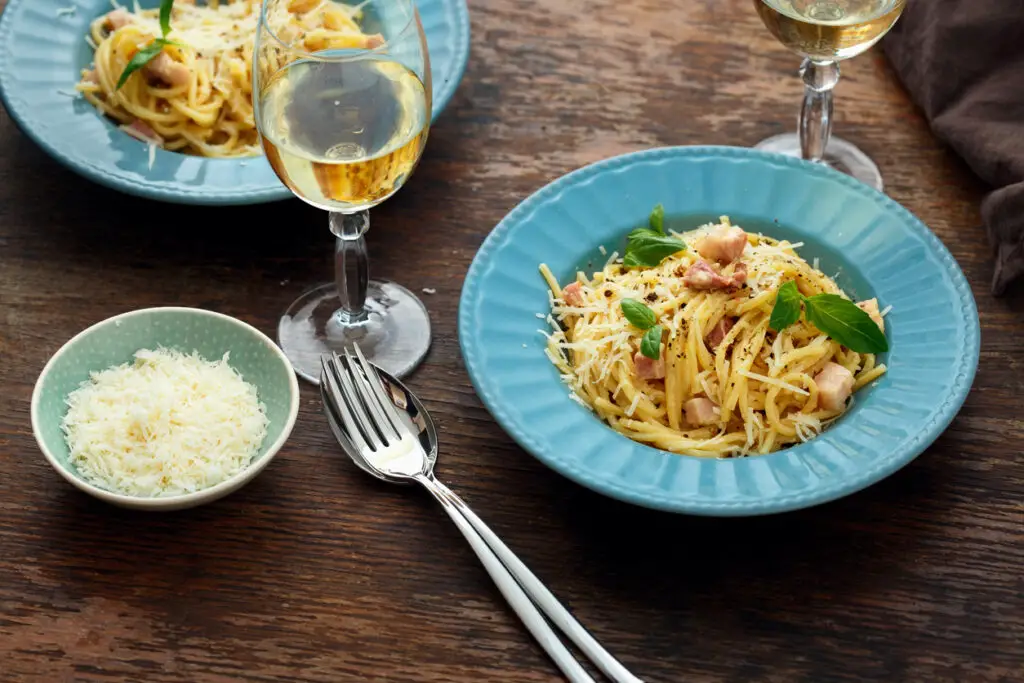 Pinot Grigio is among many people's favorite white wine list. Interestingly, it pairs perfectly with delicious carbonara too. Pinot Grigio is a refreshing and versatile wine that is a superb pairing option for light, summer food, and Italian style pasta.
It is certainly light-bodied with fruity flavors, but unlike other white wines, Pinot Grigio has more neutral flavors than sassy citrus ones. Apart from carbonara as one of the best pairing options with a glass of Pinot Grigio, you can also try it with other pasta sauces such as seafood, cream, or tomato. Note that Pinot Grigio does not pair well with robust meaty sauces like in the case of Montepulciano.
Author Note: One of the most incredible things about Pinot Grigio is that it is available nearly everywhere. A glass of Pinot Grigio does a fantastic job of enhancing the flavors of food. According to wine enthusiasts usually, the right wine choice can lead to memorable times.
Pinot Grigio will make you enjoy your meal and have playful conversations with your company. Many sommeliers say this wine is by far the best pairing option with carbonara.
Wrapping Up
All in all, it is best to serve spaghetti carbonara with a drink that features a fair amount of acidity, good intensity, plus a soft degree of softness as well as alcohol content. Most of the time, you would hear recommendations of the "safest" option being the white wine from Italy, where the dish is also from.
However, note that when answering the question of what wine goes with carbonara, white wines are not the only option. In fact, rose and even red wines like Pinot Noir can make a great match too.
So, if you are open to new experiences, try to enhance your palate with a glass of red or rose too. Regardless of your wine choice, you will enjoy your meal and have a wonderful evening! We hope you enjoyed this article on what wine goes with Carbonara.
To living a full-bodied life,
Wesley