Chianti, the delicious medium-bodied red wine that everyone loves. This is the name of a bottle that is present in many wine racks and cupboards. Chianti has a beloved flavor that goes well with lots of foods and is the perfect option for any dinner party. But, what happens when your guests are coming over but you just can't seem to find a bottle of it in any store? What are some wines similar to Chianti?
Merlot and Shiraz are the best alternative wines similar to Chianti. Chianti is a region in Tuscany, and by the wine "rules," a bottle must contain at least 85% Sangiovese to be called a Chianti. Merlot and Shiraz usually are made with grapes that have similar qualities to Sangiovese. This makes them similar to Chianti.
Let's dive deeper into the beautiful world of Chiantis and wine!
What Really is Chianti Wine?
Before discussing wines similar to Chianti, at first, we should discover more about Chianti. The name of this delicious wine comes from the place it was originally made. The Chianti region in Tuscany is one of the most beautiful in the world. Many people love visiting this area to discover the mesmerizing scenery, delicious flavors, and memorable aromas.
Author Note: This region extends through the provinces of Florence and Siena, covering the whole area while also extending toward the Valdarno and the Val d'Elsa areas. The wine comes from all over, including some wineries in Florence, Arezzo, Pistoia, and Montepulciano.
Chianti is a truly gorgeous region with bright green hills full of vineyards and olive groves, small village houses, and beautiful rural views. So, if you are a lover of wine and all things nature, then keep this location in mind for your next trip. Whether you enjoy hiking or drinking, a wine tour is a must when you are in the area.
What Does Chianti Usually Taste Like?
To find wines similar to Chianti, you should first understand what real Chianti tastes like. Of course, this is only when it is properly aerated. For this, we have to go through the two main types of Chianti wine.
Regular Chianti contains more than 70% Sangiovese and less than 10% Malvasia or Trebbiano. This results in a fresh and bright taste, which will feel light and refreshing with a flavor similar to ripe red fruit flavors.
The DOCG framework concerning this wine states that any grape from the DOCG can be used for regular Chianti and there are no rules when it comes to aging Annata wines, but Riserva wines have to age for at least two years. It also dictates that superior wines must be made in vineyards with a low yield.
The second famous type of Chianti is called Classico. These usually include more than 80% Sangiovese and under 20% Colorino, Canailo Nero, Cabernet Sauvignon, or Merlot. The flavor of these wines are acidic and elegant, while tasting similar to violet, spices, and sometimes cherries.
This is a unique and unusual combination of flavors you won't find anywhere else. According to the DOCG laws, this wine is only allowed to be made using grapes from Chianti. Annata and Superiore wines must be aged for a minimum of one year, but Reserve has to age for over two years and Gran Selezione wines for 30 months.
With so many rules for making this wine, you can tell that Chianti really has a very unique flavor. So, finding an alternative may be hard, but not impossible. If you're at an Italian restaurant ask your server what they recommend.
Wines Similar To Chianti
Merlot
Now, don't be put off by the name of this wine just yet. This delicious wine struggles with an undeserving bad reputation yet is an amazing alternative to Chianti. It really has done nothing to get this bad name aside from being readily available, which is only an advantage for you.
Author Note: It may be slightly difficult to describe how Merlot tastes since it is known as a chameleon grape. This means it can adapt to many climates and takes on a new character depending on the location where it is grown and the winemakers' techniques.
A good Merlot is a dry and medium-bodied wine with a fair acidity and moderate to high alcohol concentration. The tannins in this bottle are very present yet not harsh enough to affect the flavor. The best bottle of Merlot has a range of tastes, from graphite, blackberries, and herbs to black cherry, plums, and cocoa. These complex combinations are usually layered with slight notes of vanilla, clove, and cedar if aged in oak barrels.
The alcohol percentage of Merlot depends on the growing location and climate, which influence ripeness, which in turn influences the alcohol level. Merlot produced in cooler regions like France usually has around 13–14% alcohol by volume, but this number can reach 14.5% when it is from a warmer region like California, Chile, and Australia.
Shiraz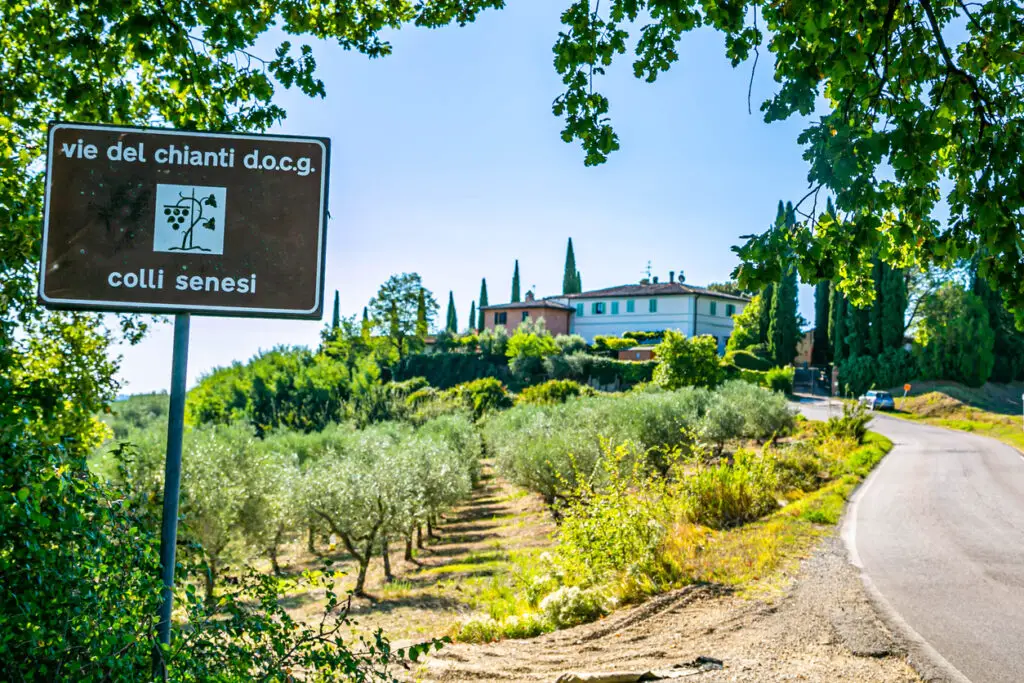 Shiraz is another great option for wines similar to Chianti. If you are looking for a bold and full-bodied wine, then Shiraz is your bottle. These wines are opaque and ruby-purple in color and consist of concentrated fruit jam aromas with flavors of blueberry and blackberry. Shiraz also contains big and ripe tannins that you can taste. Not every bottle is fruity, and some have hints of smoked meat such as beef jerky and bacon with black pepper and spices.
The alcohol level in Shiraz also depends on where it was produced and the weather during the grape harvest. Colder region Shiraz wines usually have lower alcohol percentages, similar to wet and cold vintage bottles. Those from warmer regions, or dry and hot vintage bottles, will have higher amounts of alcohol.
A typical bottle of Shiraz from a warm region should have around 14.5–15.5% alcohol, while cooler regions will have a lower number. Shiraz wines are some of the most popular in the world and are surely worth a try as an alternative to Chianti or even separately.
Vino Nobile di Montepulciano
The Vino Nobile is one of the oldest and most elegant bottles of wine from the Tuscany region. This wine has a very specific fresh and lively taste that is loved by everyone. The fruit flavors in this bottle are very warm and smooth, along with intense tannins that only add to the taste. This unique combination is a result of a long aging process in wooden barrels.
In fact, the Nobile di Montepulciano is a balsamic wine and has unique earthy and undergrowth hints, but it is not harsh or mineral. This is a flavor you will remember for its softness of tannins and classic plum notes.
The Nobile is a slightly carnivorous wine that really expresses itself when paired with the best red grilled meat, stew, Texan barbecue brisket, and other foods rich with sweet spices like cloves and cinnamon. Lamb skewers are also a great pairing for this wine. Pienza pecorino and other aged cheeses go well with Vino Nobile, along with a lamb tajine and dried fruits.
If you are a vegetarian or don't like meat, do not fret as there are options for you as well. Any dish based on eggplant, radicchio, or mushrooms will pair excellently with Vino Nobile.
Brunello di Montalcino
The Brunello di Montalcino is a very special wine made with 100% Sangiovese grapes and is an excellent option for wines similar to Chianti. The flavor of this wine depends on its age.
A young Brunello is a wine packed with floral and fruity tastes, including cherries, cranberries, wild strawberries, blackberries, violets, and licorice. Wow, what a combination!
Author Note: Once you taste it, you will also start to notice some subtle hints of earthiness and espresso along with mouth-watering tannins. It is a wine that is slightly bolder than Chianti due to its high acidity, but it finishes on a tart note that will leave you craving more and more.
A bottle of old Brunello ages and softens with time, becoming more delicious than ever.
While aging over ten years, it starts to drop the fresh fruity flavors to unearth sweeter notes of dry figs, candied cherry, hazelnuts, and warm leather. The tannins start to become chocolatey, and the acidity is perfectly succulent. There is not a single person who doesn't enjoy a glass of fine, aged Brunello.
Montefalco Sagrantino
Montefalco Sagrantino is another amazing option as an alternative to Chianti. It has some unique flavors, which depend on what specific bottle you choose.
The Rosso di Montefalco is a Sangiovese blend with only 15% Sagrantino. It tastes somewhat harsh, potent, and earthy, which would pair well with red meat and smoked dishes. It is a very complex wine that isn't fruity, so be prepared. The Còlpetrone Montefalco Sagrantino has a very beastly and fierce flavor, but with a suppressed aroma.
It has hints of black cherries, mushrooms, earthy notes, licorice, and leather, making it a richly rewarding wine, especially when paired with spiced and fatty fishes. Of course, these are only two examples of this wine style, but you surely get the gist.
Conclusion
As you can see, there are many options to find wines similar to Chianti. It's not on our main list, but Tempranillo is also quite similar to Chianti. So, even if you have a bottle of Chianti you like, try to step out of your alcohol comfort zone and try one of these wines. Remember, the world of wine is all about experimenting; otherwise, how will you find the flavors you enjoy?
There is a certain charm to uncorking a bottle of wine without knowing what to expect. Will it be cherries, leather, or earth that you are going to taste? Let the bottle surprise you!
To living a full-bodied life,
Wesley