If you ask Italians which red wine is their favorite, don't expect only one answer, you will get at least 20! You can never discuss red wine without exploring new things and finding out more about it. Anyway, we will focus on two red wines today, Brunello vs Amarone. What are the differences between Brunello vs Amarone?
The main difference between Brunello vs Amarone is tasting profile and price. Brunello tends to have notes of wild strawberry and cranberry, while Amarone is more cherry dominant. Brunello is considered the most expensive wine, followed by Amarone.
Even though both are perceived as prestigious wines, Brunello closed last year at EUR 1,085 per hectolitre, while Amarone ranged from EUR 725 to 800 per hectolitre.
Let's get deeper into details and see the characteristics of both Brunello and Amarone and understand what makes these two wines so expensive.
Brunello
Brunello di Montalcino is one of the most popular and expensive wines made in Central Italy. It has a moderate tannin and is age-worthy. Brunello is made 100% from Sangiovese grape, the most widely grown grape in the Montalcino region. The wine goes through a maceration process, where all the flavors and taste of the wine is extracted from the skin.
Brief History of Brunello wine
The vineyards in Central Italy, specifically around the village of Montalcino, have always been famous for their excellent red wines. However, it was only around the 1800s when pharmacist Clemente Santi put his passion for viticulture to work and brought Brunello into the light.
Santi foresaw the potential of the Sangiovese grape and tried to make unblended wine with it. Even though it was 1865 when many people got introduced to Clemente Santi's masterpiece wine, years were still yet to pass to identify Brunello as a top-notch wine.
Surprisingly, only in the 1990s, Brunello became a worldwide legend thanks to many substantial investments (including those done by American families).
Brunello Taste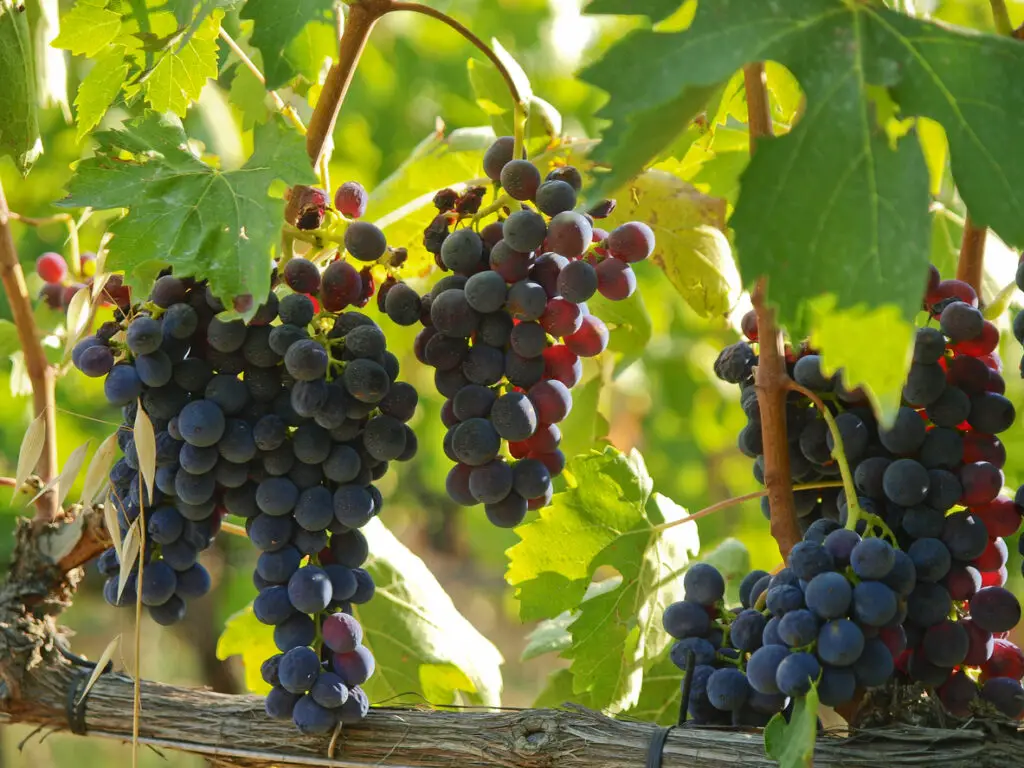 Author Note: You would be surprised at how many varying flavors Brunello wine has. An interesting fact about Brunello flavors is that you will find old and young Brunello bottles having somewhat different tastes. Let's firstly discuss the notes of young Brunello.
Flowers and fruits, including cherries, wild strawberry, dried cranberry, violets, licorice, and potpourri. It sounds complicated, but once you have your first glass of Brunello, you will fall in love with it!
Brunello is a bold wine because of its high acidity. When you first taste it, you will feel earthy notes of espresso and tilled soil along with fruity tannins.
The more wine ages, the richer the taste will become. Well, most of the wines follow this rule, and Brunello is not an exception. Brunello that is aged and softened throughout the years, it becomes more captivating than ever!
With an aging of more than ten years, you will be able to experience the fresh fruit flavors revealing sweeter notes of dried figs, candied cherries, sun-baked leather, and hazelnuts. Anyone who tries perfectly aged Brunello thinks it is fantastic and nothing like other wines!
Why is Brunello So Expensive?
You may ask yourself, what's in Brunello that makes it so expensive? Is it really worth it? Brunello is different in so many ways. In fact, it is more powerful and regal than other wines such as Chianti; Brunello is richer and even more fantastic!
One of the important factors making Brunello so expensive is that making it is comparatively costly. The village of Montalcino, where the Sangiovese grapes grow, has costly land. However, as the climate is suitable for growing these grape varieties, there is not much to go around.
Another reason for Brunello being so pricey is that producers are made to have inventory holding costs for two years in oak and four months in bottle. Think about how much time, material, and labor costs are required for smooth operations.
And even after 2.5 years, it may still be too soon for Brunello to enter the market. In fact, the expected protocol is that the wines do not reach the market until five years after harvest. Finally, all the holding costs are placed on the consumer, and that is why you are less likely to buy an affordable Brunello bottle.
Brunello Food Pairing
If you want to open a bottle of Brunello, you will most probably celebrate something unique or share a romantic evening with your other half. Are you thinking about a fancy dinner with a bottle of Brunello?
Then, you will surely be interested in perfect food pairings, which will enhance its taste and make your evening even more memorable.
Brunello and Beef Pairing
An earthy and rich red wine like Brunello needs a dish with a lot of substance. A simple roast beef or Tuscan-style steak pairs well with a glass of Brunello. However, make sure the dishes are lightly seasoned and do not contain too much sauce, or else you may end up mixing up the authentic flavors.
Note that if you're toasting Brunello, it's a rather rare treat, and you should enjoy each and every second of it. So, make sure you cook something delicious to match with a glass of Brunello.
Brunello and Portobello Mushrooms Pairing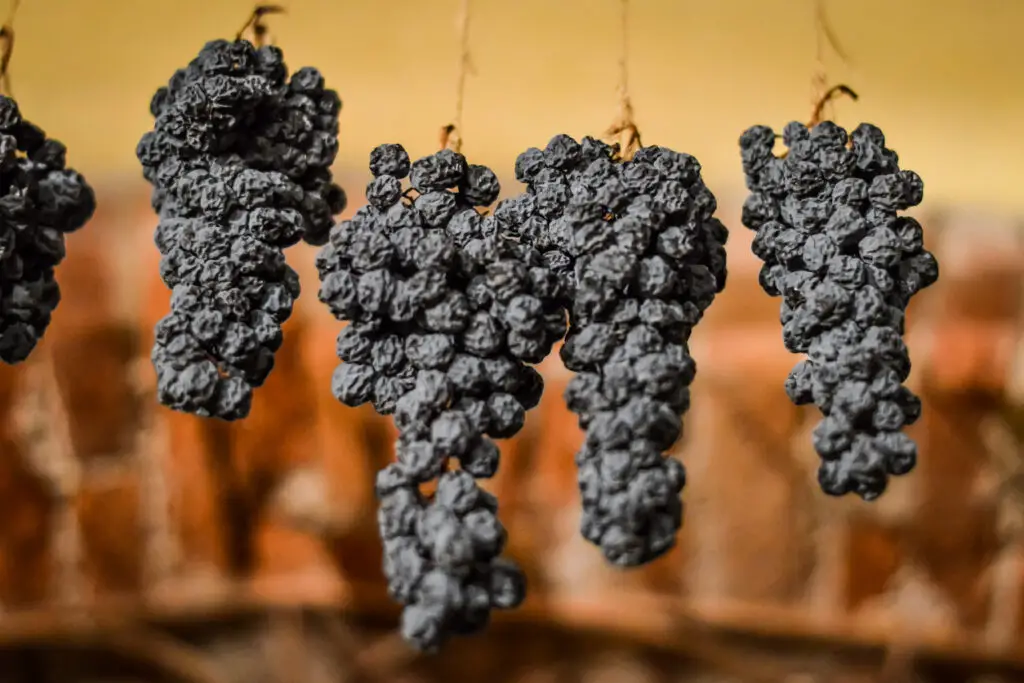 Experts also recommend portobello mushrooms as a perfect pairing with a glass of rich Brunello. This kind of dish is also an excellent option for vegetarians. Mushrooms are rich in texture and will go perfectly with a powerful wine like Brunello.
Many people love serving Portobello Mushrooms in a risotto. How fancy it sounds! If you love mushroom risotto, you should definitely give this pairing a try!
Amarone
As you have already read, Amarone is often the second most expensive Italian wine found at Italian restaurants. What makes this one expensive, and are the reasons similar to Brunello? We will find out. But firstly, let's see what Amarone is and where its origin lies.
A Brief History of Amarone
Amarone is a dry and rich flavored Italian wine made from different types of grapes. The essential grape type in Amarone, totaling from 45-95% (depending on the type), is dried grapes of Corvina (50% of which can be substituted by Corvinone).
Rondinella grape comprises 5 to 30% of Amarone; the rest (up to 25%) are other grape varieties. One of the widespread myths about Amarone is that the wine's history started a couple of centuries ago. As surprising as it may sound, Amarone is quite a recent wine (even more recent than Brunello).
Amarone was founded in 1936in the cellars of modern-day Villa Mosconi Bertani. Let's take a closer look to find out more about Amarone's taste and perfect food pairings.
Why is Amarone So Expensive?
Author Note: There are a couple of reasons explaining why Amarone is such an expensive wine. Many people don't think spending $50 to $80 on an Amarone bottle is reasonable. Others are even willing to spend more on this delicious wine! Let's discuss some of the most important factors making Amarone an expensive wine.
According to Peter Mansell, head of wines and spirits at Chiswick Auctions, the production of Amarone is very different from other wines'. A typical wine-making process includes harvesting grapes and pressing them into juice. Before the fermentation process, the harvested grapes for Amarone are left partially dry, which is an addition to the cost.
Another important factor is a relatively slow fermentation process, taking up to two months. After the process is completed, Amarone goes into barrels where it is aged sometimes for a couple of years. These require extra charges on labor and raw materials along with a higher than usual inventory holding costs.
Amarone Taste
You'll be surprised at how unique Amarone tastes! Depending on the type, it may contain varieties of grapes, which makes this wine even more distinguishable! Amarone has medium to high acidity alcohol balanced with flavors of black cherry, chocolate, and brown sugar on the palate.
Like many other wines, the more aged Amarone is, the more it will express additional flavors (including brown sugar, molasses, and fig).
Amarone Food Pairings
Now that we are familiar with what Amarone tastes like let's find out more on food pairings that will go perfectly with a glass of Amarone.
Amarone and Beef/Lamb/Veal Pairing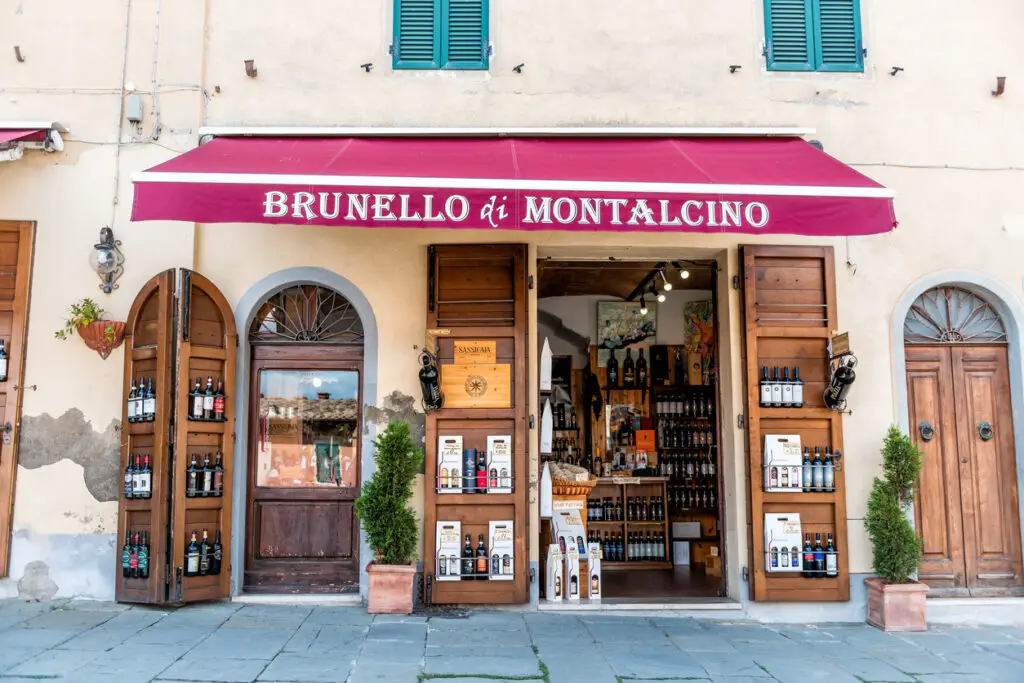 Amarone is an excellent option for beef, lamb, and veal lovers. In general, meat dishes pair nicely with a glass of this wine, mainly if cooked in more traditional styles. This type of wine is complex, containing earthy notes, so if you want to showcase its hidden notes, grilled steaks or rustic stews may be a great option.
Amarone and Duck Pairing
Duck and Amarone pair perfectly together. A decadent pairing would be a roast duck with a reduction sauce of Amarone. This dish will reveal a sense of terrier in Amarone, perfect for a dinner party!
General Differences Between Brunello vs Amarone
As two of the most expensive red wines, both Brunello and Amarone are distinguishable in their way. However, wine enthusiasts often ask what their main differences are.
Author Note: Brunello is an intense red wine, the bottle of which may be sold at up to $800 in the marketplace. This wine is made entirely from one grape variety, which is Sangiovese.  The process of making Brunello is comparatively time-consuming, especially as the wine needs several years for aging.
In contrast, Amarone is slightly less costly. Unlike Brunello, there are different grape varieties essential for the production of Amarone. In terms of production, it is time-consuming as well, because the grapes are not immediately pressed into juice but left to partially dry.
Wrapping Up
If you are wondering which wine is better, Brunello vs Amarone, you can't find an objective answer. Tastes differ, and the type you love may not be as impressive for other people as you think.
Both Brunello and Amarone are exceptional wines with a primary difference in prices and production process. Regardless of which one you choose, you are guaranteed to have a wonderful evening! We hope you enjoyed this article on Brunello vs Amarone.
To living a full-bodied life,
Wesley