Nowadays, Amarone Della Valpolicella, known simply as Amarone, enjoys worldwide fame and has a great variety of food pairing options. This rich red wine is most frequently paired with rich and fatty food as well as seasoned cheeses. But why not experiment with Amarone and other food? Let's say chocolate! Some people may find this combination a little odd, but the question is, do Amarone and Chocolate pair well together?
The short answer is yes! If you think about which chocolate would go best with Amarone, the best choice is dark chocolate. Amarone's aromatic notes and full-bodied character have made it a brilliant pairing for chocolate.
But before diving deep into the Amarone and chocolate pairing, let's take a closer look at the wine's history, flavor profile, and general food pairings.
Amarone Wines
The Italian wine industry has been known for its production of some of the world's most favorite and delicious reds. We have examples of classic Barolo or Chianti, which are recognized across the globe for their high quality and delicious flavor profile. Other great reds that the Italian wine industry offers are Super Tuscans, including Tignanello. To put it briefly, when it comes to reds, Italy has all of the choices you may need.
Today let's talk about another great red wine from Italy, Amarone, which, compared to other Italian wines, gained its popularity rather slowly. Wine enthusiasts recognize Amarone as one of the smoothest and most complex examples among Italian reds.
Now, let's see what Amarone is, its history, and many other interesting facts you would find surprising.
Amarone History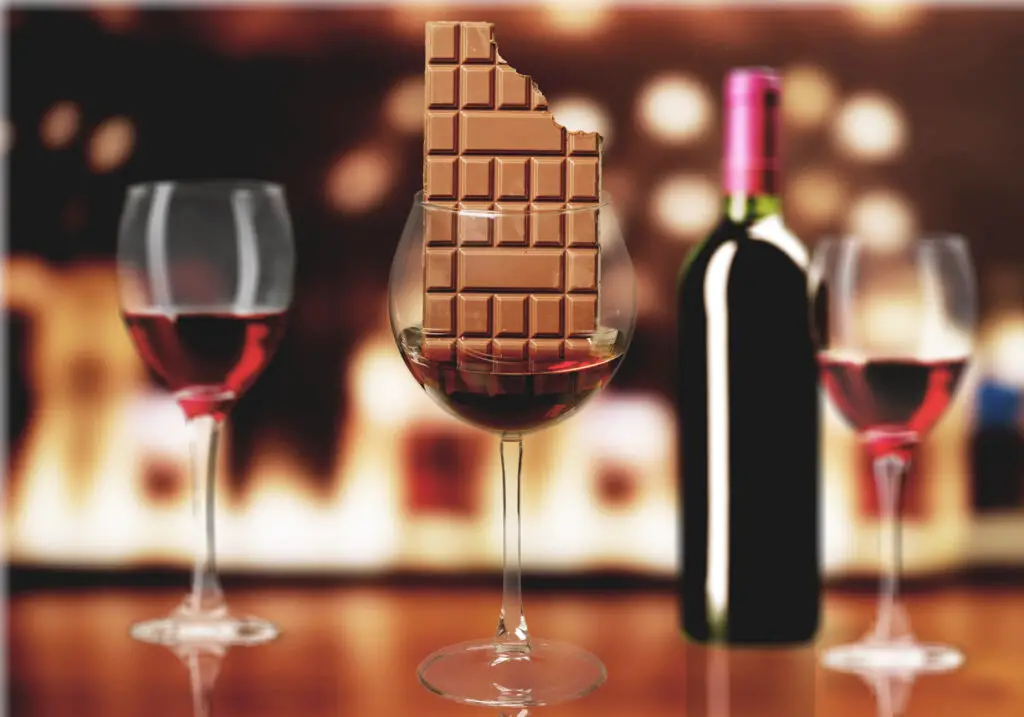 Amarone is among Italy's Valpolicella area's signature wines, which is part of the Veneto area that encompasses much of Italy's northeastern region. Besides being flavorful and extremely complex, wines from the Valpolicella area have relatively higher alcohol content. Most often, they are also full-bodied and dry, which makes it difficult to try for beginners.
Author Note: You could say the same about Amarone, as it is a signature Valpolicella wine. The alcohol content of Amarone falls between 15 to 16%, which is considered comparatively high for a bottle of wine. On the other hand, Amarone has a smoothness that other wines from the Valpolicella region lack.
The history of this delicious red has its roots back to 1938. You may be surprised, as most of the Italian reds had their start centuries ago, but when it comes to Amarone, all are different! In 1938, the first bottle of Amarone was produced. However, many people do not agree on the exact birth of Amarone.
Instead, they claim the real starting point was 1953 when Amarone bottles were more actively sold. At a glance, you may think of Amarone as one of the shortest tenured Italian reds with a poor history. But wait until you find out more about it.
In order to understand Amarone and its nature, sommeliers often suggest looking into the history of Recioto. It is a much more ancient wine, and many believe that Amarone is simply an overaged Recioto. Some will tell you that Recioto in the barrel was left much longer than intended, which resulted in the creation of much dryer and stronger wine.
Amarone Taste
On the palate, Amarone wines have medium to high acidity, with high alcohol levels and flavors of brown sugar, black cherry, and chocolate. Similar to other wines, Amarone too varies in flavors as it ages. Older Amarone bottles will offer more flavors of brown sugar, molasses, and fig. When tasting a glass of Amarone, expect bold aromas of cherry liquor, black fig, carob, cinnamon, along with notes of green peppercorn and chocolate.
A glass of this delicious red also has a touch of residual sugar, usually around 3 to 7 g/L. The level of RS helps to balance the wine's high acidity and boldness.  Because of the drying of grapes, Amarone has a very powerful and full-bodied character. Many people prefer Amarone for its rich and flashy exuberance, while others may find it a bit lacking in elegance.
Whatever style Amarone you choose to try, it will be unique in its flavor profile. Due to its bold personality and complex notes, a bottle of Amarone has higher prices but is definitely worth a try!
Famous Amarone Food Pairings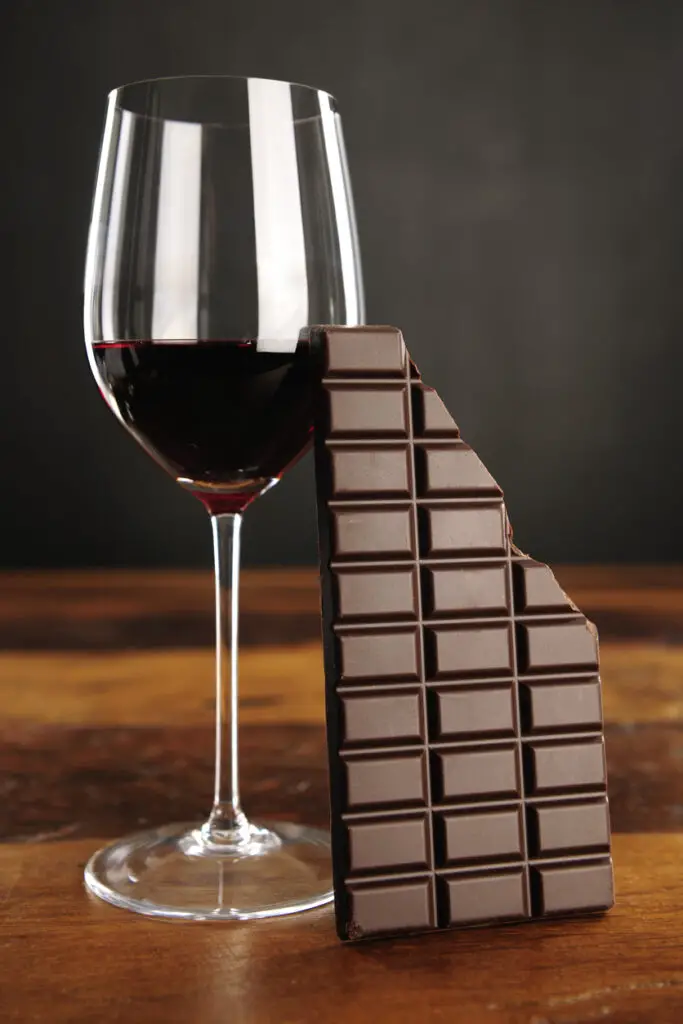 Now that we are familiar with Amarone's history and flavor profile, let's find out some of the most harmonious food pairing options. Amarone is considered a brilliant food pairing companion. The perfect pairing options vary from traditional Italian dishes to Asian fusion cooking.
As discussed previously, Amarone exhibits a wide variety of flavor notes that go perfectly well with savory dishes, especially with those that have been made with Amarone wine. Depending on style and aging, Amarone wines differ immensely in taste. It means different styles of Amarones go well with completely different dishes.
Beef, Lamb, and Veal Dishes
Top Tip: Meat dishes go perfectly with any Amarone bottle, especially those made in traditional Italian styles. Lighter style Amarones go very well with Osso Buco and veal cheeks, which are braised in Amarone. Other than that, you can also try Amarone with goat goulash, rustic stews,   Amarone grilled steaks, and so on.
Fish
Although Amarone is too strong for most fish dishes, some lighter-styled dishes pair well with it. Your best options include tuna steak and monkfish in Amarone sauce.
Pasta
Amarone also goes surprisingly well with traditional Venetian pasta dishes like Bigoli co l'Anara. It is a delicious pasta dish made with duck sauce. Another winner option you may try is Pappardelle Alla Lepre, which is a wide ribbon pasta with rabbit.
Cheese
One of the most popular pairing options not just with Amarone but any wine is cheese. Amarone's full-bodied and complex character would go perfectly well with more mature and robust cheese. One of the most delicious matches is traditional Amarone with Gouda, but you can also try it with blue cheese like Gorgonzola, Stilton, or Roquefort.
Rules for Pairing Wine and Chocolate
Let's now talk about the most-awaited and exciting pairing option: wine and chocolate! Although wine and chocolate sound like a great idea, pairing these two is a rather hard task, in which we want to help you. Both wine and chocolate have intense, fruity notes, and both may be sweet. As these two share many similarities, it would be better to pair wine and chocolate that play up differences in characteristics.
Amarone and Chocolate
One of the most unlikely pairings you may have heard of is Amarone and chocolate. Surprisingly, these two are a brilliant combination, who complement each other perfectly. Amarone's aromatic notes and full-bodied character make it a perfect match for chocolate.
Whether you want to use Amarone as an ingredient or accompaniment to a meal, serving a glass of this delicious red wine with chocolate creates a match that is made in heaven! Let's see which particular type of chocolate goes especially well with Amarone.
Dark Chocolate
Generally, when pairing wine and chocolate, polyphenols affect the match. These are components in both ingredients that make them anti-inflammatory. Dark chocolates tend to have higher levels of polyphenols, which give them a bitter taste with notes of spice or fruits.
It means dark chocolate requires bolder wines for standing up the match. Amarone, Pinot Noir or Merlot are a great choice when thinking about dark chocolate and wine pairing. Note that those wines go especially well with lighter style dark chocolate, which contains around 55 percent cocoa. The moment you try these wines with dark chocolate, you would be surprised what a wonderful palate you have created!
Chocolate Pairings to Avoid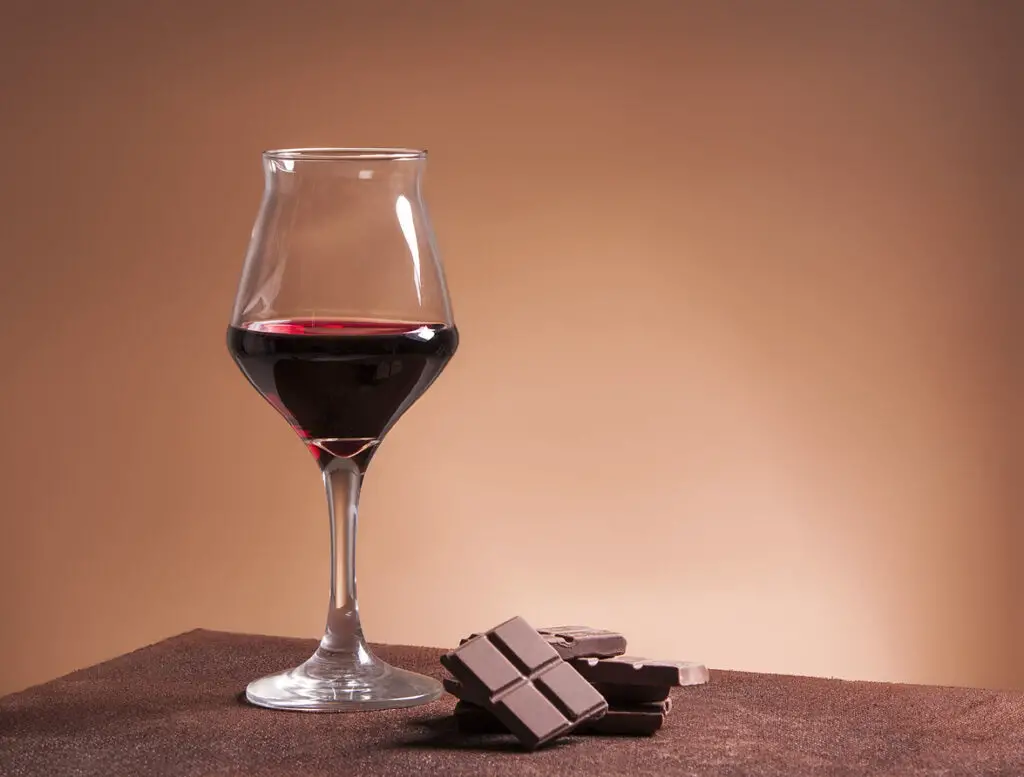 Of all the types of chocolates, milk chocolate is the one that varies most in taste. So, when it comes to milk chocolate and wine pairing, the rule of thumb is to taste the chocolate first.
Author Note: The first factor you need to identify is whether it has more fruity notes or nutty ones, or is it balanced tasting like cocoa and butter? In any case, the best pairing option with milk chocolate is usually mild reds or sweet whites.
Amarone will not be the best pairing option, and here is the main reason why. Anything that has a full-bodied character and complex flavor notes will overpower the taste of milk chocolate. As we have already discussed, Amarone is among the full-bodied and flavorful Italian reds that will most likely overshadow and create a mixed palate.
On the other hand, sweet wines, including Muscats or Rieslings, go perfectly well with milk chocolates. A great match with this chocolate type would be sparkling wines, especially those varieties that have fruity flavors.
A natural pairing with a bar of milk chocolate with nutty flavors would be Port. Although you can be guided with these tips, try improvising and finding more creative pairing options with your glass of wine.
Wrapping Up
If you are wondering which wine would go better with chocolate, consider delicious Amarone from Italy as a rare but brilliant option. Many people think Amarone and chocolate are unlikely to complement each other perfectly. However, it turns out that quite the opposite is the case! A symbol of Italy's wine culture with its aromatic notes and full body makes it a perfect partner to chocolate.
If you are curious about how the combination will work out, serving Amarone with chocolate creates a match that is made in heaven!
All in all, perhaps the best rule of all in Amarone and chocolate pairing is to choose what you love. You can be guided by the rules we have mentioned above, but also be creative to find a new combination you particularly enjoy! We hope you enjoyed this article on Amarone and chocolate.
To living a full-bodied life,
Wesley