Wine and pizza is the most romantic combination of all. There are thousands of fine wine varieties and delicious pizzas, as they are just meant to be. If you're eating midweek delivery or dining at a fancy pizzeria, many wines will complement your meal. But today, we will discuss what's the best wine with Domino's Pizza.
A Cabernet Sauvignon is the perfect option for Domino's Pizza — particularly if you're opting for a pie with meat on it. Choose a wine with some wood age so that it offers a complex and rich black-cherry aroma with hints of dried herbs and oak. These are spices also found in meats like sausage, pepperoni, and meatballs, so it all fits together.
Let's dig deeper and see what we don't know about Domino's pizza and generally about the iconic pizza and wine combination.
About Domino's Pizza
Domino's is the biggest pizza restaurant chain globally based on worldwide retail revenue, with more than 17,200 outlets in over 90 countries. Established in 1960, their origins are convenient pizza delivery, though many of their payments also come from carryout customers. The chain has gotten innovative with its delivery enabling users to order pizzas via Twitter, its zero-click delivery app, and even Slack.
While they are a highly-recognized global brand, they concentrate on serving the local communities where we live and do business through their extensive network of franchise owners and company-owned stores. On average, they deliver more than 3 million pizzas per day in their global system.
How Did Domino's Start?
In 1960, Tom and James Monaghan's brothers bought an old pizza restaurant in Ypsilanti, Michigan named DomiNick's. The restaurant became "Domino's" in 1965, a title coined by delivery driver Jim Kennedy.
What Do They Sell?
For the majority of their life, Domino's sold only two sizes of pizza, 11 toppings, and one soft drink: cola. They also only offered pizza on a delivery or carryout basis. They claimed the simplicity of their menu resulted in higher-quality goods and a more profitable market.
Domino's Logo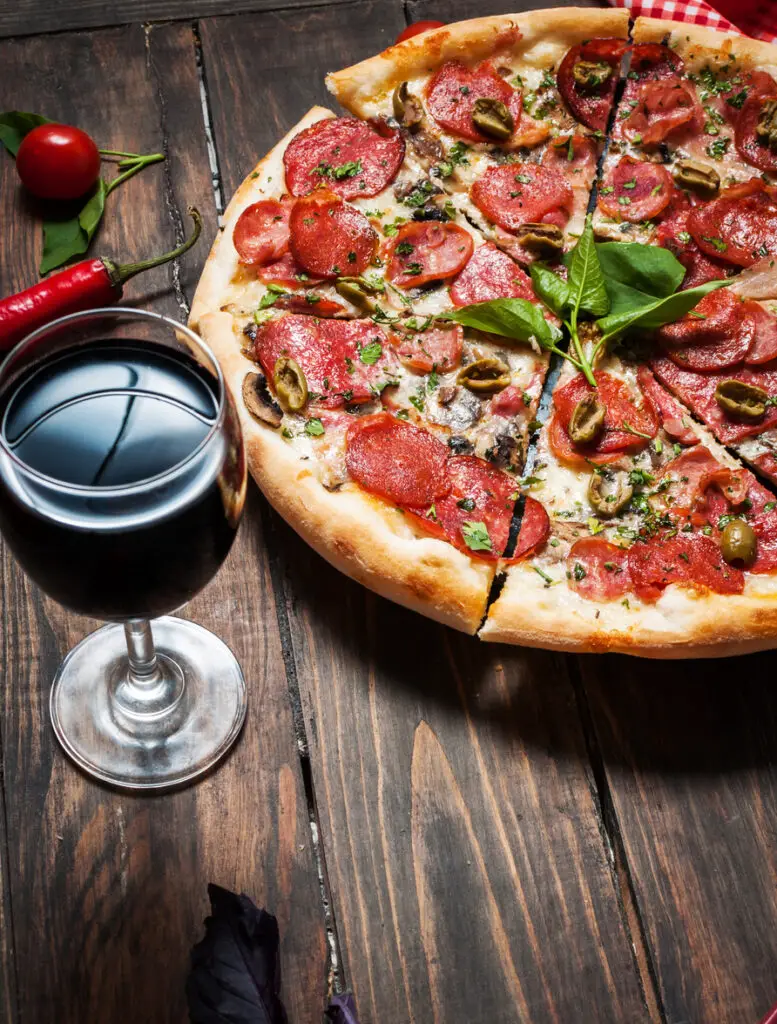 Author Note: The Domino's Pizza logo is gaming pieces with three dots. By 1965, Tom Monaghan owned three Domino's Michigan locations, each depicted in Domino's icon. He originally intended to put a new dot for each new store.
In 2018, Domino's repair trucks started filling potholes around the US. While the chain said they only wanted to keep pizza deliveries going smoothly, many viewed the stunt as strangely dystopian.
Funny Practices
Domino Pizza went wild in 2018 and decided to offer a lifetime free pizza to some Russian fans who had tattoos of the chain logo. But they had to end the competition, as too many people rushed to get one of the emblem tattoos. Instead, they gave free pizza to the first 350 people to share their ink online.
Domino's Welcomes Changes
Amid a slew of complaints, including suggestions that their crust tasted like cardboard, Domino's ultimately did away with their old pizza recipe. After a long period of stagnation, 2009 and beyond saw the chain undergo a strong pizza revival with a brand fresh taste.
How To Pair Wine And Pizza
Pairing wines with pizza can be as fun as consuming it. There is no such thing as a "pizza wine" since there are so many pizza styles. Margherita or meat lovers? There's no one solution, but we sure can have a good time mixing and matching. A pizza party is a perfect opportunity to open a range of wines and have fun.
There is no one-wine-fits-all pizza rule. Instead, pairing wine and pizza together depends on the toppings. Consider the ingredients and flavors first, then combine it with a wine that will either contrast or complement them. Here are a few recommendations for pairings:
One And Only Red Sauce
We tend to look at the tomato sauce on a pizza (or pasta) and think "red needs red." But the acidity of tomato sauce combines well with a crisp white wine. It may be your favorite Pinot Grigio, but we would encourage you to try other white wines that prefer acidity over oak. Soave, Verdicchio, or refreshing rosés from about anywhere follow these standards.
Meat Toppings
Lambrusco pizza is for "meat lovers." Lambrusco is a dry sparkling red wine from northern Italy that combines well with salumi and other antipasti. It's one of the world's most underappreciated wines and pairs nicely with pepperoni and other spicy meat toppings on the pizza.
Cheese
Solid whites or bright reds like Aglianico, Cannonau di Sardegna, Montepulciano d'Abruzzo, and an oaky Sangiovese from Tuscany balance out a cheese-forward pizza like quattro formaggi.
Veggie Based
If you want your vegetables to be noticeable on your pizza, pick a wine that won't clash with the range of ingredients in a vegetarian pizza. A Chardonnay that hasn't been oaked is an excellent place to start. It perfectly complements the identical flavors of the vegetables with its gentle citrus and herb notes.
Best Wine With Domino's Pizza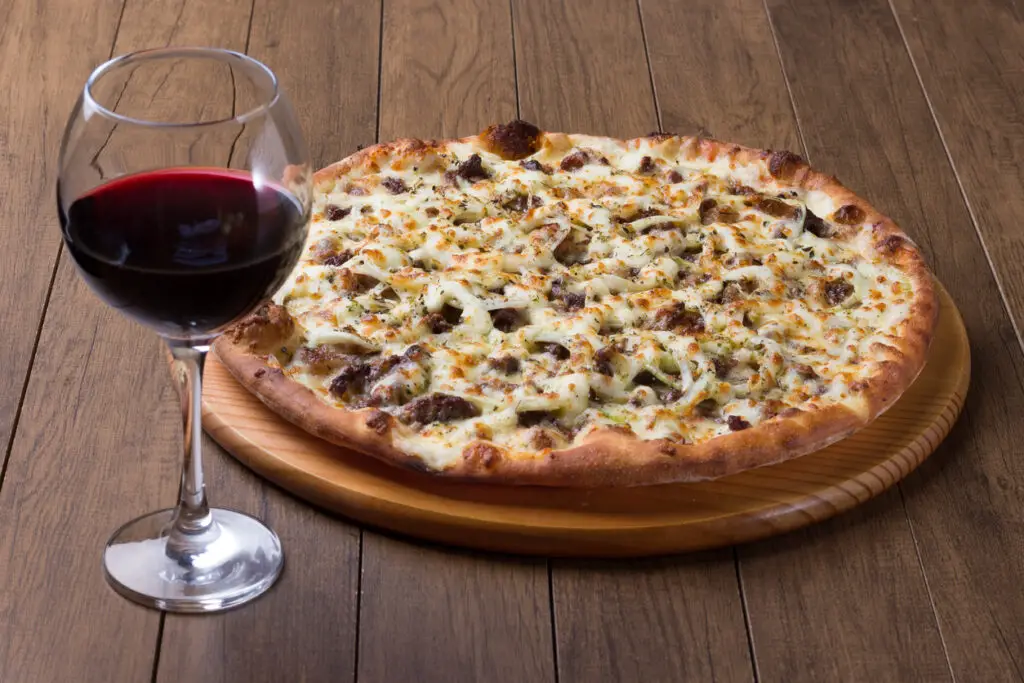 As Domino's pizzas are not common styles, we have prepared some extraordinary wine and pizza combos. Here are some pizzas from the Domino's menu and their matching wines. Enjoy!
Six Cheese Pizza
Author Note: The quintessential four-cheese pizza is a classic slice of cheese pizza with red sauce. Because of its acidity and strength, the red sauce becomes the focal point of the wine pairing. Domino changes the game here.
Domino's all-time favorite is six cheese pizza. Even though this pizza is high in calories, she says that it will provide a good protein source due to its exclusive cheese blend.
A GSM blend will do the trick — GSM stands for Grenache, Syrah, and Mourvèdre, by the way. Another excellent choice is Montepulciano d'Abruzzo, a grape grown in Abruzzo, an area east of Rome.
Pepperoni
Why not order extra pepperoni if you want a pepperoni pizza with a lot of pepperonis (or an "ultimate" amount of pepperoni, if you will)?
Although it's true that pepperoni is the most reliable classic topping and deserves consideration, ordering a specialty pizza that's just a pepperoni pizza with extra toppings isn't going to turn many heads. Domino's states that its pepperoni is made with a combination of pork, beef, and spices and that the Ultimate Pepperoni has two layers of the meat "to honor pepperoni's top spot in the pizza universe."
Pepperoni imbues the flavor in the cheese on every slice due to its fat content. To counteract the pepperoni influence, you'll need a powerful wine with intense flavors. Italy's most common red grape, the Sangiovese is a classic option, but Cabernet Franc is a surprisingly good alternative.
Domino's Deluxe pizza
Pepperoni, Italian sausage, green peppers, mushrooms, onions, and mozzarella cheese are all found on Domino's Deluxe pizza. The Deluxe pizza is a slimmed-down variant of the ExtravaganZZa specialty pizza. Consider it an ExtravaganZZa-lite for those who aren't sure they want to go the whole way.
Overall, the Deluxe is a perfect choice for whoever is looking for a pizza that doesn't have any unusual ingredients and is flavorful in the middle thanks to a combination of meat with vegetables.
If you like Domino's Deluxe, you are likely to enjoy bolder red wines as well, so, fortunately, they complement each other so well. The spices used (including fennel, anise, thyme, and oregano) and the flavor intensities in full-bodied wines like Syrah and Pinotage pair well with rich meats like sausage.
Syrah and Pinotage both have intense dark fruit flavors of blackberry, olive, cherry, and blueberry, matching well with a fennel-based sausage.
Domino's Honolulu Hawaiian Pizza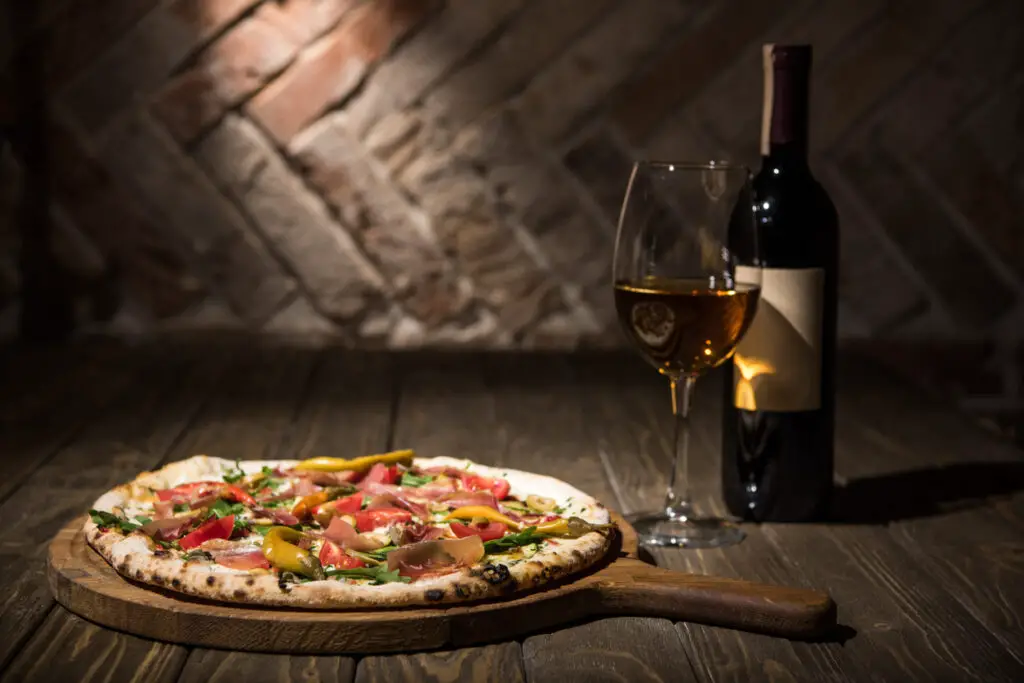 Few items can enrage a specific subset of pizza fans, like proclaiming allegiance to Hawaiian pizza (which was initially invented in Canada by a Greek immigrant, but that's another story).
When it comes to a blend of sweet and savory flavors, the style doesn't get nearly enough credit. A few more ingredients have been added by the chain, which could convince some passionate Hawaiian pizza fans to change their minds. The Honolulu Hawaiian pizza is defined by ham, pineapple, smoked bacon, roasted red peppers, and a blend of mozzarella and provolone cheeses.
With Canadian bacon, a slightly sweet Riesling works surprisingly well. Don't worry; the Germans have been pairing Rieslings with various meats for centuries, so this is a natural fit. The Riesling's acidity acts as a palate cleanser, and its sweetness will take your ham pineapple experience to new heights. If you can't find a Riesling you like, try a fruitier or sweeter red like Zinfandel, Primitivo, or Lambrusco instead.
Domino's Spinach & Feta Pizza
Author Note: White pizzas exist for a reason: they're good. Domino's Spinach & Feta pizza is hard to beat when it comes to meatless pizzas. A creamy Alfredo sauce replaces the red sauce, and the pie is rounded out with spinach, onions, and a blend of feta, Parmesan, Asiago, and provolone cheeses.
The abundance of cheese and creamy sauce can feel just as filling as a meat-topped pizza. The spinach (combined with the various textures and flavors of the multiple kinds of cheese) keeps the Spinach and Feta specialty pizza interesting no matter how many pieces you eat.
White pizza separates itself from the traditional red sauce, allowing you to enjoy two fantastic wines. Cream-based dishes bring out Pinot Noir and Chardonnay's natural "creamy" notes (which, by the way, is brought about through a secondary fermentation called Malolactic).
Of course, many wines pair well with cream, but Pinot Noir and Chardonnay have a particular affinity for the green herbs (such as spinach) that are frequently sprinkled on top of your pie.
Parting Thoughts
If you have decided to order pizza from Domino's, pick one of those fancy wines for a fantastic dinner. We hope you enjoyed this article on the best wine with Domino's Pizza. Bon Appetit!
To living a full-bodied life,
Wesley