We are often told what types, when, and how we should enjoy a beverage. Then there are the endless varieties that range in style, quality, and price. Food and wine pairing conversations are ever abundant. Considerations for wines that should be cellared for aging and appropriate decanting techniques add even more confusion. What if you want to bypass all of this and simply enjoy an easy-going wine? Maybe you like to relax with a glass after work or want an approachable wine on hand throughout the week. So what is the best red wine for casual drinking?
There are many red wines that are great for casual drinking. The best red wines for casual drinking are approachable, lighter in body, softer in tannin, and balanced. We recommend drinking a merlot or pinot noir.
There are endless proclaimed social rules pertaining to wine. Throughout history, people have created rituals, social norms, and even holidays dedicated to it. It is interwoven in long-standing traditions and customs. Some religions use wine as a symbolic gesture. In fact, Monks were some of the founding fathers of alcohol development.  
Sparkling and white wines are common favorites for easy drinking because they tend to be lighter in body with refreshing acidity. What if you do not prefer white wine or are looking to spice it up?
We have said this many times, but it ultimately comes down to what you prefer. However, if you are looking for a little guidance we are here to help.
The Top 10 Red Wines For Casual Drinking
Let's jump right into it, here is the quick list of the top 10 red wines that you can have for casual drinking. Read on the get more details on each wine selection!
Grab two to three of the top ten casual red wines and your guests will be thrilled with the variety.
If you're hosting any beginner wine drinkers then absolutely select pinot noir as your casual red wine choice. This will be the smoothest, light bodied red wine that any beginner will enjoy.
Traditions of Casual White Wine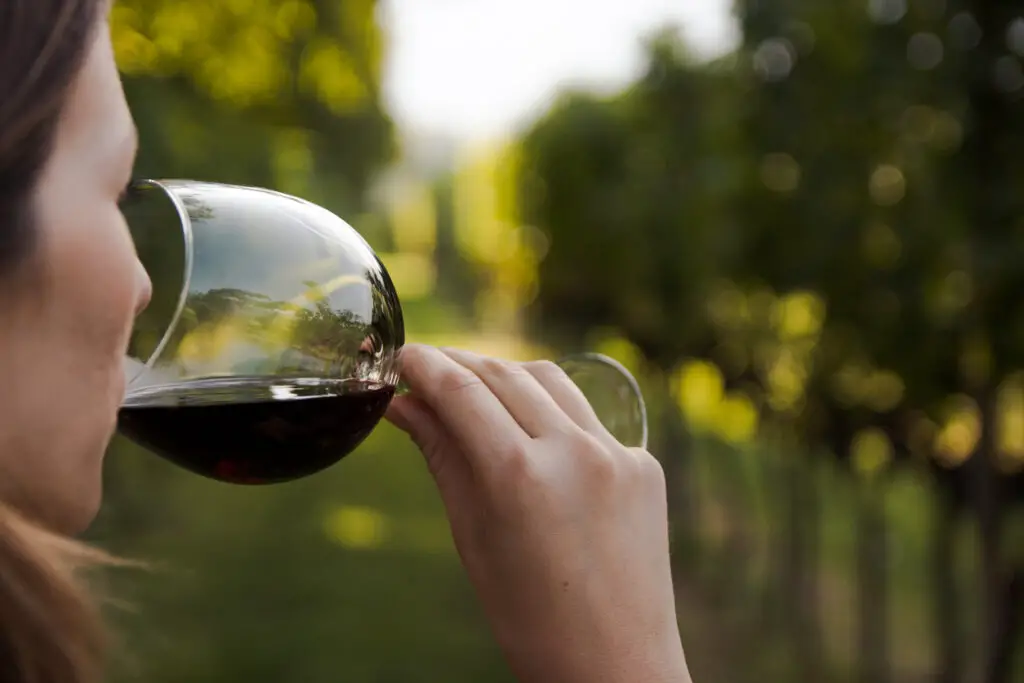 White wines are an easy choice for something like sitting on the porch. Most often they are bright and crisp in a way that doesn't shock the system. Serving them chilled also aligns with how we drink most beverages making it an easy transition for your palate.
Author Note: Rose all day was a marketing ploy that took off because it made sense. Gulping down Rose in any setting has become an enduring trend. It worked because it makes sense. Roses are bright and refreshing.
Sparkling wines have held their status as an easy-going staple.  As flexible wines, they take part laid back brunches to fancy celebrations. Mimosas anyone?
Just because white and sparkling wines have been tried and tested to fit informal settings does not mean that they are the only players in the laid-back social game.
Red wines are frequently overlooked as many are bold and intense. Yet, there are numerous varieties and styles that are apt to join the informal playing field.
Everyone is different. what one person deems a perfect everyday wine might not appeal to you.
How to Decide What Wine is Right for You
One way to sort through the options is to look at your favorite types of food. Do you love hearty rich dishes, something light and delicate, or as spicy as it gets?
How about how things feel in your mouth – do you love a lot of texture or prefer foods that slide over your tongue?
When you nail down your preferences then you can apply that to wine.
Say you are the type is not put off by flavorful textured dishes. you may want to choose a red wine that is slightly bolder. Wines with a little more tannin might appeal to you.
If you have a sensitive palate that makes you wince at bitter food or can't stomach ranging consistencies, then look for light and lean wines. Refreshing wines with fruitiness and minimal tannin.
Love anything citrus that makes your mouth pucker? Look for red wines that offer more acidity
After you have identified your preferences you can use our overarching guidelines to tailor your choices. Wine is for your enjoyment, right?
What Makes a Wine Good for Casual Drinking?
Taking a hint from white wine, we want to find types of red that slip into a situation not brazenly take over the party.
Lean red wines with low to medium body are less fussy than their full-bodied counterparts. Liken this to food. You can likely finish a bowl of brothy soup much faster than a rich hearty stew.
If you are indulging in wine without food, there are not any new flavors between sips. Intense wine can sit on your palate and increase the more you drink. Opt for something that a little palate cleansing.
While acid does well with food, wines with vibrant acidity are also refreshing on their own. Think about how water is more thirst-quenching when a slice of lemon is added.
Red wines are known to have more tannin than whites due to skin contact during fermentation. Tannin is the chemical compound that creates the texture and sometimes bitterness you feel in your mouth.
Wine Flavor Components
Tannin in wine can be non-existent to almost chewy. Unless you love its mouthfeel, look for red wines with minimal tannin. It also saves you from the hassle of decanting.
No one we know likes nose burning alcohol and if you are drinking without food you will want to pay attention to a wine's alcohol percentage. Without anything to coat your stomach, a buzz could quickly tip over to intoxication.
Frankly, wines with lower alcohol levels are just easier to drink. Cooler climate and Old World (think France and Italy) wines usually have lower ABV.
Natural wines also tend to have less alcohol and fewer chemicals that contribute to a hangover.  
Red wines that offer a lot of fruit are great for relaxed drinking. Whether you like juicy, jammy, or more elegant versions, the fruit is your friend. Wine is made from grapes after all!
With so many versatile options, finding a red wine for casual drinking is easy. Take a look at some of our suggestions below.
Pinot Noir for Casual Drinking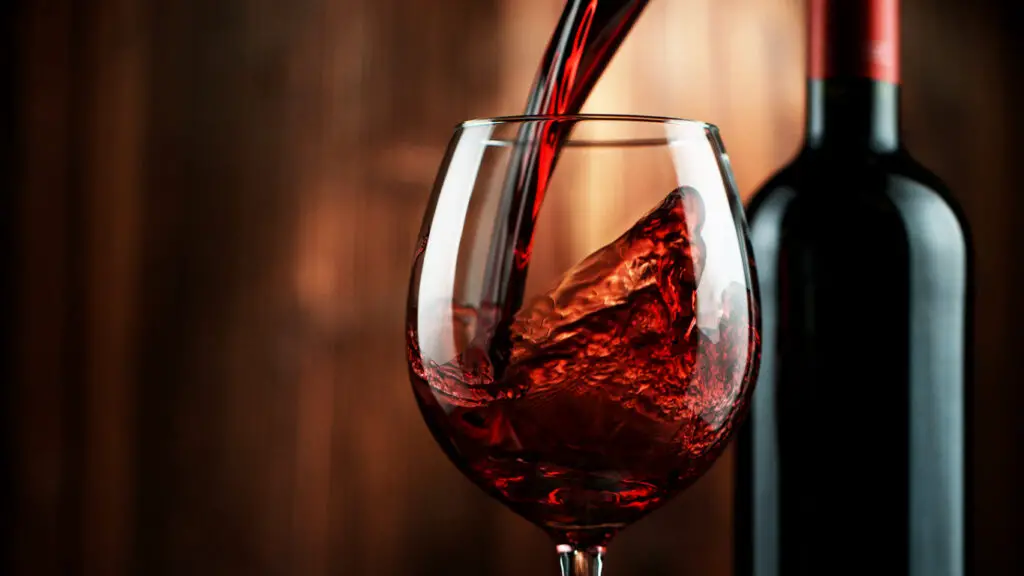 It is not a coincidence that Pinot Noir is beloved by many. With its medium body and complex flavors, it is as accessible as it is interesting.
Top Tip: This delicate grape changes its profile from region to region, but you most often find supple fruit and earthy notes wrapped in bright acid and silky tannin. Common flavors of Pinot Noir are ripe cherry, wild blueberry, blackberry, mushroom, rose petal, and tobacco.
Pinot Noir is widely planted around the world. Most Notable regions include Burgundy France, Willamette Valley Oregon, and New Zealand.
Warm climate Pinot Noirs often burst with jamminess while cooler vineyards give way to earthiness and minerality.
Beaujolais for Casual Drinking
This fruity light-bodied red wine from Gamay grapes is made for easy drinking. Beaujolais wine has a long history of joining celebrations and social gatherings.
It is best enjoyed young to emphasize its juicy red berry flavors and tingly acid. Try serving it chilled for a refreshing detour.
Merlot for Casual Drinking
Merlot often gets a bad rap as being our grandparents' wine of choice. It is actually one of the most versatile middle of the road wines.
With flavors like cherry and chocolate with a backbone of smooth tannins, it is a soft round wine for any occasion.
Cabernet Franc for Casual Drinking
Don't mistake this red wine for its offspring, Cabernet Sauvignon. With juicy fruit and fresh herbs, Cabernet Franc is a softer option.
This complex wine will entertain you with notes of strawberry, raspberry, graphite, and green bell pepper.
Like in Bordeaux, it is often blended with Merlot and Cabernet Sauvignon to create various styles but is just as lovely as a single varietal. If you choose a blend look for one with the lowest percentage of Cabernet Sauvignon.
Lambrusco for Casual Drinking
If you enjoy Prosecco for an afternoon chat, mix it up and give Lambrusco a try. It is usually slightly sparkling in a Frizzante style. It has a hint of sweetness mixed with raspberry, blackberry, and a little earthiness.
This brilliant wine is sure to be a people pleaser with its fine fresh aromas that harmonize with delicate notes of violet.
Barbera for Casual Drinking
This Italian red hides in the shadows of Nebbiolo and Chianti yet is a common go-to wine for locals. This young wine is a bargain that should be added to your wine rack of daily wines.
Barbera has subtle tannin and zippy acidity. It brings flavors of tart dark cherry, strawberry, and blackberry that roll into notes like violet, lavender vanilla, and nutmeg. Some versions have earthy characteristics that can give you a break from full fruit options.
Rioja for Casual Drinking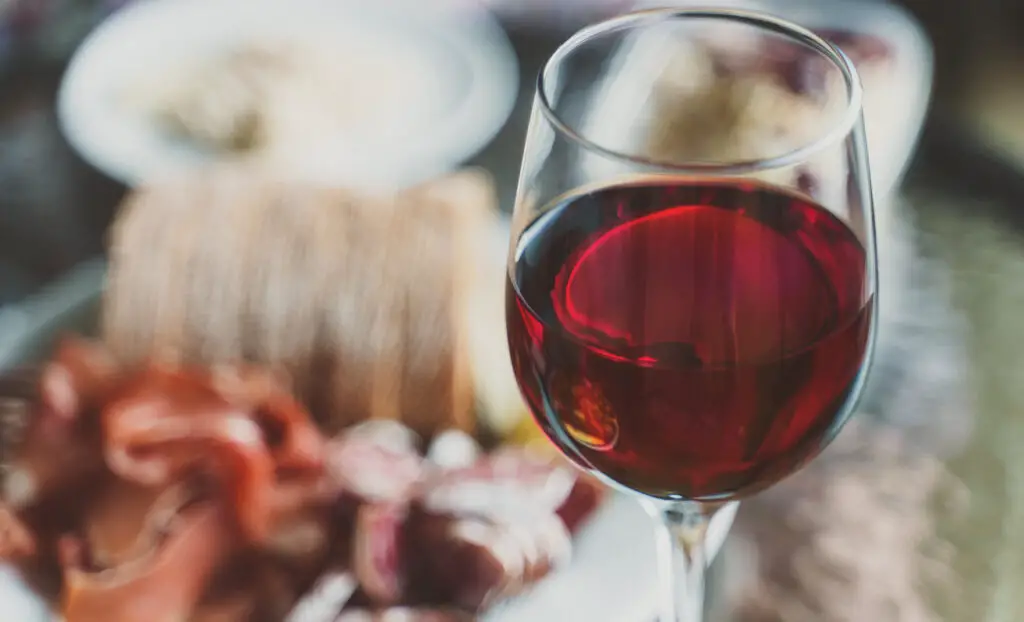 Luscious red cherry and blackberry fill the palate with creamy vanilla in this wine. It is rich and vibrant. A well-balanced Rioja is an ideal easy drinking wine.
Bold Reds that are Best Reserved for Food
Author Note: It can be helpful to have examples of what not to choose. Dense full-bodied red wines are not so friendly on their own. While there are many great options for red wine for casual drinking, there are also powerful reds that are delicious.
Cabernet Sauvignon has reputation for partnering with steak. Its voluptuous body and rich flavors along with chewy tannins ask for food to balance it out.
With dark fruit and spice, Malbec is another wine best experienced with a flavorful meal.
Shiraz is highly tannic with intense fruit and spice. This full-bodied wine shines when matched with extremely flavored dishes.
Heady Petite Sirah also needs food to smooth out its astringent tannic nature.
Conclusion
Just like our favorite pair of blue jeans, there will always be occasions that call for easy-to-drink wines. Be bold and venture out from the world of white and give some fun red wines a try.
The best red wines for casual drinking are approachable and balanced. Remember to seek out wines with qualities of light body, moderate acid, low tannin, and minimal alcohol.
As always use our guidelines and tailor them to suit your individual preferences. We hope you enjoyed this article on the best red wine for casual drinking.
To living a full-bodied life,
Wesley