Cabernet Sauvignon is one of the most popular wine varieties there is. People love its big bold character and seek it out around the world. We will not deny that there are many fabulous Cabernet Sauvignons out there, but the fun of wine is trying new varietals from various regions. If you know a varietal you like it can guide you to explore new wines that are similar. Let us take a look at Spain. What Spanish wine is similar to Cabernet Sauvignon?
Tempranillo and Monastrell are Spanish wines that are similar to Cabernet Sauvignon. They are all bold full-bodied red wines with fruit that is balanced with tannic structure.
First, let us take a look at what makes Cabernet Sauvignon so distinctive, and then we will explore some Spanish options to try.
Cabernet Sauvignon Background
Cabernet Sauvignon is grown in almost all major wine regions around the world. It is produced in a single varietal style, used in wine blends, roses, and sparkling wines. This makes it fairly easy to find Spanish wine that is similar to Cabernet Sauvignon.
Originally from Bordeaux France, it is a cross between Cabernet Franc and Sauvignon Blanc.
Old-World (mostly Europe) Cabernet Sauvignon, like Bordeaux, is used in a blend. Other grape varietals are added for their unique characteristics to create balance, body, or add other flavors to the final product.
Cabernet Sauvignon provides bold structure and dark fruit flavors like dark cherry and blackberry. Because it is often grown in a cooler climate it has more acidity and fresher fruit aromas.
New-World regions sometimes blend Cabernet Sauvignon, but most often bottle it as a single varietal. These are often produced in warmer climates and have a jammier fruit profile.
Cabernet Sauvignon Characteristics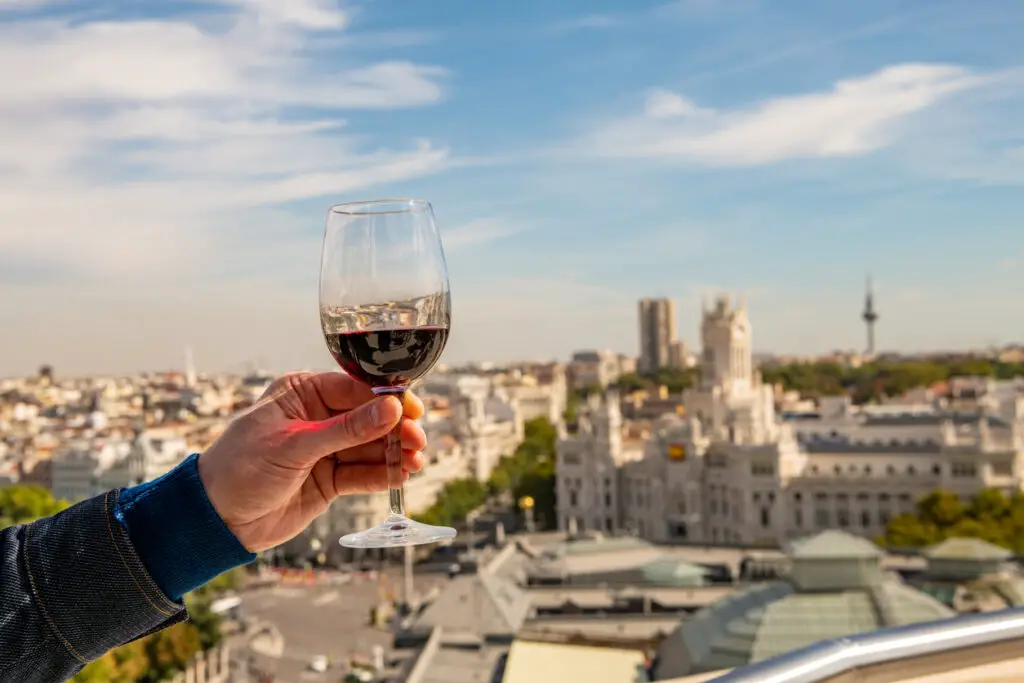 Cabernet Sauvignon is a dry full body red wine with medium to high tannin and medium acidity. Its alcohol levels are usually between 13 and 15%.
Known for its dark fruit flavors you may enjoy notes of black cherry, currant, blackberry, plum, blueberry, and jam.
Savory herbal notes in the wine may appear as black pepper, mint, bell pepper, eucalyptus, bay leaf, or cinnamon.
Author Note: You may find that you taste flavors that strongly resemble green bell pepper in this wine. Cabernet Sauvignon is one of six varietals labeled as a "Bordeaux variety" that contain the aromatic compound called pyrazine.
Pyrazine produces "green" aromas like bell pepper, graphite, or green peppercorn. Some people find it off-putting while others seek out wines promoting this characteristic.
Cabernet Sauvignon is full of bold tannin and structure. Depending on what oak is used and how it is made you may find flavors like tobacco, cedar, chocolate, smoke, vanilla, clove, or coffee.
Most Cabernet Sauvignon wines do very well with aging. Some will do well with 10 years in your cellar.
It is best served around 50 degrees Fahrenheit in a large round wine glass to allow oxygen to smooth out its strong tannin. Some styles are best if decanted for around one hour before serving.
Because of Cabernet Sauvignon's bold character and structure, it pairs well with grilled red meats and any dish that is full of flavor.
Spanish Wine
As a wine-producing country, Spain is sometimes shadowed by France and Italy's popularity. However, it produces quality wines in a large spectrum of styles.
It is a premier wine-producing country that is leading the world in grapevine acreage. Spain has over 600 grape varietals.
You will find some of Spain's highest quality wines in the cooler northern climates. Yet, with such diverse terroir and increased winemaking techniques, you will find interesting wines from all regions.
Much like the AOC quality control laws in France, Spain has Denominacion de Origen (DO) laws. It regulates regions, grape varietals, winemaking methods, and aging practices.
There is a level of quality identification that is higher than DO called Denominacion de Origen Calificada (DOC). There are only two regions that fall into this classification: Rioja and Priorat.
You will most often find a wine's DO on its label rather than its grape varietal.
If you find the word "Joven" on a wine label it means that the wine is unoaked or lightly oaked. Look to drink these wines young.
Spanish Wine that is Similar to Cabernet Sauvignon
There is some Cabernet Sauvignon produced in Spain, primarily in the Pendes region. However, let us take a look at some native Spanish wines that are similar.
Tempranillo
Tempranillo is typically a robust wine with medium to high acidity and tannin. It has a firm structure and bright fruit like Cabernet Sauvignon.
It is a black grape with thick skin that ripens early. When allowed to develop over time it will produce luxurious complex wines.
The majority of Tempranillo is grown in the high elevation and cool climate of Rioja. Exhibiting flavors like plum, blackberry, raspberry, and spice.
As these wines age notes of coffee, tobacco, vanilla, and minerality are introduced. American barrels are sometimes used for aging adding aromas like coconut. Look for long-aged styles like Rioja Reserva.
Ribera del Duero is a warmer region that produces more concentrated ripe flavored wines. Here Tempranillo is called Tinto Fino.  This area often produces wine in a modern style that resembles new-world Cabernet Sauvignons.
Top Spanish regions for Tempranillo include DOCa Rioja, DO Ribera del Duero and DO Toro.
Red meat, flavorful pasta, roasted dishes, and dried meats are great food pairings for Tempranillo. Its bold flavors will hold up to hearty dishes and complement most meals that are not extremely light.
Monastrell
If you like a Cabernet Sauvignon that puts forward flavors like savory tobacco, black pepper, smoke, and herbs then Monastrell is a good alternative to try. Monastrell is another Spanish wine that is similar to Cabernet Sauvignon.
Monastrell exhibits black fruit flavors and rich spices. It is also a rich full-bodied wine that has medium to high acidity, high tannin, and alcohol.
Author Note: Also known as Mourvedre, Spanish Monastrell is a dark rich wine with meaty characteristics. It is usually grown in a warmer climate providing them with a smooth luxurious finish.
Some versions of Monastrell may offer notes that differ from Cabernet Sauvignon. You may find floral notes like rose or animal meaty aromas.
Top Spanish regions for Monastrell include DO Alicante, DO Jumilla, and DO Valencia.
Monastrell's spicy characteristic pairs nicely with dishes that a smokey component. Try it with a juicy burger or barbeque.
Other Spanish Red Wines
There are several other fantastic varieties of red wines found in Spain that are worth taking a look at.
Garnacha
This grape is originally from Spain but is also grown in France and is called Grenache. It is a thin-skinned purple grape that grows best in hot dry climates.
It is produced as part of blended wines and as a single varietal. Some people liken it to Syrah.
Young Garnacha offers tart red fruit notes like strawberry and grapefruit. It is often fresh and juicy with a smooth finish.
Aged Garnacha can be very pronounced and nuanced. High in tannin, it can present dark berry flavors and licorice. It ripens late so it can create wines with very high alcohol levels.
Top Spanish regions for Garnacha include DOQ Priorat, DO Vinos de Madrid, and DO Calatyud. Garnacha is often seen as good Thanksgiving wine. It does well with roasted meats or hearty fish.
Mencía
A medium-bodied red wine called Mencía is grown in Northwestern Spain and Portugal. It is similar to aromatic Pinot Noir.
Mencía has medium to high tannin, acidity, and alcohol. It ages very well and produces rich aromatic floral and fruit characteristics.
Common flavors are strawberry, sour cherry, blackberry, and licorice. It often portrays minerality like gravel or granite.
Top Spanish regions for Mencía include Galicia, Castilla y Leon, and DO Valdeorras. Mencía is is another Spanish wine that is similar to Cabernet Sauvignon.
Mencía pairs well with lighter meat like pork or duck. It a great companion to portabella mushrooms or mushroom risotto.
Bobal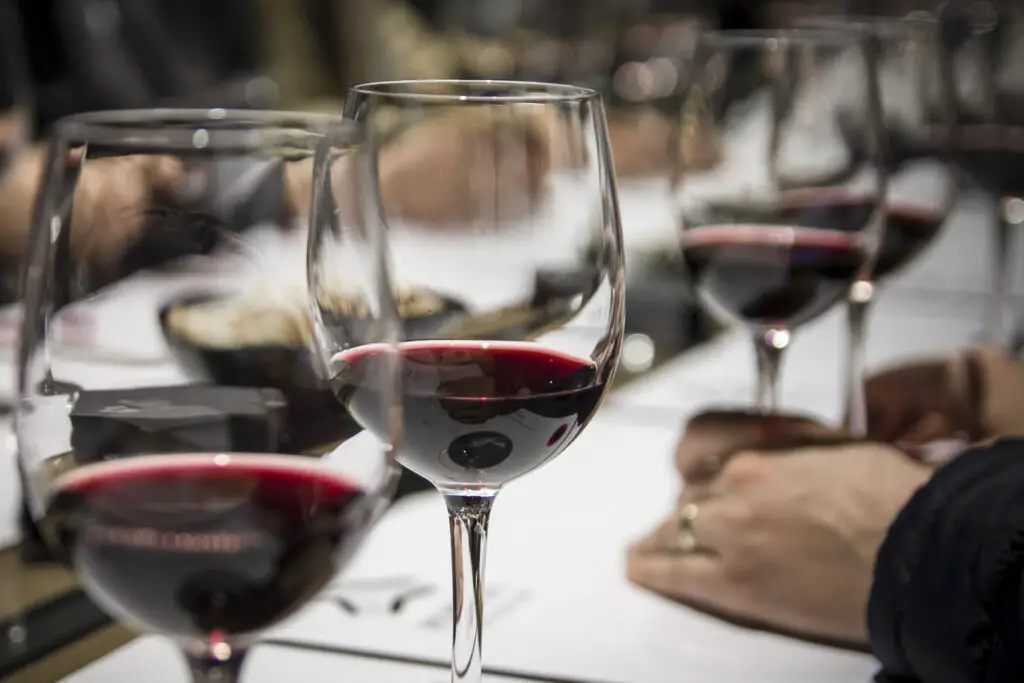 Bobal, mostly grown in central Spain, is a lesser-known grape varietal internationally. It gets its name from the Latin term above which refers to the shape of a bull's head.
In the past, Bobal was mass-produced as part of blended wines. Today many winemakers have perfected making the wine as a single varietal.
Author Note: This dry red wine has high acidity, gritty tannin, and low alcohol. It has a luscious dark fruit like blackberry and blueberry ending with a silky cocoa powder finish.
Top Spanish regions for Bobal include DO Utiel-Requena and DO Manchuela. Paella, apricot chicken, or roasted vegetables are delicious matches for Bobal.
Graciano
Found mostly in Navarra and Rioja, Graciano is a black-skinned grape with considerable age-ability. This wine is similar to Petit Verdot.
This deep red wine has firm tannin and strong aromas. It is gushing flavors like mulberry, blackberry, clove, black pepper, and baking spices.
Granciano is low in alcohol with balanced acidity and tannin. This wine is bright and fresh with a velvety finish.
You will find Graciano in the Rioja and Navarra regions.
Granciano will elevate meals with chorizo, brisket, or lamb. Try it with fajitas or asparagus.
Conclusion
Cabernet Sauvignon is a bold flavorful wine loved around the world. It is a fun journey to learn what we like about wine and discover others that are similar.
Cabernet Sauvignon can be pricier than other varietals. Give a similar Spanish wine a try and you may find a new favorite that will save you a few bucks!
Tempranillo and Monastrell are Spanish wines that are similar to Cabernet Sauvignon. Their fruit aromas, bold flavors, and strong structure offer a fantastic alternative.
Think about the wine characteristics you prefer and seek them out in other varieties around the world. Explore and enjoy. We hope you enjoyed this article on what Spanish wine is similar to Cabernet Sauvignon.
To living a full-bodied life,
Wesley