Sommeliers can talk about white wine as much as they want. Some think it is overrated, and some think it is underrated. One thing they can surely agree on, however, is that the "le vin blanc" is delicious. So what are the differences between Viognier vs Sauvignon Blanc?
Viognier has less acidity than Sauvignon Blanc and tends to be easier to drink. Viognier is slightly more predictable as it is not a blend of grapes and has more apricot and stonefruit aromas, backed by its signature oily texture. As a blend, Sauvignon Blanc grapes provide much of the wine's acid, keeping it fresh and racy. Viognier grapes round out the body and offer added textural depth. 
Now let's go deep into the details and explain the main differences between Viognier vs Sauvignon Blanc.
Viognier
Viognier is another french vine grape family with light green skin. It is the only authorized grape kind that can be used for the French wine Condrieu in the Rhône Valley. Outside of the Rhône, Viognier can be found in North and South America and Israel, New Zealand, Australia, and the Cape Winelands in South Africa.
Author Note: In some wine regions, the variety is combined with the red wine grape Syrah, contributing to its color and aroma. If you are a lover of non-aged and light white wine, over the bolds like Chardonnay, Viognier is the kind you will like to try.
Smell
Viognier is a wonderfully aromatic wine and famous for its perfumed flavor that can develop from peach, apricot, gingerbread, and honeysuckle to a rich, creamy taste accent of vanilla when it is oak-aged.
Taste
Good Viognier should feel round, rich, and intense in flavors on the pallet. It should have high acidity and good freshness. Sadly some bad examples, especially from the warmer regions, or when it is harvested a bit too late, are going to give us wines that are a bit too oily, too flabby, with a low flavor profile.
If you loved Viognier, I highly recommend you to try some Chenin Blanc from South Africa or maybe Vermentino from Sardinia: they taste more or less similar.
Best Regions to Grow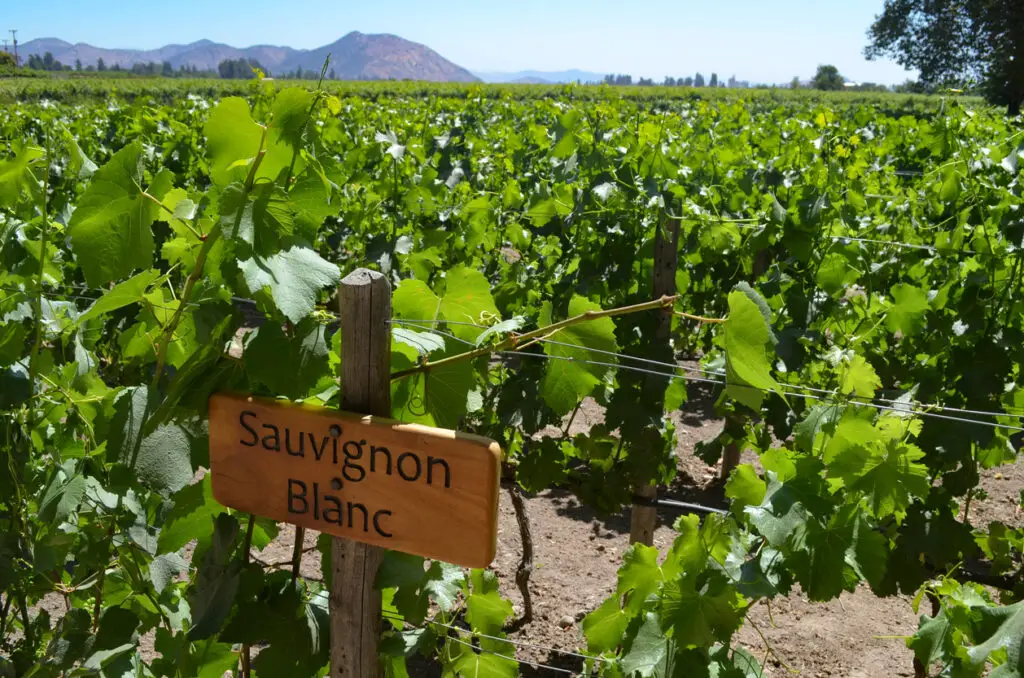 If you are looking for Viognier, the region to go to has to be the Northern Rhone, as is mentioned above. California also has some beautiful Viognier, and the prices are equal to the french valley's ones. Otherwise, you can go to South France and South Africa and South Australia. There you can also find some excellent Viognier that is more approachable in terms of price.
Food Pairings
In the debate of Viognier vs. Sauvignon Blanc, food matching is a very important factor. The main secret of pairing foods with Viognier wine is to consider its delicate floral notes and medium acidity fully.
So, to make the literal pairing, focus on emphasizing and bringing forth the wine's core flavors. Make sure that the foods you pair are not very bold and acidic. This rule applies to all the white wines, by the way. A good example is to match a bolder weight Viognier from Paso Robles, CA, with chicken tagine with apricots, which is served over a bowl of saffron rice. In this way, the dish's aroma will raise the fruit flavors and creaminess in the wine.
Meat
Pork Chop with Apricot Sauce:
Porkchop is one of the most eaten and famous among meat-based dishes. The apricot sauce really makes it even more delicious․ Due to its saturated taste, pork makes a great combination with this delicate white wine- Viognier.
Poultry also goes excellent with this wine due to its acidity and fruity notes.
Roasted Chicken:
Top Tip: I highly recommend you also try roasted chicken with Viognier. If you can burn it juicy- even better. Chicken Curry and Quail dishes are also a delicious combination with this wine as they should be spicy and need a drink that is more subtle․
Seafood
Red wine is mainly forbidden with seafood, yet whites are great with it. So grab this list of sea products: Pan-Seared Tilapia with Avgolemono Sauce, Halibut, Sea Bass, Lobster, Crab, Shrimp, Poached Salmon and choose the one you prefer.
Cheese
When one says wine, all thoughts immediately go to cheese. Usually, it's red wines that make a great combination with cheese. But there are undoubtedly some cheese types that go well with whites such as Viognier, like Fondue, Farmer's Cheese, Comté, Baked Brie with Apricots, Gruyere, Young Sheep's Milk Cheeses, and so on.
Vegetables
When it comes to veggies and wine, there really aren't a lot of limitations, but there are some exact sorts worth a go, like everything you associate with pumpkins (Delicata Squash, Butternut Squash, and Kabocha). Cauliflower is also fantastic with Viognier. Again, green olives and capers go well with this wine. Just improvise
Seasonings
Season your foods with citrus zests, tarragon, fresh dill, ginger, chives (green onion and green garlic), turmeric, and fennel seeds. These spices and herbs go very well with this wine.
But, keep in mind that Viognier also can be drunk without any food due to its fantastic taste and other characteristics.
Sauvignon Blanc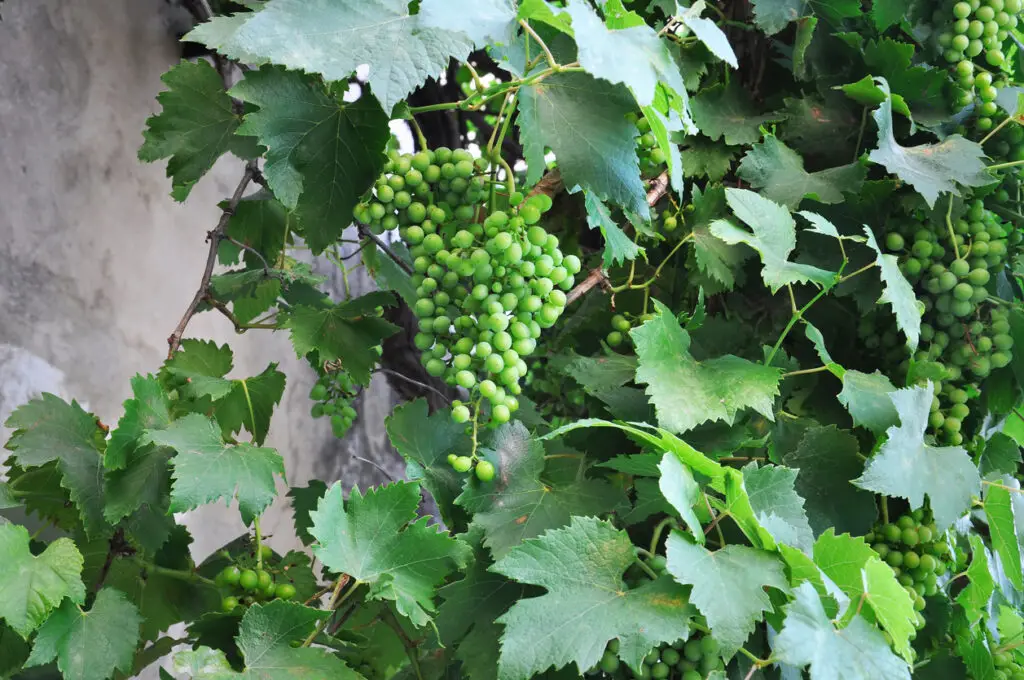 This wine has been mentioned a lot on this blog, but here we will dive deeper.
Sauvignon Blanc is from the Bordeaux region of France, and it is a green-skinned round-shaped vine grape family. The fruit is unbelievably tender and delicate. Yet the name of the grape says something different. If we analyze the french word, the "Sauvage" means wild, and "blanc" is white.
It gets its name because of the characteristics of growth in wild places as well. The white wines that have Sauvignon Blanc in their basis are (the most famous ones) Pouilly-Fume, Sancerre, and Marlborough.
Smell
Sauvignon Blanc has many-many notes in it with every smell you take. It has fruit flavors, herbal aromas, and in the end, also the oak smell from the barrels it was aged in. At first, you will feel the lime aroma because of its acidity. Then comes the green apple, and transforms into Asian pear, kiwi, passionfruit, guava, and already sweet and velvet white peach and nectarine.
It has herbal notes such as jalapeño, basil, and gooseberries.
During oak aging, the winemakers add some food that makes it creamy and a bit oily. They are vanilla, pie crust, dill, coconut, butter, nutmeg, and even cream.
Taste
You will feel the acidity and a light lime taste from your first sip, then it gets sweeter, and you'll feel other fruits, especially peach. But if you keep it in the mouth longer, you will feel the oiliness and buttery taste with slight vanilla.
A hint about its sour taste: when the fruit is less ripe, it may have a more acidic taste.
Best Regions to Grow
Sauvignon Blanc's homeland is France, the Bordeaux region. It also successfully grows in Australia, Chile and Brazil, New Zealand, North America, and other winemaking regions.
Food Pairings
I am telling you at once if you want a perfect dinner, go green. With Sauvignon Blanc, vegetables and all the kinds of greens are what you need.
Author Note: There is a classic pairing with this white wine: goat cheese Crottin de Chavignol with some fresh green parsley, rosemary, basil, cilantro, or mint. This is the most traditional combination, which was made up in the Loire valley ages ago.
White Wine and White Meat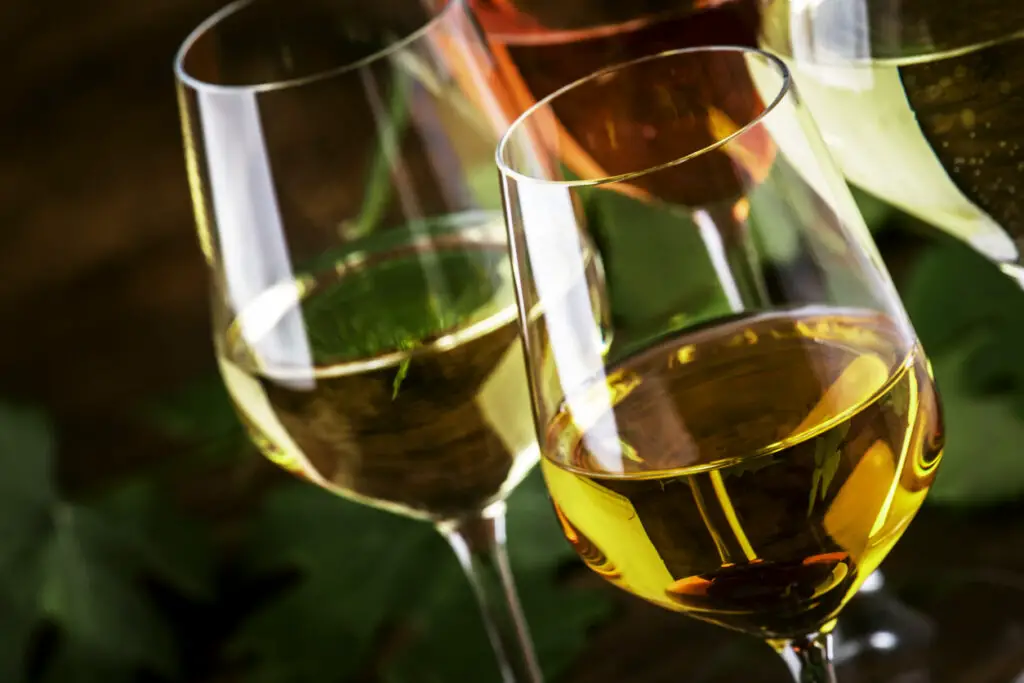 Chicken and turkey are absolutely perfect for this wine in all the forms they can be cooked. You can also try some fish and other seafood like lobster, mussels, and your favorite ones.
Cheese
The saying that every cheese goes well with every wine has some truth behind it. But with Sauvignon Blanc, look for softer, saltier, and sour cheeses like everything made from goat's milk, yogurt, and Crème fraîche. Those types are more creamy and suit the acid characteristics of Sauvignon Blanc.
Vegetables
If we are cooking dinner tonight, you want it to be a fatty vegetarian one because Sauvignon Blanc should shine with its acidity through. Any Sauté green will do, as every kind of vegetable is perfect for this white wine. So, here are a few ideas for you. Try a green and herbal asparagus quiche. You can combine it with a fresh cucumber dill yogurt salad and don't change the wine. If you are a lover of Arabic-Egyptian cuisine, then the green hummus is best for tonight.
Not everyone will choose this dish, but white bean casserole with zucchini is delicious and highly recommended.
And last but not least white lasagna. This is the perfect combination, all in one dish with Sauvignon Blan: the chicken, spinach, cheese, plus herbal seasoning. This is what makes the dinner absolutely mouthwatering.
Parting Thoughts
Now when you have finished dinner and want a little peaceful moment on your own, don't forget to take the wine glass with you. If you are a real white lover, you will treat them properly. It doesn't matter which wine you have chosen of those discussed, but the important thing is to remember how you should drink them.
Every wine should be treated well, whites, especially, as they are the ladies. Good luck!
To living a full-bodied life,
Wesley