In the UK people tend to talk about the weather to start the conversation, yet in France, people like to talk about food: how it is made, what to eat when and how, and most importantly which wine to choose to accompany the food. They say that food without wine is a corpse; wine without food is a ghost. But french people know how to drink wine without food. So, what is the best wine to drink without food?
The best wine to drink without anything is pinot noir. This is because pinot noir has a balanced and nuanced flavor profile that is great all by itself. But we also think that any wine can be enjoyed without a food pairing! It really depends on your pallet and which wines you like to drink the most.
That being said, we think there are several other wines that are better enjoyed without food. In this article, we'll fo over the best red and white wines to drink without food
Read on to find out!
Let The Wine Drinkers Decide The Best Wine For Casual Drinking
The truth of finding the best wine to drink without food comes down to testing out your favorites. Ourselves and many other wine experts typically focus on wine pairings with various foods but leave out the casual wine drinking options.
Some folks will prefer to drink a fruitier wine when it's on it's own as they're often left out of the food pairings.
We of course have our own opinion on wine that's good without food below but thought it would be good to poll some wine drinkers from around the world.
Here are the top 3 reds and white that people selected to the question: What's your favorite wine to drink without food?
Red; Pinot Noir, Chianti, and Merlot
White; Sauvignon Blanc, Pinot Grigio, and Chardonnay
Read on to see what we recommend and why!
Can You Drink Wine Without Food?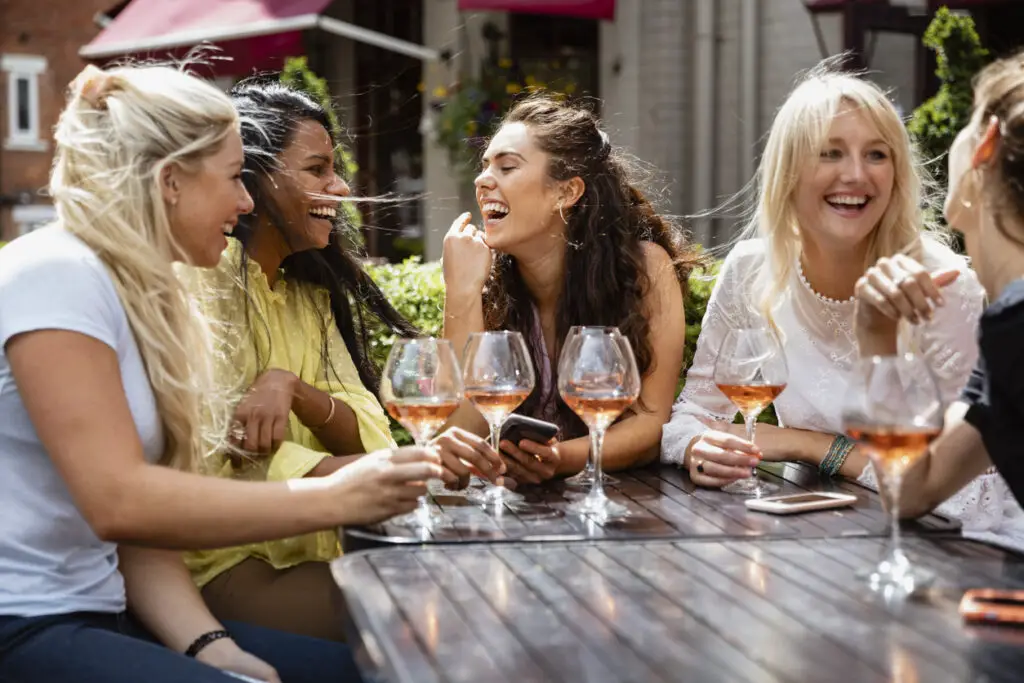 The answer is YES! The wine industry spends too much time making perfect combinations of food and wine, yet many people prefer to drink wine alone to feel the taste entirely. If you have some suspicions about getting too drunk or feeling sick having alcohol without food, this is the only thing that makes it worrisome.
Author Note: There are wine types that people drink as an appetizer. These are called "apéritif" in the french language. So, if the idea about drinking on an empty stomach is terrible, then these wins solve your problem.
The thing is, when you drink on an empty stomach, much of the alcohol moves to the small intestine from the stomach, where it is absorbed into the bloodstream. This can make you even more energized. But you should be careful, as drinking a large amount of alcohol and at once on an empty stomach can be dangerous.
We approach wine as a heavenly drink that can be enjoyed in any situation. Wine is a fantastic drink, especially high-quality wine. In ancient times they cured many diseases and pains with wine. Indeed, it hasn't lost its magic abilities now, and it is still used as a form of medicine. Aside from its medical advantages, wine is an aristocratic drink, and it is inappropriate to get too drunk from it!
If you are now convinced and want to get a little dizzy with a good wine, here are some ideas for the best wine to drink without food.
Parade for Red Wines
If we look at all of the red wine studies, they say that red wine is good for memory, lowering heart disease risk, and even slowing down the aging process. We understand that the wine should taste fairly delicious if it doesn't accompany food, so get yourself some Pinot Noir and Chianti to brighten your leisure time.
Pinot Noir
Pinot Noir is your first option for the best wine to drink without food. It is one of the most famous wines globally, and it is also the most expensive one. But that doesn't mean that you cannot find an affordable one. The grapes for Pinot Noir are very hard to grow and cultivate, so the wine produced is expensive. Another factor of the cost is the complex aging process.
But you can also find affordable bottles of Pinot Noir, especially when you are drinking it for fun and not to complete a fancy dinner. It will also be lighter for your empty stomach, but still a great Bordeaux. Pinot Noir is recommended to drink with meat dishes and considered a full-bodied wine.
If this isn't really for you, you can always find Pinot Noir from other countries rather than France, and they can be lighter. This depends on the climate, soil, and the aging process. But still, Pinot Noir is a good choice for the best wine to drink without food, no doubts.
Chianti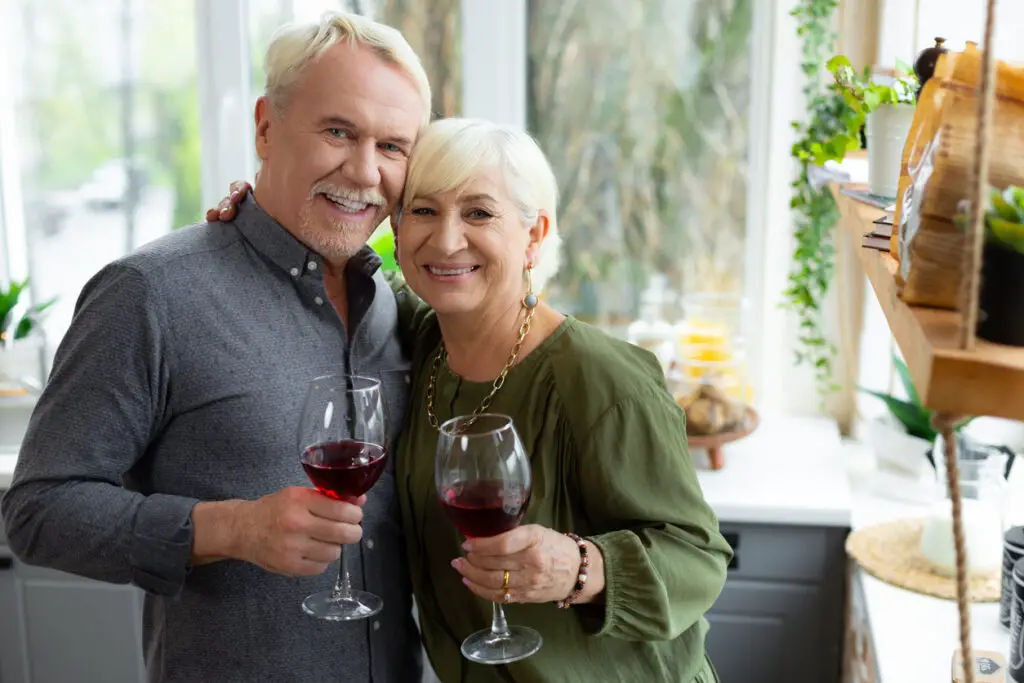 Chianti [kianti:] can be called any wine made in the region of Italy called Tuscany. The wine is made from the Sangiovese grapes' juice, which is the blood of Jupiter. It mostly tastes like red fruits sour, balsamic vinegar, herbs.
Those wines contain notes of preserved sour cherries, dried oregano, sometimes espresso, and sweet tobacco on the high end. Using white grapes is strongly forbidden in Chianti wines. Chianti reds are rich in taste yet restrained, so they are a top contender for the best wine to drink without food.
Here Come the Whites
White wines are real young ladies: they are elegant, simple, and light. But you have to be careful with them not to become too obsessed. Though whites are more delicate than their red sisters, at least people think so.
Anyway, white wine should be served chilled, and the food should also be lighter. Here are two of the best white wines to drink without food!
Chardonnay
How can one talk about white wine and not mention Chardonnay? These grapes are fantastic for oily white oak barrel wines and also for white sparklings. Chardonnay grapes grow in France or specifically Burgundy– the most famous wine-producing region worldwide.
The wine made out of those green-skinned grapes has some buttery flavors. Then it is followed with some fruity notes. Yellow apple, starfruit, and pineapple are the leading tastes that follow one another and elegantly dance in your glass. Chardonnay whites are usually served with seafood and lighter dishes.
Author Note: Still, it can be considered as one of the best wines to drink without food, as it is rich in taste itself․ And besides the taste of the wine, they are easy to drink, especially when they are cold, so if you drink it slowly, it is the best pleasure.
Sauvignon Blanc
Sauvignon Blanc grapes are mostly grown in the Bordeaux region of France, and the skin of them is also green. But to your surprise, these types of grapes are not high maintenance, and they grow nearly everywhere. That makes their wine taste different ranging from sour to sweet.
The wine also has herbal notes in it when it tends to sour. Upon drinking this wine, you will associate it with the taste of white peach, grapefruit, passion fruit, honeydew, and berries. It is served cold as all white wines should be.
Food pairing is simple as can be; it goes well with herbal sauces in tofu and chicken. This Sauvignon Blanc is best as an appetizer, and it also can be drunk as the ending of a hard day. It is considered to be a good choice for the best wine to drink without food.
And Finally Sparkling Wine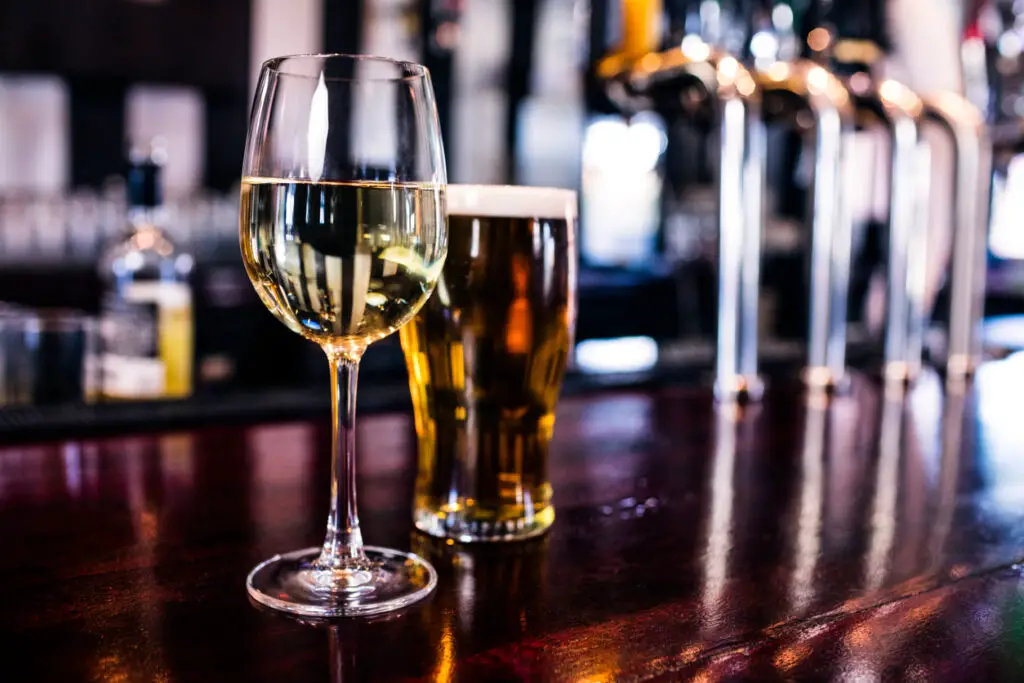 As people tend to call all sparkling wine Champagne, they consider all of them to be white. But reds also make fabulous sparkles. The reputation is not excellent for red sparkling wines since they are too sweet and very cheap. But, if you look hard enough, you will surely find a high-quality one.
Sparkling red wines are made from the Italian grape Lambrusco. They are great with creamy tomato sauces and go perfectly with meaty dishes. Grilled veggies and fresh salads are great to accompany with red bubbles as well. Lots of countries have decided to start producing this kind of wine more enthusiastically this year. Italy and Portugal will lead the parade, at least we think so.
As we let the red bubbles rest in the bottle for a while, let's go to the white ones.
Author Note: White sparkling wines are made to turn every special event into a real celebration. Champagne is the most popular of white sparkling wines, for sure. Here you can find some more information about all types of sparkling wines.
So, when you pop a bottle of sparkly, you focus on how much fun it is and may forget to eat something with it. Anyway, be careful to remember that these fizzy drinks are still alcohol, and you can get drunk, or even worse, you can get alcohol poisoning if you overuse it. It would be best if you count how many glasses you can have with or without food.
Sparkling wines can accompany most fancy dinners and the simplest celebrations with some fruits and cake. But most importantly, they are fantastic by themselves! Just grab a bottle of bubbles and go to your balcony. Look at the sky and drink for the best days to come.
Enjoy The Moment
There are times when each of us wants to relax and have some moments alone. You still can drink some of your favorite Bordeaux or some Blanc. For a real feast, sparkling wines are waiting for you in the bar, no matter if it is red or white.
Wine really can cheer you up and make you lighter if you won't take food with it, but make sure you don't get too cheerful! Here is a drink to your health and the upcoming year. Cheers!
To living a full-bodied life,
Wesley