Champagne is a French sparkling wine, and it got its name from the winemaking region Champagne, in North-East France. They are made from the Pinot Meunier, Pinot Noir, and Chardonnay grapes grown in this region. The name "Champagne" can be generally called as a term for all the sparkling wine. But technically only sparkling wine made in the region of Champagne can be called Champagne. So, what is Champagne called when not made in France?
Champagne is simply called sparkling wine when it's not made in France. But depending on the region it's made in, it can be called many things. In Germany, Champagne is called "Sekt", while in Portugal it is called "Espumante". So it really is a matter of where it comes from. There is not a single popular name for Champagne made outside the Champagne region of France.
In some European states, it is actually illegal to call sparkling wine Champagne due to the Madrid system unless they are made in the region of Champagne and are made under the rules of the appellation.
Some wine lovers say that original Champagne is more light and delicate and that other sparkling wines sometimes taste bready, and it makes them a lot like beer. Some other critics deny this statement insisting that both of them taste like fresh fruits.
But, there is so much more for this joyous drink than just a name, so let's get into it!
Briefly About Champagne
Name
Bubbles- This is what some people (even some professionals) alternatively call Champagne. But let's state that true Champagne is only the one that comes from the region of Champagne in France. Actually, French people are proprietors of their drinks. For example, the brandy can only be called Cognac when it is made in that region.
Though we have some exceptions too: the brandy made in Armenia is also called Cognac and is famous like that too.
Making Champagne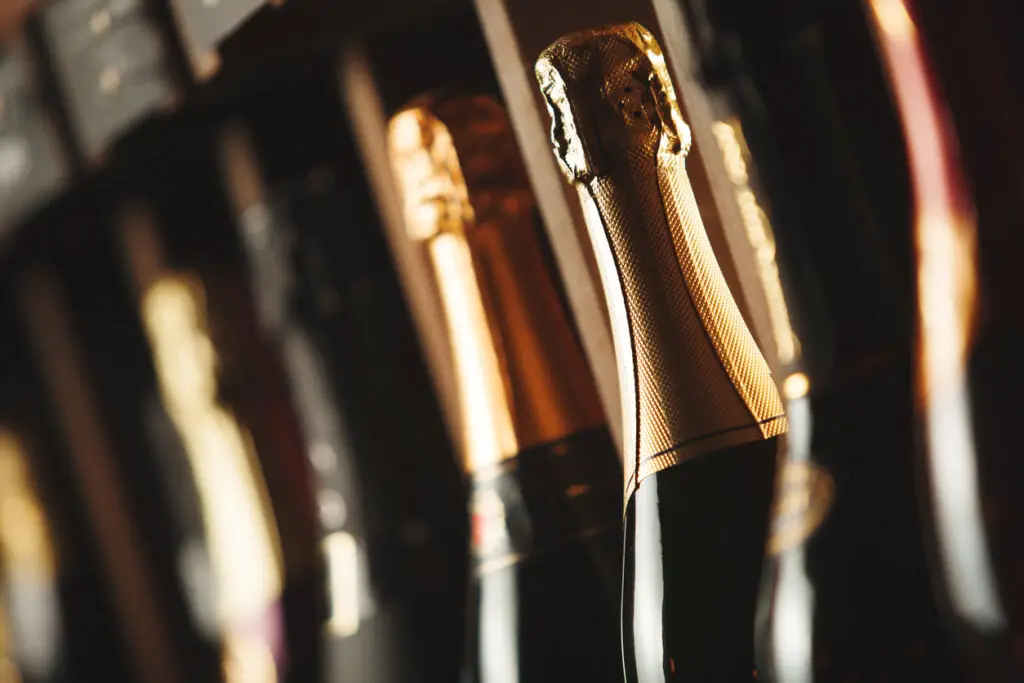 So, Champagne is an alcoholic drink which is produced from specific types of grapes grown in the Champagne region. These bottles follow rules that demand, among other things, specific vineyard practices, sourcing of grapes exclusively from designated places within the Champagne region, specific grape-pressing methods, and secondary fermentation of the wine in the bottle to cause carbonation.
The grape selection is very important as not any type of wine grapes can be used in Champagne making. The finest grapes, Pinot Noir, Pinot Meunier, and Chardonnay, are used to make almost all kinds of Champagne, but small amounts of Pinot blanc, Pinot Gris, Arbane, and Petit Meslier are vinified as well.
Author Note: Only these specific grapes grown according to special conditions and in a specific area may be used to make Champagne.
After the aging process, the bottle is shaped, both manually or mechanically. The process is called remuage (or "riddling" in English), during which the special shape of the Champagne bottle is made. All the sparkling wine bottles more or less look like this, no matter if they are a Magnum or a Nebuchadnezzar.
The French Method
The traditional French method by which Champagne is produced is called Méthode Champenoise. After the primary fermentation and bottling, a second alcoholic fermentation happens in the bottle. The second fermentation is tempered by adding a pinch of yeast and rock sugar to the bottle.
It is a known fact that a minimum of 1.5 years is required to completely develop all the flavors according to the appellation "d'origine contrôlée."
For years where the harvest is exceptional, an additional grape harvest is declared, and some Champagne will be made from and labeled as the products of a single vintage rather than a blend of multiple years' harvests.
This is the sign that the Champagne will be very good and has to mature for at least three years. During this time, the bottle is sealed with a crown cap similar to that used on beer bottles.
Add A Little Sparkle
Sugar is added to the wine to regulate the sweet level of the ready wine, and the bottle is immediately corked to maintain the carbon dioxide in the solution. Some producers add carbon dioxide itself to the bottle to make the drink more bubbly.
Choose Champagne
Champagne, or what is Champagne called when not made in France, a sparkling wine, has a large scope of styles, and all of them are really delicious. The most common kinds of champagne bottles you will see on the shelves of your local wine shop or supermarket are dry, aka not sweet.
That would be Brut Nature, Extra Brut, or Brut. If you like a sugary taste or your drink to be a little sweet, keep an eye out for bottles labeled Extra Dry, Sec, Demi-Sec, or Doux. They're rarer but are 100% worth hunting down.
Champagne or Sparkling Wine
Sparkles
Let's start with the fact that all the champagnes are sparkling wine, but not all sparkling wine is Champagne. There are some different kinds of sparkling wines. The best known is Champagne, prosecco, cava, and sparkling wine from the United States. As we mentioned already, Champagne can only really be called Champagne if it comes from the Champagne region in northern France.
The techniques and the grapes that are used while making the sparkling wine are what makes it different from Champagne. In sparkling wine, they also add extra carbon dioxide to the wine to make it even more bubbly.
Price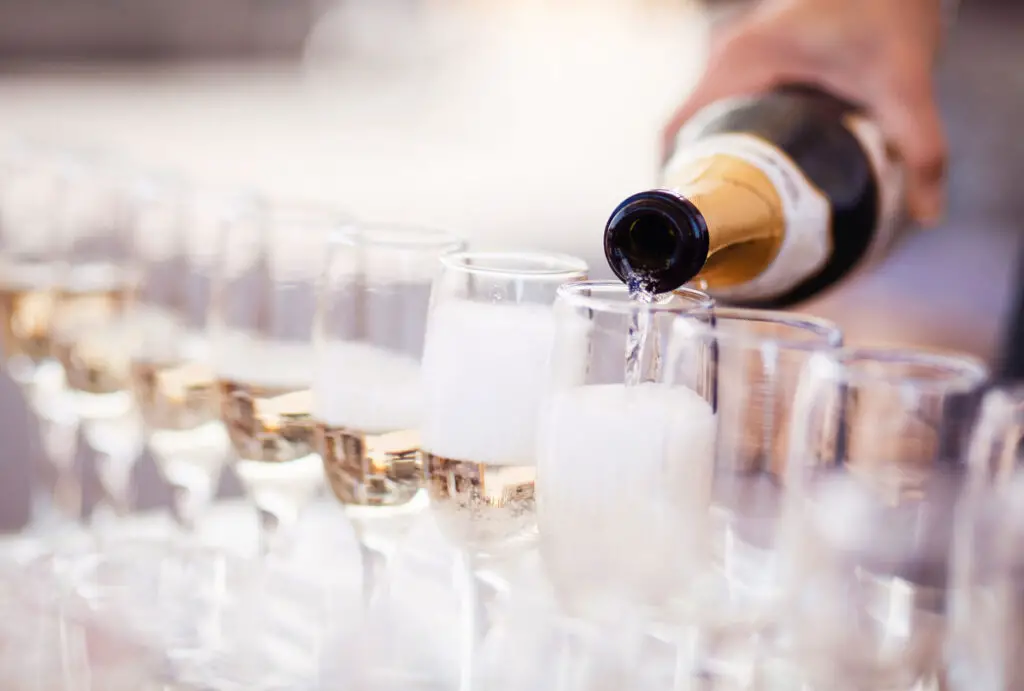 The price is also a distinguishing factor between Champagne and sparkling wine. Using the original french "methode champenoise" is very complex and difficult, so that means it is pricey. And that's why not every winemaking company agrees to use it. That price involves the work behind one bottle, the storing, the equipment, and the food.
But that doesn't mean that sparkling wine tastes bad or low qualified. It is just a bit different.
Taste
Finally, maybe the most important factor is the taste of them. Champagne is more light and fruity, but in some sparkling wines, you may find some bready notes. Sometimes it tastes like citrus, and sometimes it tastes like fruits.
Author Note: The classification of sweetness also matters. You'll most commonly see sparkling wine named brut (which is not sweet in taste) or extra dry (which have a slightly sweet taste and softer).
The Countries of Production
You may have thought that sparkles are just for celebrations, but it turns out it isn't so. There are even statistics which are the top countries that consume sparkling wine. In Germany, they drink more sparkling wine per year than any other nationality in the world, around five bottles each person.
Then comes Russia and the third-place occupies the United States. France, to your surprise, is only the fourth on this ranking.
France
Although French people don't consume as much Champagne or sparkling wine as the other above-mentioned countries, they still produce the world's sparkles 20% and "save face." France is faithful to its traditions. That's why the best bottles are made there, and they are the real deal.
What is Champagne Called When Not Made In France But In The USA?
If you meet the French term "Blanc de Blancs," which means "white from whites," you will know that this is used for original French champaign and for American sparkling wines. The USA is one of the rare countries which keep all the technologies while making Champagne or sparkling wine. And the most important part, that they use the grapes that were originally set aside for French bubbles.
What is Champagne Called When Not Made In France But In Germany?
In this country, people both love to drink and produce sparkling wine. They use the name "sekt" for sparkling wine. The taste is more like the original Champagne, although the locals like it sweeter and try to make it so. We should note that in Germany, they also make it lower in alcohol content. Riesling is the grape type that is used to make sekt.
What Is Champagne Called When Not Made In France But In Italy?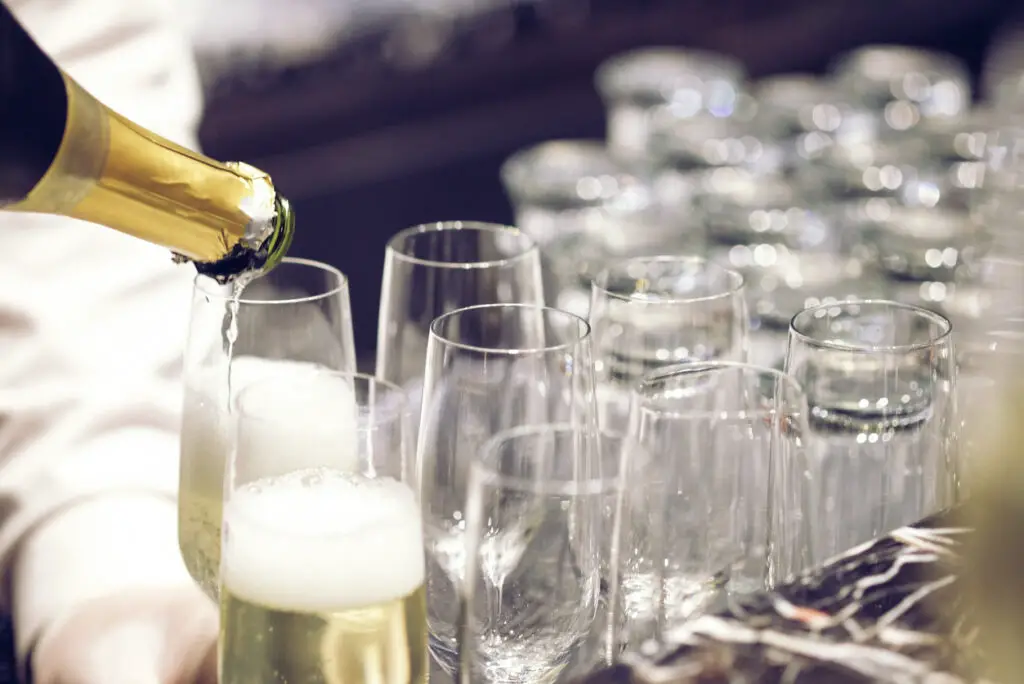 France may be the country that produces most of the sparkling wines in the world, but Italy is the one country that produces a larger variety of champagne. This may surprise you, as you probably think of Italy as the robust red wine producer or delicate wine selections.
But the fact is Italy offers you a whole range of bubbly drinks as well. They call it "spumante" and, in fact, have been making it from the Romanian times. Italian spumantes are very tasty, varied, and surprisingly affordable.
Author Note: Most of the spumantes are produced in northern Italy, particularly in the regions of Piedmont, Veneto, and Lombardy, where the climate is cooler.
Italians use the Charmant method while making their sparkling wines, unlike France.
This method assumes that the second fermentation of the wine is done in a tank instead of in the bottles. And the wine, as a result, is bottled young.
This technique is particularly suited to crisp, low alcohol wines, such as Asti and Moscato d'Asti. Generally, sparkling wines produced this way are best consumed when young and have little staying power.
A Goodbye Toast
Suppose you are planning your wedding, graduation party, or birthday. Or maybe you like to drink any type of alcohol that has bubbles in it, and you probably feel like going to the nearest supermarket after reading this article.
You cannot really tell which is your type of sparkle unless you try them all. This may take years, but you will have many chances to celebrate your best moments with a glass of Champagne or a glass of sparkling wine. Just go after it and try it all. We guarantee you will not regret it. Cheers!
To living a full-bodied life,
Wesley