Sauvignon Blanc has always been known as one of the "chameleon" wine varieties. It can completely change its aromas, flavors, and taste based on where the grape was grown. The aroma shifts may vary from stone/mineral/fresh-cut grass to savory grapefruit juice. Regardless of its origin, one thing Sauvignon Blanc lovers always mention is the grapefruit taste. So why does sauvignon blanc taste like grapefruit?
A short answer to why does Sauvignon Blanc taste like grapefruit is that the grapes used in the wine have aromas of ripe grapefruit. This is due to the soil where the vines are grown and the intention of the winemaker.
Let's now take a closer look to find out more about the excellent wine that is Sauvignon Blanc.
What Does Sauvignon Blanc Taste Like?
Sauvignon Blanc is a green-skinned grape from the Bordeaux area in France. This variety gets its name from the French word "Sauvage," meaning wild and "blanc" (white).
The flavor of Sauvignon Blanc is one of the most identifiable in the world of white wines! Although it is a chameleon wine, meaning it changes flavors according to the soil quality, there are a few characteristics that are always there. Firstly, it always tastes highly acidic and crisp. This is why grapefruit flavors are noticed. It also contains a lot of pyrazine compounds, which express herbal and bell pepper tastes.
Author Note: When grapes grown on cooler climate soils or the early-picked are used, these herbaceous green flavors are most prominent. Grapes from warmer climates and those that stay longer on the vine have a toned-down pyrazine character, so riper fruit flavors like grapefruit, passion fruit, and guava are expressed more.
Sauvignon Blanc is also very distinct with its terroir. The wines produced with Loire Valley grapes express the strong soil character and produce a flinty and mineral flavor and texture. Usually, Sauvignon Blanc finishes the aging process in stainless steel vessels and is bottled while it is still fresh and young.
But, some of the finest Pessac-Léognan wines from Bordeaux mix Sauvignon Blanc with other grapes and then age this blend in oak.
Does Sauvignon Blanc Have Grapefruit?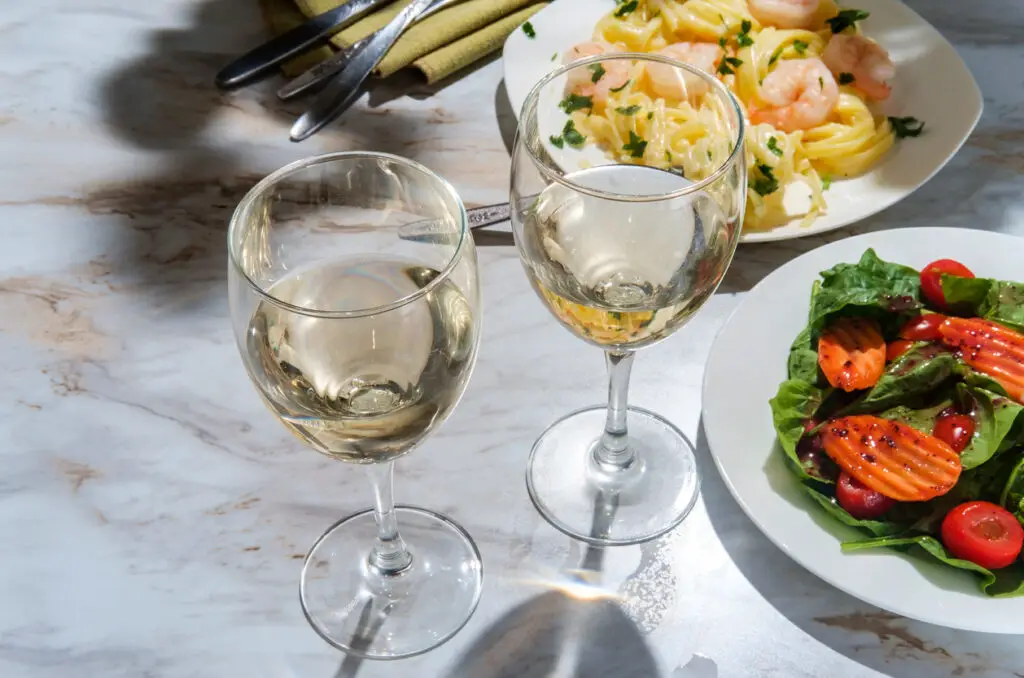 Sauvignon Blanc is a chameleon wine that can fully change its aroma, flavors, and looks based only on where it has been grown. Its primary focal point is to shift slowly from stone/mineral/fresh cut grass aromas to grapefruit juice and then to more grapefruit juice.
The more minerally Sauvignon Blanc wines are usually from France and Italy, while the overemphasized "even more grapefruit juice" model originated in New Zealand.
Of course, it was a big success right from the start because the general public loves a juicy and sweet wine above all else. In fact, many winemakers have stated that they even pump up the grapefruit aromas for retail bottles.
How is Sauvignon Blanc Made?
Making Sauvignon Blanc wine is pretty easy and straightforward. It is fermented using stainless steel tanks at significantly low temperatures to activate the grape's fruitiness. These temperatures range from 42° to 50° F (5.6° to 10° C).
Sauvignon Blanc is made with a certain method that includes using yeast to convert the sugar from the grapes into alcohol after the grapes are pressed. Once this is done, you will get a very dry and delicious wine. But, some of the residual sugar is actually left behind so that the wine tastes richer and sweeter. As you can see, there is nothing fancy involved in making this popular wine, so no wonder it's so cheap.
Sauvignon Blanc Regional Differences
Although production methods affect the core style of a Sauvignon Blanc wine, the regional growing conditions play a huge role in forming the flavor as well. Each region has its own Sauvignon Blanc style. Below you'll see a brief overview of the Sauvignon Blanc typicity from 8 countries, and this guide will help you pick your favorite region and flavor.
France
This is the country that produces the largest amount of Sauvignon Blanc, and it grows mainly in the Loire Valley.
Loire Valley
The primary flavors of these wines are green grass, lime, chalk, minerals, and honeydew lemon with very sharp acidity and a light body. More luxury wines from this region express rich fruit flavors of fennel, peach, lemongrass, and red grapefruit with a normal acidity, high alcohol levels, and a medium body.
Bordeaux
The primary flavors of wines from the Bordeaux region are grass, lemon pith, and gravelly minerals. These Sauvignon Blancs usually have a light body and a high acidity. High-end wines from this area come from Pessac-Leognan and offer flavors of kiwi, lemon, lemongrass, grapefruit, and a subtle nutty-creamy texture that is from the aging oak barrels.
South West and Languedoc-Roussillon
These sweet wines have primary flavors of grapefruit, lemons, and passion fruit with high acidity and a medium body. This area produces some of the most outstanding Sauvignon Blanc blends with Ugni Blanc or Colombard grapes.
New Zealand
Author Note: The most planted grape in New Zealand is Sauvignon Blanc, and most of the vineyards are located on the South Island in Marlborough. The climate is cool and great for growing this grape.
The primary flavors of Sauvignon Blanc from New Zealand are grapefruit, passionfruit, lemongrass, and gooseberry. These wines have a sharp acidity and a weightier light-medium body (residual sugar is added to increase weightiness).
Chile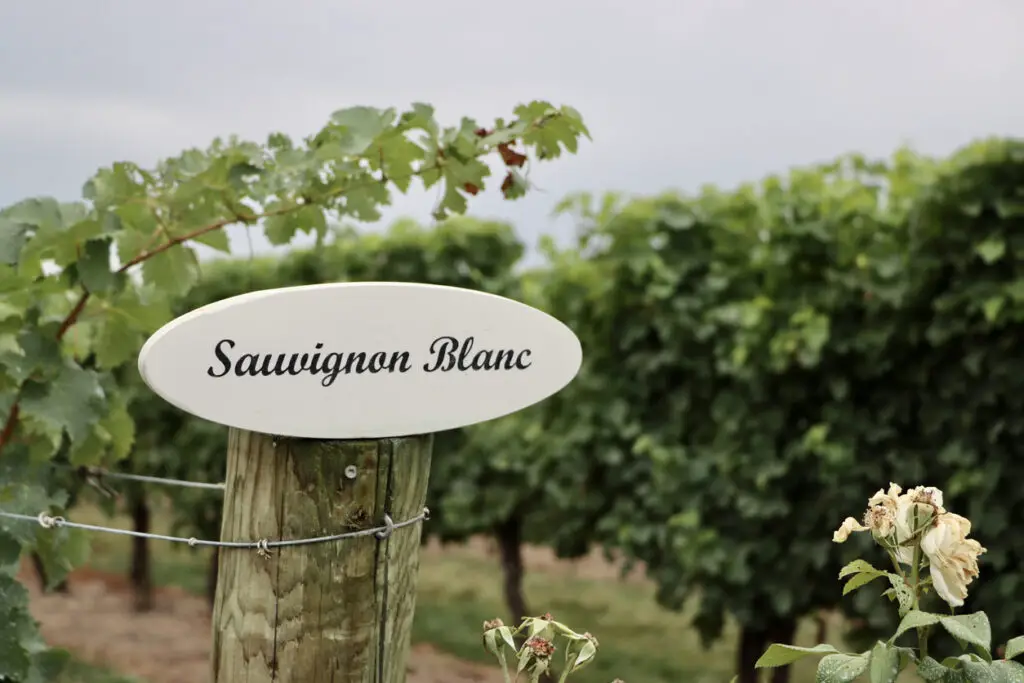 The best Sauvignon Blanc vineyards are found in the "Costa areas" of Chile, which have cooler climates and are near the ocean. You'll notice that most Sauvignon Blanc wines from Chile are labeled with the Central Valley region, as this is the largest agricultural area in Chile. It is dominated by major producers, so these wines are affordable and consistent every year.
The primary flavors of these wines are lime, grass, green banana, and pineapple. They also have a juicy and high acidity along with a distinguishable salinity.
South Africa
Despite South Africa having a dry and warm climate, this region produces a large amount of high-quality Sauvignon Blanc wines. Most of these come from the Western Cape region. Here there are several smaller areas like Stellenbosch, Franschhoek, and Elgin that produce barrel-aged Sauvignon Blancs with extreme power and taste.
The primary flavors of South African Sauvignon Blancs are guava, herbs, and green pepper. They have a light-medium acidity and body. More high-end wines express flavors of jasmine flowers, beeswax, honeysuckle, lemon, and nut oils.
United States
Many regions in the United States grow Sauvignon Blanc grapes. The most well-known areas are the North Coast, CA (this includes Napa, Sonoma, and Mendocino) and also Washington State.
The primary flavors of Napa Sauvignon Blancs are grapefruit, white peach, and honeydew melon with a medium body, acidity, and alcohol.
Sauvignon Blanc from Sonoma tends to taste like green apple, honeydew melon, and pineapple with a light-medium body, acidity, and moderate alcohol.
The primary flavors of Columbia Valley Sauvignon Blancs are grapefruit, lime, and minerals with a light body but higher acidity.
Australia
Australia has an overall hot climate, but there are some areas with a cooler climate suitable for growing Sauvignon Blanc grapes.
Top Tip: The Adelaide Hills and South Australia are close to Barossa Valley and have a cool climate. The primary flavors of wines from this area are honeydew, kiwi, and white peach. They have a light body and medium-high acidity.
The Western Australia wines have flavors of passion fruit, bell pepper, chervil, and gravelly minerals with high acidity but a surprisingly light body. Luxury producers will also use oak to add creaminess to the texture.
Spain
A large part of Spanish Sauvignon Blanc grows in the La Mancha area and is made into bulk wines. But, there are some quality producers located all over the country.
The wines from Castilla y Leon have flavors of honeydew melon, bell pepper, and minerals with medium-high acidity and medium body.
The Rueda produces some Sauvignon Blanc and Verdejo wines that taste similar.
Italy
Most Italian Sauvignon Blanc is produced in the Friuli-Venezia Giulia area and is labeled just "Sauvignon." The primary flavors of these are white peach, orange blossom, sweet gooseberry, and pear with sharp acidity and a light body.
The Best Sauvignon Blanc Food Pairings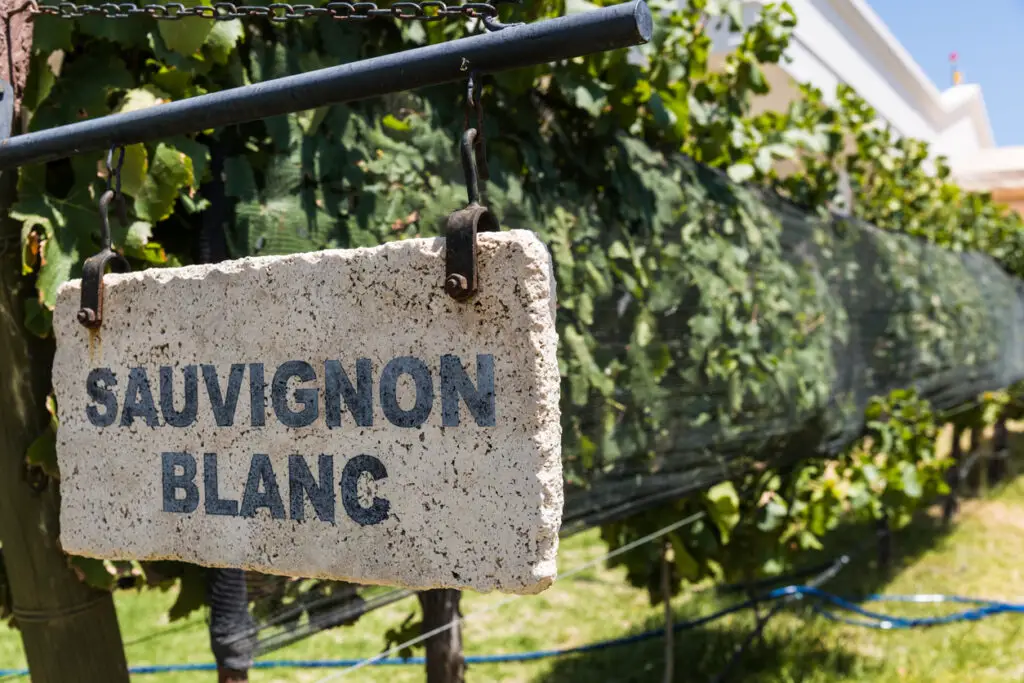 Pairing Sauvignon Blanc with food depends heavily on the flavors in your wine. Here is a guide to help you figure these combinations out.
Mineral-flavored Sauvignon Blancs
Minerally, Sauvignon Blancs like Sancerre pair well with simple and slightly seasoned ingredients like lightly cooked shellfish, oysters, prawns, crab, and grilled fish like sea bass. They are also perfect with dishes that have barely cooked or even raw tomatoes like vinaigrettes and salads with goat cheese and some fresh herbs.
As you can already tell, Japanese dishes like sushi and sashimi, dim sum, and smoked salmon are a good match for Sauvignon Blanc.
Citrus Sauvignon Blancs
Sauvignon blanc from the Adelaide Hills and Sauvignon blanc from Chile are great to enjoy with grilled and oily fish like sardines and mackerel, big prawns, and squid. Fried fish such as goujons is also a good option. Greek and Mexican food also pair well with this wine.
Grassy/Herby Sauvignon Blancs and Blends
New Zealand sauvignon blanc and those from cooler regions like South Africa and great with salads that have seafood or greens such as peas, asparagus, and green peppers. Seafood with south-east Asian flavors like chili and lime is a good option as well.
Wrapping Up
Sauvignon Blanc is a very versatile and delicious wine. If you have tried one bottle, you aren't even close to discovering the full potential of this wine, as each grape takes up the flavors of its soil. So pick up a bottle on your way home for your next dinner party! We hope you enjoyed this article on why does Sauvignon Blanc taste like grapefruit.
To living a full-bodied life,
Wesley