The 80s are back! Shoulder pads and mom jeans are a common look on the streets, and disco music is bigger than ever. Another fad from the 80s that seems to be making a comeback is wine coolers. These sweet refreshments are getting popular again, so you may be wondering, what kind of alcohol is in wine coolers?
Just as the name states, wine coolers are made with wine! This can be any wine you prefer, but berry juices go well with red wines, while citrus is better with white wines. Some wine coolers also contain flavored liqueurs for an added punch.
If this is the first time you are hearing of this sweet drink, don't worry! Together we will dive into the history of these drinks, why they disappeared, and how you can DIY them this summer.
The Rise of the Wine Cooler
If you aren't a late-age millennial, the term "wine cooler" may mean nothing to you. Wine coolers are a modification of the spritzer, which was a cold white wine cocktail with a spritz of fizzy water for an easy and refreshing drink.
Originally, wine coolers were made using light white wines (dry Chardonnay or Pinot Grigio) and lemon or lime soda. But, they started to be bottled and sold commercially in the early 1980s. This was done by large companies such as E. & J. Gallo and Seagram's.
They were marketed to be soda for adults with pulp, fruity flavors, cheap wine, and an alcohol percentage like that of an average craft beer, so around 4-6%.
Author Note: Anyone can surely see what the appeal of this beverage was. You could enjoy a small bottle of watermelon flavored light wine on a sunny summer afternoon instead of opening a whole bottle of Chardonnay.
Not only did this stop bottles of wine from going to waste, but it was very light and refreshing as well. The twist-off cap was also convenient in the go-go decade.
These drinks immediately became a full-blown phenomenon following their release. According to the 1985 edition of the Chicago Tribune, these were responsible for close to 10% of all American wine consumption! Unbelievable right?
The Sad End of Wine Coolers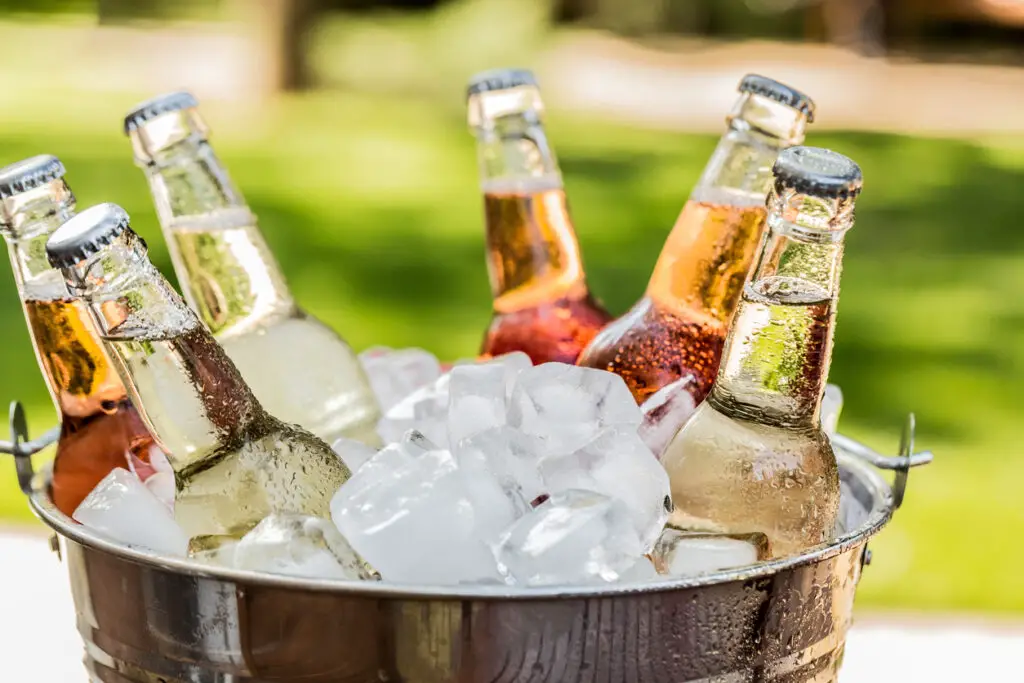 So how could this go wrong? Well, it was taxes that caused the undoing of these colorful sweet drinks. On New Year's Day in 1991, American Congress largely increased the wine excise tax from 17 cents per gallon to $1.07 per gallon. This meant blending wine became a bad business and a loss of money. Thanks a lot, Congress.
But why exactly did Congress raise the wine tax so excessively? It was the start of a five-year, $500 billion deficit-reducing package decided on by both the industry and the president.
Everyone felt the tax on their income, gas, and cigarettes, along with their wine. It also hit the beer and liquor industry pretty hard but not as much as wine.
And…Time For A Comeback!
The world is returning to the eighties, and we think wine coolers are also making a comeback. Even Kanye and Rhianna agree! But this isn't too much of a surprise. Wine coolers are sweet without being too sweet and have the perfect alcohol percentage.
They are also great for pool parties, and the vibrant colors look amazing on any Instagram feed. Mix these with a less snooty drinking culture and a bigger availability of unique ingredients (even yerba mate and mint); maybe wine coolers are going to be the biggest trend of the new year.
The Formula For Perfect Wine Coolers
Now no one's saying there is a wrong way to prepare wine coolers. But, if this is your first time making one, then here are a few general tips to help you along the way.
The Wine
Whether your bottle of wine was a troublesome house gift, a grocery store sale item, or just an accidental purchase from a liquor store, any affordable wine is enough for a cooler. From Minnesota Riesling to Portuguese Vinho Verde, this formula always comes through.
Wines you already love (let's be honest — we all have a cheap bottle we like) also make great coolers; it's just like giving it a small makeover.
Generally, it is recommended to stick to white and rosé wines because they are perfectly chilled, and their flavors are often simple and easy to refresh with a splash of this or a dash of that.
If wine really isn't your thing, then inexpensive bubbles are also a great option due to the inherent spritz they have on their own. So go pick up that $9.99 Prosecco you know you have around.
The Liqueur
This is the secret ingredient to elevate cheap wine to a really delicious and aromatic cooler. Infused liqueurs or those with fruity flavors express fantastic aromatics along with a dash of sugar make overly tart or bitter wines much easier to swallow.
These low-proof liqueurs also help show off the best of your wine's flavors, truly elevating the apple tones of Chardonnay or a Sauvignon Blanc's tropical flavors.
Peach schnapps, triple sec, and Limoncello are great partners for white wines such as Sauvignon Blanc and Pinot Grigio.
Raspberry Chambord and inexpensive creme de cassis are perfect for light rosés and bold whites such as Viognier or Chardonnay.
For bold rosés or bubbly Champagne, herbal liqueurs such as St. Germain, Lillet, or even Dolin Blanc boost the flavors and complexity with less sugar than other liqueurs.
The Bubbles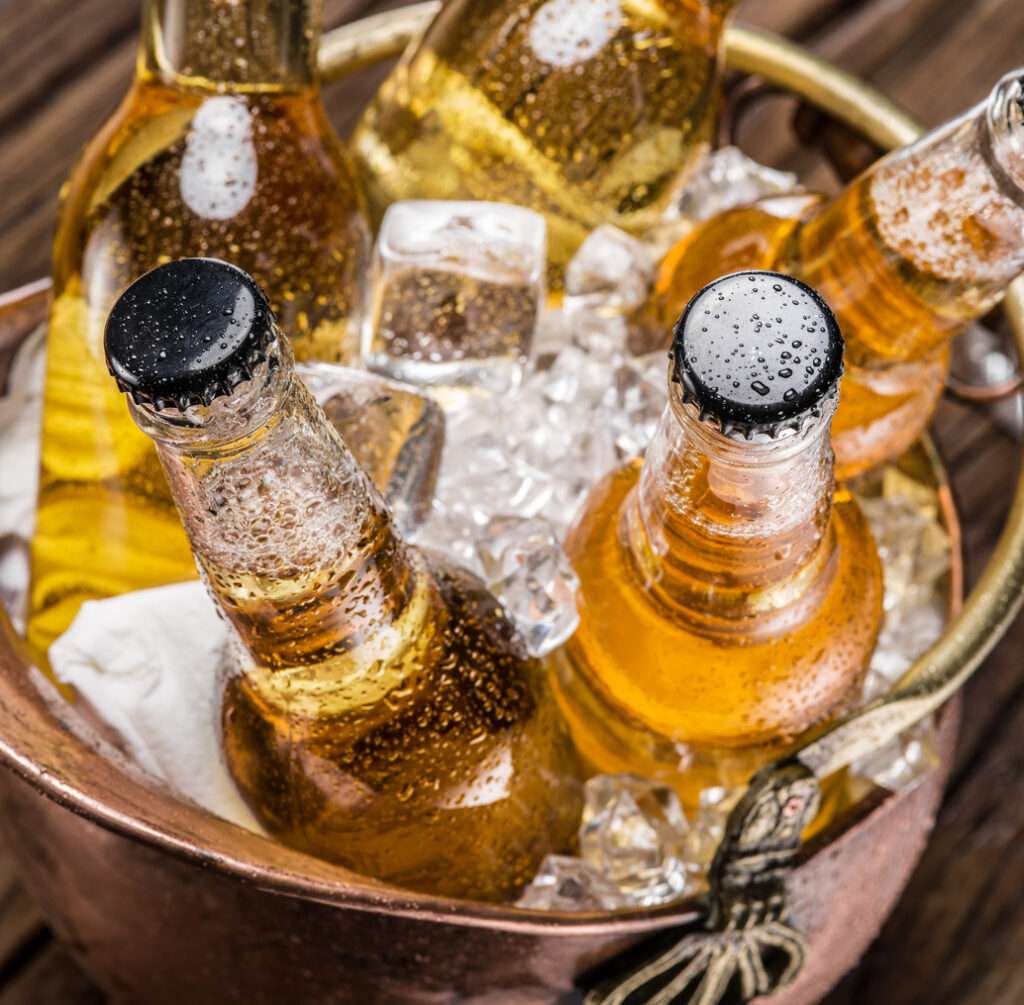 While traditional wine coolers are made using club soda, they can actually be made using any carbonated beverage, including sweet soda and tonic.
Author Note: The ideal mix really depends on personal taste and the wine you have available. For a soft, elegant spritzer, there is no going wrong with an original seltzer. For that extra kick without added sugar or calories, flavored sparkling waters express fantastic aromatics in the coolers without any added sugar or calories.
Flavors such as orange, pomegranate, raspberry, and lime are amazing counteractors to the white wine in coolers.
For even more of a kick, add a lemon/lime soda like 7UP. These store-bought sodas really pack more of a punch when compared to the delicacy of a seltzer spritzer. Mixed with fruity flavors, these coolers are impossible to resist poolside.
The Formula: 4 + 4 + 2 = 10
Now that you know what kind of alcohol is in wine coolers, let's go over the ratios. When making the perfect cooler, it all comes down to the ratios. A blend of 4 ounces wine, 4 ounces carbonated bubbles, and 2 ounces of liqueur makes a wonderfully refreshing drink that is in perfect balance. Use less wine, and you may not taste it at all, but add too much, and the alcohol flavor will dominate.
This formula is nice because it balances the cooler components in the perfect size to fill a pint glass halfway with ice. Of course, keep in mind that this is only a suggestion. You can always play around with these ingredients and remove or add more; it is all up to you and what you prefer.
Wine Cooler Recipes
Let's see how you can make your own coolers at home!
Watermelon-Nectarine Mint Coolers
This recipe is one of our favorites. The vibrant pink color is perfect for any summer party and is a great refreshment after a pool day. You are going to need:
4 cups of watermelon (cubes, 1.5 pounds pureed, or 2 cups watermelon juice if you don't want pulp)
2 juiced lemons
1/2 cup of warm water
3 tablespoons of sugar
1 nectarine (sliced and then cut into small chunks)
watermelon (wedges as garnish, optional)
6 mint leaves (and extra for garnish)
ice
Start making these delicious wine coolers by filling two glasses with lots of ice. In a pitcher, dissolve the sugar in warm water and then add the lemon juice. Next comes the watermelon puree/juice into the pitcher.
Once it is all mixed well, pour all of it out over the ice in the glasses, then add the nectarine chunks and mint. If you wish to garnish, use watermelon and mint. Take out the sunglasses, lay under the sun, and enjoy!
Citrus Wine Coolers
For this citrusy mix, you are going to need:
2 shots of Sauvignon blanc white wine
½ shot of vodka
½ shot of freshly squeezed lemon juice
½ shot of freshly squeezed orange juice
Lemon-lime soda (Sprite or 7UP)
Start by shaking the wine, vodka, lemon juice, and orange juice in a glass filled with ice. Then add the soda according to how much space is left in the glass. Slightly stir the drink and serve!
Red Wine Coolers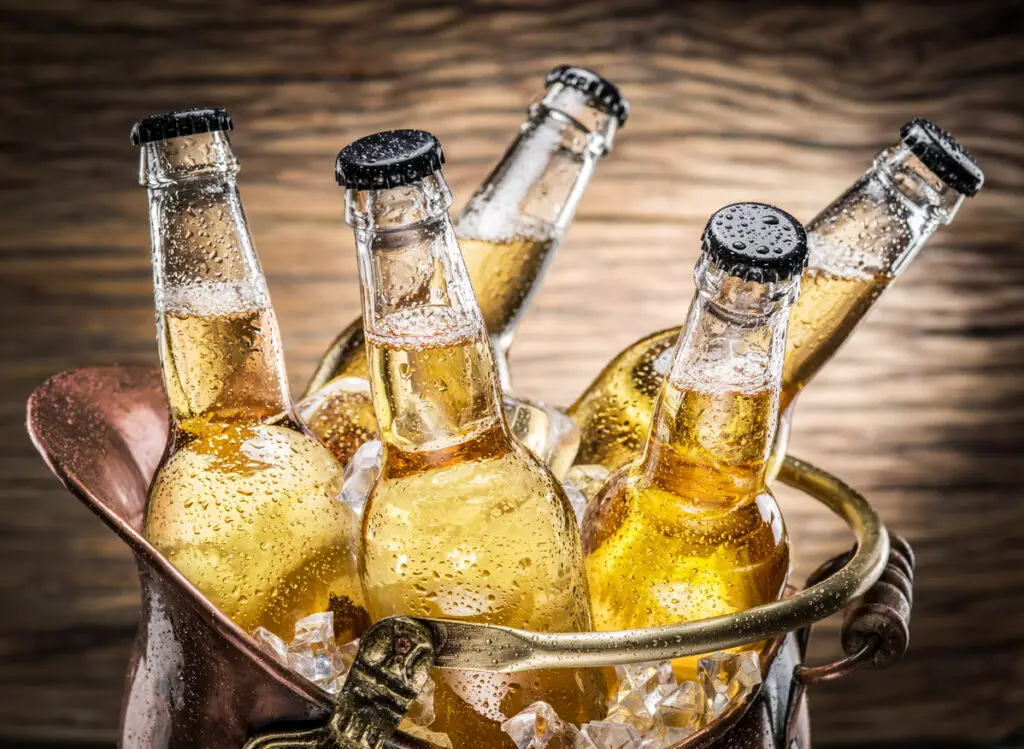 This is a cooler you can make with any red wine you have around the house.
You are going to need:
Author Note: Start by dividing the wine between two or three wine glasses. Top of the glasses with however much ginger ale you prefer. Remember too much, and you won't taste the wine, but too little, and the alcohol flavor will be overpowering.
Then, garnish with orange slices and raspberries for a delicious fruitiness. You can also garnish with other ingredients as well. Serve by the poolside and enjoy!
Our Goodbye
Wine coolers are surely making a comeback, and rightfully so! With a COVID-free summer hopefully in the works, these chilled refreshing drinks are the perfect addition to any poolside lounging session.
Remember that none of these mentioned tips are strict rules, so you can play around to find that perfect flavor combination. We hope you enjoyed this article on what kind of alcohol is in wine coolers. Wishing you luck on all your wine cooler endeavors. Cheers!
To living a full-bodied life,
Wesley