South Africa has a rich heritage and has been proudly producing quality wine. The first vines were planted in the 17th century after it was introduced by the Dutch governors of the Cape colony. So what wine is South Africa known for?
The most famous South African wine is the Pinotage. It is a cross between Pinot Noir and Cinsault. It is a key component in many of the Cape blends but can also make outstanding single-variety offerings.
South African wines offer tastes that are food-friendly, extremely good value along with featured styles. The gorgeous cities of Stellenbosch and Paarl are possibly the two most important wine regions. Together, they produce a range of styles from a refreshingly crisp Sauvignon Blanc to full-bodied and exquisite Chardonnays. The sweet wine produced in Constantia was once considered to be the best and most prized in the world.
The local "workhorse" white grape is more than capable of making sweet and impressively dry wine. It is called Chenin Blanc but is also known as "Steen" amongst the vibrant locals. Then there is Pinotage, South Africa's very own Red Grape.
Merlot and Bordeaux style wines, Cabernet, Sauvignon, and Shiraz, are also considered some of the best wines available in South Africa. With so much heritage and variety, what wine is South African known for?
What Wine is South Africa Known for?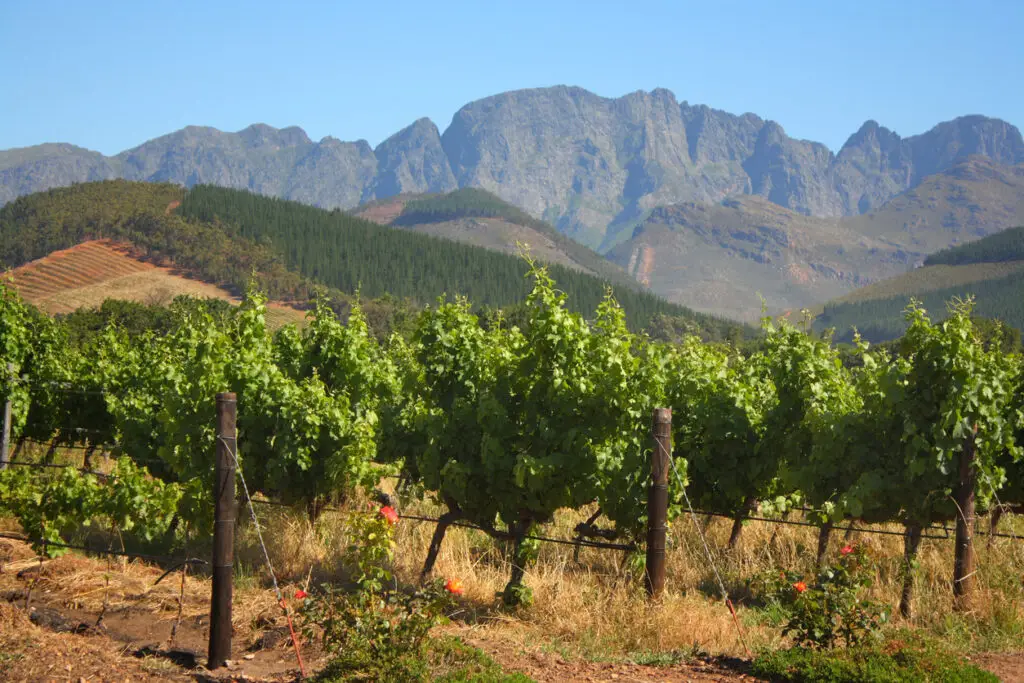 Depending on which circles you move in, you will get a different answer. For some, it's quite simple. Pinotage.
Pinotage has an interesting history and is a grape variety that was created in South Africa in 1925 by Abraham Izak Perold. This wine attempts to combine the best qualities of the temperamental Pinot noir and the extremely robust Cinsault. Perold planted four seeds from his cross at his home at the Welgevallen Experimental farm and forgot about them. Fast forward two years and Perold had left his job at the WEF. He started working at the KWV Co-operative.
Due to his garden now being overgrown, the university sent in a team to clean it up. As fate would have it, at this time, a young lecturer called Charlie Niehaus happened to pass by. And because he knew about Perolds' seedlings, he at the very last minute rescued them from the clean-up team and as they say… the rest is history.
Author Note: It was only in 1959, at the Prestigious Cape Wine Show, that Pinotage, for the first time, received recognition. This was when a Bellevue, made from Pinotage, was voted the champion wine and General Smuts Trophy winner. This was big news at the time.
Two years later, in 1961, Pinotage again came out tops with an exceptional wine from Sauer and Rossouws' Kanonkop estate. Now Pinotage was "on the map," and it had people talking. The first wine to mention Pinotage on their label was the Bellevue wine in 1961. It was marketed under the Lanzerac brand produced by the Stellenbosch Farmers Winery (SFW).
Modern Day Pinotage
A wave of planting occurred in the 1960s because of this success, combined with its easy viticulture.
Pinotage is a required component (30%-70%) in "Cape Blends" and is made into a full range of styles. From easy-drinking wine and Rose to barrel-aged wine. In addition to that, it is also made into top-quality red sparkling wine or fortified Port-style wine.
Coffee styled Pinotage has become a fast-growing trend, but the grape is extremely dependent on the style of wine-making and skill. However, well-executed examples can produce fruity, deep-colored wine that can be allowed to age or can be consumed early.
Pinotage is considered a symbol of South Africa's distinctive wine-making traditions. Most of the world's Pinotage is found there but interestingly only makes up 6% of South Africa's vineyard.
Other than its native South Africa, Pinotage is also being produced in other countries. Pinotage has been planted in other wine-producing countries such as Brazil, Israel, Germany, Switzerland, and the United States. But also in traditionally non – wine-producing countries like New Zealand and Zimbabwe. This is often the answer to the question "what wine is South Africa known for?".
The Finest South African Wines
Rhebokskloof Vineyard Selection Pinotage 2016
First created in the 1920s, Pinotage is a grape variety South Africa can proudly call its own. A cross between pinot noir and cinsault, it has now become the country's signature red wine. It has left its critics divided with some complaining of an acetone, varnish-like aftertaste. Fortunately, this selection from the renowned Western Cape region of Paarl offers dark-red, silky fruit flavors. And an intriguing, slightly smoky aroma. If you appreciate a pinot noir, it's definitely worth giving this exceptional wine a try.
Plume Palace Shiraz Rose 2018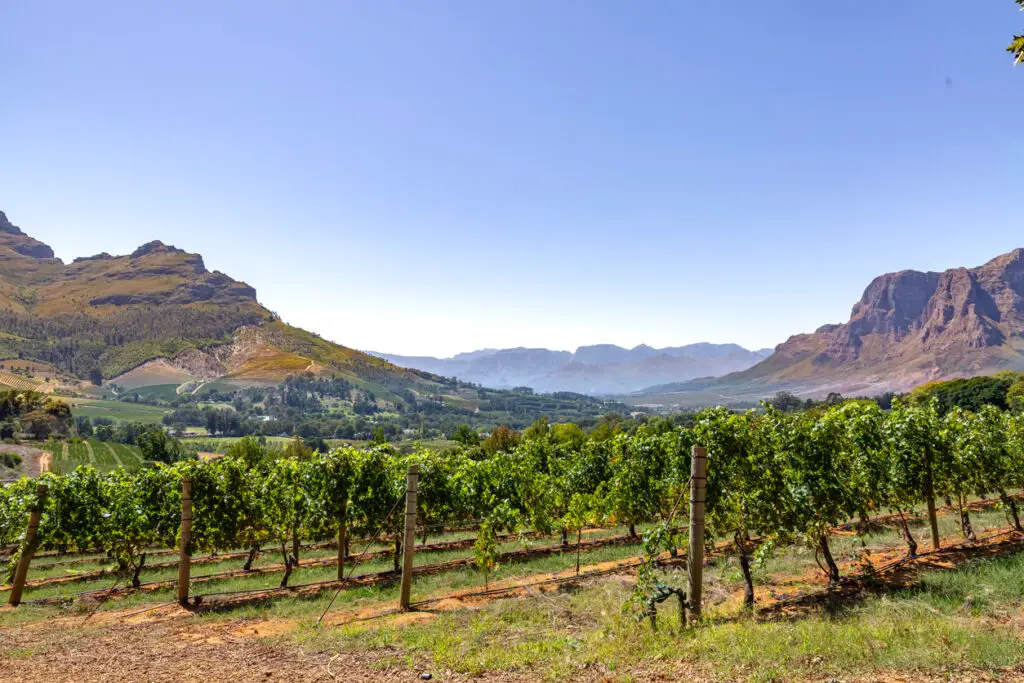 Plume Palace offers some variety with this refreshing Rose. South Africa isn't widely known for its roses. Still, this relatively new wine is bursting with strawberry and summer fruit flavors in a charmingly dry style.
These wines are produced in the Robertson wine-growing area, on an old ostrich farm. You can pair this interesting wine with risotto, seared tuna, or even a simple bowl of fresh red fruit.
Anthonij Rupert Optima Western Cape 2014
Just 50km due north of Cape Town, from the west coast region of Swartland, comes this medium-bodied Bordeaux blend. It is comprised of 28% cabernet sauvignon, 1 % Petit Verdot, 30 % merlot, and 41% cabernet franc.
The Bordeaux is a complex and structured wine. It has lashings of blackcurrant and an underlying spiciness. And it's no surprise it has become the flagship wine from the historic L'Ormarins winery.
Kleine Zalze Vineyard Selection Chenin Blanc 2018
Author Note: Accounting for a staggering 18% of the country's vineyards is Chenin blanc. Chenin blanc is South Africa's favored and favorite white wine. Originally from the Loire Valley in France, this extremely versatile grape has adapted well to South Africa's hotter climate.
It has become substantially more tropical and fruitier. This example is made from only the best grapes from the Kleine Zalze vineyard, which is located in Stellenbosch. This wine is rich in melon, apricot, and passion fruit flavors balanced by a healthy minerality. This is Best paired with creamy pasta, poultry, or pork.
Lismore Pinot Noir 2017
Winemaker Samantha O' Keefe relocated from California to produce a wine that reflected the terroir of Lismore vineyard in the Western Cape. She certainly succeeded with an outstanding wine with red-fruit and strawberry flavors.
Warwick Cape Lady Cabernet Sauvignon 2017
Warwick Estate is a respected vineyard located on the slopes of the Simonsberg Mountain in Stellenbosch. This Bordeaux-style cabernet sauvignon is a delicious mouthful of blackberry and dark fruit flavors. It is complemented by hints of licorice and cocoa.
This wine is made using grapes from younger vines and can be paired with any red meat dish.
Gabrielskloof Syrah on Shale 2017
Nestled in the cool climate region of Walker Bay is the picturesque Gabrielskloof Estate. Gabrielskloof was established in 2001 by the father-in-law of winemaker Peter-Allan Finlayson. This lovely wine is made from syrah grapes that face the infamous and powerful, south-easterly wind.
This allows the strong vines to thrive. In this part of the world, the use of fertilizer, weed killer, and insecticides is kept to a minimum. This results in a red wine that is rich in blackberry and black-current flavors. These flavors are accompanied along with notes of spice and herbs and a long, smooth finish.
Winemaker Series Marc Kent Swartland Red 2017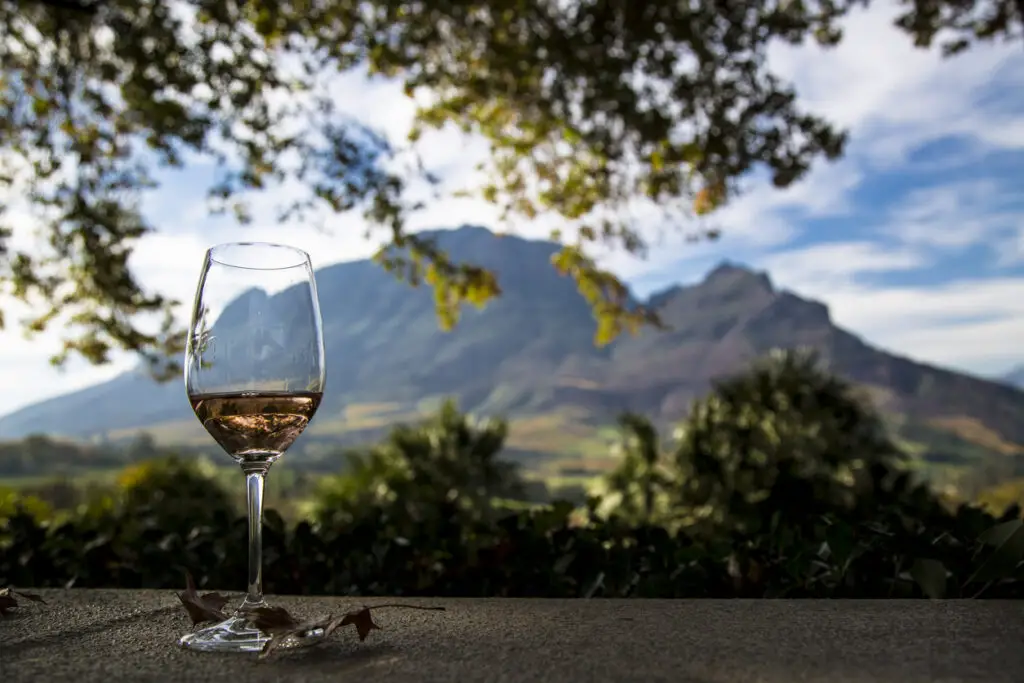 Don't pay attention to the strange label. Behind it, you'll find a beautiful red consisting of five different varieties of Swartland wine. This blend is comprised of cabernet sauvignon, grenache, Shiraz, Cinsault, and a dash of viognier.
Author Note: These five really good wines, masterly blended by Marc Kent, provide a flavourful, powerful red wine that is exclusively majestic. It is full of dark fruity flavor along with pleasing tannins. It is advisable to let this beauty rest awhile before indulging. This is best enjoyed with any meat dish.
Tesco Finest FairTrade Breede River Sauvignon Blanc 2018
Winemaker Johan Gerber from the Breede River region produces this crisp and refreshing sauvignon blanc, especially for Tesco. The Breede river region is the largest wine and fruit-producing valley in the Western Cape.
This wine is extremely flavorsome, with hints of tropical fruits and gooseberries. This delicious wine is best enjoyed chilled with light fish dishes or fresh salads and is suitable for vegans.
Old Road Wine Company 12 Mile Syrah 2017
Old Road Wine Company has produced an outstanding syrah that is full of delectable red-fruit flavors, grown in the "rugged corner" of the Franschhoek wine lands. This region is known as the "rugged corner" because, in this region, the vines are often forced to battle the predictable and cool afternoon breeze.
Only when they are perfectly ripe, these grapes are picked by hand and stored in small containers. This is an excellent example of how the Syrah grape has become a hot contender throughout the South African wine scene. It is extremely palatable and versatile.
Conclusion
We hope you enjoyed this article on what wine is South Africa known for.
To living a full-bodied life,
Wesley