Sauvignon Blanc is a wine everyone has surely tried. It is a bottle that you may have lying around in your pantry or your fridge. Many people love this wine because it is one of the most affordable ones out there. Now you may start to wonder, why is Sauvignon Blanc so cheap?
Sauvignon Blanc is so cheap because the process to make the wine is very economical compared to other varietals. The secret to the Sauvignon Blanc price lies in the grapes. Sauvignon Blanc grapes are very easy to grow and cultivate – they grow in almost all types of soil and no matter the climate. This means many regions easily produce this wine, so the price stays low.
Now let's discuss the history, the winemaking process, and food pairings of Sauvignon Blanc wines.
A Brief History of Sauvignon Blanc
To really understand the answer to the question of why is Sauvignon blanc so cheap, you must start at the very beginning.
Sauvignon blanc is one of the very rare grape sorts that can become delicious wine literally anywhere in the world. Many grapes are picky with where they grow and have very specific cultivation requirements, but this one isn't. But where did this generous wine grape type come from? And how did it end up in California? The answers are really interesting.
Sauvignon blanc grapes originated in the Loire Valley, and records of its synonym "fiers" have been found from as early as the 1500s. The name "sauvignon" is formed from two French words: sauvage ("wild") and vigne ("vine"). So, as you can tell, it is a wild-growing plant, and the shape of the leaves are like those of wild grapevines.
Author Note: The ancient grape Savagnin is one of sauvignon blanc's parents, but the other one is still unknown. That makes sauvignon blanc related to grüner veltliner, chenin blanc, silvaner, and verdelho, along with many other grapes that came from central France.
From there, sauvignon blanc started to spread to the regions surrounding Bordeaux where it accidentally crossed with cabernet franc, forming cabernet sauvignon sometime during the mid-1750s. The close relationship this grape has with Savagnin lead to some confusion between the two, especially before the usage of DNA typing.
In fact, during a study done by Dr. William Hewitt of U.C. Davis in the 1960s, some cuttings from a vineyard in Bordeaux were falsely labeled Savagnin musqué. Both this and Sauvignon Blanc were very appealing with complex aromas.
Modern Sauvignon Blanc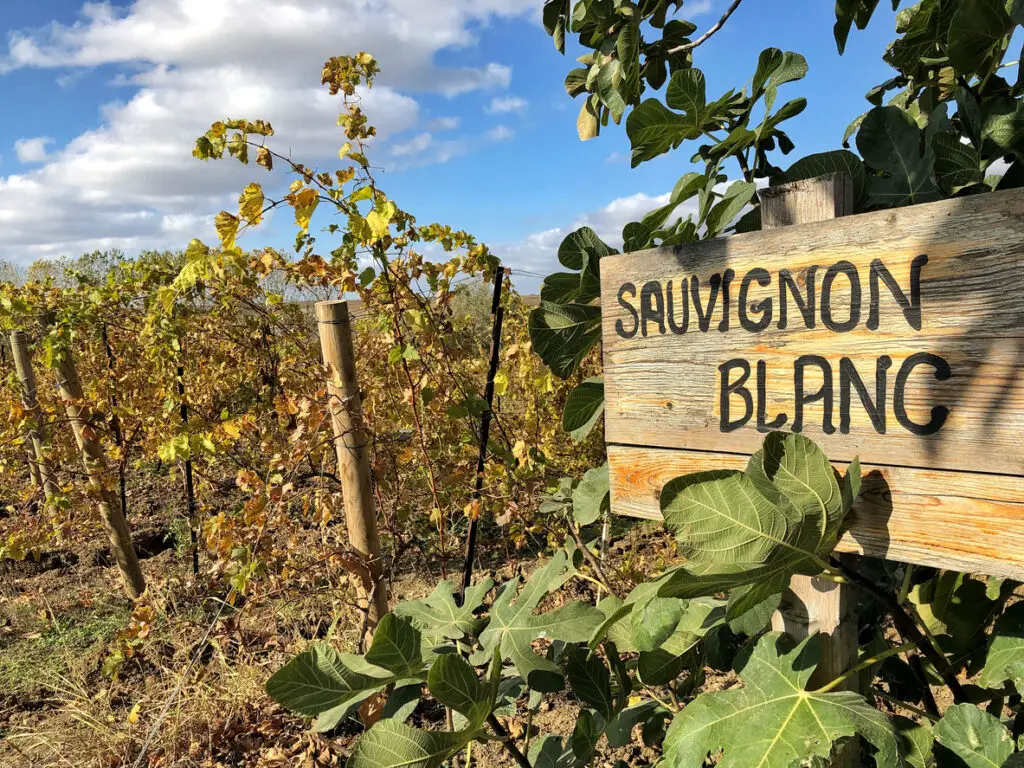 Later in 1999, Carole Meredith did DNA testing on sauvignon musqué and confirmed that it is actually a variety of sauvignon blanc. (While DNA testing can accurately differentiate between varieties, it does not tell clones of varieties apart.)
So sauvignon musqué is now known empirically to be an aromatic clone (clone 27) of sauvignon blanc grapes. In California, it's a very demanded clone and is widely blended into the best sauvignon blanc wines.
Sauvignon blanc was first cultivated in California in the Livermore Valley. This was done in the 19th century thanks to winemaker Charles Wetmore who, sometime earlier, persuaded the California legislature to form the state's viticultural commission. As the commission's CEO and president, Wetmore went straight for the fancy European estates.  There he got cuttings, including some from sauvignon blanc and sémillon plants. These were obtained from Bordeaux's Château d'Yquem.
These sauvignon blanc cuttings (now known as clone 1) were the plant material for vineyards all over California. In fact, Wetmore's clone was most likely the sauvignon blanc planted by Gustave Niebaum at Napa Valley's Inglenook winery.
An article from the February edition of the St. Helena Star in 1881 noted that Niebaum obtained "900 cuttings of sauvignon blanc from San Jose." Later, the Beaulieu Vineyards got a gold medal for their sauvignon blanc (also most likely clone 1) at the 1915 International Wine Expo in San Francisco.
Rober Mondavi's Impact
But in California, dark days came later for this grape variety. Grown at very high yields after Prohibition, it became the grape for sweet and dry jug "Sauterne." "Good Sauterne" (or Haut Sauterne) was made only by a few wineries, including Inglenook, Eschol (now Trefethen), Larkmead, and Robert Mondavi Winery.
Mondavi wineries sensed a marketing opportunity here to distinguish its dry version. They rebranded this wine as "fume blanc," a reference to the Pouilly Fumé wines also from the Loire Valley.
Author Note: The "I Block" Fumé Blanc is now only produced in tiny amounts because the vines were planted in 1949 and are the oldest sauvignon blanc vines in all of Napa Valley, and most likely also in California.
While the quality of California Sauvignon Blancs has varied, the sort is now getting new and exciting attention. During the mid-2010s, a new class of sauvignon Blancs emerged, and these Super Sauvignons promise a bright future for the Californian winemakers.
How is Sauvignon Blanc Made?
This is the part that will truly help you realize the answer to why is Sauvignon Blanc so cheap yourself. The process of making Sauvignon Blanc is a simple one. It is usually fermented with stainless steel tanks at low temperatures to maintain the grape's fruitiness and maximize its fruit potential.
The usual fermentation temperature range is from 42° to 50° F (5.6° to 10° C). This wine is made in a specific dry style so that after the grapes are pressed, yeast is used to convert the sugar from the grapes into alcohol. When it is all converted, you will get a fully dry wine. But, usually, some residual sugar is left behind so that the wine tastes rich and sweet.
As you can tell, there is nothing fancy needed to make Sauvignon Blanc wine, so there is no reason why the cost should be high. Now anytime someone asks you, "Why is Sauvignon Blanc so cheap," you will be ready with your answer!
What does Sauvignon Blanc Taste Like?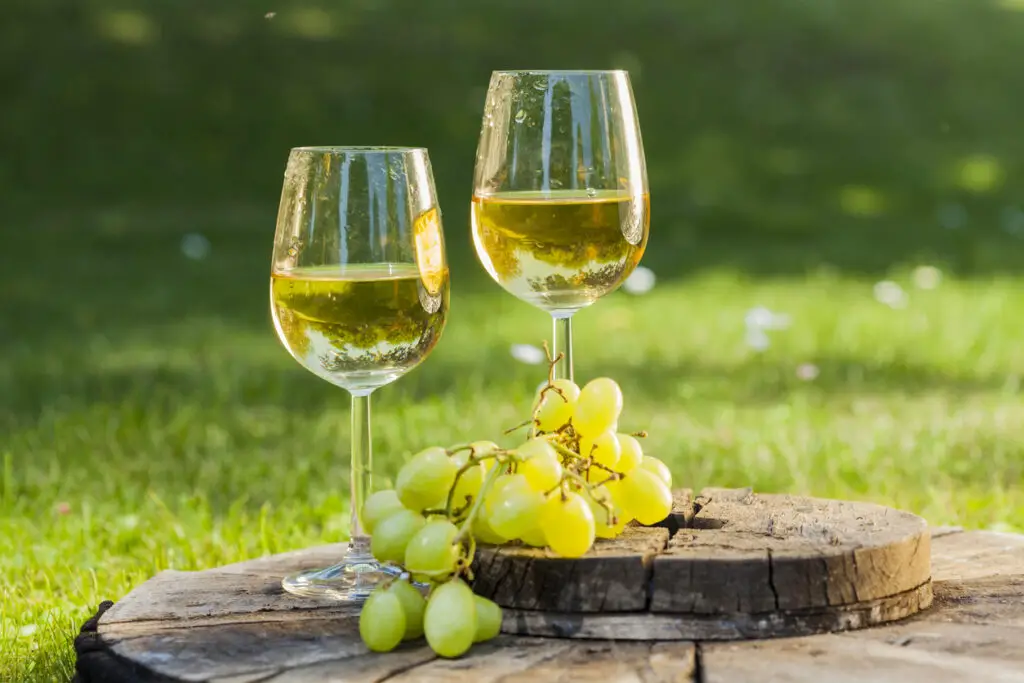 Surprisingly, the flavor of these wines is one of the most identifiable in the universe of white wines for a few reasons. Firstly, it always has a crisp and highly acidic flavor. Secondly, it contains a compound called pyrazine, which expresses herbal and bell pepper flavors.
When the grapes from cooler climate soils have been used, or they have been picked early, the herbaceous green flavor is the most prominent. Grapes from warmer climates or those allowed to stay longer on the vine, this pyrazine character is toned down, giving way to riper fruit flavors like grapefruit, passion fruit, and guava.
Sauvignon Blanc is also very expressive of its terroir. The wines from Loire Valley take on the strong soil character and produce a flinty, smoky, and mineral quality and flavor. Usually, Sauvignon Blanc ages in stainless steel and is bottled while it is fresh and youthful. However, for the finest Pessac-Léognan wines from Bordeaux, Sauvignon Blanc is usually mixed with other white grapes and aged in oak. 
What Are The Best Sauvignon Blanc Food Pairings?
Author Note: Since you know why is Sauvignon Blanc so cheap, you may be planning to get it for your next dinner party. Now, what should you serve with it? Because of its high acidity and fresh flavors, Sauvignon Blanc is a very food-friendly wine.
For lighter styles, like Loire Valley Sancerre, a Sauvignon Blanc is a nice apéritif paired with fresh cheeses like goat cheese. Oysters, shellfish, or white fish like trout, halibut, and cod also work well. More herbal and pungent expressions like wines from New Zealand go well with classic kitchen herbs and vegetables. These include grilled asparagus mixed with parsley, sautéed green beans with mint, and big salads full of basil.
If you are thinking more protein, then fish, chicken, and pork, especially with citrusy sauces, go perfectly with Sauvignon Blanc wines. Riper Sauvignon Blancs, with a higher alcohol percentage like those from Napa, pair well with heavier sauces and grilled meats (white). The secret is to match the wine's weight and flavor intensity to the weight and flavor of the food. If a food pairs well with a Viognier, it probably will pair well with a Sauvignon Blanc.
Here is a little list to help you find a pairing!
Meat Pairings
White meats: Chicken, Pork Chop, Turkey.
Fish: Tilapia, Sea Bass, Perch, Sole, Haddock, Trout, Cod, Redfish, Halibut, Snapper
Seafood: Mussels, Crab, Lobster, Clams
Spices and Herbs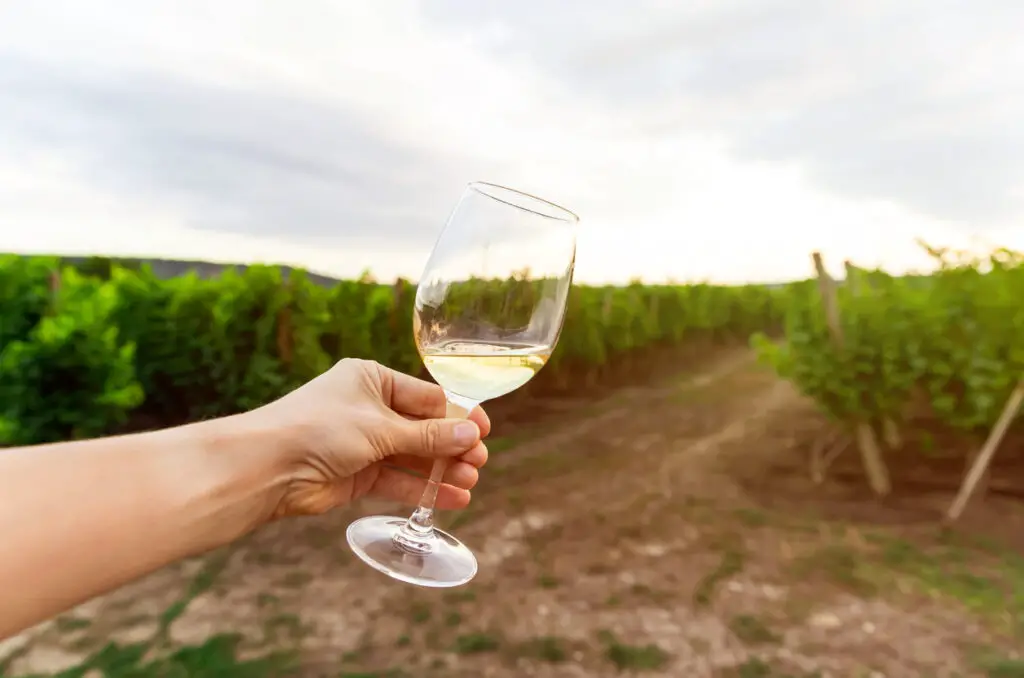 Green herbs: Parsley, Basil, Mint, Tarragon, Thyme, Fennel, Dill, Chives, Rosemary
Spices White Pepper, Coriander, Fennel, Turmeric, Saffron
Cheese Pairings
Softer, briny, sour cheeses: Goat's cheese, Yogurt, Crème fraîche
Vegetables & Vegetarians
Sautés green vegetables or mixed vegetables in more fatty dishes (acidity of the wine will shine)
Asparagus quiche
Cucumber dill yogurt salad
Green hummus
White bean casserole with zucchini
White lasagna
Conclusion
As you can see, there really is nothing wrong with Sauvignon Blanc wines. So, next time you wonder why is Sauvignon Blanc so cheap, just remember that it is all because of a generous grape type.
Don't let a low price stop you from enjoying this fruity wine on your day off. This wine also pairs well with a reality show, but that is just me speaking from personal experience. Now, get your glass out, pour yourself some Sauvignon Blanc, and toast to the upcoming year!
To living a full-bodied life,
Wesley