As sommeliers like to say, whites are a far better pairing option with cheese than reds. If you are a fan of white wine and cheese, Condrieu is among the most delicious options. The grape variety in Condrieu is Viognier, which you cannot simply pair with any cheese. There are some tips to follow for getting the perfect match. So, let's see what the best Viognier cheese pairing options are.
Viognier pairs perfectly with creamy style cheese like Délice de Bourgogne or a triple cream Brie. It can also pair well with piquant cheeses like Gorgonzola.
Let's take a closer look to find out what makes these cheese styles a perfect option for pairing with Viognier.
Viognier History
Viognier is a white wine grape variety, which is used to produce textural, aromatic wines with stone fruit flavors. It is the only grape variety used for French Condrieu production. It is grown in the Rhone Valley of France but can also be found in the regions of North and South America as well as Australia, New Zealand, and South Africa.
Similar to Chardonnay, Viognier is used for the production of full-bodied wines with a soft character. On the other hand, Viognier varietals have a more natural aroma with peach notes, pears, violets, and minerality. One of the most surprising and impressive facts about Viognier is that despite being a white grape variety, it is often used in red wine blends.
In the late 1960s, this delicious grape variety went almost extinct, with just 14 hectares of Viognier vines located in the vineyards of Condrieu. Happily, a decade later, new life breathed into this extinct variety.
Viognier was planted not only in France but Australia and California. During the 21st century, Viognier had a remarkable "renaissance," it was grown not only in France but also in Italy, Spain, the US, Chile, Argentina, etc. Viognier went almost extinct because cultivating this grape variety is pretty hard, and the vineyards of France in the 1960s suffered from coulure.
Viognier Conditions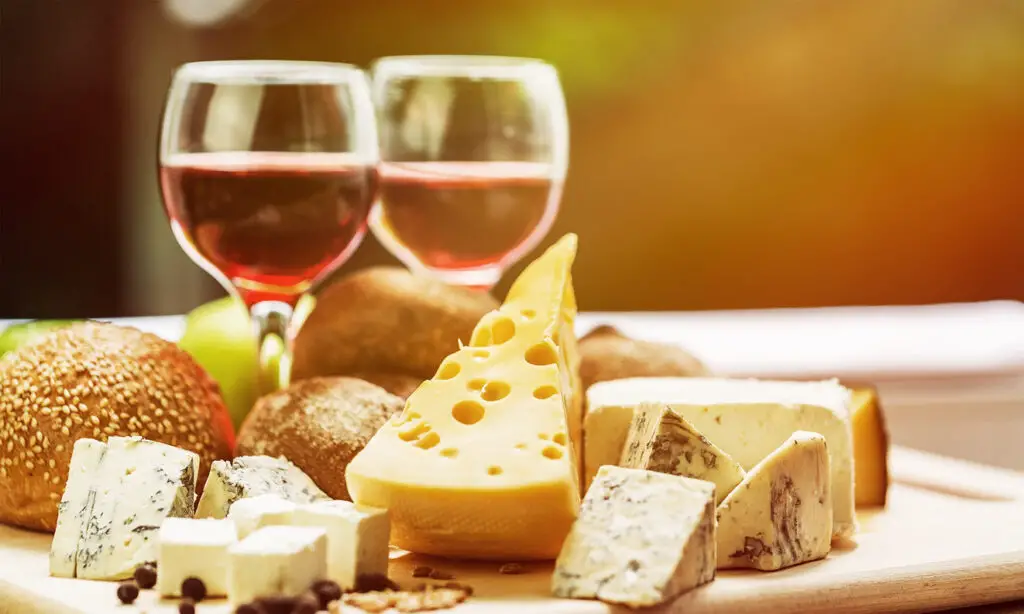 Author Note: Generally, think-skinned Viognier has naturally low acidic levels and requires a lot of sunshine to ripen perfectly. Moreover, plenty of sugar is needed in order to push the fermentation towards higher alcohol levels.
On the other hand, in case of too much heat, the grapes may yield overblown, causing a lack of freshness and apricot zing, which is an integral part of the variety's character. Most Viognier grapes are made using stainless steel, although some of the richer versions suit barrel fermentation, using new oaks.
Precisely, the hard balancing is what caused Viognier to become almost extinct. Many argue whether Viognier is as ancient as winemakers like to claim. DNA tests show that Viognier has a parent-sibling relationship with the Mondeuse variety, which also means Viognier is either a grandparent or half-sibling of the Syrah variety.
Viognier Flavor Profile
A perfect Viognier wine should be round and rich, with high intensity flavors. It is also important that Viognier wines have high acidity. When picked too late and mature, Viognier is used to produce sweeter wines, which are also oily. In contrast, these wines may have relatively poor flavor profiles. So, the flavor profile really depends on how mature your wine is.
Pairing White Wine with Cheese
When it comes to cheese pairing, you may have heard that white wine is a far better choice than reds. The main reason is that the mild bouquet of white wines complements and balances cheese flavors much better than the robustness, intense tannins, and the slightly metallic taste of red wines.
Although white wine and cheese make a perfect duo, you cannot pair any white with any cheese, and there are various steps to follow for getting the best match. One of the most crucial steps to follow includes serving a fresh wine with more complex cheese to create an impressive balance so that you can experience both items' flavors.
Sugar and Salt
As a rule, sommeliers recommend not to serve very dry white wine with cheese. Instead, go for options with little residual sugar. Sugar in wine is perfectly balanced by saltiness in cheese, creating a delicious palate.
Softer and creamier cheeses, including Brie or Camembert, go well with white wines made from Chardonnay grape variety. Note that in this case, you should avoid pairing overly oaked wines with such cheese. A great pairing example may be Chablis from Burgundy. Chardonnay grapes' lovely acidity in Chablis has lovely acidity, which brings out the best in cheese.
Full Bodies
Another rule of thumb that we will be crucial for Viognier cheese pairing, but general wine and cheese pairing, is to match full-bodied cheese with full-bodied wine. For example, try pairing soft and cream cheeses with lighter and crispier white wines. While more flavorful and mature cheese would be a better pairing with more robust wine varieties.
Regional Characteristics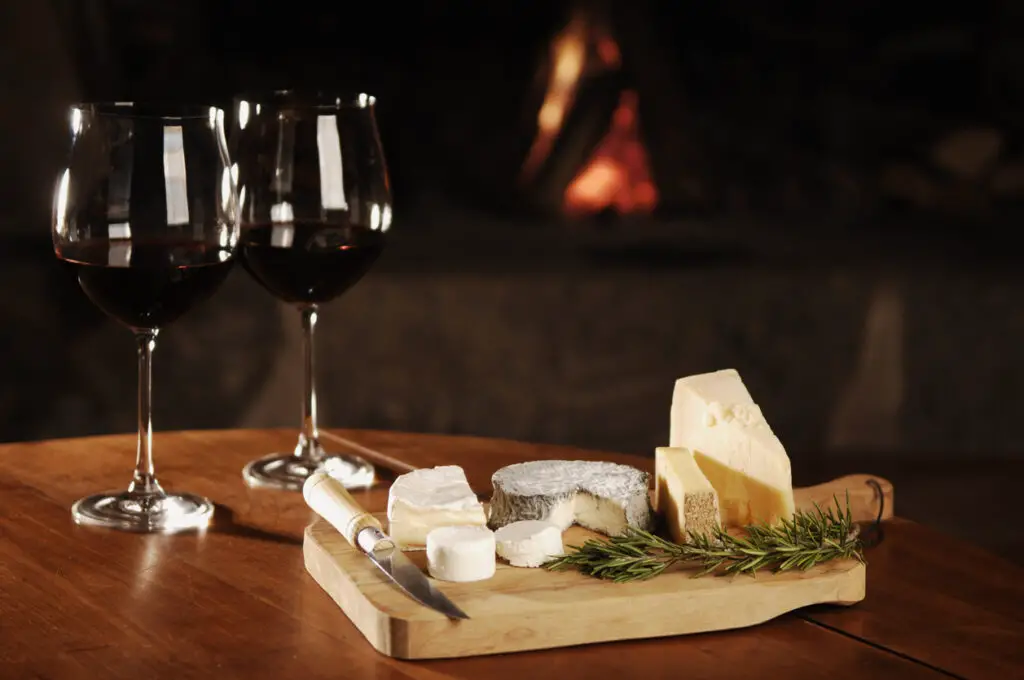 You will also notice many people say, what grows together, goes together pretty well! That is true! A typical example you will hear is the Loire Valley of France, which is best known for its goat cheese production. Surprisingly, it goes perfectly well with the region's Sauvignon Blanc.
To create a delicious palate, it would be great to find the perfect balance between the cheese's saltiness and the wine's sweetness. In general, blue cheese goes perfectly well with wines having nutty aromas (just like many Viognier wines have!). Very salty and pretty complex cheeses like blue cheese are served with sweet condiments.
Further in this article, we will explore what characteristics of the wine brings out the best in cheese, creating a lovely combination!
Viognier Cheese Pairing
As Viognier is medium-to-full-bodied white with flavors of citrus, light stone fruit, and floral characteristics, it creates a perfect match with semi-hard and medium-aged cheese. Semi-hard cheeses have a firmer texture and stronger flavors, which are ideal with a wine that offers a balance between acidity, fruit, and tannin.
Top Tip: Surprisingly, many kinds of cheese fall into this category and go well with Viognier. For example, Young Gouda, Gruyere, Soft Blue Cheeses, and Feta. According to many sommeliers, Viognier is pretty versatile when it comes to cheese pairing.
Délice de Bourgogne
One of the most delicious pairing options with Viognier wines includes French Délice de Bourgogne cheese. It is a triple cream cheese from the Brie family, originated from the Burgundy region of France. Generally, a glass of white wine, including Chablis Grand Cru, Meursault, and even bubbly, is considered perfect pairing options with Delice de Bourgogne.
Triple creams have a little more sharpness as they mature, and Delice de Bourgogne is not an exception. Its buttery and creamy texture makes it a wine pairing fan favorite! In fact, its sharpness is the reason many people appreciate and love pairing with a glass of Viognier wine.
Cream Brie
One of the most elegant choices for Viognier cheese pairing is the "Queen of Cheeses": Brie. Brie is soft-ripened cheese from the Viognier's country of origin: France. The flavors of this cheese are mild yet complex. Brie is slightly nutty, tangy, and sweet. As Brie ages, these flavors develop and change, making cheese more versatile. Along with its aging, this cheese is incredibly easy to pair with wine, including Viognier wines too.
Generally, Brie goes perfectly well with white wines with lower tannins and higher acidity. These characteristics make a perfect combination with the creaminess of the cheese. However, keep in mind that Brie changes its flavors as it ages.
A younger Brie will go perfect with lighter and crispier wines. On the other hand, Brie's more mature style will make a perfect match with more powerful and textured wines. Regardless of how you plan to serve Brie during your next gathering, its versatility will allow you to pair with the best Viognier wine!
Gorgonzola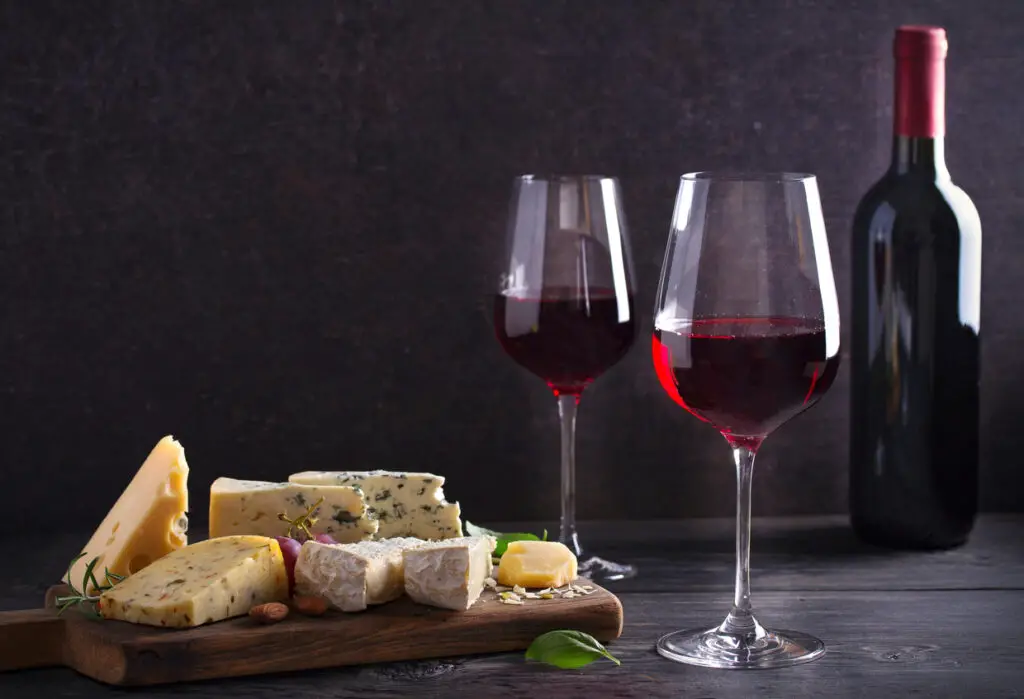 Author Note: Gorgonzola is among the most loved cheese types around the world. You may love it for various reasons, including its sharp and creamy flavor, which is perfectly balanced with a subtle sweetness.
Not only is plain Gorgonzola a great option for your dinner, but you can also pair Viognier with gorgonzola sauce dishes or salads. Did you know that wine pairings with Gorgonzola mainly depend on its age? White wines, including Viognier, go well with young Gorgonzola. More mature Gorgonzola has more spiciness and goes perfectly well with Italian style red wines.
Viognier Food Pairing
Now that we are familiar with Viognier cheese pairing options let's see what other food may go well with a glass of delicious white wine like Viognier. It is generally considered a food-friendly white wine that goes pretty well with anything from vegetable salads to Asian cuisine spicy dishes.
Apart from soft and creamy cheeses, Viognier also works perfectly well with a variety of seafood and shellfish, grilled chicken, pork, veal, and spicy dishes. An interesting fact is that many people are against pairing Medetirenan food with Viognier is a good option, although the regional similarities may seem perfect.
If you want to have a fancy dinner with a glass of Viognier wine, try out one of these options for creating a delicious and unique palate.
Wrapping Up
All in all, wines made from Viognier are rich and perfumed with a soft palate. Although Viognier wines may vary due to regional differences, the common elements include soft acid and a textured palate with apricot flavors.
Viognier is perfect with creamy style dishes such as Délice de Bourgogne or cream Brie. If you want to get a mix of creamy and sharp flavors, go for Gorgonzola. These round and fruity aromas together are a great match! We hope you enjoyed this article on Viognier cheese pairing.
So, if you are a big fan of white wine and cheese pairing, Viognier is a great variety to pair with Gorgonzola, cream Brie, or Délice de Bourgogne.
To living a full-bodied life,
Wesley