What could be better than a glass of bubbly to complete your festive mood? A delicious food pairing! Champagne and Caviar have long been considered a classic pairing; the delightful, salty taste of Caviar enhanced by a glass of bubbly will make your evening unforgettable! If you are a beginner in pairing Champagne with Caviar, we will help you choose the most delicious options. So, what Champagne goes with Caviar?
The most common pairings of Champagne with Caviar include Dom Perignon, Krug Champagne, and Taittinger. 
Let's take a closer look to find out what makes these three Champagne types the best pairing option with Caviar.
Caviar and Champagne
Champagne is one of the most versatile alcoholic drinks for food. It contains high levels of acidity and low levels of sugar. These two contrasting characteristics complement flavors in almost any food, from tame poached salmon to spicy Thai food.
Sommeliers love a glass of bubbly with popcorn or a bag of potato chips, but they also consider caviar a great food pairing with Champagne.
For many, Champagne is considered more of a pre menu beverage than a drink to pair with food. Surely, you can have a glass of bubbly with fruits or during the dessert menu, but when it comes to the main course, Champagne may work surprisingly well too.
Classic Champagne food pairings include oysters and caviar, but other dishes you may find as a perfect match with this festive drink. For example, you can have a glass of Champagne with fried mushrooms. It is no secret that fried food works amazingly with Champagne; Champagne's rich and fruity flavor complements fried mushrooms' earthiness.
In the case of caviar, the greatest thing is that Champagne does not overpower the delicious taste of it, and what is more important, it does not leave an aftertaste, which is crucial.
Author Note: According to Christopher Klapp, general manager of Petrossian Paris Boutique and Restaurant in West Hollywood, Caviar has a very specific place in gastronomy. Although it is a luxurious food all itself, it pairs perfectly with a glass of dry Champagne because of high oil, fat, and saltiness.
Champagne and caviar pairing refreshes the palate by balancing the flavors.
Tips on Pairing Champagne with Caviar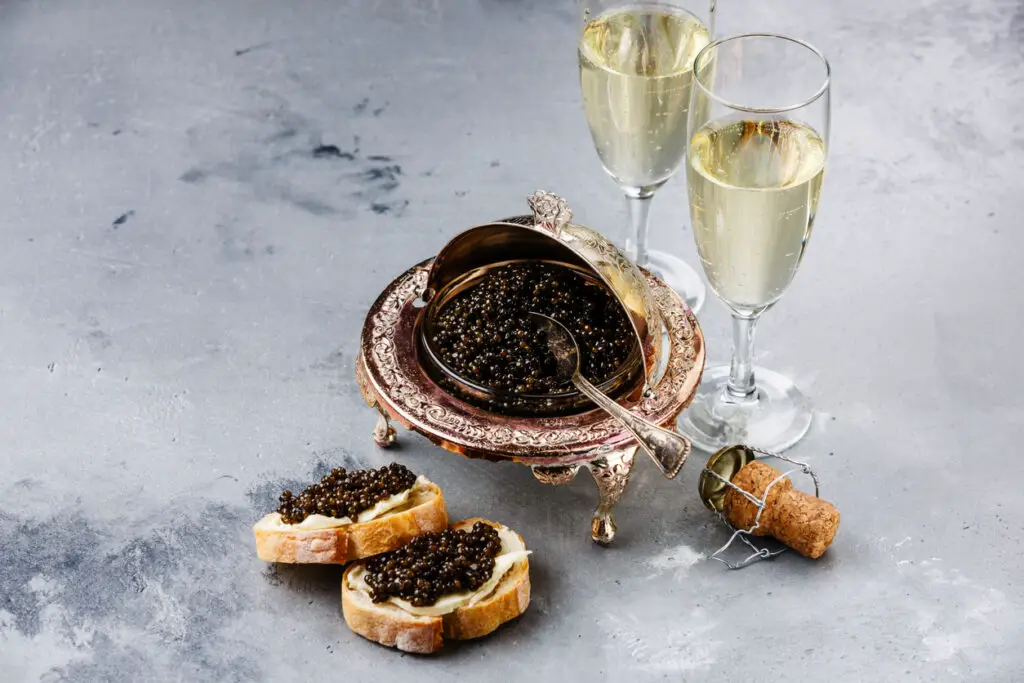 Before answering the question of what Champagne goes with caviar, let's see some tips sommeliers mention when pairing Champagne with caviar.
First and foremost, when pairing caviar with Champagne, you will need a lower dosage of alcohol. Try to pair it with relatively dry style Champagne. As a general rule, sommeliers offer to match sweeter Champagne with sweets, while the drier style Champagne pairs better with savory food.
A bite of caviar with a sip of dry bubbly often results in a delicious flavor burst. Now let's see which Champagne meets the requirements and makes a perfect pair with caviar.
Best Champagne and Caviar Pairings
Champagne and caviar, symbols of a good life, are an iconic combination of flavors and styles. Even though both Champagne and caviar are considered luxury items, you can still find them at affordable retail prices.
The main types of caviar paired well with Champagne include Beluga, Sterlet, Kaluga hybrid, American osetra, Ossetra, Siberian sturgeon, and Sevruga. Now that you know which caviar you can choose from, the next question is: what Champagne goes with caviar?
Today we will discuss three Champagnes, which are considered as a perfect match with caviar, including Dom Perignon, Krug, and Taittinger.
Dom Perignon
Dom Perignon is one of the best champagnes that pairs perfectly with caviar.
It is made from a mix of Chardonnay and Pinot Noir grapes. When you have your glass of Dom Perignon, the first thing you will notice is the aromas of almond and cocoa, which gradually develop into hints of dried flowers and white fruits. You should know about Dom Perignon that it is not a Champagne House, but a bottle of Champagne made by Moet and Chandon. It is a prestige Cuvee, or Tete de Cuvee, the top Champagne that Houses make.
But, despite its importance, Dom Perignon is not a Grand Cru Champagne. This Champagne bottle is always a vintage, containing grapes only from one year, showcasing unique characteristics of a vintage.
As we have already mentioned, Dom Perignon is made of two grape varieties: Chardonnay and Pinot Noir. However, from region to region, the consistency of these two grape varieties may differ. You may find a bottle of Dom Perignon with a 50/50 concentration of Pinot Noir and Chardonnay, and others may have 60/40, etc.
Vintage Dom Perignon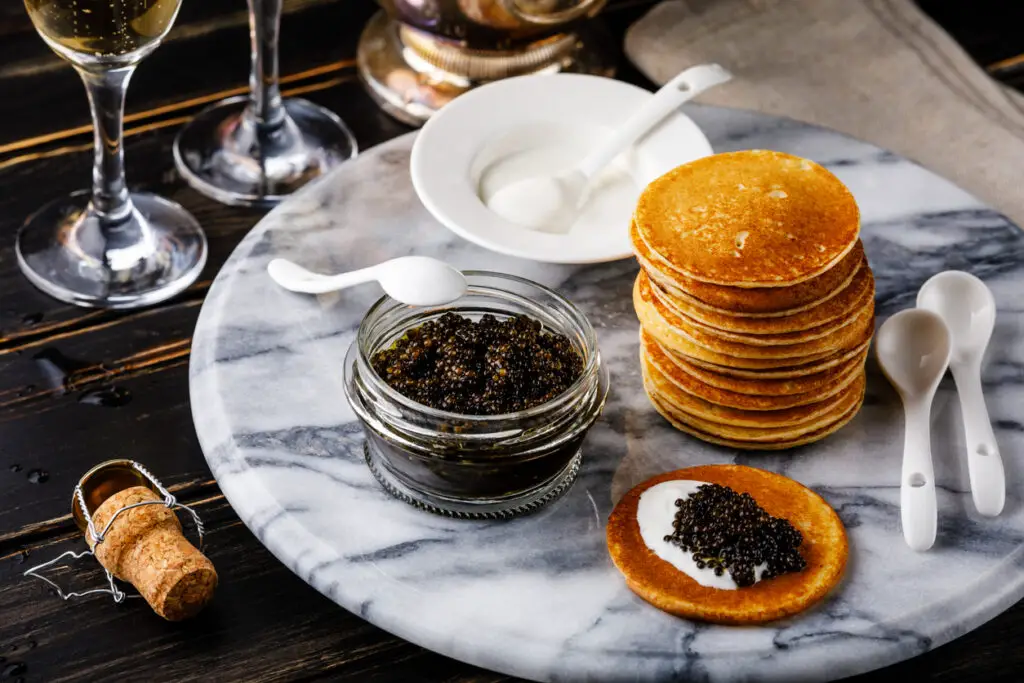 When it comes to pairing Dom Perignon with food, there are some tips sommeliers always mention. A Vintage bottle of Dom Perignon goes best with crispy foods that have high levels of fat. You can also try it with heavily-seasoned meals to explore more flavors on the palate. The citrus content of Dom Perignon cuts through your dish and makes it lighter on the palate.
Author Note: Especially a bottle of 2006 Dom Perignon will do great with caviar, foie gras, or truffles. Generally, Dom Perignon 2006 is a food-friendly beverage, but the best pairings are considered those three dishes.
Usually, sommeliers love to pair Dom Perignon with famous truffles or mushroom-based recipes because it soothes the acidity and gives a tangy taste. Caviar alone is rich and salty, but pairing it with a glass of Dom Perignon 2006 will taste better.
Krug Champagne
A famous champagne house Krug and their famous bottle of Krug Champagne is another perfect pairing with caviar. This Champagne has its historical roots back to 1843 when Joseph Krug founded the House. Krug Grande Cuvee is a blend of over 120 wines coming from more than ten different regions.
In general, this Champagne contains three grape varieties, including Chardonnay, Pinot Noir, and Pinot Meunier. Krug can be distinguished by its deep gold color as well as fine bubbles. On the palate, Krug Champagne is broad and rich, with a delicate mousse and lively acidity. The flavors of Krug include pear, hazelnut, lemon, and honey.
Among caviar connoisseurs, Krug is one of the favorite Champagne types. When you have a glass of vintage Krug, it transforms juicy brown pearls of caviar into "creamy magic." You would definitely fall in love with this combination!
Taittinger
When thinking about what champagne goes with caviar, consider Taittinger as another amazing match. Taittinger is among the most famous Champagne brands as well as the oldest and largest Houses. The house owns incredibly large vineyards of 288ha throughout the Champagne region of France. Similar to Krug, Taittinger is also made of three different grape varieties, including Chardonnay, Pinot Noir, and Pinot Meunier.
As the producer mentions, there is no specific drinking occasion for Taittinger's Brut Reserve. Its elegance and lightness make a perfect food pairing with not only caviar but many other delicious foods, including truffle risotto, slow-cooked short ribs, etc.
Sommeliers also suggest Taittinger Champagne House's famous Brut La Francaise NV with Kumiai Oyster. This champagne is made of three grape varieties with a consistency of 40% Chardonnay, 35% Pinot Noir, and 25% of Pinot Meunier.
The combination of bright golden colors with oysters is followed by the expressive bouquet, brioche, peach, and white floral notes. On the palate, it is rather lively and goes perfectly with something salty and complex, like caviar.
What Other Drinks Go Best with Caviar?
When you ask yourself what champagne goes with caviar, the next question follows as soon as you get the answer. Are there any other drinks that pair well with caviar? Of course, there are! Let's discuss some of them.
Vodka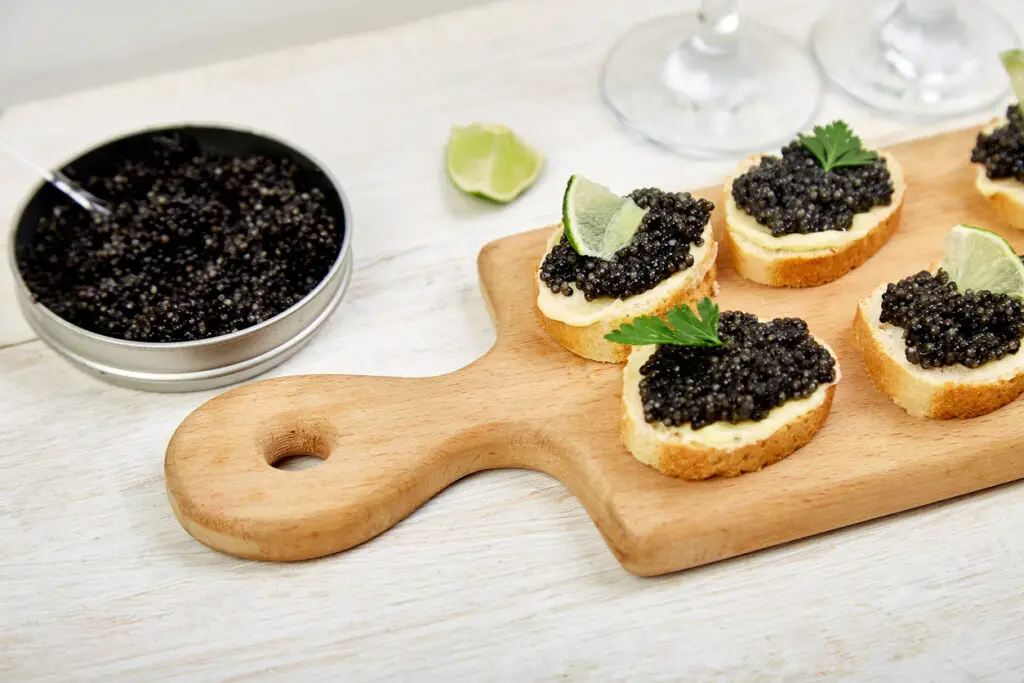 Author Note: The most well-known pairing is perhaps Russian famous vodka and caviar. Actually, vodka complements caviar perfectly. When served cold, the crisp and clean flavor of vodka brings out the caviar's distinctive taste without overpowering it.
It is up to you to choose the vodka brand, but make sure you choose a higher quality one. Note that you should keep it in the freezer and serve it ice cold.
White Wine
Another perfect pairing with caviar is white wine. You will most often see caviar paired with dry whites, but sommeliers recommend looking for wines with more residual sugar, such as Riesling or Chenin Blanc. Chardonnay is another excellent match, but make sure you do not choose a style that is too oaky, or else it may overpower caviar.
Water
Any drink you choose to pair with caviar should refresh the palate without leaving an unpleasant aftertaste. So, why not choose the purest drinks of all? That's right, as surprising as it may sound, caviar connoisseurs recommend having water as another great match with caviar.
Wrapping Up
All in all, pairing Champagne with caviar is not as easy as it seems. Although you may consider Champagne a versatile beverage, always take into account the dryness and level of acidity while pairing it with caviar.
After you answer what Champagne goes with caviar, it is up to you to choose from the above-mentioned options. The most important factor is that none of the Champagnes we have discussed will overpower the flavors of caviar, so you will be able to enjoy the perfect combination of these two elegant items. Whether it is Taittinger, Krug, or Dom Perignon, you are guaranteed to taste unique and delicious flavors on your palate.
Weddings, anniversaries, promotions, or any other special occasions are not the only times you should enjoy Champagne. As soon as you try pairing a glass of bubbly with caviar, you will transform a regular evening into a special time! We hope you enjoyed this article on what Champagne goes with caviar.
To living a full-bodied life,
Wesley