Today we are in a Spanish mood․ This is not Tempranillo's first time in our blog but still there is so much more we can talk about. Besides, there are never enough conversations about good wine. Let's go ahead and see what we can learn about this wine and what we know about tempranillo chocolate pairing.
Professionals suggest that cherry cordials go with a Tempranillo because of its brown sugar components. Their choice is Finca Villacreces, a combination of Tempranillo, that accentuates the chocolate "beautifully."
Now we will try to go over this beautiful Spanish red and get acquainted with it more deeply, as well as go into more detail on tempranillo chocolate pairing.
From Tempranillo
Tempranillo is a red grape that is currently the world's third most planted variety. As it is the main grape of the Rioja red wines, it is the most common in Spain. Tempranillo is not a well-known term since it is typically blended with other grapes, but it has a long history of thorny vines.
Best Places For Tempranillo To Grow
Tempranillo is a highly adaptable vine that prefers soils that are sandy, chalky, or limestone. Although it grows better in hot weather, Tempranillo can tolerate cooler climates than other Spanish grapes, too.
Northern Spain
For the more excellent areas of La Rioja Alta and Rioja Alavesa in Spain, Tempranillo is appropriate. Several warmer regions in Northern Spain have a vast difference between daytime and nighttime temperatures, so tempranillo grapes can mature while retaining their naturally low acidity.
Author Note: Northern areas where Tempranillo is well grown include Navarra (near Rioja); Toro, where Tinta de Toro is the grape; and Ribera del Duero, where Tinto Fino is the grape. Tempranillo can also be found on the Spanish-French frontier in Catalonia, called ull de llebre.
Center of Spain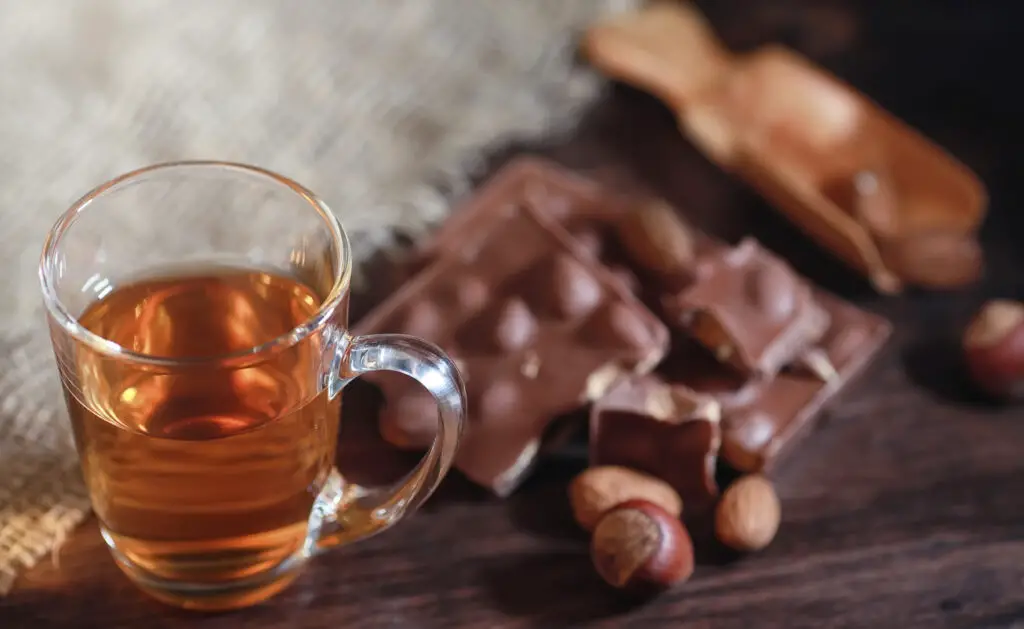 Cencibel is the name of Tempranillo, which is grown in the central Spanish wine region near Madrid. This one does not accumulate a lot of alcohol in warmer climates than other Spanish grapes, so it can also grow well in hot areas such as Valdepeñas in La Mancha, where it is typically blended with late-ripening cabernet sauvignon.
Portugal
In fact, Tempranillo is the most cultivated grape in Portugal, where it is called Tinta Roriz (in the regions of Dão and Douro) or Aragonês (in Alentejo). Together with Touriga Nacional and Touriga Franca, this type is the main grape used to make Port, Portugal's historically significant wine.
Due to its strength to conform to different temperatures and soils in various areas such as Texas, California, and northern Mexico, vine growers also experiment and excel in growing these grapes.
Tempranillo Grapes
These juicy grapes have relatively thin skins, contributing to the development of wine with a ruby color. Tempranillo is already medium-bodied on its own, but it is typically blended with Garnacha, Mazuelo, and Graciano grapes to make a more full-bodied wine. It has low acidity and tannins that are smooth. These grapes will mature and result in a luxury wine for decades.
An early ripening variety, Tempranillo tends to thrive in chalky vineyard soils such as those of Spain's Ribera del Duero region. It is blended with others in Portugal, where the grape is known as Tinto Roriz and Aragonez, to make port wine.
Taste Profile
Usually, wines made from tempranillo grapes are dry. Tempranillo is known for its plush texture, layered aromas and flavors that can be savory, fruity, or woody.
The savory Tempranillo notes are earth, tobacco leaves, barnyard, and leather.
Tempranillo's fruity flavors are usually similar to ripe red fruits, such as plums, strawberries, and cherries.
Instead of French barrels, Tempranillo is almost always aged in American oak barrels, which provide it with heavy aromas of coconuts, vanilla, caramel, and dill pickles. More substantial and sweeter, with traces of nuts and caramel or chocolate and berry, are other fortified wines made using Tempranillo, including Port.
Food Pairings
Tempranillo is a remarkably versatile food wine that can fit well with roasted vegetables, smoke, starch, hearty kinds of pasta, and even Mexican food. However, it is famous for its combination of red meat and ham.
Tapas
Spanish Tapas can differ from a simple aperitif to something more complex, quintessentially Spanish. Tempranillo is the ideal red wine, just add some sardines, olives or "croquettas," and fried squid. A young wine with minor oak age would be perfect with your Tapas. The types of Australian Tempranillo and Rosado are equally suitable.
Classic Spanish Cuisine
Spain is a proportionately large country with a wide variety of dishes and regional types. Luckily, Tempranillo is cultivated almost entirely and appears to fit well with regional specialties, whether from Catalonia, Andalusia, Valencia, or Galicia. Delicious Manchego cheese, paella, and red peppers are some popular items; pimientos "asados" are a classic La Rioja dish.
Jamon, Pork, Chorizo
Top Tip: We are pretty sure these need a separate section in our blog post. Leather, cloves, smoke, and more are provided by Reserva and Gran Reserva Rioja's wonderful fragrance and bottle bouquet, all of which work so well with cured meats, sausages, and pork cuts.
Best Tempranillo Suggestions
The most costly and exclusive tempranillo wines are Roja productions. The classifications for Rioja wines are based on the time they spent aged and not on their vineyard sites. Typically, because they have not spent a lot of time in a barrel and are not part of the classification, Rioja wines will be called "Young".
The demands on aging are:
Crianza wines must be aged in a barrel for a minimum of one year, followed by a year in a bottle.
Reserva wines must be aged in a barrel for at least one year and then in a bottle until they are at least three years old before they are released.
Gran Reserva wines must be aged in a barrel for at least two years and then in a bottle for three years before they say goodbye to the winery. Upon finishing, these wines can be drunk but often aged for decades to come.
Tempranillo Chocolate Pairing
As Tempranillo is bold and goes well with red meat, try to find chocolate not to give way to the wine. Here are some tips to help out!
Cherry Cordials
As we already mentioned, Cherry Cordials are a great combo with Tempranillo. It may be a hard decision to combine liquor and wine, but it really feels fantastic. The fullness of dark chocolate on the "drunk cherry" and then washing it all up with a total, fine wine is perfect.
We pulled out several chocolates, from 62 percent to 88 percent, mixed beans, and various countries to try. We are pleased to say that we have come up with some interesting conclusions. Here they are.
88% Dark Chocolate from the Amazonia Region in Ecuador
The wine here brings out citrus notes in the chocolate, and the chocolate's bitterness also brings down the wine's acidity, balancing it out. Slightly astringent notes are still there, but they are good and balanced with the citrus notes coming out. This combination, particularly at the end, was fresh and clean.
80% Dark Chocolate from the Carenero Region in Venezuela
It's an exciting game. All the chocolate's earthiness is brought out by the wine, which is not evident when consuming the chocolate alone. It is a lush landscape, reminiscent of a forest. The wine stays the same, nor does the chocolate improve it or make it worse.
However, a transition happens with the addition of a bit of basil to the mixture. The fruit comes out of both the wine and the chocolate, and the wine levels out, the acidity reduces, and there is no bitterness. Now, apply a little quince and pear juice to the mixture.
Both the chocolate and the wine have completely harmonized in the mouth, all the fruits erupt in both, and it leaves you with a lovely fruity finish. It makes the wine stronger (not that it wasn't significant to start with).
72% Dark Chocolate from Moxos, Bolivia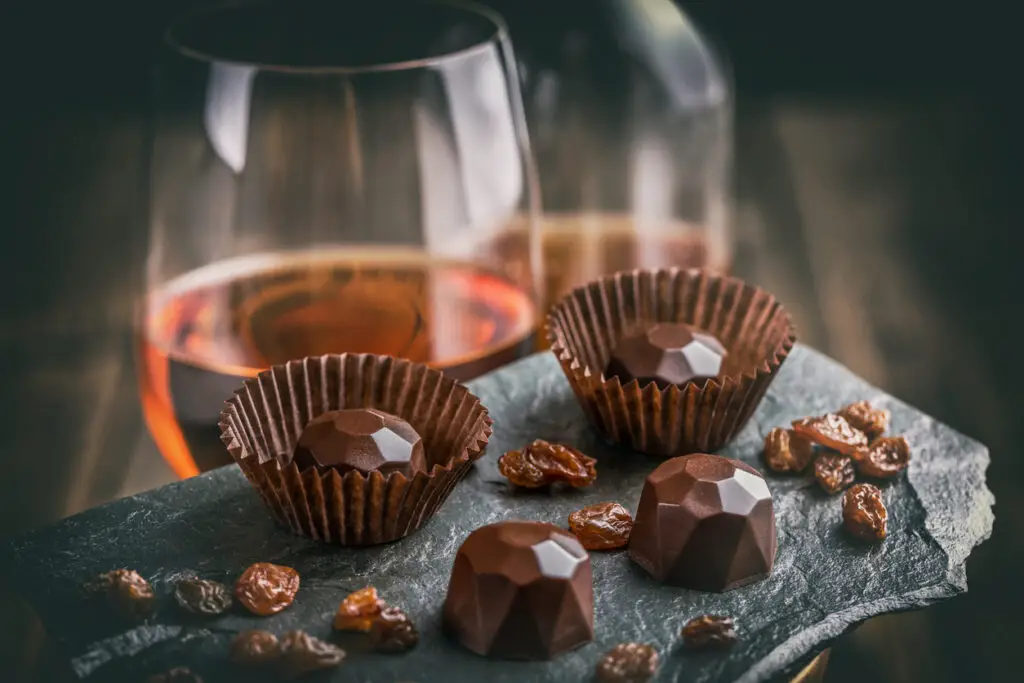 This is also an exciting mix because the wine strengthens the chocolate, bringing out all its exquisite cinnamon and secret fruit flavors. The wine remains, however, somewhat flat. In this relationship, it gives itself up, losing its identity to allow the other to shine.
62% Semi-Sweet chocolate from the Rio Arriba Region in Ecuador
With this, the wine stayed dry, but the chocolate shone, taking in all the cinnamon and spicy notes. It was a completely one-sided bond, the wine losing itself in this case.
Non-Chocolate Variants
Author Note: If you don't like the actual chocolate taste or somehow you cannot eat it, you can always go for dark brownies (we have a whole article on brownies and wine). Or any chocolate cake will do. The key ingredient for us is dark cocoa. Some fruit mix chocolate mousse will work great, too.
You can even add some brandy to them. Alcohol with extra alcohol; nothing is better/bitter. If this is not satisfying enough, you can go to dark chocolate ice-creams. The rest is on you; think which one is your favorite.
Sprinkle Cocoa Powder
It was an exciting tasting because we found that cocoa powder matched better than those chocolates with a lower percentage of cacao and more spice. The more bittersweet chocolates had many citrus notes. Not something that most individuals would suspect, we think, but a lovely surprise.
The pairings of 88 percent and 80 percent were very fun.
Pairing Thoughts
We are here to remind you one more time to eat chocolate and drink fine wine. Always experiment and let us help you find the best food and wine instructions to enjoy every sip and bite. We hope you enjoyed this article too. We hope you enjoyed this article on Tempranillo chocolate pairing.
To living a full-bodied life,
Wesley