Many people feel intimidated when they hear about a chocolate and wine combination. But not us. We know that it is not about the concept of "inadmissible" but really the adventure of finding the perfect combination. Today we will try doing this with the Prosecco chocolate pairing.
In the case of Prosecco, dark and milk chocolate pair perfectly. White chocolate is also a great choice to pair with Prosecco. The rest is up to you, which variations and styles you want to try out.
Now let's see what makes Prosecco special, as we haven't talked about it much on our blog. Then you will get to know its characteristics and see why it makes a perfect combo with chocolate.
The Prosecco Wine Guide
It seems like "p"-pizza, pasta, prosciutto, Parmesan, Piza tower, Prosecco-all the good foods and drinks with "p" come out of Italy. That last one is the most popular version of Italy's sparkling, bubbly wine.
Prosecco wines are the most famous sparkling wines among the Italians. Prosecco is compared with French Champagne quite often, but it contains whole different grapes and requires other winemaking methods.
Author Note: There is more to Prosecco than inexpensive bubbles, as you will soon discover this. Learn more about this exciting sparkler, including how to choose Prosecco, the various types, Valdobbiadene-the main winemaking area, and what foods to pair with it.
About Prosecco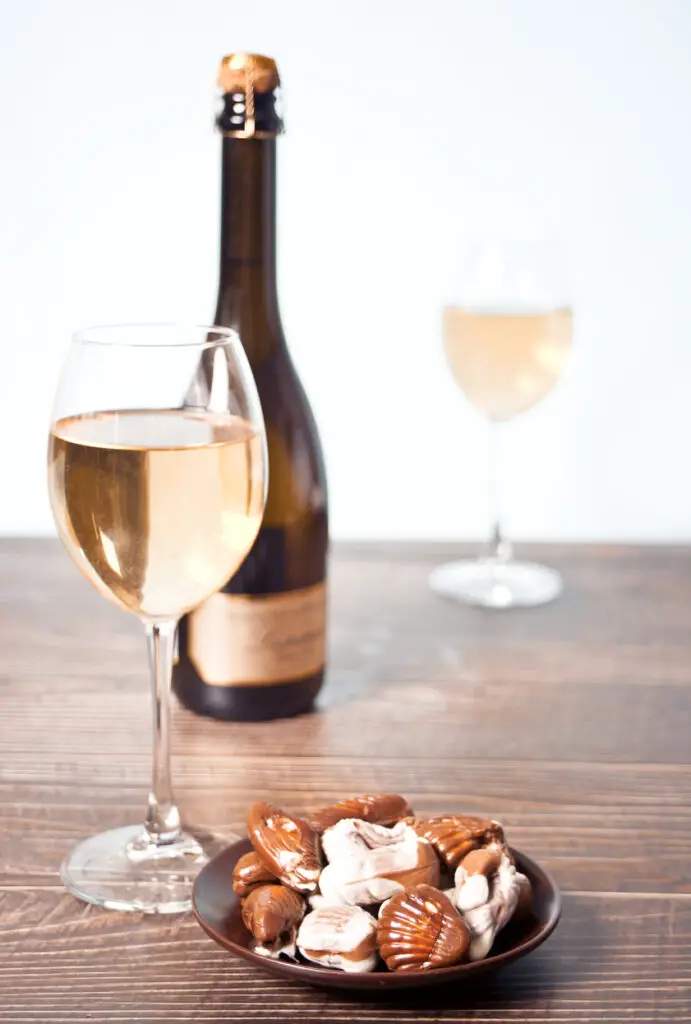 Prosecco is a sparkling wine that originates in Veneto, Italy, from the Valdobbiadene region. Produced in the area surrounding Venice, the word "prosecco" means "path through the woods." While there is a town called Prosecco that is essentially the wine's birthplace, you will find the highest quality bottles are from the Veneto and Friuli Venezia Giulia regions.
The wine is made from Prosecco grapes (also known as 'Glera') and converted into wine using the Charmat sparkling process, which gives the alcohol around three pressure atmospheres and helps sustain bubbles longer than beer. In Italy, they make Prosecco from white Glera grapes. The winemaking rule says that a bottle contains 85% Gerla to add its name to a wine label. Glera's moderately high acidity and neutral to aromatic profile create a bright, crisp sparkling wine.
Even in Roman times, Julia Augustus (Emperor Augustus's wife) relished the fizzy beverage. Pliny the Elder spoke of its medicinal qualities: "Her 86 years Julia Augusta could thank the wine, for she drank only it and no other, it is believed that there is no better remedy."
Much time has passed since then, yet; we still celebrate this famed beverage.
The Taste Profile of Prosecco
Most Prosecco wines are made in the style of dry brut. However, it typically looks sweeter than it is because of the grapes' fruity tastes of green apple, honeydew melon, pear, and honeysuckle. Even though brut is Prosecco's most common degree of sweetness sold on the market today, you will find sweeter styles if you search for them.
There are 3 ways to label Prosecco:
RS (residual sugar) Brut 0-12 g/L-Up to half a gram of sugar per glass
Extra Dry 12-17 g/L RS- Just over half a gram per glass of sugar
Dry 17-32 g/L RS- Up to 1 gram per glass of sugar
Prosecco typically has fruit and flower aromas that are boisterous. Since wines age with less pressure in large tanks, Prosecco has lighter, frothy bubbles that do not last. The fragrances still smell fabulous in Prosecco. Fine Prosecco bottles deliver tropical fruits, banana cream, hazelnut, cocoa, and honeycomb scents.
By the way, this style provides a perfect balance between the fruit of Prosecco, the tingly acidity, and slight sweetness if you haven't had an Extra Dry Prosecco yet.
How To Pair Food With Prosecco?
Prosecco is remarkably flexible and combines well with a large variety of genres and dishes of cuisine. It is one of those wines that can be served as an aperitif (before meals) but fits nicely next to the main meal as well.
The idea behind Prosecco pairing is to use it with medium-intensity foods as a palate cleanser (chicken, tofu, shrimp, or pork dishes). Prosecco fits well with spicy curries and Southeast Asian dishes such as Thai, Vietnamese, Hong Kong, and Singaporean cuisine due to its sweet aromatics and bubbles.
Top Three Prosecco Bottles
It is hard to pick three of them, but still;
Adami Garbèl Brut Prosecco
In this bottle, the 13 grams of residual sugar position it between the brut and extra-dry types, making it a very versatile Prosecco, suitable as a casual sipper or celebratory toast. With seafood antipasti, this light and crisp baby makes an ideal combination. Check it out here.
La Marca Prosecco
This Tiffany-blue mark is, but deservedly, everywhere. Citrus and honeysuckle shine with a gentle sweetness in this crisp, refreshing bubbly. Give a go here.
Giuliana Prosecco
Last but not least, Giuliana! The former E! News anchor, Giuliana Rancic! With an everlasting grin, the host teamed up with top winemakers to produce her favorite celebratory wine. When you taste this fruity, velvety Prosecco, your smile will be as vivid as hers. Check here.
How To Combine Wine And Chocolate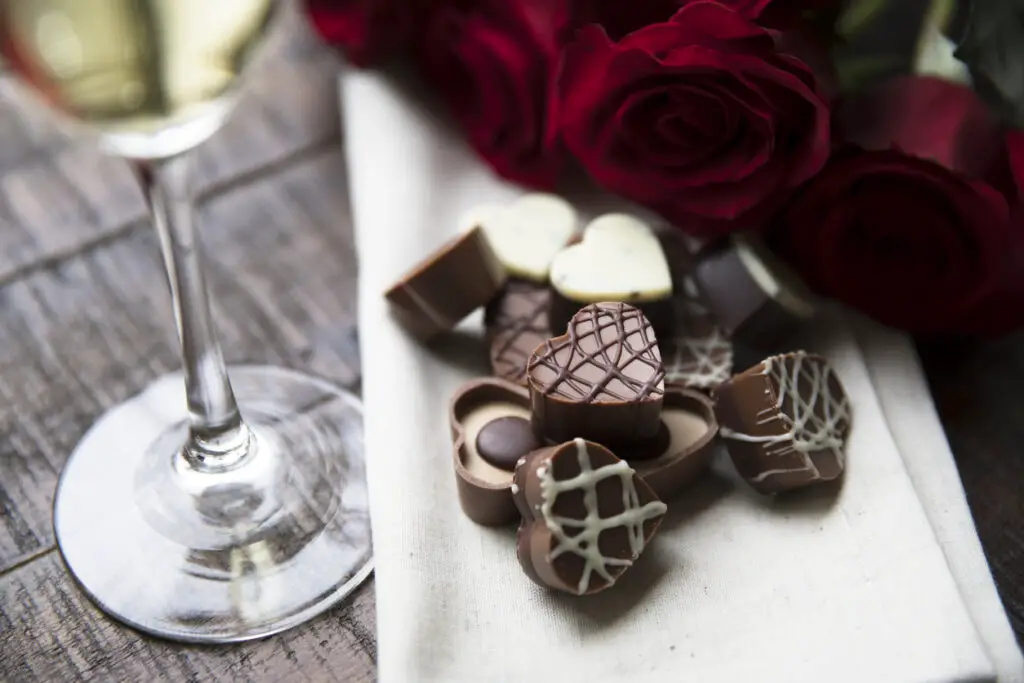 Author Note: To some extent, combining food and wine is still subjective. Wine pros recommend thinking about the flavor, acidity, weight, and wine duration and whether this fits with the chocolate's intensity, sweetness, and texture.
Yes, before presenting dinner party guests with your perfect match, you may have to do some taste testing.
Don't expect everyone to be happy even then. Some people enjoy delicious, luxurious dark or lush red milk chocolate, such as full-bodied Zinfandel styles with ripe, jammy fruit and oak-gathered elements of sweet spice.
Is It OK To Add Sparkles To Your Wine?
If you ever tried sparkling wine with truffle, you will know that the best wine to pair with chocolate is sparkling wine. Sometimes the sweetness and bitterness of chocolate allow it to compete with sparkling wine. In dry sparklers, the sugar brings out an acidic taste.
If you don't mind mixing things up, cocktails will add fruitiness that will taste great with chocolate, too.
Did you know that a lower alcohol content means a higher content of sugar and a sweeter wine?
Check the alcohol content on the bottle; the sweeter the wine, the lower the amount. With sweet sparkling Moscato d'Asti and late harvest sparkling Rieslings, white chocolate partners beautifully, while milk chocolate is a little more flexible and can accommodate slightly less sweet sparkling wines.
A sparkling wine with extra fruitiness helps. Mix a coffee and champagne cocktail using coffee beans with fruity tasting notes, such as Kona beans like these, for bonus points.
In this pairing, there are no rules-some individuals enjoy it, and some don't. In the end, it will be an exciting and enjoyable experience to sample any form of sparkling wine with chocolate, so go ahead and pick your favorites and see what you like.
Prosecco Chocolate Pairing
We have prepared some unique suggestions of chocolate pairing with our beloved Prosecco. As mentioned above, dark, milk and white chocolate will make a great combo with Prosecco. You can pick your favorite brand and enjoy it. But we have prepared some mixes for you to improvise with your bubbly wine and favorite chocolate.
Milk Chocolate And Fresh Strawberry Cream
Milk chocolate and fresh strawberry are a delicious combination of milk chocolate's refined taste and a new kind of strawberry acidity. A fine bottle of Prosecco will complete the taste profile, and this would be a light dessert for you to choose from the other options. You can select any suggestion on the supermarket shelf, or you can even give a go to a chocolate cake with strawberry cream.
You can make homemade chocolate by melting any milk chocolate and then add strawberries in with your preferred cream. Consider buying suitable forms for suchlike activities.
Sea Salt Caramel in Milk Chocolate
The sweet-toothed people's favorite is salty caramel, but not everybody is familiar with or likes sea salt caramel in milk chocolate. The fizzing taste of Prosecco will smooth the salt and emphasize the caramelly chocolate notes. We can recommend Sanders Milk Chocolate Sea Salt Caramels or give you a chance to make it at home. Although it is a tricky and time-consuming business, so take this into account.
White Chocolate and Marionberry Fresh Cream Heart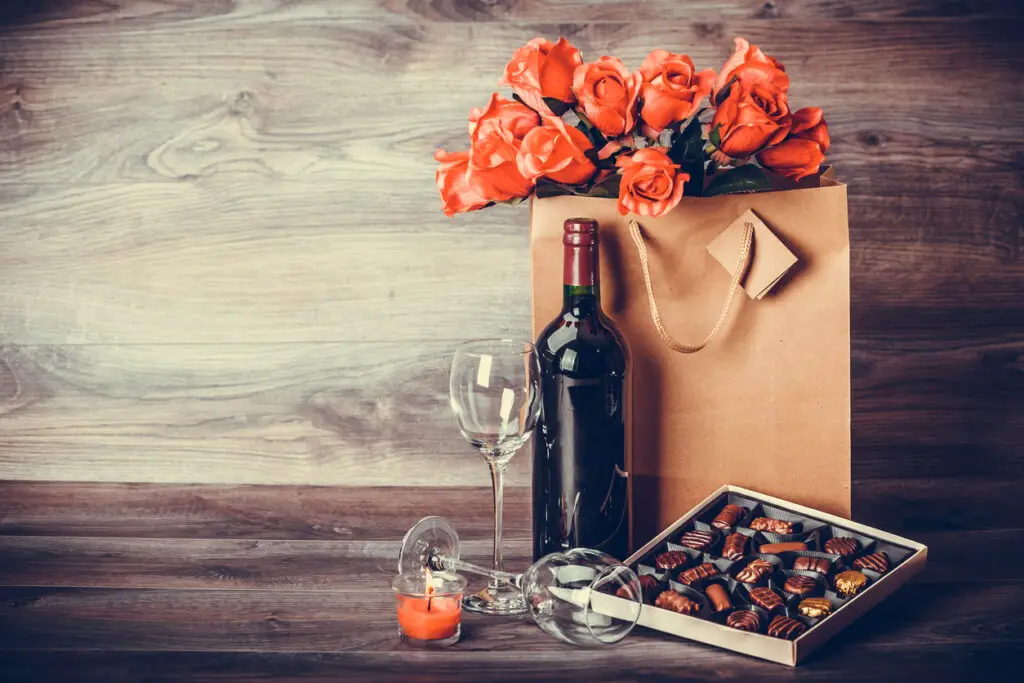 Hey, Valentine's day knocking on your door. Don't you want to pick chocolate candy hearts but make them special? This time you will choose chocolate hearts with a reason. We told you that bubbles are for celebrations; now pick a bottle of fine Prosecco and those candy hearts and celebrate your love! Marionberry will make the combo wholesome as it is fantastic with sparkling wines. Don't forget to tell your partner how much you love them. You can leave a note on the chocolate box.
Dark Chocolate and Passionfruit Fresh Cream
Author Note: This Dark Chocolate Dessert from Passionfruit incorporates a luscious flourless dark chocolate cake layer with curd of passionfruit. This Peruvian-inspired dessert recipe, garnished with a little fresh passionfruit (aka maracuya), is a luxurious and decadent gluten-free dessert to share with your loved ones.
But again, you are free to find the actual candies, as they are waiting for your arrival on local supermarket shelves. Don't forget why we give you these instructions; Prosecco wine is the key reason we try to find a pair for it as it is Valentine's day for him as well.
Non-Chocolate Option
Suppose you are not that much of a chocolate person, no worries. You are always free to try your favorite fruits with caramel. The best option has got to be passion fruit with caramel, but green apples would work fine, too. These fruits make great pairs with Prosecco flavors.
Parting Thoughts
You know how much we love sparkling wines in all their forms. And what can be better than chocolate pairings with them? Whether you are alone or with a lover on this Valentine; now you have all the needed instructions on how to make your day a holiday! We hope you enjoyed this article on Prosecco chocolate pairing.
To living a full-bodied life,
Wesley