Wine and cheese. Sounds delicious right? Well, only if done right. Finding the perfect wine and cheese combination can be difficult, so we are here to help guide you. Bubbles are best for celebrations, and every day should be a day to celebrate! So, what is the best Prosecco cheese pairing?
The best cheese to enjoy with Prosecco is Brie or Camembert. Parmesan is also great with Prosecco and can be incorporated into your dish pairings.
Now let's dive deeper into the world of Prosecco.
What Is Prosecco?
Prosecco is a delicious sparkling wine made using white Glera grapes grown in Italy. Most bottles are made in the Veneto and Friuli regions. It has fruity and floral notes, which makes it the perfect drink for any occasion.
There are different classifications of this drink. The bubblies are frizzante meaning fizzy, and spumante, meaning fully sparkling. Still, Prosecco is called Tranquillo, but it is quite uncommon.
Prosecco bottles also largely vary in sweetness. There is brut (driest), extra dry, dry, and demi-sec (sweet).
Prosecco vs Champagne
Prosecco and Champagne are often compared and may seem similar, yet they are completely different drinks. Not only are they made using different grapes, but they also get their bubbles in different ways.
The Charmant method is used to make Prosecco. This means that the secondary fermentation, which is required to get bubbles, is done in a stainless steel tank. This is why Prosecco is lighter and fruitier than Champagne. Champagne is made using the Methode Champenoise for the fermentation. This takes place right in the bottle, and Champagne ends up being less fruity and more rich and complex.
Prosecco Flavor Profile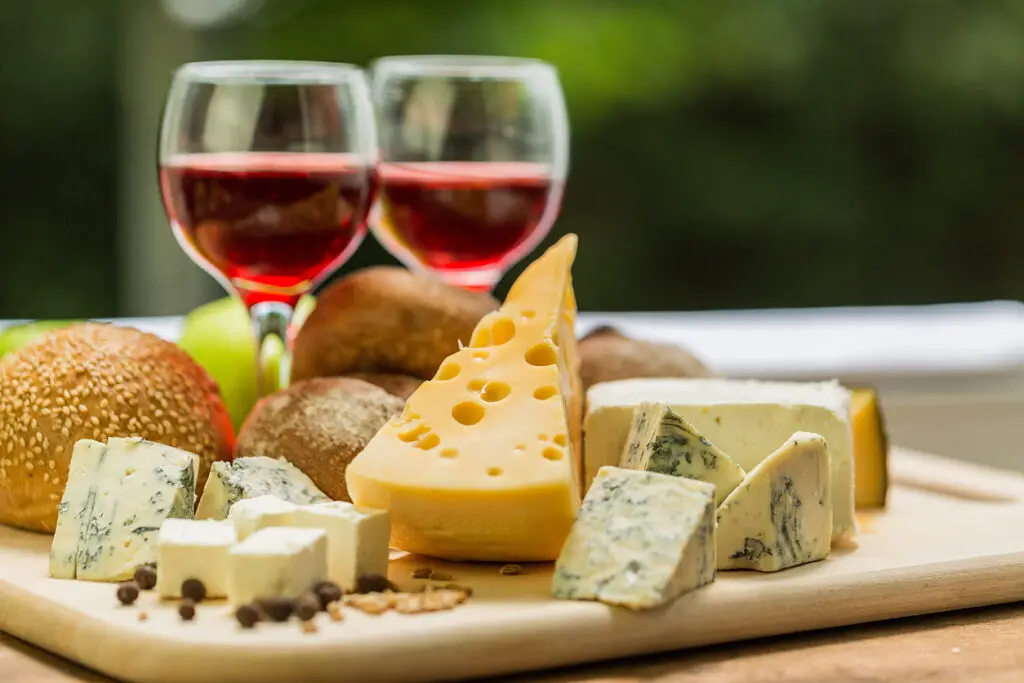 Author Note: Most Prosecco is considered to be sweeter than Champagne, but they are usually dry or off-dry with some acidity and very fruity notes. Citrus, like lemon, is the dominating flavor, as well as green fruits like apples and pears.
Prosecco sweetness levels can be different. Brut Prosecco is dry and has almost no residual sugar. Extra Dry has 12-17 grams of sugar per liter, Dry Prosecco has 17-32 grams per liter, and Demi-Sec has 32- 50 grams of sugar per liter. As you may have already guessed, the latter is the sweetest of the lineup.
Prosecco DOCG rules state that this wine may include up to 15% Chardonnay, Pinot Bianco, Pinot Grigio, and Pinot Noir, but most producers make it wholly out of Glera grapes. Adding the different grape varieties may make the wine more complex, which is great for seasons when the Glera grapes didn't grow so well.
The Charmat Method
What makes Prosecco and Champagne different is the technique used to make them. What makes a drink bubbly is the secondary fermentation, which makes CO2 bubbles. For wines made using the traditional Champenoise method, this fermentation is done straight in the bottle.
But, Prosecco's secondary fermentation happens in a tank before the wine is actually bottled.
The Charmat method is really the best method for Glera grapes. It brings out the fresh ad fruity flavors and makes Prosecco that much more refreshing and light. Prosecco is also much more affordable than Champagne, as the Charmat method is much cheaper to do.
Prosecco Styles
The carbonation levels of Prosecco are what make them different in styles. Spumante is probably the version you have noticed in stores. It has more than 3 bars of atmospheric pressure. Frizzante is much lighter with a pressure of around 1 bar and has less persistent fizziness.
Tranquillo is usually only made in northern Italy, and it is basically the Prosecco without the bubbles and fizziness. But that's the charm of Prosecco, and without it, it becomes kind of bland.
Prosecco's Regional Characteristics
Prosecco grows in a large area consisting of nine different provinces, including the above-mentioned Veneto and Friuli regions. The climate of these areas is usually hot. But, Glera grapes usually grow in cooler spots, like in shady areas or on hillsides.
Prosecco DOC is what qualifies Prosecco as real Prosecco. DOC Treviso or DOC Trieste Proseccos can be labeled only if they were made in those respective areas. Italians take their Prosecco really seriously, as you can tell.
Prosecco Superiore DOCGs define higher quality bottles, and these are the Conegliano Valdobbiadene Superiore DOCG and the Asolo DOCG Proseccos. These bottles are fully produced by hand, with no machinery at all. Even the pruning is done by hand. And you can tell why these Proseccos would be much more expensive, right?
General Cheese and Wine Pairing Tips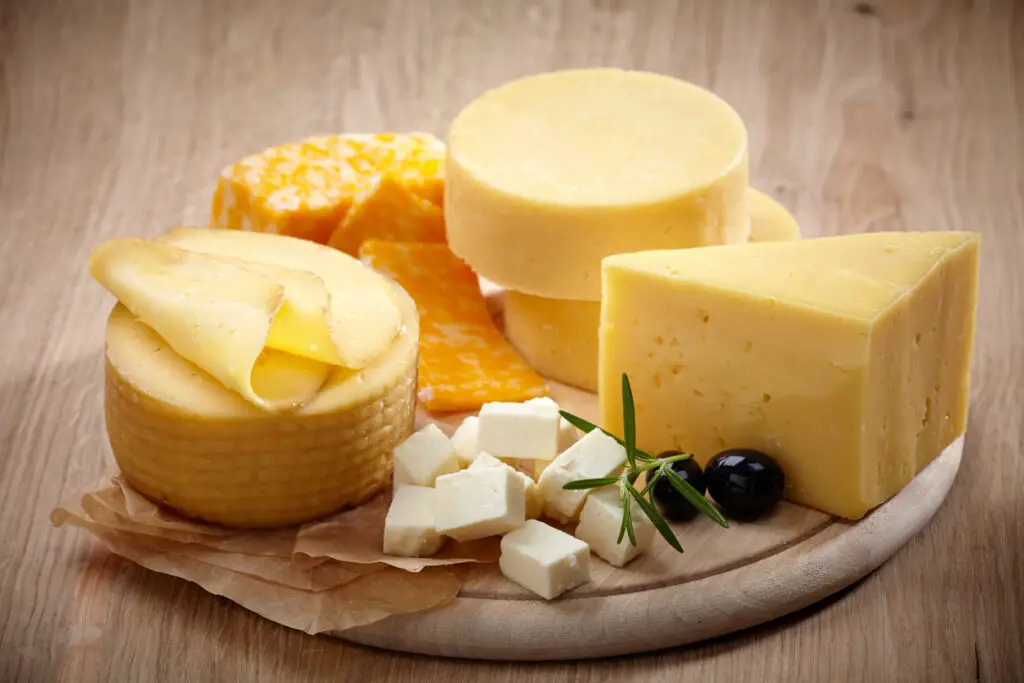 Firstly, don't think too much about this topic. Yes, there are professional pairings that are guaranteed to go well together, but it's really hard to mess up. Trust your gut. Mild cheeses go with mild wines, and strong cheeses go with strong wines.
Don't Overdo It
Author Note: More isn't always better. And this applies to cheese as well. Pairing a glass of wine with a plate full of dry, firm, and creamy cheeses really won't do too well. You are going to unintentionally create a flavor competition between cheeses, and they will taste much better on their own.
This is a good general rule for any wine pairing. With food as well, try to avoid having too many flavor profiles, so you won't have to worry about overshadowing and battling.
Soft and Mild
Mozzarella and Jack are examples of soft cheeses. These go best with mild wines, balancing the flavors out. Remember, just because cheese is soft doesn't mean it's mild. So it is best to find a mild cheese to pair with a mild wine.
Avoid Creamy and Acidic
Don't pair creamy cheeses with acidic wines. The acidic part of the wine will react with the cream in the cheese to create a weird texture. These flavors also don't go too well together as well.
Smoked Cheeses
Keep in mind that cold smoking cheeses are the only ones that can stand up to a bold and strong wine. For example, a smoked Gouda can go with any rich and complex wine without altering the flavor palate of it.
Sweet Wines and Cheese
Only one cheese is a good pairing for sweet wines. These are veined cheeses or moldy to be more straightforward. These flavors create a nice contrast without losing their own profiles. Sweet wines usually aren't paired with cheese, as they are already a bold flavor on their own. Pairing dessert with sweet wines is also not uncommon.
Sparkling Wine and Cheese
Our beloved Prosecco and Champagne tend to match well with creamy cheeses like Brie. Goat cheeses and other styles with a small amount of acidity are also a good pairing with sparkling wines.
Bold Reds
Leave the big and bold reds alone; they already have too much going on. But seriously, these wines are usually not on pairing menus. These wines are best enjoyed on their own or with a juicy and meaty dish. If you must have a piece of cheese with your wine, make sure it's a strong and creamy one.
Parmesan, Asiago, and Romano
These are aged and very strong cheeses with almost no moisture. Sparkling Wines are best with these cheeses as well as fruity reds like Dolcetto. A light and fruity Merlot may also work as a nice match. If you wish to drink a big player like Cabernet Sauvignon, these are the cheeses for you.
Brie and Camembert
These are creamy and soft cheeses. Strong reds like Cabernets are great for these cheeses. As mentioned above, these are also the perfect cheese styles for sparkling wines like Prosecco. Their soft texture and mild flavor are perfect for a sweet sparkling wine, bringing harmony and balance to the pairing.
Prosecco Cheese Pairings
Now let's get to the topic at hand, matching Prosecco with cheese.
Soft Cheese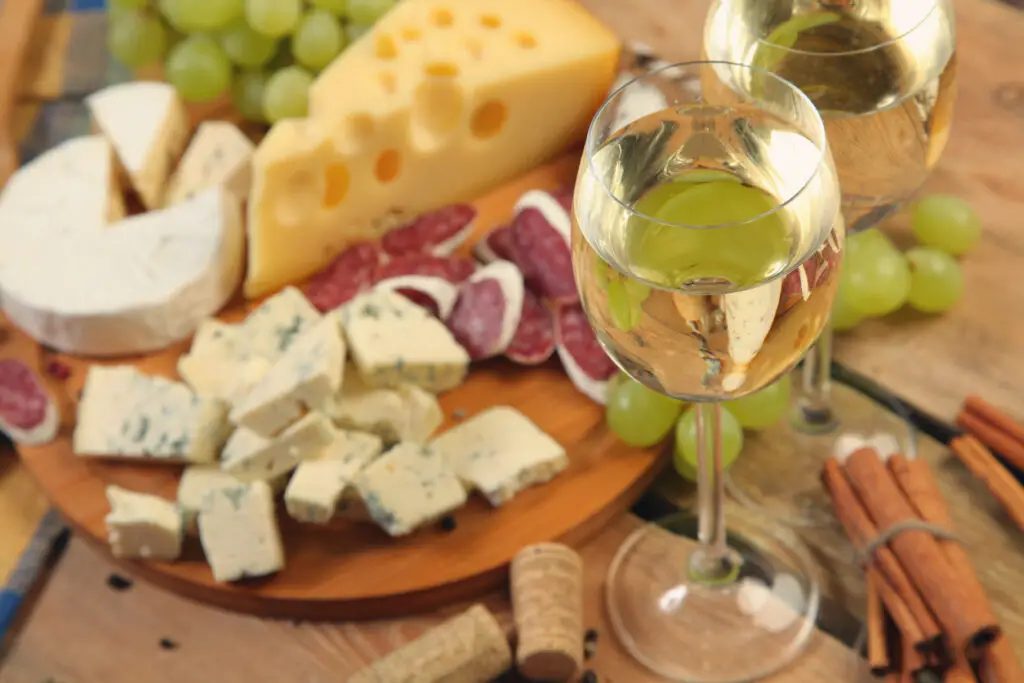 Prosecco goes well with cheeses that are slightly earthy instead of sweet. Soft cheeses like Camembert and Brie are the perfect rich flavor profiles to match with Prosecco.
Parmesan
Author Note: Prosecco is very sweet on its own, so the mature flavor profile of Parmesan cheese provides a nice contrast. These flavors balance each other out nicely and create a delicious mix on your tongue. This is a combination you will see in many restaurants!
Baby Swiss
Aged swiss is one of our beloved cheeses, but it just doesn't match well with Prosecco. Instead, a baby swiss takes its place. Baby swiss cheese has all the good aged swiss characteristics while still being light and buttery. Gouda is also similar to baby swiss, but it is less nutty and earthy.
Colby Cheese
Colby cheese is special because it isn't very acidic and has a nice and mild flavor profile. It goes well with almost any drink, including sparkling and non-sparkling wines. It balances out the Prosecco sweetness without overshadowing it in any way.
Wrapping Up
Hungry now, aren't we? Then now is the perfect time to go to the store and pick out your Prosecco with creamy cheese. Remember, there are no strict rules when it comes to cheese and wine, so don't be afraid to create your own unique pairings.
Wine is all about emotions, love, freedom, and general good feelings, so don't restrict yourself when it comes to enjoying a glass. We hope you find the Prosecco and cheese pairing of your dreams sometime soon! We hope you enjoyed this article on Prosecco cheese pairing.
To living a full-bodied life,
Wesley