Cheese and wine are one of the best couples in the world. Even people with zero knowledge of wine kinds know that wine is perfect with cheese and the end! That is true, no doubt, but there are a few more details involved. What is the best Côtes Du Rhône cheese pairing?
The best cheese that you can pair with Côtes Du Rhône is Saint-Marcellin Fromage. French wine and French cheese is the ultimate duo! 
If we want to pair wine and cheese perfectly, we should first learn both flavors. Let's see what kind of wine the Côtes du Rhône is and why it is good with Saint-Marcellin cheese. We also will talk about other cheeses that go well with our wine. Let's get started!
Côtes Du Rhône Appellation
If you ever wondered about Appellation d'Origine Contrôlée or simply The Côtes du Rhône, AOC is one of the oldest appellations in France and is the second-largest after Bordeaux.
The region extends from Vienne in the north to Avignon in the south and from the western Massif Central foothills west to the Vaucluse and Luberon mountains in the eastern provinces, "There is no place like the Rhône". Since ancient times, the Rhône Valley has been a hub of wine culture and is just as popular today.
As we know (or not), viticulture arrived in Southern France with the Greeks in the 4th century BC. But Romans were the ones who established the vineyards and reputation of the area using the Rhône as their highway through France (and planting a few vineyards along the way).
Grape Variety in Côtes Du Rhône
Author Note: In the Cotes du Rhône vineyards, only 21 grape varieties are allowed for cultivation. The ruling wine is red, and the grape for it is Grenache, but there are less famous ones like Syrah, Mourvedre, Carignan, and Cinsault that are also grown here.
Talking about the whites, the most important grape is Grenache Blanc, but there are also Clairette, Bourboulenc, Roussanne, Marsanne and Viognier.
The wines of the Rhône Valley are divided into four categories: Côtes du Rhône AOC, Côtes du Rhône Villages AOC, Côtes du Rhône (named) Villages AOC, and The Crus
Cotes du Rhone Food Pairings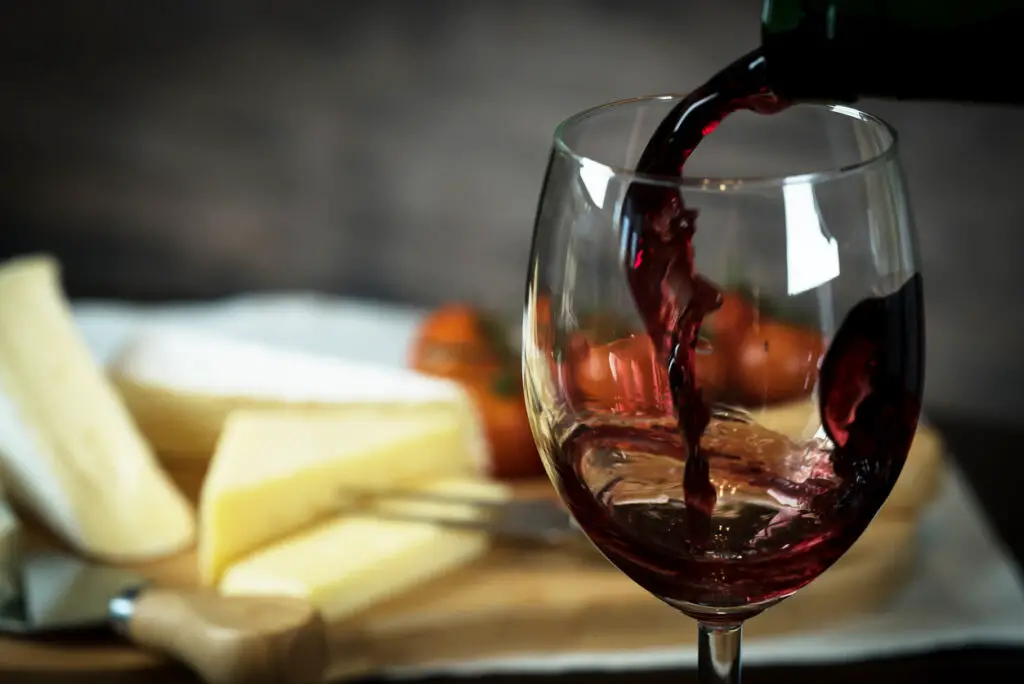 Cotes du Rhone wines are extremely food-friendly and are easy to match with a wide variety of foods. Red wines variety can be paired with any meat, grilled, roasted, braised, or stewed.
These wines are generally medium-bodied, spicy, fresh, and have red fruit flavors. They make great wine and food matches with meat-beef, pork, game, duck, lamb, sausage, veal, and Asian dishes. Reds are also perfectly paired with a wide variety of soft and hard cheese.
When it comes to white Cotes du Rhone wines, they are easily paired with seafood- any fish, shellfish, and even sushi. Whites also pair perfectly with cheese.
Saint-Marcellin Cheese
It would be ironically outstanding if the cheese Saint-Marcelin came from Rhone valley but no. It originates in the French region of Isère.
This is a soft, unpasteurized, mold-ripened cheese made entirely from goat's milk until the 13th century. Nowadays, cow's milk makes this small round and wrinkly cheese dusted with a white yeast coating.
The young cheese's texture varies from firm to very runny and has a mild, slightly salty flavor. When ripe, it is irresistible with a slightly yeasty taste. It typically has a beige crust with a soft, creamy interior. The flavor is intensely rustic, nutty, and fruity.
This is a small-sized round cheese, weighing about 80 grams (50% fat), with a mottled creamy-white exterior. The degree of runniness develops with age as the surface gains blue, then yellow, colors within two to three weeks after production. We consider Saint-Marcellin the best Côtes Du Rhône cheese pairing.
How To Pair Wine and Cheese?
And really, how to pair wine and cheese together? How do we know which cheese is suitable for a particular wine? These are actually the most common questions food bloggers get asked, what type of wine should I be having with this cheese or that cheese?
The first piece of advice we have prepared for you is don't think of red wine. Yes, you read this correctly. White wines are better with cheese than any red (there are some exceptions for sure).
Why? Because the acidity of white wine is much better at pairing up with high fat and high saltiness content in cheese due to the lactose. Lactose is a sugar, and it is much better with some form of residual sugar that there is more of in white wine. And finally, the milk protein precipitates the tannin in red wine resulting in a kind of disagreeable pairing on the palate so, if you are having cheese go for white wine.
Red Wines
As a general rule for reds, wines over 14.5% ABV are more intense and taste better with more intensely flavored cheeses.
Wines under 12% ABV are less intense and match nicely with more delicately flavored cheeses.
Another tip is as cheese ages and loses water-content, it becomes richer in flavor with its high-fat content. These two attributes are ideal for matching bold red wines because the fat content in the cheese counteracts the high-tannins in the wine.
For sweet reds, they match wonderfully with stinky, washed-rind, and blue-veined cheeses. Why? The wine's sweetness benefits balance the "funk" in the cheese and make it taste creamier. They cooperate as the "stink" of the cheese will help balance the wine's sweet taste.
Cotes du Rhone Cheese Pairings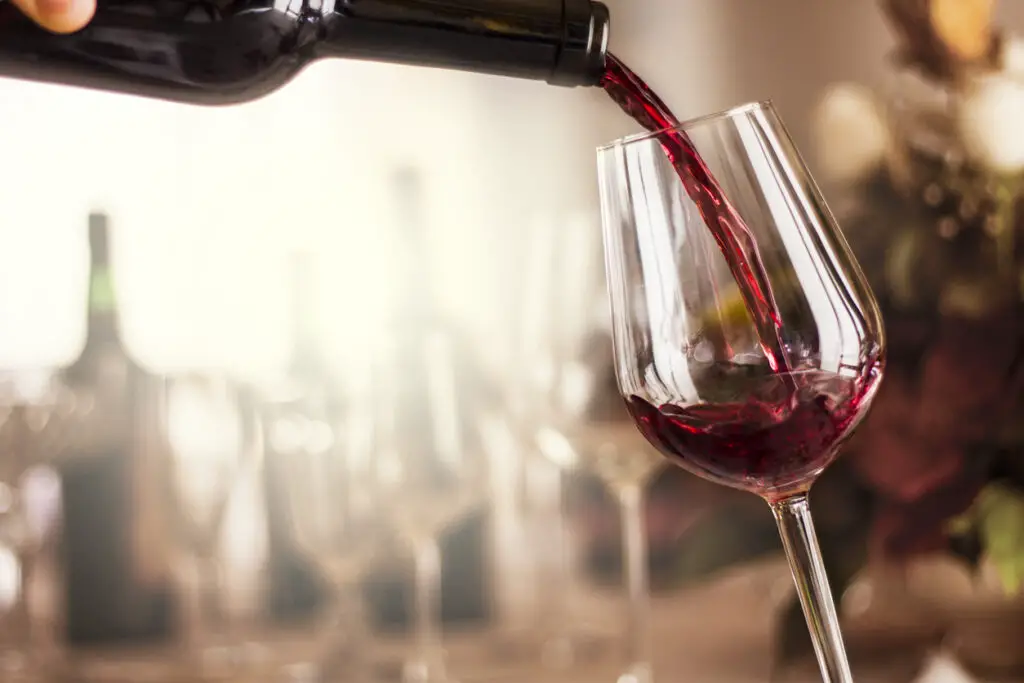 Author Note: France's southern Rhône Valley's dry plains are mostly known as red wine country, primarily the Côtes du Rhône appellation wines. These famously drinkable reds meet their match with the delicious, varied selection of cheeses on this Fromage Plate.
Côtes du Rhone red residents blend wonderfully with these cheeses. If you try putting the cheese and wine together in your mouth and you'll see what we mean.
Saint-Marcellin
This is the best couple with Cotes du Rhone. This legendary farmhouse cheese is made from the milk of cows that graze in the mountainous Dauphiné Province in southeastern France. Small rounds with a natural surface that transforms from white into brown when it ages. Under, the pâte is soft and mild but creamy.
If you can't find Saint-Marcellin in your town, ask for Saint Félicien, Vache de Chalais. These are some great alternatives for this cheese.
Camembert
Camembert is a world popular cow milk cheese from Northern France, the Normandy region. This French cheese has a soft, white, bloomy skin, luxurious ivory pâte, and a buttery, green flavor—the taste of a ripe Camembert reminds many of wild mushrooms. Brie can replace it if you have difficulty finding it. Camembert is also a really good Côtes Du Rhône cheese pairing.
Ossau-Iraty (AOC)
This is a classic sheep's cheese made with the Manech and Basco-Bearnaise ewes' milk. Aged for at least 90 days, each wheel's shape can range from region to region, with a whalebone pâte, an aroma of toasted hazelnuts, and a sweet, buttery flavor.
Any other sheep's milk cheese made in the French Pyrénées would be perfect, if not Ossau-Iraty.
Cantal (AOC)
This is a distinguished, semi-hard cheese from the central mountainous region of Auvergne. It is made from cow milk and like Cheddar, is cured with salt, which brings out its full flavor. Decadent and moist, young Cantal has a sweet, milk flavor; well-aged, it has a sharper taste.
Your other choice to substitute Cantal is Laguiole or Salers.
Comté (AOC)
Comtéis one of the most popular cheeses in France. It is produced in the lush mountain pastures of the Jura. Its firm and yielding pâte, with holes like eyes, has a nutty, slightly salty yet also sweet taste. Comté is produced during the whole year by small, cooperative dairies known as fruitières.
White Cotes du Rhone And Cheese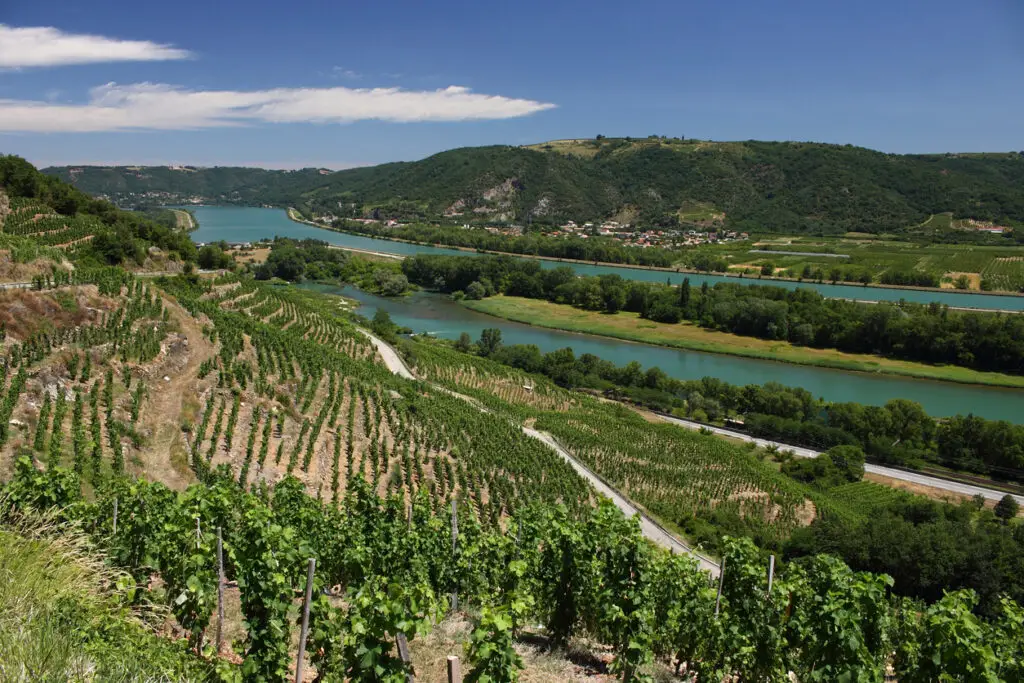 Most of the white wines in the northern Rhône valley of southern France (above the towns or Valance and Montélimarare) are made from Viognier grapes or Marsanne and Roussane blends.
Author Note: The wines can differ from lean and minerally to creamy and smooth (Viognier or Marsanne-based). Still, generally, they are moderately acidic and have more tannins than many non-Rhône whites.
Châteauneuf-du-Pape whites are good with both soft and less fatty kinds of cheese like Feta from sheep milk, but also with goat cheeses. These are made in a variety of styles from soft, fresh cheese to hard aged cheese.
Gouda also is a great option. We recommend you to try different country goat cheeses as well for variety. Take hard goat Majorero from Spain. Also, don't forget the french Mahon, Bucheron, dry Jack cheese, and Neufchatel.
Viognier and Marsanne-based whites wines are perfect with Mild Cheddar or Double Gloucester, similar to mild Cheddar. Gouda is ideal with those whites as well, or even Smoked Gouda.
The parade of Spanish sheep milk cheeses such as Manchego, Monterey Jack, Triple Creme, St André, St Nectaire Zamorano are also a great match. Also, look for Chaumes, Brie, and Camembert, which can be with or without rinds.
Farewell Thoughts
As you can see, wine and cheese do go together, but a few rules apply when it comes to different flavors. Of course, similar to everything else in cuisine, there are no laws. Feel free to follow our guide or freestyle with your favorite cheese and wine. You may find your next favorite combination out of nowhere!
There is no hard-and-fast rule: make your own up and enjoy every minute in the kitchen. Use our tips to help you along the way, but don't be afraid to make a surprising turn in another direction. We hope you enjoyed this article on Côtes Du Rhône cheese pairing.
To living a full-bodied life,
Wesley