Sangiovese is one of the most popular wines in the world, and yet somehow, we still think it's one of the most under-appreciated. As the main grape from Chianti, it is usually associated with mass-produced wine that's found in jugs or is hung above the bar in a basket. But, when it is produced by an experienced winemaker, it ranks amongst the finest and most balanced rich wines in the world. Now you may be wondering what is the best Sangiovese cheese pairing?
The most classic option for pairing cheese with Sangiovese is Tuscan Pecorino. Blue cheese, fontina, Mozzarella, and parmesan also pair well with Sangiovese.
Read on to have a closer look at Sangiovese wines and their pairings.
A Bit of Sangiovese History
We can't really go ahead in our text without some backstory.
Some historians say the Sangiovese grape dates back to the Etruscan era, and that means it was mostly cultivated in Tuscany. Others say the Sangiovese grape origins lie with the Romans and their winemaking. It was noted for the first time in a 16th century essay by the agronomist Gian Vittorio Soderini who stated that a certain Sanghiogeto grape which was good for making wine.
Of course, there isn't any clear evidence that the Sanghiogeto would be the same as Sangiovese, even though it is officially considered as the first written mention of this grape sort.
In the 18th century, the Sangiovese started to become popular and planted all over the area. In 1773, the famous Cosimo Villafranchi talked about the Sangiovese grape in his" l'Oenologia Toscana" when he discusses grapes used to make Chianti. Mainly it was a mix of Canaiolo Nero, Sangiovese, Mammolo, and some Marzemino.
Baron Bettino Ricasoli, the owner of Castello di Brolio and the inventor of Chianti wine, provided a new recipe for winemaking in the 19th century, which included the Sangiovese grape as an integral part. The new method meant using 7/10 Sangiovese, 2/10 Canaiolo, and then Malvasia del Chianti for the rest. A variation of this formula is still used today for producing Chianti wine. Since 1996, white grapes have not been found in the blend of Chianti Classico wines.
Sangiovese Regions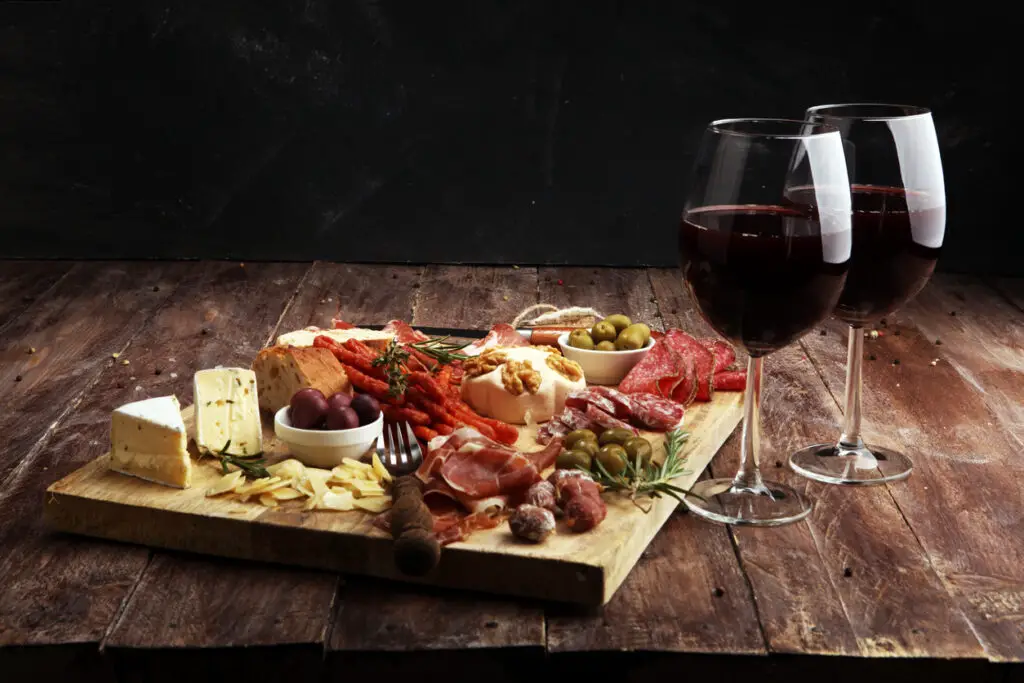 Before moving to the food pairings, let's first see where Sangiovese can be found. Due to its great features, the Sangiovese variety is planted worldwide. According to statistics, there are over 175,000 acres of land planted with Sangiovese. The top regions for Sangiovese are Italy, Australia, France, Argentina, the USA, and others.
Italy
Author Note: Roughly 10% of all grapes in Italy are of the Sangiovese variety because Tuscany is its origin land. There is also a strong presence in the areas of Campania of southern Italy, Romagna, and Umbria.
France
Island Corsica has a tradition of cultivating Sangiovese. In fact, it is in the top three biggest producers of Sangiovese in the world. This variety is also called Nielluccio. It was initially brought to the island sometime between the 14th and the 18th century by settlers from the Republic of Genoa.
United States
According to many sources, the Sangiovese variety first came to California in the latter part of the19th century. But, it wasn't particularly popular or successful for quite some time. This was true until the 1980s, when people started to really notice the Sangiovese variety.
In the early 1990s, 200 acres of Sangiovese was growing in California. In 2013, this number increased to around 3,000 acres all around the state. Most of these vineyards were in Napa Valley, Sonoma, Santa Barbara, San Luis Obispo, and Sierra Foothills.
Argentina
Just like in the United States, Sangiovese came to Argentina during the 19th century by immigrants from Italy. Nowadays, most Sangiovese crops can be found in the Mendoza region, especially in San Juan and La Rioja.
Australia
Sangiovese has slowly become Australia's favorite red grape for wine. The first vines were planted by the Commonwealth Scientific and Industrial Research Organisation (CSIRO) in the late 60s. This was a clone version of the Sangiovese variety.
The first commercial vines were planted in the Barossa Valley sometime during the 80s. Soon, new plantings of Sangiovese were made. In 2008, the variety covered roughly 1.280 acres. Along with the Barossa Valley, the Sangiovese variety is now present in Margaret River and Karidale, Young and, Great Dividing Range (Victoria), Strathalbyn, and many other areas.
Other Regions
In addition to the areas already mentioned, Sangiovese is also grown in South Africa(Darling, Stellenbosch), New Zealand(Auckland), and even chilly Canada(in Ontario and British Columbia). Only ten wineries in South Africa produce Sangiovese wine.
Sangiovese Wine Profile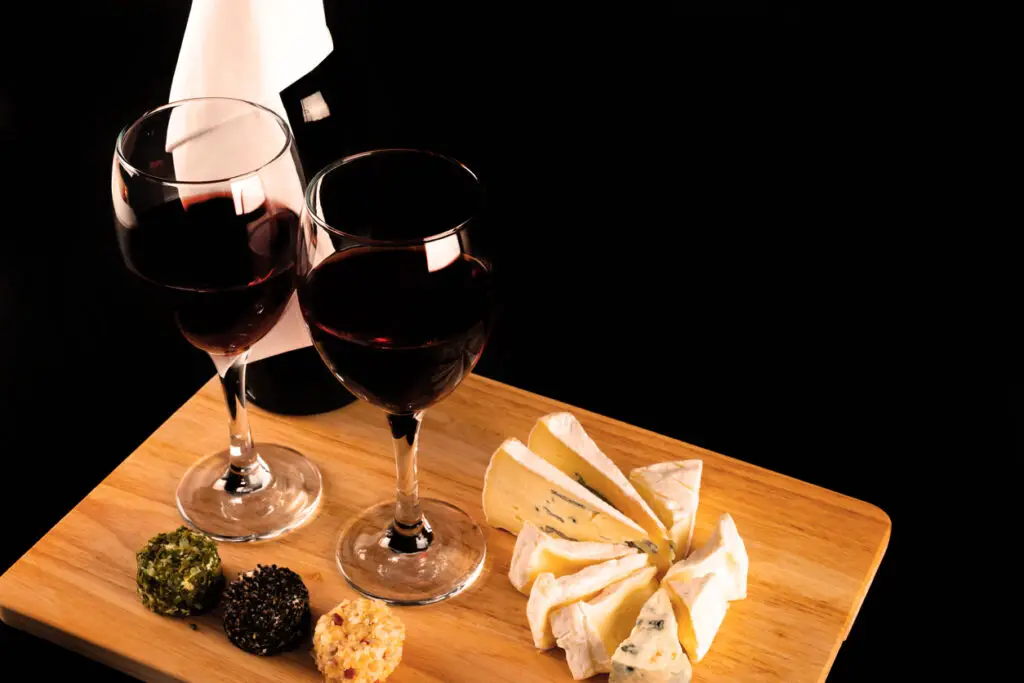 Sangiovese wines are usually very tannic but also balanced with high acidity. It is dry with a light to medium body and tastes just delicious. With one sip, you will notice savory flavors like black stone fruits and dark cherries in a good glass of Sangiovese.
Top Tip: There will also be secondary hints of tomato leaves, spices, sour cherries, and dried herbs. If oak has been used in the aging process, then rich flavors of plums and wild raspberries can also be expected.
The high acidity of Sangiovese wine will express red fruit characteristics, hints of black tea, tobacco, and chocolate. The flavors of Sangiovese also vary according to how and where the vines grew.
Sangiovese Food Pairings
Sangiovese is a very versatile wine and goes with many different foods. The most classic combination is with tomato. Pairing this wine with tomato-based sauces like pasta with red sauce is perfect for any evening. Prepare spaghetti and meatballs with marinara sauce, such as ravioli Alla marinara will be brilliant with a glass of Sangiovese.
Florentine-style steak or technically any grilled steak is perfect for this wine. Use meat from the loin, then marble, and cook it on live charcoal or fire. The temperature of your grill should be boiling and very hot, and the result will be a steak with grill marks with a rare inside. Add a sprinkle of salt and get your glass of Sangiovese ready. If you aren't a lover of meat, don't fret! Grilled vegetables are also a great pairing with this red wine.
A pizza with roasted veggies is also great! The richness of a good beef stew will help slice through the tannins in the wine. Sausages also taste delicious with this wine when you are in a hurry. Especially barbecued sausages are an absolute treat for Sangiovese!
In general, any dish flavored with herbs and spices, mainly thyme, oregano, basil, and sage, is an amazing companion to Sangiovese.
Sangiovese Cheese Pairing
Sangiovese is the basis for Chianti, Brunello di Montalcino and lots of other "Super Tuscan" wines, and these wines offer firm tannins, good acidity, rich fruitiness, and some herbal aromas. Cheeses that pair well with Sangiovese wine are aged Tuscan Pecorino, blue cheese, Grana Padano Stravecchio, and aged Asiago.
Out of the more easily found cheeses that pair well with Sangiovese are parmesan and Mozzarella. All these cheeses complement the wine's acidity and flavor perfectly.
General Wine and Cheese Pairing Rules
Now that we know the best cheese for Sangiovese, let's figure out why these pairings work. There are many delicate details to pairing wine and cheese! When trying out a combination, think of their elements that make them unique and individual.
Then find suitable complementary or contrasting pairings. Here are four essential tips to help you create the best combinations.
The Intensity of the Wine
The first essential factor is the intensity of your wine. A light wine will go perfectly with a cheese that is light and unaged, like Mozzarella. On the other hand, a more full-bodied is an ideal pairing with a more complex cheese such as Gouda.
Contrasting of Flavors
The second tip to pairing wine and cheese is to mix salty and sweet together. A glass of sweet wine with a salty cheese is going to create the perfect contrast to bring out the hidden flavors in your wine. A slice of Gorgonzola-style blue cheese with a glass of sweet wine is perfect for any occasion. The acidity in the wine causes you to salivate, and this makes up for the saltiness of the wine.
Contrasting of Textures
The third rule to finding the perfect wine and cheese pairing is to contrast sparkling with creaminess. Weird as it may seem, a creamy cheese like Camembert is amazing with some sparkling wine. The crisp acidity of the wine will cut through the creaminess of the cheese and offer textural contrast.
Regional Attributes
Author Note: Many winemakers usually make a point of pairing wine with cheese from an identical region. Both the cheese and wine are going to express the flavors of their terroir, so with a similar combination, you can't really go wrong.
Soil, climate, and other environmental factors of the area will really show on your palate when you combine cheese and wine from the region.
Our Last Glass
Sangiovese is a versatile wine that is probably one of our favorites ever. It is the perfect balance of fruity notes and herbal tones and goes well with almost any dish. Keep our guide foods in mind when preparing the menu for your dinner party, but do not let us limit your choices. We hope you enjoyed this article on Sangiovese cheese pairing.
If you want to experiment, feel free to do so. After all, who knows what amazing new combination awaits you on your journey! We wish you luck in all your wine and cheese endeavors.
To living a full-bodied life,
Wesley