Many people tend to think that putting any wine on the table at a dinner party will do. But, pairing food and wine is a delicate art. There are many small details in flavor and texture that most people are unaware of. With that being said, what do red blend wines pair with?
Red blend wines pair excellently with fatty meats and bold-flavored dishes. Heavier red blends are great with steak or lamb. More subtle red blends are perfect for most meals, from pasta to Brazilian food.
Now, let's have a closer look at what do red blend wines pair with.
Red Blend Wines
Red blends are essentially any red wines with more than one type of grape in the final bottle. This category contains lots of different combinations, and red blends vary significantly in flavor, aroma, age, color, and structure.
The tradition of blending wines dates back many years, back to when mixed vineyards were insurance against the wrath of mother nature, and a reliable harvest was much more important than flavoring.
Like the Avengers bonding together for the good of mankind, a perfect blend can help express the extraordinary qualities of typical grape varieties. Today, many winemakers form blends by layering the unique characteristics of different grapes, like Petit Verdot's color, the spicy aroma of Cabernet Franc, or the fruity notes from Merlot. It's what makes these modern wines so mouthwatering.
Author Note: Just like the Avengers, the combined characteristics of a blended wine are stronger (and more delicious) together than the grapes on their own. Similar to how Ironman couldn't save the world on his own, Merlot alone isn't that powerful either.
History of Red Blends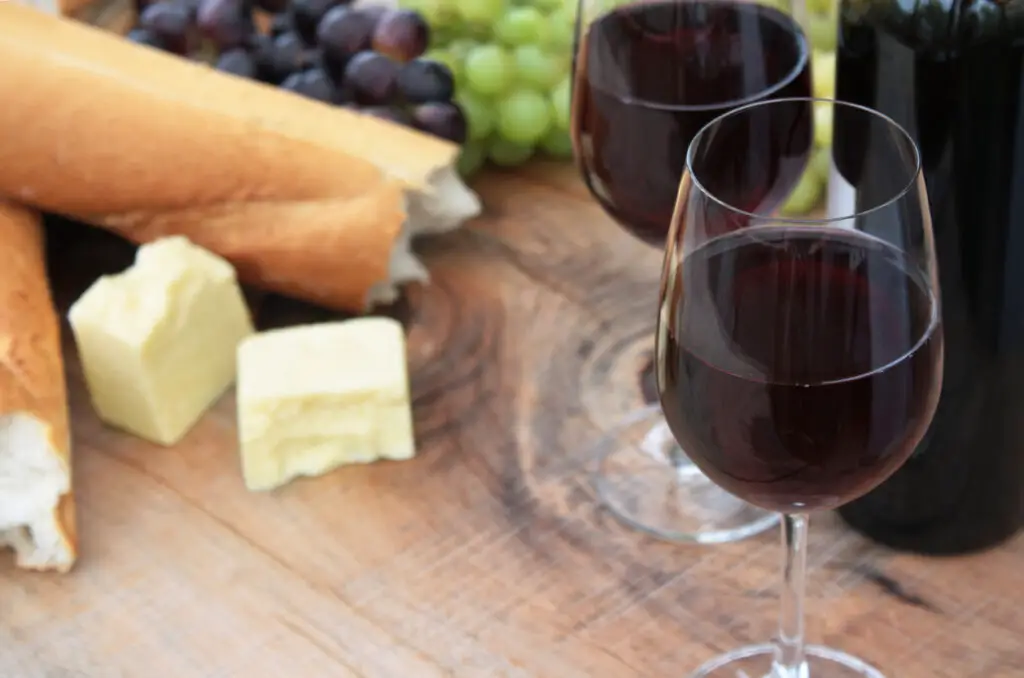 Despite the flavor-centric mixes that exist today, the history of blended wines has nearly nothing to do with flavor. In fact, the practice of mixing wines for their aromas and flavors only became popular in the 1800s, centuries after wine connoisseurship became trendy.
Historically, a need for reliability and for having wine every season is what inspired blends, especially the Bordeaux ones that are still loved worldwide. Like having the Avengers on call, planting a mix of grapes acted as an insurance policy for protection against destruction by pests, bad weather, and even war.
In the color, maritime climate of Bordeaux, where early rains can obstruct ripening and late springs can destroy a harvest at its onset, this insurance policy was vital. With inconsistent weather patterns that made ripening hard for red grapes, blends provided farmers with more dependable harvests and more dependable wines. The five grapes that can be used for red Bordeaux wine require similar but not the same nutrients, so interplanting them helped winemakers win against Mother Nature. Even today, this planting practice enables the region to provide exceptional wines, no matter the conditions.
For example, Cabernet Sauvignon has trouble ripening when it's cold, leaving farmers with acidic and tannic grapes. On the other hand, Merlot and Cabernet Franc can become fully ripe with less heat and sun. Mixed together, these three make for a tasty wine, and no fruit is gone to waste.
Different Varietals Working Together
Blending ripe Cabernet Sauvignon with unripe Merlot both balances the high alcohol of Cabernet and helps Merlot taste fruitier. Blending Petit Verdot and Malbec into the mix further save Bordeaux growers and winemakers from potential loss.
The Bordelaise weren't alone in blending wines. Across European wine regions, planting a variety of grapes was very popular and helped ensure a stable crop no matter the season. Chianti, the Sangiovese-based Tuscany red, is still a blend, with up to 20% non-Sangiovese in most bottles.
Châteauneuf-du-Pape from the Rhone valley, Italian whites, Spanish Rioja, and Portugal's reds have also been blended for many centuries. In the same way, most American vineyards were planting blends to guarantee a good harvest in every vintage, despite the foreign climate.
Traditionally, interplanted vineyards were processed together, giving winemakers less control for the final flavor characteristics of their wines than they do today. While the flavors likely weren't as detailed and delicious as today's blends, the balance between ripe and underripe grapes in the final bottles was perfect.
Even though modern technologies like irrigation can help solve some vineyard uncertainties, blends still serve their insurance purpose today. Especially in difficult climates like the New York Finger Lakes or Champagne, blending is still critical to producing high-quality wine. We're lucky that most winemakers can now focus on blending for unique flavors, but if droughts and other climate issues start terrorizing vineyards, everyone will once again be thankful for the existence of blends.
Characteristics of Red Blends
Before we get to the food portion, let's go over some of the most popular red grapes in blends. Keep in mind that there are hundreds of combinations out there, so we will focus on some well-known ones. This impacts what food red blend wines pair with.
Cabernet Sauvignon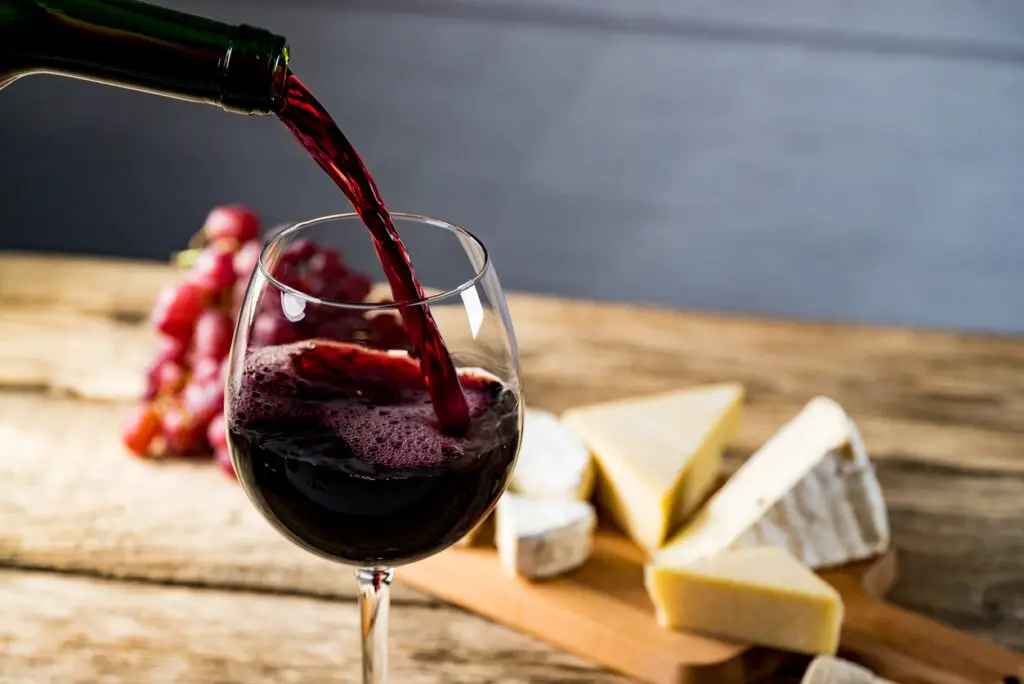 As the king of red wines, Cabernet is remarkably steady and consistent in growth. It is planted in many appellations and provides wines with depth, richness, and longevity. Bordeaux has used this grape since the 18th century, always blending it with Merlot and sometimes Petite Verdot. This makes for a delicious and complex wine.
At its best, Cabernet alone produces wines with intensity and flavor. It expresses notes of currant, black cherry, plum, and spice. You may also notice some herbs, olives, mint, tobacco, cedar, and anise, along with ripe, fruity notes. In warmer areas, it can be fragile and elegant; meanwhile, in cooler areas, it can be vegetal with hints of bell pepper, oregano, and tar. The best Cabernets start out dark purple in color, with strong acidity, a fuller body, lots of intensity, concentrated flavors, and tannins.
When mixed with other blends, these are what Cabernet Sauvignon grapes will add to the mix. Most wines with this grape tend to taste fruity and delicious.
Merlot
Author Note: Merlot is the red-wine famous from the 1990s: its popularity has increased along with its acreage, and it seems that many people just can't drink enough of it. It dominates in Bordeaux but can also stand alone.
Several styles of this grape have emerged. One is using it in a Cabernet-style Merlot, which has a high percentage (up to 25%) of Cabernet, similar cherry and currant flavors with firm tannins. Another is less dependent on Cabernet, softer, more supple, less tannic, and has more herb, cherry, and chocolate notes. A third style is a straightforward and light wine. This is also the type fueling Merlot sales.
Just like Cabernet, Merlot can benefit from some mixing because Cabernet can give it a color and tannic strength. It also goes well with oak. Merlot becomes softer with age, but often the fruity flavors fade, and the herbal notes start to dominate.
Pinot Noir
Pinot Noir, the iconic queen of Burgundy, is a great variety. These wines offer classic black cherry, spice, raspberry, and currant notes and an aroma that is associated with wilted roses, earth, tar, herbs, and cola. But, it can also be rather light, simple, vegetal, herbal, and even weedy. It can also be downright funky, with strong barnyard aromas.
Pinot Noir is actually the most fickle of all grapes for growing: It reacts badly to environmental changes such as heat and cold waves. This grape is also difficult to work with once picked because its thin skin is easily broken and bruised, wasting the delicious juices.
Pinot Noir is a classic Burgundy grape and also Champagne. But, the time-consuming process of working with this wine is truly worth it. It expresses itself beautifully in any red wine blend, and we can't stress how delicious these combinations are.
Red Blend Food Pairings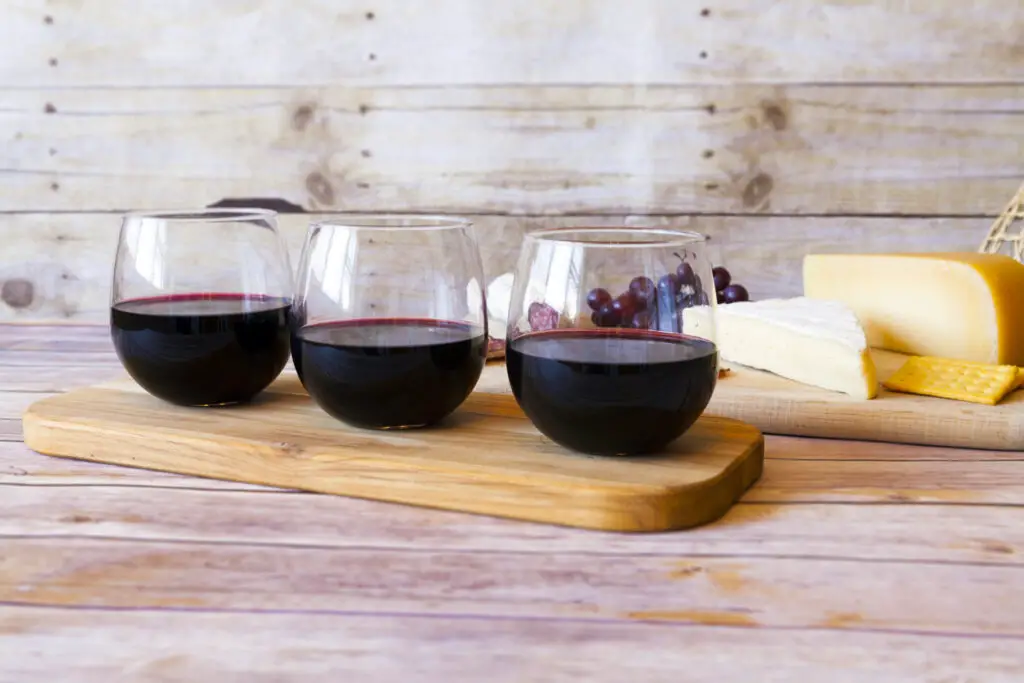 As you can already see, red wine blends can be very different. So, a good red blend and food pairing really depend on what type of grapes are in your bottle. For more information on the specific wine and food pairings, check out our blog to learn more.
Although red blends vary greatly in body, acidity, flavor, and alcohol percentage, a general guideline is that they usually pair well with rich entrées and meat-centric dishes. Most red blends are powerful on the palate, so fuller dishes are ideal. A heavy red blend is great with steak or lamb, while other moderate styles can really add to lots of meals from pasta to Mexican food.
Because of the range of red blends available, there are very few foods that should be avoided. But as a general rule of thumb, stay away from light dishes like seafood and raw dishes like salad. These will not complement your chosen red blend very well.
Top Tip: These same rules apply to cheeses as well. If you are trying out a heavy red blend, then go for a stronger and older cheese like an aged gouda or mature cheddar. With a light blend, we recommend a light cheese like Double Crème.
If your wine tannin level is high, then choose an aged cheese that is full of flavor. With a younger cheese, tannins attach too much to a rich flavor of wine, meaning the cheese will taste chalky and metallic, so avoid mixing these.
Parting Thoughts
Red blends are great as they offer so many options! But, it can be difficult to find a good food pairing due to this versatility. Finding an excellent match is done by experimentation, so don't be afraid to try something new and unexpected.
Keep our tips in mind, but if you want to go on another path, then feel free! Wine is all about personal preference. We hope you enjoyed this article on what do red blend wines pair with. A toast to a good year, good wine, and good food!
To living a full-bodied life,
Wesley