Comparing wines is something everyone does, whether it's consciously or unconsciously. Tempranillo and Sangiovese are wines loved by many around the world. But, contrary to popular opinion, they are not all that similar. So, let's try to understand the main differences between Tempranillo vs Sangiovese.
Tempranillo tends to have darker fruit notes than Sangiovese, with flavors of dark plum and blackberry. It also has earthier hints of leather and herbs. Sangiovese wines usually have higher acidity and tannins than Tempranillo.
But these wines deserve more than a short summary, so let's get into it the details of the differences between Tempranillo vs Sangiovese.
Tempranillo
Tempranillo is a red grape that is actually the third most-planted sort in the world. It is most popular in Spain since it is the main grape of the Rioja red wines. Because it is usually blended with other grapes, Tempranillo is not a well-known name, but it does have a long history of complex wines.
A Glass of History
Author Note: Tempranillo is an old grape variety, dating back to the ninth century. It originated in the Iberian Peninsula, and the majority of plantings today still take place in Spain, although it is now also an essential part of Portuguese Port wines.
Tempranillo has also reached new world wine regions such as California and Mexico. The name of this grape comes from the Spanish Temprano, meaning "early," as this sort tends to ripen a few weeks before other grapes in the area.
What Are Tempranillo Grapes Like?
These juicy grapes have fairly thin skins, which leads to the production of a ruby-colored wine. Tempranillo is already medium-bodied on its own, but it is usually mixed with Garnacha, Mazuelo, and Graciano grapes to create a more full-bodied wine. It has low acidity and smooth tannins. These grapes can age for decades and result in a luxury wine.
Where Does Tempranillo Grow?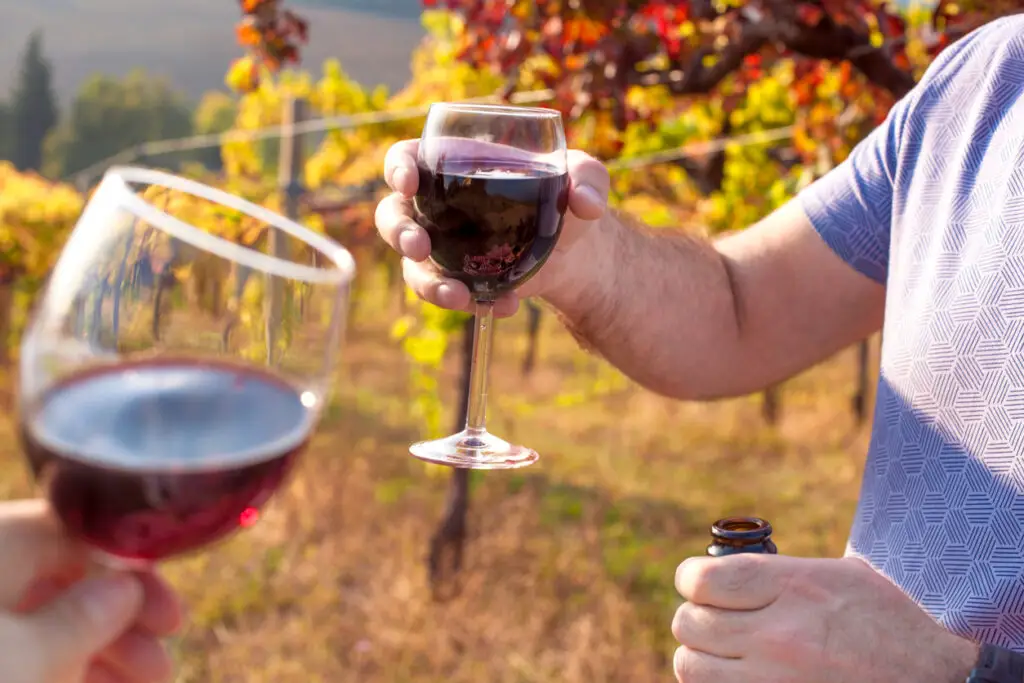 Tempranillo is a very adaptable vine that prefers sandy, chalky, or limestone soils. Although it grows better in hot weather, Tempranillo is also able to withstand climates cooler than other Spanish grapes. This is where the differences between Tempranillo vs Sangiovese start.
Northern Spain
Tempranillo is suited to the cooler areas of La Rioja Alta and Rioja Alavesa in Spain. Northern Spain also has many warmer regions that have a large difference between daytime and nighttime temperatures, so tempranillo grapes can ripen while maintaining their acidity, which is naturally low.
Northern areas where Tempranillo grows well include Navarra (near Rioja); Toro, where the grape is called tinta de toro; and Ribera del Duero, where it is Tinto Fino. Tempranillo can also be found in Catalonia on the Spanish-French border, where it is called ull de llebre.
Central Spain
Tempranillo that is grown in the central Spanish wine regions close to Madrid is called cencibel. As opposed to other Spanish grapes, this one doesn't accumulate a lot of alcohol in warmer climates, so it can also grow well in hot areas such as Valdepeñas in La Mancha, where it is usually mixed with late-ripening cabernet sauvignon.
Portugal
Tempranillo is actually the most planted grape in Portugal, where it is called Tinta Roriz (in the Dão and Douro regions) or aragonês (in Alentejo). This sort, along with Touriga Nacional and Touriga Franca, is the main grape used to produce Port, Portugal's historically significant wine.
Because of its tendency to adapt to different temperatures and soils, vine growers also experiment and succeed in cultivating these grapes in various areas such as Texas, California, and northern Mexico.
What Are the Varieties of Tempranillo Wine?
The most expensive and exclusive tempranillo wines are made in Rioja. The Rioja wine classifications are based on the time they have spent aging and not on their vineyard sites. Usually, Rioja wines will be labeled "Joven," or young, when they haven't spent a lot of time in a barrel and aren't part of the classifications.
The aging requirements are:
Crianza wines must be aged for at least one year in a barrel followed by a year in the bottle.
Reserva wines have to be aged for at least one year in a barrel, and then in a bottle until it is at least three years old before the release.
Gran Reserva wines must be aged for at least two years in barrel and then three years in a bottle before saying goodbye to the winery. These wines can be drunk upon release but can also be aged for decades to come.
What Does Tempranillo Taste Like?
Wines made from tempranillo grapes are usually dry. Tempranillo is recognized for its plush texture and layered aromas and flavors that can be savory, fruity, or woody.
Tempranillo's savory notes are:
Tobacco leaves
Earth
Barnyard
Leather
Tempranillo's fruity flavors are usually similar to ripe red fruits, such as:
Plums
Strawberries
Cherries
Tempranillo is almost always aged in American oak barrels instead of French ones, which provide it with strong aromas of:
Coconuts
Vanilla
Caramel
Dill pickles
Other fortified wines made using Tempranillo, like Port, are stronger and sweeter, with hints of nuts and caramel or chocolate and berry.
What Goes Well With Tempranillo Wine?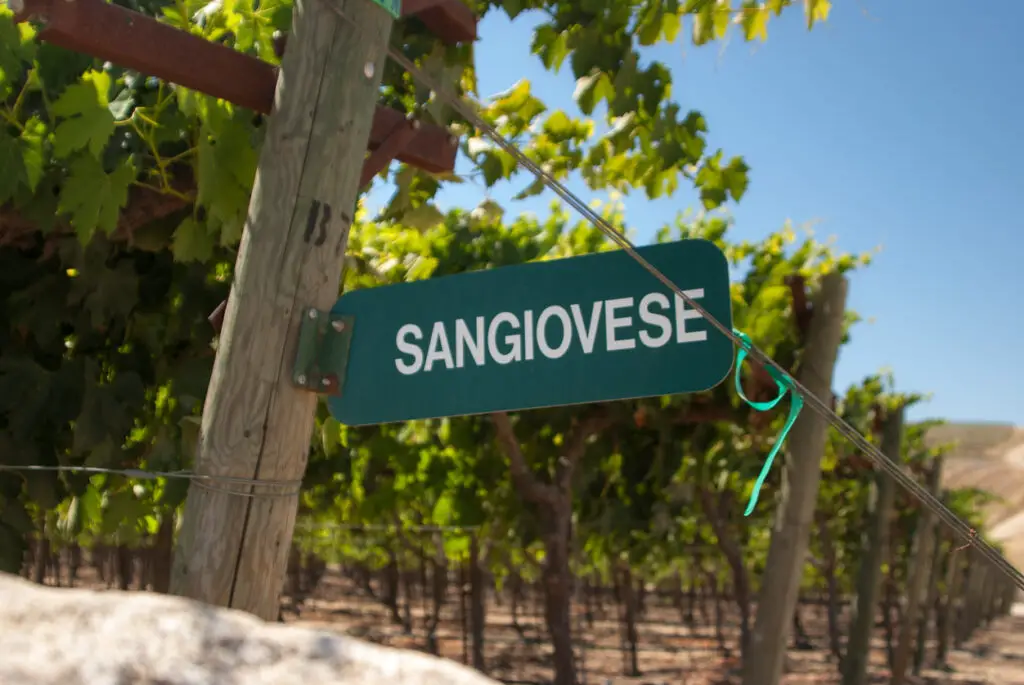 Author Note: You really can't go wrong with food pairings and Tempranillo. The savory smoothness and fruity notes of this wine complement a whole range of food, from grilled meat to tomato sauce dishes to paella. Tempranillo's moderate acidity and tannin can tone with spice-heavy foods too.
Aged Tempranillo can be a surprisingly good match with nutty cheeses like gouda, which bring out the wine's caramel and truffle notes. Okay, enough about Tempranillo, it's time to move on to Sangiovese.
What Is Sangiovese?
Sangiovese (san-jo-VAY-zee ) is a red grape that is indigenous to Italy. This beautiful name is from Latin and means "blood of Jove," a direct reference to Jupiter, the ancient Roman god.
The Sangiovese grape can adapt to and flourish in lots of environments. Because of its versatility, Sangiovese is actually one of the most diverse grapes used for making wine. The bottles made with these grapes can end up tasting drastically different, based on the climate, terroir, and process of the region. Sangiovese is also sometimes called Sangiovese Grosso or Brunello.
What Are Sangiovese Grapes Like?
Even though Sangiovese grapes tend to adopt the characteristics of their specific environments, they still maintain some common traits across regions. Sangiovese grapes usually have thin skins and a light color. They have fine tannins and tend to grow longer than most grapes.
While these grapes can grow well in most places, they actually prefer hot and dry climates in vineyards with limestone soils. The resulting delicious wine ages in barrels and usually has medium levels of alcohol, between 13-14% ABV.
What Are the Best Regions for Growing Sangiovese?
Even though this grape variety was first discovered and produced in Italy, it now grows on more than 175,000 acres of land around the world. The top Sangiovese-producing wine regions are:
Italy
Of course, Italy must still be on this list. Sangiovese makes up 10 percent of all grapes grown in this country. These grapes are famously native to the Tuscany area, but the varietal also grows in other Italian regions. These include Umbria, bordering Tuscany in Central Italy, Romagna, where the grape is known as Sangiovese di Romagna and Campania in Southern Italy.
France
The French island of Corsica is surprisingly the second-biggest producer of Sangiovese grapes, which are locally called Nielluccio. Sangiovese wines are popular in France and can be found on the table at most dinner parties.
Argentina
Sangiovese was brought to Argentina by Italian immigrants in the late 19th century. Today, the Mendoza area is home to most of Argentina's Sangiovese vinegrowers and wineries.
United States
Sangiovese became of interest in the U.S.A. after the popularity of Super Tuscan wines in the 1980s. The producing areas are usually found in Californian Napa Valley and Sonoma County, along with Washington state.
Australia
This may sound unusual, but Australia has the perfect climate for growing and cultivating Sangiovese grapes. They are grown in the Barossa Valley of South Australia.
What Does Sangiovese Wine Taste Like?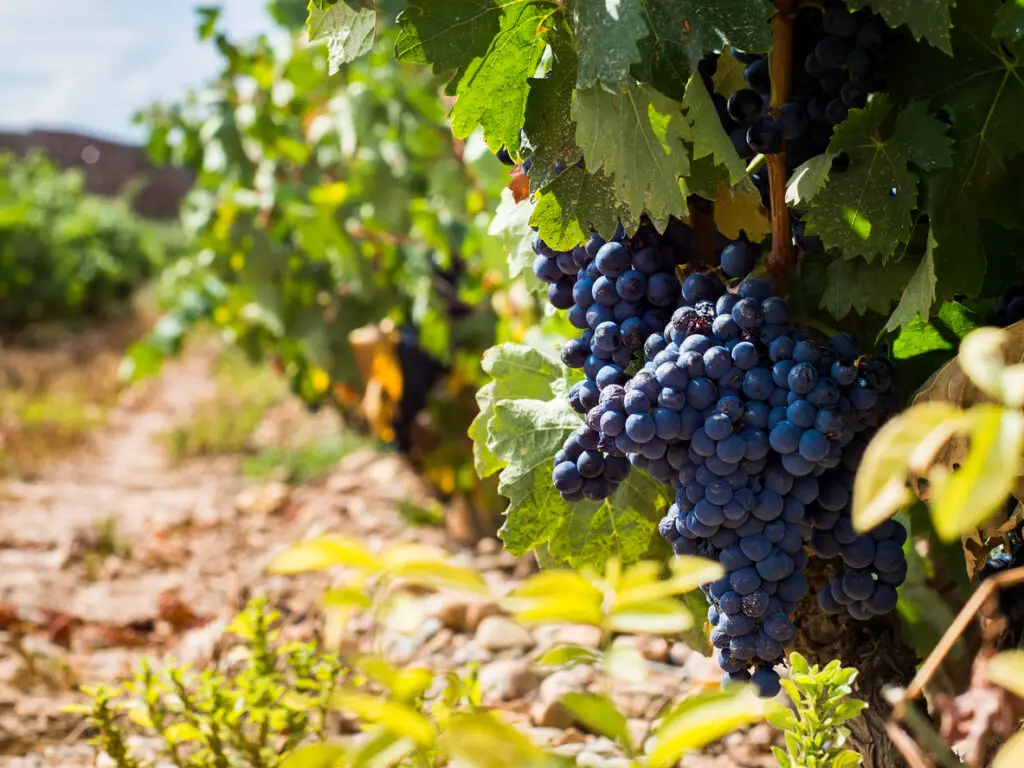 Top Tip: Wines produced from Sangiovese grapes are usually medium to full-bodied, dry, and very acidic, with some fruity and savory flavors. Common Sangiovese wines have sweet notes of licorice, plums, and cherries. Some of these notes are present in Tempranillo vs Sangiovese, but not as fruit forward.
Tempranillo vs Sangiovese
More savory hints of herbs and violets can also be noticed. The finish is usually striking, with flavors such as leather, clay, brick, tobacco leaves, and smoke.
What Are Some Sangiovese Wine Pairings?
Due to its strong flavors and textures, this wine lends itself well to more savory carbohydrates, smoky meats, and bold cheeses such as Parmesan or Provolone. A traditional Italian dish of spaghetti aglio e olio is a perfect pairing for a glass of Sangiovese.
For a fancy dinner party, grilled hibachi meat, roasted carrots, and farro salad are the perfect menu items when paired with Sangiovese.
Parting Thoughts
As you can see, Sangiovese vs Tempranillo have many differences. Everything, including their aromas, flavors, regions, and preferred climates, varies. If you are a newbie to the world of wine, you won't notice a striking difference when swapping one for the other, but they aren't the same.
So, grab a bottle from the store, make yourself a complimentary dish, and enjoy your glass of wine, whether it be Sangiovese vs Tempranillo.
To living a full-bodied life,
Wesley