Most people default to drinking beer with bratwurst and sauerkraut. It seems to be the go-to combination for many. What if you don't like beer or want to try something different? Even though many bratwurst recipes dictate they are cooked in beer that doesn't mean it is the only viable beverage for your meal. While it may seem tricky because of the drastic flavor combination, there are some wines that make a delightful companion. So what is the best wine pairing with Bratwurst and Sauerkraut?
The best wine pairing with Bratwurst and Sauerkraut is Riesling or Gruner Veltliner. Many white wines offer a balanced flavor pairing with bratwurst and Sauerkraut. Red wines with tannin can conflict and overpower this meal, yet there are a couple of lighter reds with fruit and high acid that will match nicely.
Below we will guide you on how to make a successful Bratwurst and Sauerkraut pairing and some wines that bring out the best in the meal.
A Bit on Wine Pairing
When pairing food and wine it ultimately comes down to personal preference. That said when you are starting to learn about wine it can be hard to know where to start. Some combinations can completely diminish your experience while others enhance it.
Matching the right wine and food will keep either from overpowering each other and bring out desirable characteristics in both. Think of it as adding a boost of flavor or adding balance to dominant characteristics.
There are a few guidelines you can use to help you make the most of your pairing. You want to take into consideration a pairing's aroma, flavor, texture, and intensity.
Matching similar flavor profiles is an easy starting point. If a wine has notes of black pepper try it with a dish that has the dominant flavor of black pepper. Drinking an earthy Pinot Noir with a mushroom dish enhances and increases the earthy flavors of each.
Acidic wine acts as a palate cleanser with creamy fatty foods with a lot of protein. The acid cuts through the rich heaviness creating a balanced experience.
Acidic food will leave low-acid wines feeling flat and bland. If your dish is highly acidic be sure to find a wine with enough acid to stand up to the bold dish.
Highly tannic red wine will also cut through rich fatty dishes. While the bitterness of tannin will be intensified by bitter food.
Pairing Wine with Bratwurst and Sauerkraut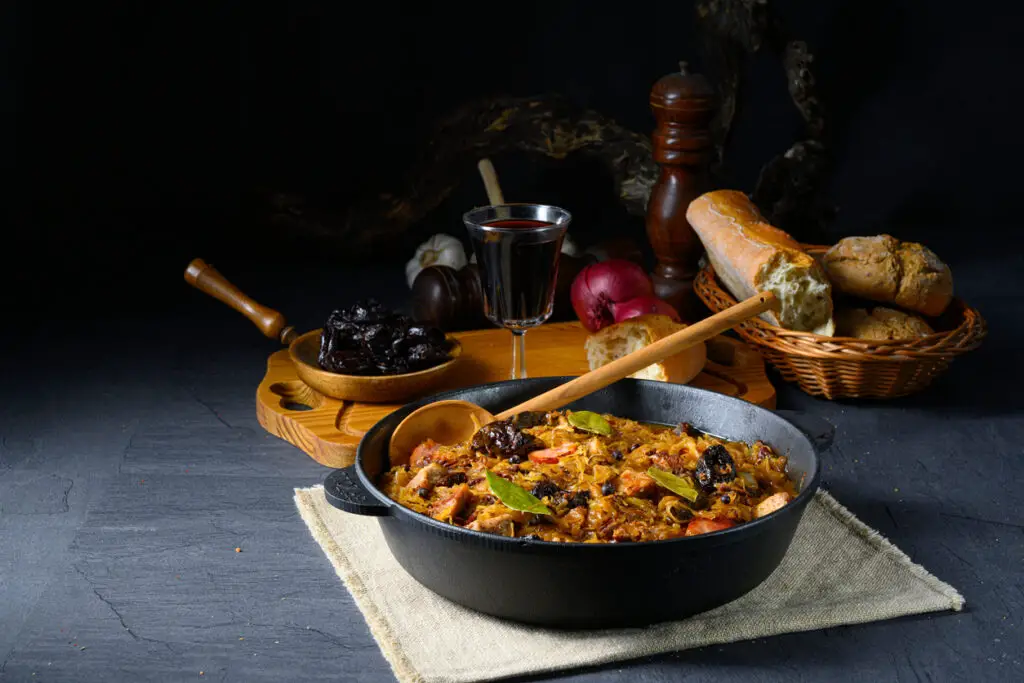 Author Note: Using the framework above let us take a look at bratwurst and sauerkraut. We often jump to pair grilled meats with red wine. This typically is a good rule of thumb, but when you add the condiments your meal takes on an entirely new flavor combination.
Bratwursts are a traditionally German fresh sausage from pork or veal. It is often seasoned with baking spices like caraway, coriander, ginger, and nutmeg.
Sauerkraut's bold unique flavor carries tons of acid. This can be a tough match for many wines. Stick to wines that have strong bright acidity to complement the sauerkraut.
If you use spicy mustard or the bratwurst has added spice, try a slightly sweeter wine to calm the heat.
If you are having big rich styled bratwursts, a drier wine will balance the heaviness.
Red wines can be very challenging to pair with a meal of rich meat and acidic toppings. It's best to choose a zippy white wine.
Below we outline some great wines to pair with bratwurst and sauerkraut. We even ventured to share a few possible red wine options.
Dry German Riesling with Bratwurst and Sauerkraut
It should not be a surprise that German wine is a classic pairing with a traditional German dish. Riesling, originally from the Rhine region, grown in cool climates is high in acid with crisp floral aromas.
German wine labels show designated classifications for quality (by grape and region) level and sweetness level.
Sweetness ranges from dry to sweet and is labeled Trocken/Selection, Halbtrocken/Classic/Feinherb, Liebliche, or Süss.
Look for a bottle of dry or half-dry Reisling labeled with Trocken, Selection, Halbtrocken, or Classic. Try a lean and zesty style for an ultimate pairing.
The zesty bright fruit flavors of apple and lime complement the savory bratwurst. It has enough acidity to not be overwhelmed by the sauerkraut.
Minerality and herbal components like beeswax, nutmeg, and ginger are a natural complement to the traditional spices in the bratwurst.
Alsace Riesling with Bratwurst and Sauerkraut
Most Riesling produced in Alsace, France is made in a dry style with higher alcohol. They have a bright vibrant expression often with aromas of lemon, pear, and flowers.
This wine is very expressive of its terroir adding a mineral component to its flavor profile.
Its high acid balances the oily components of the sausage while standing up to the bold sauerkraut. Bright and slightly sweet fruit flavors work well with the sourness.
Alsace Rieslings are aromatic wines that have the right amount of texture and body to withstand a flavor-packed meal of bratwurst and sauerkraut.
Willamette Valley Riesling with Bratwurst and Sauerkraut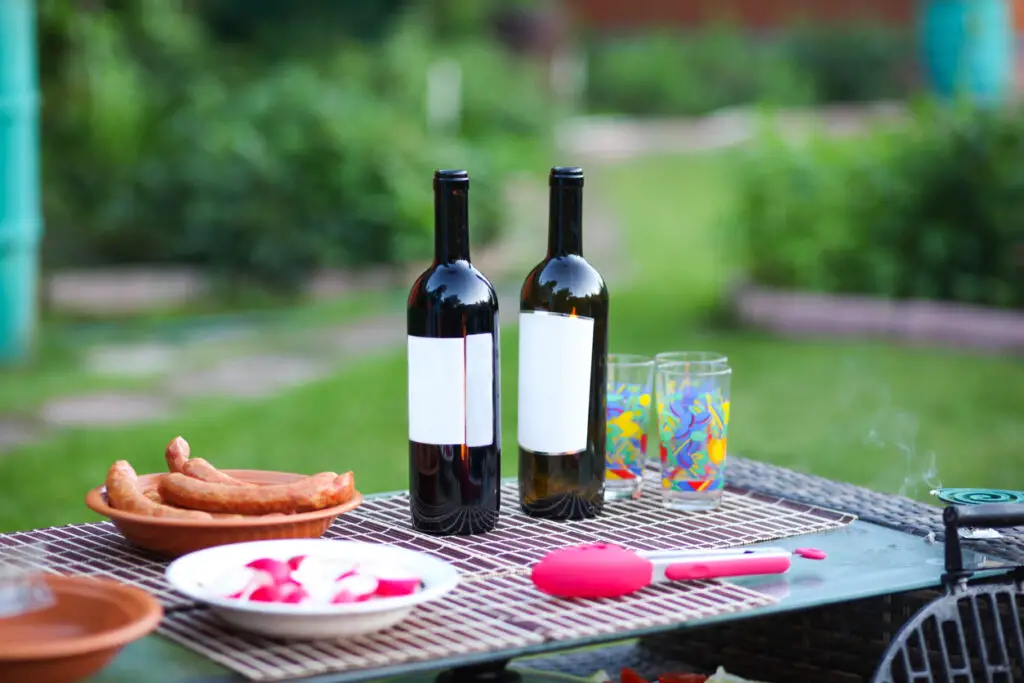 This cool climate produces wines that tend to be crisp and mineral-driven (especially with Oregon rieslings and Oregon Pinot Noir). You can find styles full of minerality, lemon smoke, and a bit of saltiness that builds up the richness in the sausage.
Look for a semi-sweet version to compliment the sauerkraut. Like other styles of Riesling, it will have bright acid that will add structure to the combination.
Gewurztraminer with Bratwurst and Sauerkraut
Author Note: Gewurztraminer is an aromatic wine much like its cousin Riesling. It typically has a more tropical flavor profile and oilier texture that plays nicely with the richness of the bratwurst.
Common flavors are lychee, rose, grapefruit, and honey. It can have notes of exotic spices, cinnamon, and tarragon. Baking spices are a good balance for the sourness of the sauerkraut.
Gewurztraminer quickly loses acidity as it ages so look for young bottles within a year or two of bottling. Acid is key to keep the wine from falling flat next to this powerful meal.
Gruner Veltliner with Bratwurst and Sauerkraut
Almost exclusively from Austria, this dry white wine can be snappy and savory. You will often find notes of stone fruit, green vegetal, lime, smoke, and white pepper. It is known to be a diverse food-friendly wine.
Gruner Veltliner is known for the pop of acidity it imparts on the palate. Again, this is a key palate cleanser for a bratwurst's richness. It also shares enough acid and complementary flavors, like lime, to match sour sauerkraut.
Alsace Pinot Gris with Bratwurst and Sauerkraut
Typical flavors of Alsace Pinot Gris include lemon, peach, and honey. This white wine has medium acidity that will complement the sauerkraut.
The melon fruit flavors and honey notes bring a sweetness that adds a nice "sweet and sour" element to the experience.
You may also find a smoky characteristic in Alsace Pinot Gris that extenuates the savory charred bratwurst.
Chateauneuf-du-Pape Rouge with Bratwurst and Sauerkraut
This popular French red wine from the Rhone region is a blend of grapes primarily Grenache, Syrah, Mourvedre, and cinsault.
It often has rich dark fruit and herbal aromas. Grenaches is characteristically producing jammy flavors when allowed to ripen.
There can be a sweet fruity finish that will bring a sensational component to a plate of bratwurst and sauerkraut. It will be similar to cooking pork with fruit like cherries or plums.
For this pairing, you will want to decant the wine to soften the tannin and consider serving slightly chilled.
Cote de Beaune Pinot Noir with Bratwurst and Sauerkraut
This French red wine is fairly high in fruit and acid. It typically has smooth tannin and body that is not overwhelming. It has savory and herbal notes that pair well with pork and veal.
The smoothness of this wine should be the right amount of impact to be enjoyed with bratwurst and sauerkraut.
Dry Lambrusco with Bratwurst and Sauerkraut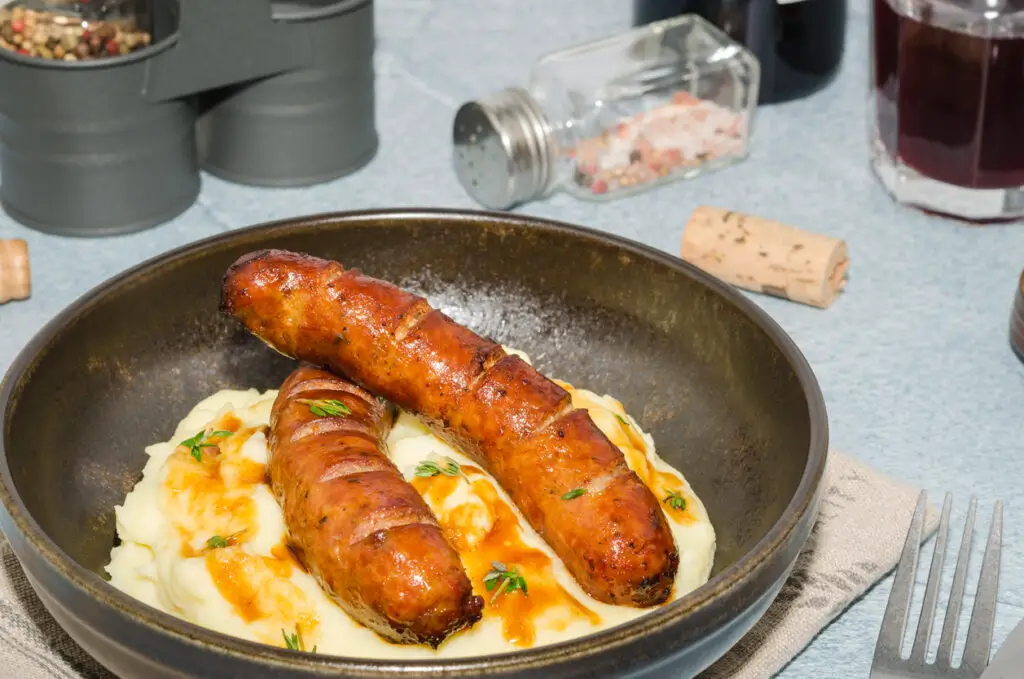 In the past, Lambrusco has gotten a bad reputation as an overly sweet cheap red wine. It has come a long way over the years. This Italian wine comes in styles dry to sweet.
Author Note: It is a lighter-bodied red wine so its tannin will not overpower the meal. Look for semi-sparkling styles that are dry called secco or slightly sweet called semisecco. These are extremely food-friendly wines.
It's ripe fruit flavors complement the savory and sour components of the dish. The subtle texture of the bubbles add a fun texture and cleanse the palate.  
Zweigelt with Bratwurst and Sauerkraut
Zweigelt is a red wine from Austria that is not very well known. Its flavor profile is very similar to Pinot Noir bursting with tart red fruit and a little black pepper.
It has low tannin and a lighter body so it will not compete with bold meals.
Served chilled on a hot summer day it is fantastic acidic wine to break through the fat proteins in the bratwurst. Flavors like sour cherries in the wine work wonders with sauerkraut.
Conclusion
Bratwurst and Sauerkraut is a beloved dish that can be enjoyed with wine as much as the traditional beer. Why not have several different drink options on hand?
Because of its richness and tangy acidity wine paring with bratwurst and sauerkraut can seem a bit daunting. If you remember a few key rules like matching complementary flavors and acidity you will end up with an enjoyable experience.
It is best to pair this meal with a crisp white wine like Riesling or Gewurztraminer. If you are set on drinking red, opt for a low-tannin medium body wine with a lot of fruit and acidity.
As always, drink what you enjoy and never be afraid to experiment. we hope you enjoyed this article on wine pairing with Bratwurst and Sauerkraut. Prost!
To living a full-bodied life,
Wesley