Champagne has long been associated with celebration, romance, and joyful things in life. Surprisingly, it is one of the most versatile drinks too. Are you looking for champagne fruit pairing to liven up your dinner menu? Champagne and other sparkling wines are the most versatile wines to pair with many fruits and a variety of dishes. So, what fruit goes with champagne?
Champagne goes perfectly with berries and stone fruits. When thinking about what fruit goes with champagne, it mostly depends on a taste you are looking to get out of the combination.
Before taking a closer look to see what fruit goes with the champagne and the reasons behind it, let's first understand champagne's primary notes and explore its history and general food pairings.
The celebratory spark that champagne adds to any occasion will be complete with perfect fruit pairing.
The Wine of Celebration
When you hear the word "Champagne," it immediately connects you to something fun, festive, and joyful, right? It is not that surprising because champagne has toasted billions of weddings, attended various parties, and shared special occasions with many people.
People perceive champagne as a wine of celebration. And that is true, and no other wine is associated with so much joy and festiveness as champagne is.
Did you know that long before the champagne was a festive sparkling wine, it was a region in France? It lies at the crossroads of Western and Central Europe, where many people traveled throughout history and got introduced to the wonders of the land, including the drink too.
Similar to the production of regular wine, champagne is also produced with one or more types of grapes harvested at perfect ripeness. Depending on what kind of champagne the winemaker is willing to produce, grape varieties will be selected for white, pink, and rarely for red champagne ranging from dry ones to sweeter.
You may ask yourself if the production of regular wine and champagne share so many similarities, what makes them different. You know the answer. Indeed, that's bubbles! After the first fermentation process is completed, the second one begins; this is the stage where the champagne becomes bubbly.
Champagne and Fruits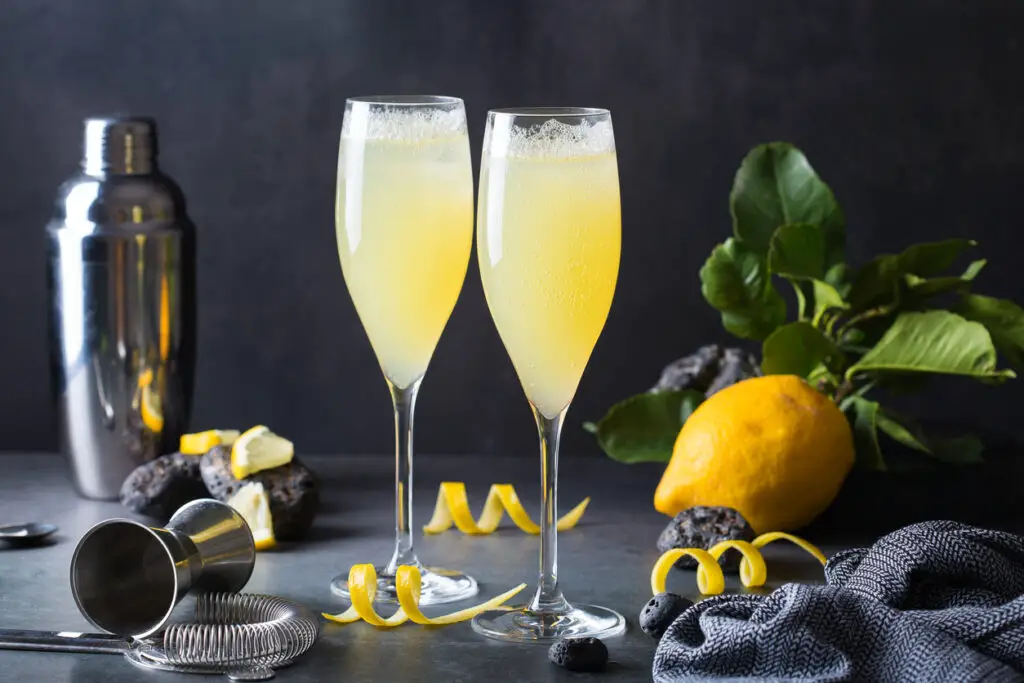 Author Note: Generally, the goal of pairing food with any wine is to showcase the flavors of both the wine and the food. If you pair them wrong, your food will be "tasteless," and the wrong flavors will come through. The chances of the wine having notes that are too sweet or too savory will be higher.
Beware that fruits' higher sugar levels can make you think sweeter wine would be a better option. Is this the right approach? The short answer is no, and here is why.
If the fruit is exceedingly ripe, its combination with sweeter wine may work. On the other hand, if you are not careful enough, pairing most of the fruits with sweet wine runs the risk of making the fruit taste too sweet or savory.
The reason behind it is that the fruits' acid content will shine through. Now let's see how these factors apply to champagnes. Unlike wine, champagne has the best of both worlds – a lovely fruit flavor combined with balanced acidity to allow ripened food to stand alone.
Berries
A classic pairing that comes to your mind immediately is a glass of champagne with a strawberry in the glass. The first and most popular type of fruit going to go absolutely perfectly with a glass of champagne is berries.
Especially when you have a glass of light champagne, berries are definitely what you are looking for. For those of you looking for a colorful and sweet taste, berries and a rose sparkling wine will create a fantastic pairing.
For a perfect combination, try drinking a rose made from Rhone varietals (Syrah or Mourvedre). This type of champagne is dry and will go perfectly with the sweetness of berries.
Now that you know what fruit goes with champagne, you are probably thinking about how to serve it. Place the berries (for example, a strawberry) on the rim of the glass. Serve with a bowl of fresh blueberries, blackberries, and raspberries, topped with a mint sprig.
Stone Fruits
The other delicious option for you when thinking of what fruit goes with champagne are stone fruits. These include fruits such as plums or peaches. At first glance, many believe it may be a strange combination, but you can at least give it a try.
The way stone fruits and champagne come together is beyond pleasant. With the light taste of champagne and sweetness of peaches, you will easily find yourself falling in love with this combination.
Citrus Fruits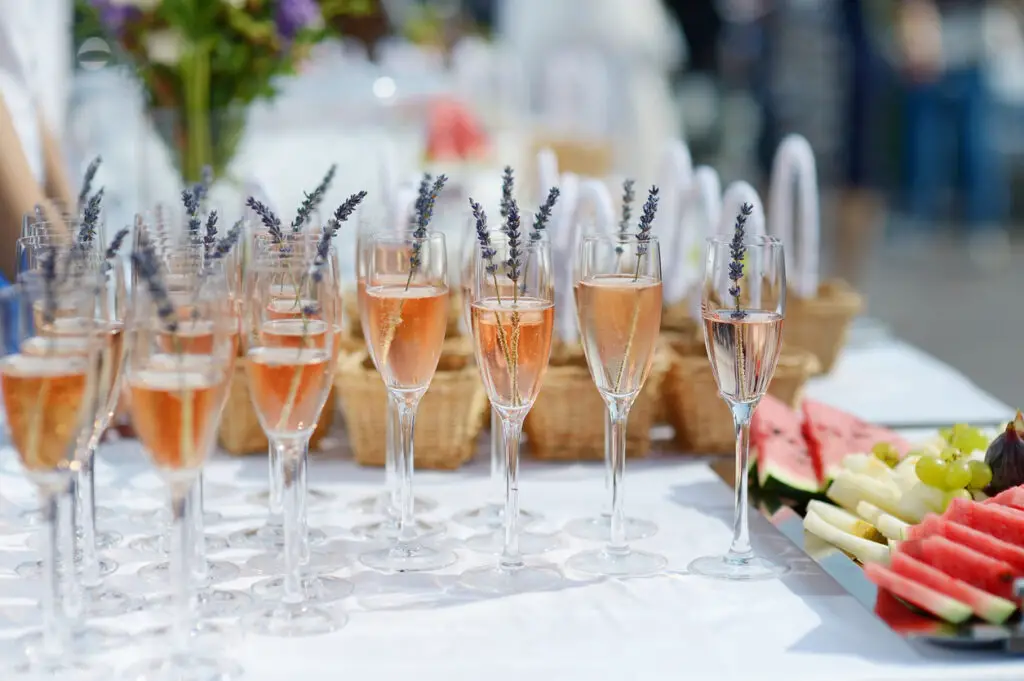 Another perfect match with a glass of champagne is citrus fruits. For those of you who enjoy a sweet sparkling wine, citrus fruits, including grapefruit and oranges, are perfect. For pairing of citrus and champagne, you need off-dry or sweet sparkling wine.
Author Note: The best option would be a flavorful California or Washington off-dry champagne. Among the wide variety of citrus fruits, grapefruits and oranges are considered the best pair with champagne. For example, many champagne lovers would like to pair it with lemon.
Although lemon is perfectly paired with Sauvignon Blanc, Moscato d'Asti, or Late Harvest Gewurztraminer, you can still try it for yourself and see whether or not the match is successful. All in all, champagne and citrus pairing is considered one of the most popular and perfect matches.
Champagne Food Pairings
Now that we have discussed what fruit goes with Champagne let's also explore other dishes that are a perfect match. According to experts, the greatest thing about Champagne is that there are a wide variety of dishes that go well with it.
A classic cheese and Champagne is what many people have in their minds. But there are other amazing options as well.
A nationally known wine expert, Andrea Immer, says that Champagne is probably one of the most versatile wines for food. You can match it with almost anything and get surprised how good the pairing turns out. But still, there are some dishes that are especially good with Champagne.
Fried Mushrooms
A little known secret is that Champagne goes perfectly well with fried dishes. The earthiness of mushrooms will be complemented by richer and fruitier notes that are most commonly noted in a glass of Champagne.
After all, as we have previously discussed, the first rule of pairing Champagne and a dish (including fruits) should be to illustrate the hidden notes of both the drink and the meal. Now, if you are confused about which bottle would go great with fried mushrooms, an exciting and delightful option would be a glass of Blanc de Noir.
So, if you're a little hungry and want to have a main dish with Champagne, fried mushrooms are a great option.
Mac & Cheese
Many people get surprised knowing mac & cheese and Champagne are a great pairing. Some key ingredients make those a perfect match—first, the right cheese, the proper Champagne, and the right toppings.
The most important thing is not putting sharp cheese; consider a softer and creamy option with flavors of smoked gouda. When it comes to Champagne, it needs to be acidic enough to cut through the cheese and showcase both the dish and the Champagne's tastes.
Note that the toppings on the mac & cheese are equally important as the dish itself. For instance, if you are using smoked gouda, toasted breadcrumbs would be a perfect addition adding some crunch to dilute the cheese.
BBQ Chicken Sandwich
You might think something as festive as Champagne is not a great match with a simple sandwich. Well, let's see why BBQ chicken sandwiches may be a great match. Pairing a BBQ chicken sandwich with a bottle of Cava is actually one of the most common and tastiest matches you will try.
A critical thing is using the right smoky BBQ sauce without having too many spices in it. When it comes to Champagne, choose the one which is not too subtle so that the BBQ sauce does not overwhelm the flavors. Most high-quality Cavas work perfectly and balance the intensity between this pairing.
Wrapping Up
Author Note: As you can see, being among the most famous sparkling wines, Champagne is considered one of the most versatile drinks when it comes to pairing with food. Though some of the pairings you have read above may sound strange at first, wine experts guarantee you will love how exquisite they really taste!
When asking yourself what fruit goes with Champagne, try choosing so that you showcase both the champagne taste and fruits.
Pairing fruit with Champagne can really give you a sweet and smooth taste that you will love right from the minute you try. When you grab a glass of Champagne, pair it with different fruits, including berries or citrus, and let the taste sour.
After all, what can be better than a nice, light glass of bubbly with some berries or stone fruits?
If you have never paired fruit and Champagne, now is the time for you to give it a shot. It would be best if you were drinking what you like with any given dish, but these recommendations may help you find your favorite pairing too.
We hope you enjoyed this article on what fruit goes with Champagne. Add a little more spark to your evening by pairing a glass of Champagne with different fruits.
To living a full-bodied life,
Wesley