Champagne is the most popular kind of sparkling wine and gets its name from the region Champagne. The word "Champagne" can be generally used as a term for all sparkling wine. But technically only sparkling wine made in the region of Champagne can be called this. The bubbles inside encourage you to burn it, especially when you know it has alcohol in it. So is Champagne flammable?
The answer is no – Champagne is not flammable! Although Champagne is an alcoholic drink, it does not contain enough alcohol to burn. The alcohol amount in Champagne is about 10-12%. Alcohol only burns when the volume of spirits it contains is 50% or more.
Let's discover more about Champagne together!
Champagne Serving Hacks
Now that you know the answer to if Champagne is flammable, let's learn more about Champagne. If you are throwing a fancy party or just hanging out, it doesn't matter. Once you have decided to go for a champagne bottle, you should know how to do it like a pro. Let's see what you can do.
Break the Rules
Your guests may know some champagne rules as well, so surprise them with the ones you thought of! Break the rules and enjoy Champagne out of the box. It can start from garnishing your bubbles, for example, with ingredients like rosemary and Jalapeño.
You can also make innovative cocktails with dry Champagne, but this is another story we'll come back to.
Pomegranate Arils
Author Note: Pomegranates provide a rich look to your drink as they are like jewelry in a glass of Champagne. And really, the pomegranate seeds look like rubies. Besides, it gives a beautiful flavor to your drink when you catch these gems in your mouth.
Sugar Rims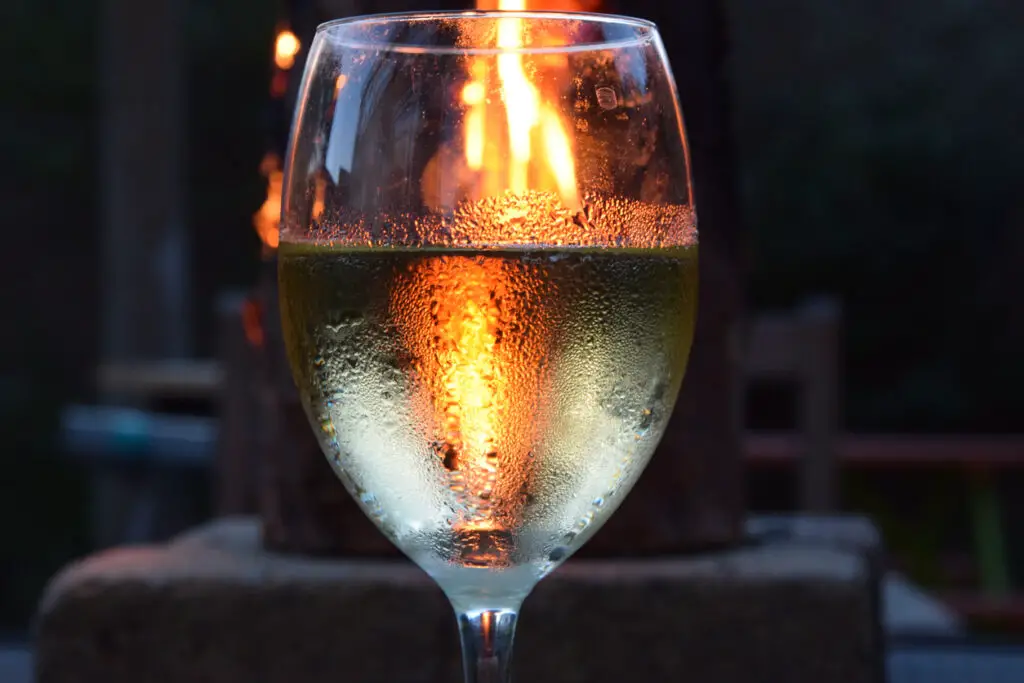 Rim your glass with pretty colored sugar. Moist the edges of the glass with lemon, and then roll it in the sugar. Instead of sugar, you can also use crushed candy.
Frozen Berries
It is no secret that Champagne is at its best form when it is cold. So here is a creative and tasty solution instead of ice cubes in the bucket. You can add frozen berries to the glasses you are going to serve with Champagne. In fact, cranberries go perfectly with Champagne.
Be Retro
There are different kinds of Champagne glasses for different Champagne styles, but the most ones that people see in the movies are Champagne coupes. So it doesn't even matter if you are throwing a retro-themed party or not; you can use them and make your guests feel special.
Champagne in Cocktails
You may think that Champagne is a naughty drink and would be hard to use in cocktails, but you are wrong! Champagne makes various delicious cocktails, and we will make some of them now:
French 75
The primary alcohol in this cocktail is Champagne, but we also have gin. In the cocktail shaker, you add lemon juice, sugar syrup, gin, and ice. Then add this ready mass to the Champagne in the glass you're going to serve with. Then add a bit more to make it even bubblier.
Mango Bellini
The name of this cocktail is as fruity as the cocktail itself. You pick a very ripe mango and put it in the blender with some champagne. You should get a puree and add it into the champagne glass. Add some ice cold champagne on the top, and you are ready to serve.
Sgroppino
Be careful with this one not to drink too much or be ready to get drunk. You add lemon sorbet and vodka right to the Champagne and raise a toast! And if you add higher proof spirits, you can make your Champagne flammable.
Aperitivo Spritz
This whole story is going on in a wine glass. Drop some ice cubes into it, then add your favorite aperitif like Aperol or Campari, and add sparkling water on top. End the game by filling up the glass with Champagne.
Champagne Mojito
How can we ignore the mojito? We do all the mojito steps as they should be. Add rum, lime juice, sugar syrup, and mint leaves. Then you can add Angostura if you like your drink to be bitter. Stir all this in a wine glass and add Champagne on the top. Now your Champagne mojito is ready.
Champagne and Cooking
Cooking with wine is something everyone should try. French grandmas say you can correct your mistakes by adding some wine into the pot. You need to pick the right wine for your dish.
Go for the Wine
Author Note: Champagne is a wine, first of all, and wine is perfect for millions of dishes. So basically, using Champagne in your dishes is pretty much the same as using wine. The best Champagne can do is replacing both red and white wines.
The best and fastest way to give a flavor to a sauce, stews, desserts, and many more other dishes is to add some wine while cooking them. These complex flavors of sweetness, acidity, tannins, sometimes sour and bitter notes, and other aromas give food a specific and more attractive taste. Those aromas are natural as the wine itself produces them while aging.
This is why we love wine in the first place. While drinking, it bursts in the mouth with the palette of flavors that we think we can use in our meal, and it will taste less like alcohol and more powerful. Imagine adding bubbles to the show.
Champagne Can Cook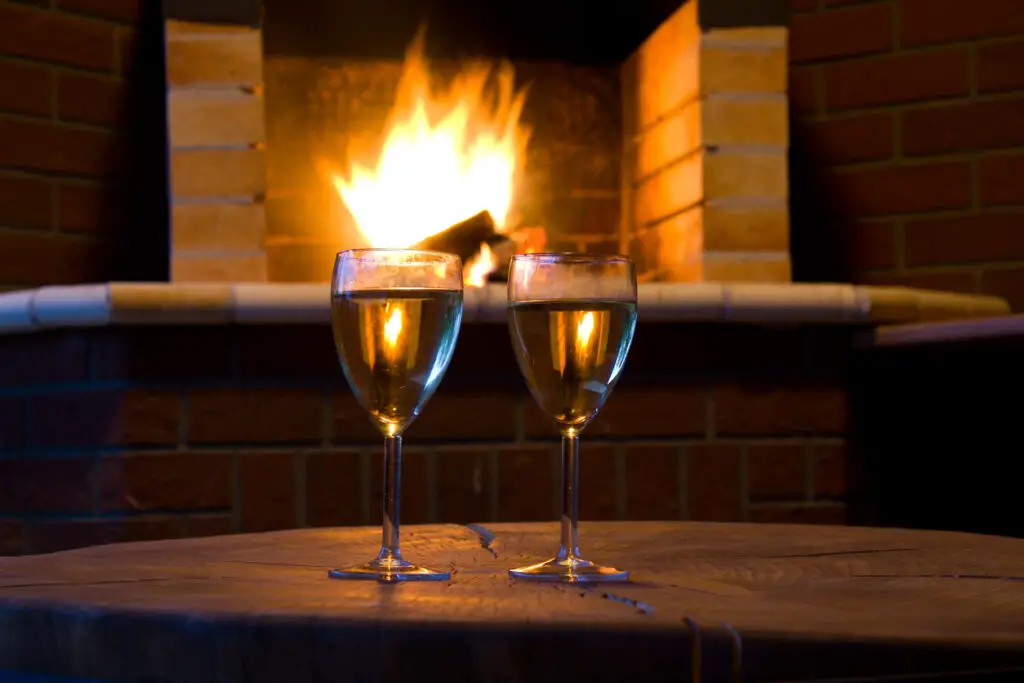 Champagne is a lady, but she is not that princess that appears only in a dance ball and smiles at the guests. She can cook! She is Cinderella who can do both; be a beautiful lady everyone admires during a dance, and be that sweet madam that cooks perfectly, and everyone loves her for those unique dishes.
Boil The Bubbles
Yes, you can do it. There is no secret within the bubbles in Champagne. They are carbon dioxide, and they are okay with being cooked. The carbon dioxide bubbles will evaporate with heat. But the feeling of sparkles stays in the mouth. Boiling any wine removes the alcohol as well. Be aware, however, that the alcohol that boils off is flammable. So champagne is flammable if you boil it.
Vinegar
Champagne (and also every sparkling wine) can be used as a dash of vinegar. Wine turns into vinegar after you open it very quickly. And the bubbly character of Champagne makes it easier to feel that fizz vinegar provides.
If you add Champagne before it turns to vinegar in a small amount, it can play the vinegar role because of its high acidity.
Dishes with Champagne
There are no special skills or requirements for cooking with Champagne. Also, there are no "extra avant-garde" dishes that should be cooked with Champagne. It makes a great combination with the dishes cooked using white wines, as they have nearly the same taste profile.
So we have chosen some delicious dishes you can cook tonight with your New Year's Champagne leftovers.
Oysters on the Half Shell
Seafood goes perfect with white wine and rose, and with sparkles as well. Today's menu is Oysters on the Half Shell with Champagne. Grab a paper and a pencil; we are starting.
Ingredients you need:
1/2 c. Champagne
Two shallots
1 tbsp. white wine vinegar
1/4 tsp. Freshly ground pepper
24 oysters
Shaved ice
How to make it:
As simple as can be. In a bowl, combine the Champagne, shallots, vinegar, and pepper. Arrange the oysters on a bed of ice and serve with the mignonette.
Champagne Can Chicken
This is the recipe your granny knows by heart! We are going to mix the beer and the Champagne. What we need to do here:
Ingredients
2 tbsp. herbes de Provence
One whole Chicken
1 1/2 tbsp. unsalted butter
1 1/4 c. Champagne and beer mix
2 c. low-sodium chicken broth
Salt
Pepper
How to make it:
First of all, we need a preheated oven to 350 degrees F (176 C). Then prepare the herbs and spices, mix them on a small plate.
Prepare the chicken. Remove neck and giblets from chicken. Wash the chicken inside and out. Rub the chicken with your butter, and then add the seasoning. Tuck wing tips under the bird and set chicken aside.
Here comes our favorite part. Pour the Champagne and beer into a glass and place the chicken on it.
Roast chicken, basting every 20 minutes, about 1-1.5 hours.
Boil the broth left from the roasting process, simmer for about 20 minutes and serve with the chicken as a sauce.
Strawberries and Champagne Kabobs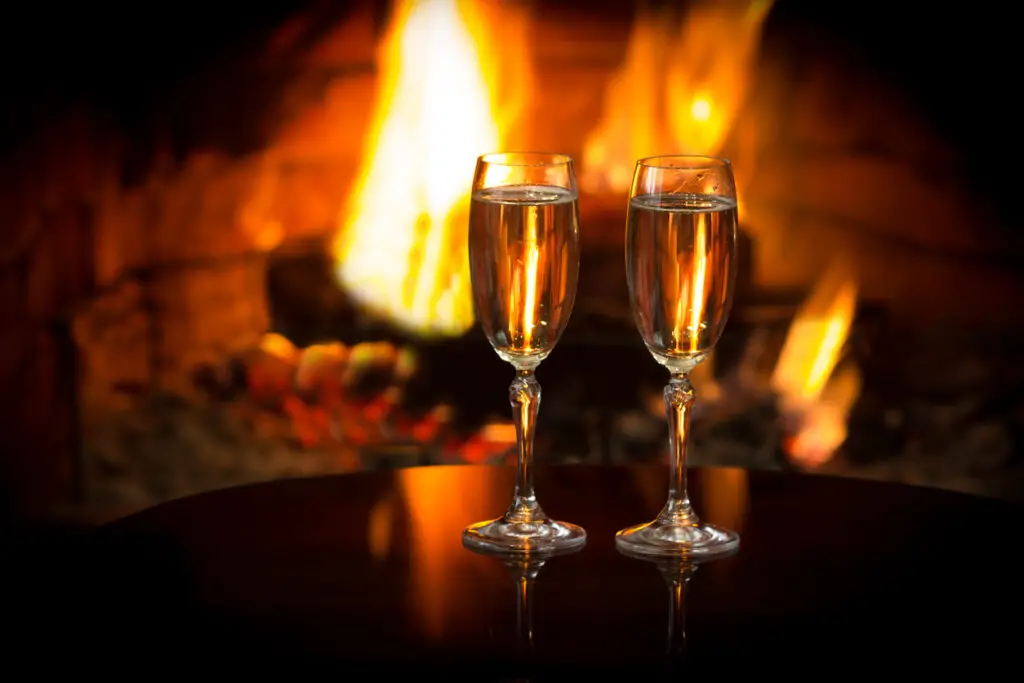 Where are you going without the dessert? We will now make Strawberries and Champagne Kabobs.
Ingredients
Strawberries
Peaches
Lots of Champagne
How to make it:
Wash the peach. You can peel the fruit or not, depending on how you like it. Then cut it into crescent shapes. This means cut the peach in half, remove the stone, then slice into the strips.
Wash the strawberries carefully and remove the stems. You can add a teaspoon of baking soda to the water you rinse the berries for the deep clean.
Put the fruit and berries in a bowl and pour the Champagne on the top to cover them. Refrigerate it for another two hours.
Make a Kabob by skewing the fruits on each toothpick. You are ready to serve!
Parting Thoughts
Author Note: Champagne does not need to burn to be a flame! Drinking Champagne is a continuous celebration. Life is a constant celebration. Give Champagne a go and remember, this is the drink that should not be missing from your bar. We hope you enjoyed this article on if champagne is flammable.
We wish you always have a beautiful reason to pop a bottle of the best Champagne and clink the glasses. But you know what? Don't wait for a reason. Open the bottle right now, Cheers!
To living a full-bodied life,
Wesley