As delicious as red wine is for drinking, it can be great for making sauces, stews, and even desserts. Red wine is a crucial ingredient in various dishes, including bolognese. Surely, many prefer cooking bolognese with white wine too. You should keep in mind that not every wine variety can do for cooking bolognese. In fact, choosing the wrong wine may alter your dish's primary flavors and cause a bitter taste. So, what is the best red wine for cooking bolognese?
The best red wine for cooking bolognese is an Italian red wine. Typically Graciano, Sangiovese, or classic Italian Chianti are the best red wines for cooking Bolognese.
Now let's take a closer look to find out how to cook the bolognese sauce, how important wine is in its preparation, and most importantly, which wines will go great in bolognese sauce.
Why Cook Wine?
Did you know that compounds in wine improve the flavor of cooked dishes? A glass of wine is not merely a beverage with dinner; it is also a key ingredient in dinner.
An interesting fact about cooking wine is that it does not add flavor to dishes; instead, it makes other ingredients taste better. The alcohol in wine helps to release flavor molecules in food and assists in dissolving fats. It allows the ingredients to reveal their own unique flavors, which could not be reached by other liquids (including water or broth) or fats (like butter or oil).
If you want to add wine to your sauce, the most important thing to consider is to allow alcohol to overcook. Otherwise, your sauce may have a harsh and slightly boozy taste. So, how do you know when the wine is perfectly cooked? After adding wine to your sauce, cook uncovered until it reduces by about half. When alcohol burns away, the flavor of sauce concentrates and becomes even more delicious.
What To Consider When Cooking With Wine?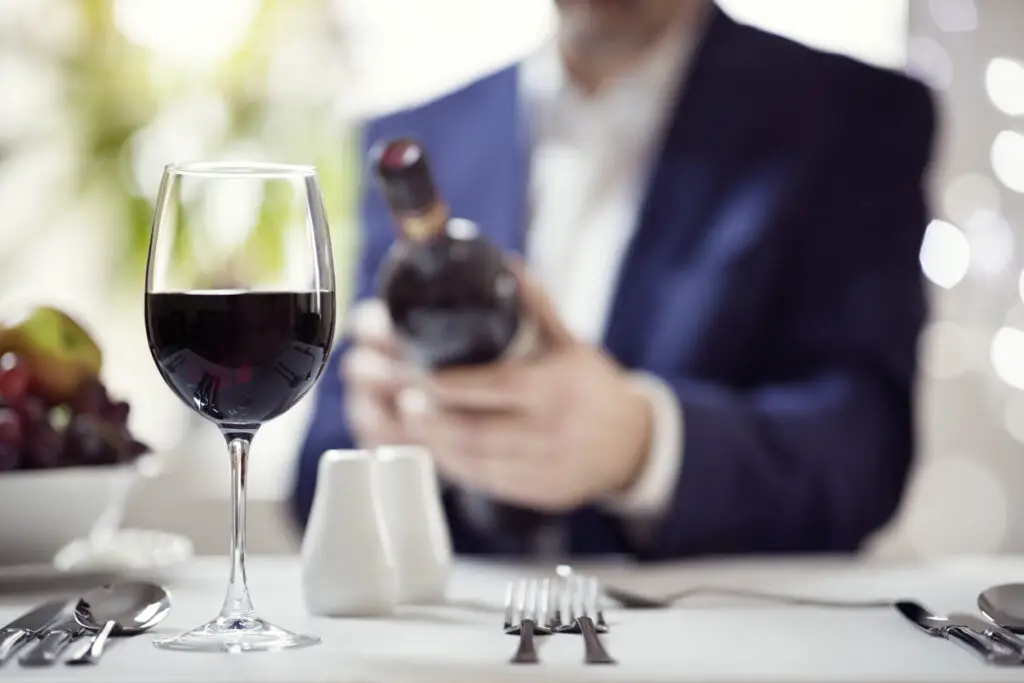 There are three main things to consider when you choose to prepare sauces or other dishes with wine: acidity, tannins, and dryness.
Acidity
Author Note: Red wine is great for making tomato-based pasta or tomato sauces. But make sure to choose high acidity red wine because the acidity in tomatoes can make low acidic wine taste flat. On the other hand, red wine with higher acidity will bring out the best flavors in tomato-based dishes.
Tannins
When it comes to tannins, those can bring bitterness and harshness to certain food. For instance, a higher tannin wine, including Cabernet Sauvignon or Montepulciano, can work in heartier red meat-based dishes such as casserole or stew.
Dryness
In general dry red or white wines go well with most of the recipes. Although in bolognese people use either red or white wine, the styles differ immensely. Let's now take a closer look to find out more about the best red wine for cooking bolognese.
How is Bolognese Made?
Bolognese is definitely one of the most popular Italian dishes around the world. If you want to prepare it by yourself, beware that Bolognese sauce is not fast food. You will need from 40 minutes to an hour to get the perfectly cooked dish. On the contrary, if you can cook a bigger portion and leave it to combine and develop overnight, its taste will be better.
Other than dedicating more time to making bolognese, here is what else you will need: veal, beef, and a type of pig (can be sausage, pancetta, or minced loin). Another essential ingredient is also mashed chicken liver, which provides dark substance and pungency.
Is Wine Necessary for Bolognese?
Now the most important question one may ask is whether a wine is an obligatory ingredient? The short answer is no, and you can cook bolognese without any wine. But if you want to enjoy delicious and rich bolognese, you will need some tips on choosing the right wine.
So, which wine will do great with bolognese: red or white? There is no precise answer; it depends solely on which style you prefer more. Here is how the tastes will differ depending on the wine varietal.
Even if you choose the best red wine for cooking bolognese, it would be better to try it on two-day bolognese so that the wine will have time to be fully absorbed by all of the other ingredients. On the other hand, if you are planning on eating bolognese right away, it would be best to cook with white wine.
The Four Best Wines for Cooking Bolognese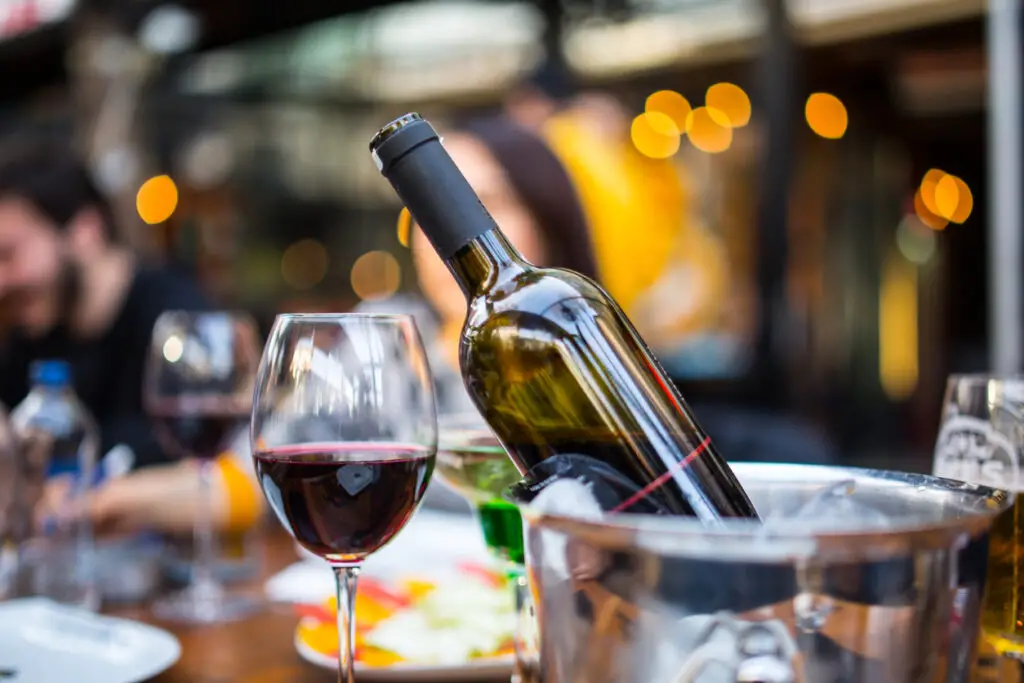 As we have already discussed, choosing the right wine for cooking is as important as the dish itself. A generally accepted rule for cooking bolognese with wine is to choose the one which also pairs well with it. The wine varieties that go great with bolognese are medium-bodied red wines with fruity or spicy notes.
Author Note: The main varieties that pop to experts' minds when reading the description include Merlot, Sangiovese, and Chianti. That is true! All of those wines are a perfect addition to your bolognese sauce.
Now, if you want to enhance your dish's flavors and aroma, you need to carefully observe the dryness, acidity, and tannins of wine to understand whether it will go well with your dish. In fact, chefs recommend you to taste the wine before cooking and adding it to your sauce.
The key thing is to identify how that wine will taste with other ingredients in the dish. Note that if it is perfectly cooked, you will not be able to taste the wine; instead, it would help enhance the flavor of existing ingredients. Let's see which are the four types of best red wine for cooking bolognese.
Sangiovese
Sangiovese is a medium-bodied red wine variety from Italy. It is interesting how Sangiovese's color is much lighter compared to other reds, still high in acidity, and moderates in tannins. A combination of high acidity and moderate to high tannins make Sangiovese wine one of the most food-friendly beverages.
When tasting Sangiovese, you will notice red plum flavors, blueberries, blackberries, figs, and strawberries. A classic combination of this wine variety is with tomatoes, and as we already know, this is an essential ingredient in bolognese sauce. Chefs and wine experts recommend having a glass of Sangiovese with tomato-based pasta dishes, spaghetti, and meatballs, or when you want to prepare marinara or bolognese sauce.
Graciano
Grown in Navarra and Rioja, Spain, Graciano is a black-skinned grape, which goes great with various dishes, including bolognese. A typical bottle of Graciano is deeply colored, moderately tannic, and intensely perfumed. Spanish Graciano is also a great choice you can use as an ingredient in your bolognese sauce.
According to many chefs, this variety's presence is felt even when used in smaller volumes. That is why many recognize Graciano in blends rather than alone. It will perfectly balance the richness of your sauce and enhance its flavors.
Chianti
Another great ingredient in your bolognese sauce is a red blend Chianti from Tuscany, Italy. Tasting notes of Chianti variety include dried herbs, balsamic vinegar, and red fruits. You will also notice flavors of preserved sour cherries, dried oregano, espresso, and even sweet tobacco.
You definitely cannot go wrong with a bottle of earthy Chianti in your bolognese sauce. This wine variety is high in acidity and tannins, which could also match a bolognese sauce. Generally, high acid cuts through richer fatter dishes and stands up to tomato sauce. So, Chianti is a great addition to make your homemade bolognese sauce taste even better.
Merlot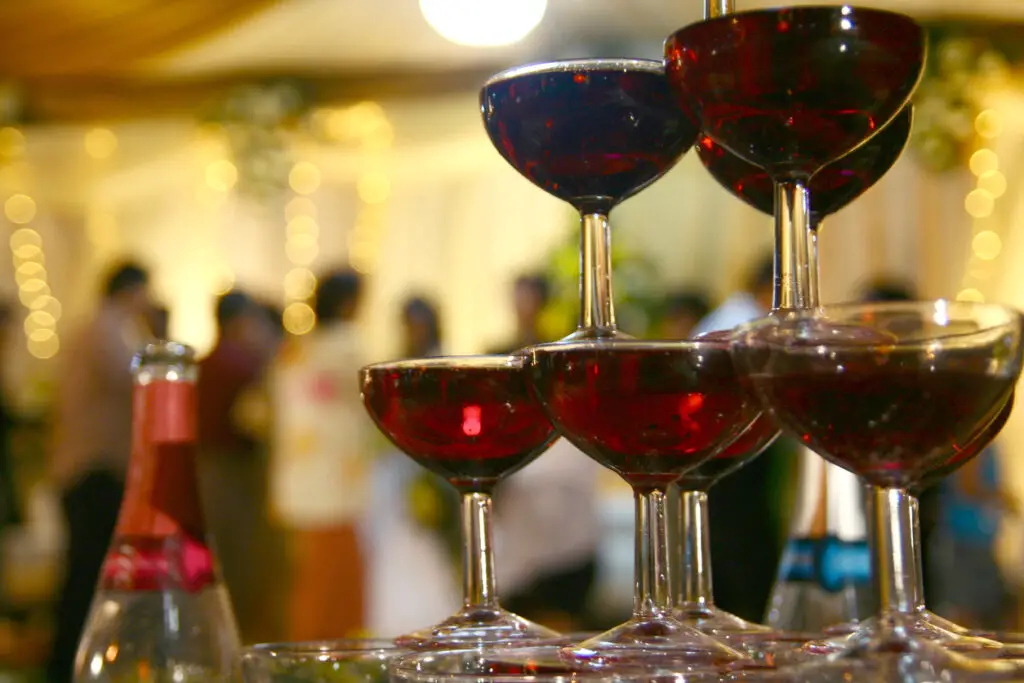 One of the world's most planted grape varieties, Merlot is among the most well-known wine types. Loved by many, Merlot is one of the other most fabulous options to consider when making bolognese sauce. Wine experts love to refer to Merlot as a "great wine to play with" because it matches with various foods.
Author Note: As we have already discussed, one of the crucial questions to ask yourself when cooking wine for your sauce is whether it fits with a dish itself. In our case, Merlot and Bolognese are a perfect match, so adding this variety to your recipe will make the taste of bolognese even more delicious.
Tips for Cooking Wine
If you have already chosen which of the wine varieties mentioned above will go best with your recipe, here are some tips that will make your dish taste more delicious.
First of all, note that the wine you want to cook for a sauce should not be corked. The key thing is that wine should not taste like vinegar or be so old it lost all its primary flavors. Wine experts do not recommend using any wine which has been in your cupboard for 4 to 5 months.
On the other hand, if a bottle of wine has been opened for 4 to 5 days, it will do good for your sauce. Another thing worth mentioning is not to buy "cooking wines"; in many cases, they tend to be of particularly poor quality.
Try our Newest 2023 Recipe for Bolognese with Italian Wine
Ingredients:
1 lb. ground beef
1/2 lb. ground pork
1 onion, chopped
2 cloves garlic, minced
2 tbsp. tomato paste
1 cup Italian red wine (Choose your own from the above recommendations)
1 28-oz. can crushed tomatoes
1 tsp. dried oregano
1 tsp. dried basil
Salt and pepper, to taste
Olive oil, for cooking
Pasta, for serving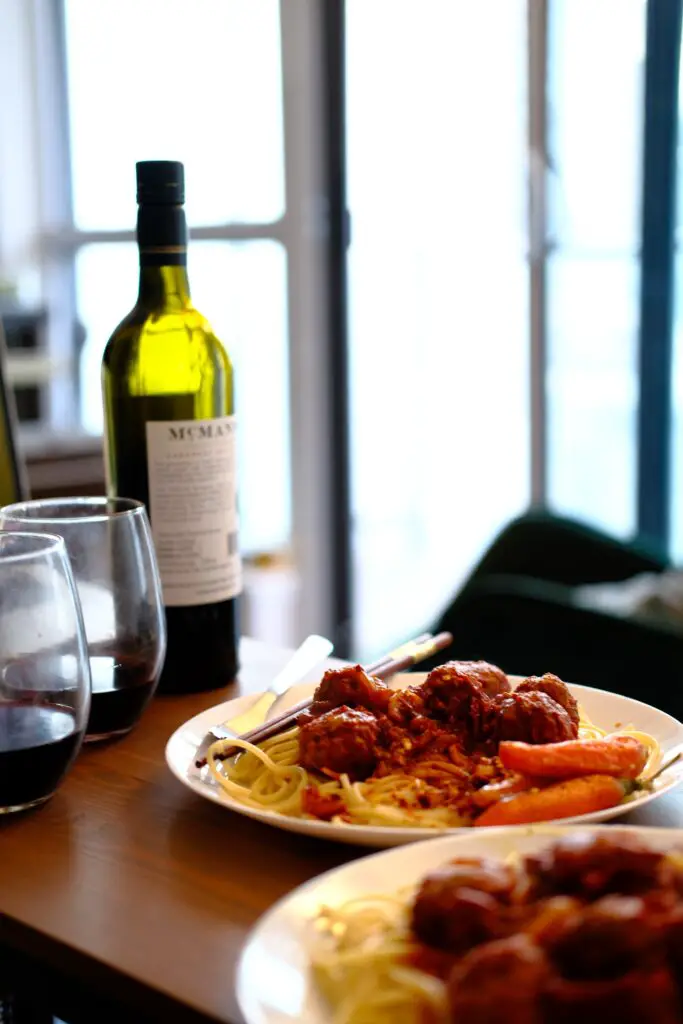 Instructions:
Heat a large pot over medium-high heat. Add a splash of olive oil and the ground beef and pork. Cook, stirring occasionally, until browned and cooked through.
Add the chopped onion and minced garlic. Cook until the onion is translucent and the garlic is fragrant, about 5 minutes.
Stir in the tomato paste and cook for another minute or so.
Pour in the Italian red wine and scrape up any browned bits from the bottom of the pot.
Add the crushed tomatoes, dried oregano, dried basil, and a pinch of salt and pepper. Stir to combine.
Bring the sauce to a simmer, then reduce the heat to low and let it cook for at least 30 minutes, stirring occasionally.
Taste the sauce and adjust the seasoning as needed.
Serve the Bolognese sauce over cooked pasta of your choosing.
Wrapping Up
All in all, not only is wine a great pair with your favorite dishes, but it can also be a great seasoning ingredient in cooking. Red wine adds a distinct dimension and richer taste, enhancing the flavors of various dishes. Although you can use either white or red wine as an ingredient in your bolognese sauce, if you want to get a richer taste, we recommend you use red wine.
To get the perfect recipe, it is important to choose the right wine. There is no single best red wine for cooking bolognese, but you can use different wine varieties, including Sangiovese, Merlot, Graciano, or Chianti, to enhance the flavors as well as the fragrance of bolognese sauce. We hope you enjoyed this article on the best red wine for cooking bolognese. We wish you luck in the kitchen!
To living a full-bodied life,
Wesley