'Tis the season! The weather is getting colder, the sun is setting earlier, and everyone is getting cozy in their homes to enjoy the beautiful upcoming winter. Now the only thing that is missing from this scene is some mulled wine. Truly the drink of the season and that fruity scent is a staple of many houses during the winter. Now, all lovers of mulled wine will know that it is best served hot. So, the million-dollar question is how do you warm up mulled wine?
The most popular way of warming up mulled wine is by pouring it into a pre-heated pan and letting it heat up on low heat. Make sure to stir and keep going until it is warm to touch. Never let your mulled wine boil as boiling it will evaporate all of the alcohol and reduce its flavor. If your wine was stored in a cellar, let it warm up to room temperature before pouring it into the pan. Some other methods of warming up mulled wine are using the microwave or the crockpot.
Now, we will get back to the question of "how to warm up mulled wine" a bit later, so let's go a little deeper into this delicious topic.
What is Mulled Wine?
Mulled wine, also called spiced wine, is a tasty beverage made from mixing red wine with mulling spices and occasionally also raisins. It is usually served hot or warm. Although there are non-alcoholic versions of this drink, it is mostly alcoholic. It is a traditional drink for the winter and is served in every booth of Christmas markets all around Europe. It can also be drunk after dinner like a dessert wine, such as port.
The first time wine was ever spiced and heated up was in Rome way back in the 2nd century.
Author Note: The Forme of Cury is a medieval English recipe book from 1390, which briefly mentions mulled wine with cinnamon, ginger, marjoram, cloves, long pepper, galangal,  nutmeg, and cardamom. All these spices were mixed with red wine and sugar.
Glühwein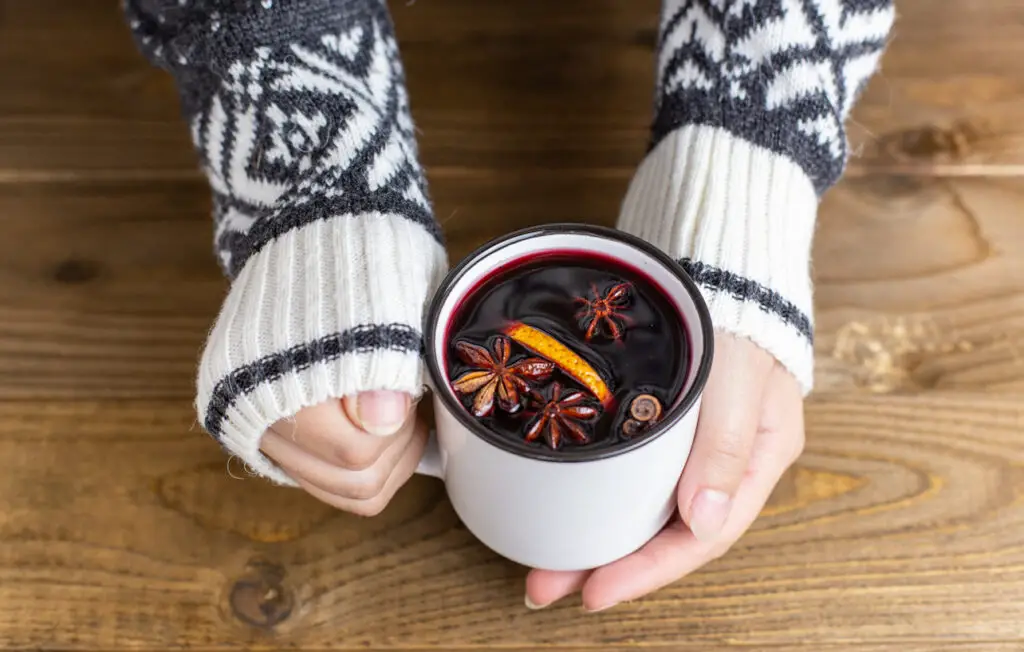 Glühwein (translated to "smoldering-wine) is a popular style of mulled served in German-speaking countries and some regions of France. It is a must for anyone strolling through a Christmas market. In French Christmas markets, it is actually the only alcoholic beverage that is served.
The oldest documented Glühwein tankard belonged to Count John IV of Katzenelnbogen, a German nobleman who was the first to grow Riesling grapes. This lockable historic tankard dates back to c. 1420.
Glühwein is usually made with red wine, heated, and then spices such cinnamon sticks, cloves, star aniseed, orange, and at times vanilla pods are added along with sugar. Many people drink it mit Schuss (with a shot), meaning they add some sort of liquor or rum to their cup. Fruit wines such as cherry wine may also be used to make Glühwein.
White wine may also be used, but it is not as popular. For children, the non-alcoholic Kinderpunsch is also sold at Christmas markets, which is punch spiced with similar ingredients.
How to Make Mulled Wine
Now, before we get to the question of how to warm up mulled wine, we got to make it first. Of course, there are many recipes, so don't be afraid to experiment with different wines and spices. This is only a basic recipe to help you get started.
You are going to need a bottle of wine; any basic bottle of dry red wine will do. If you plan on making a lot, you can even use boxed wine. Fresh oranges are also a must, one of which will be used to mull with the wine, and the other one can be used as a garnish to minimize bitterness. Ground cinnamon or even whole cinnamon sticks will help add to the flavor of the wine.
Author Note: Pick up a few mulling spices from the store, and this is where you get to play around. We recommend using whole cloves and star anise, but feel free to add anything you wish.
If you prefer a sweet flavor, you should also pick up a sweetener, and this can be sugar, maple syrup, or honey.  And finally, if you wish to add some extra liqueur to your mulled wine, feel free to do so. This can really be anything, including brandy, bourbon, or cognac.
Instructions
Now, to make mulled wine, start by combining all the ingredients in a saucepan. Heat up the pan on low until it barely reaches a simmer. Do not let it bubble or boil; otherwise, the alcohol will be gone.
Next, turn down the heat, cover with a lid and let it simmer for at least 15 minutes and up to 3 hours. Once you are done heating it up, strain with a fine-mesh strainer and remove any extra spices in the wine. Give it a taste and add some sweetener if it is too bitter.
Serve in winter-themed mugs, top with some garnishes, and enjoy that Christmas feeling!
How to Warm Up Mulled Wine?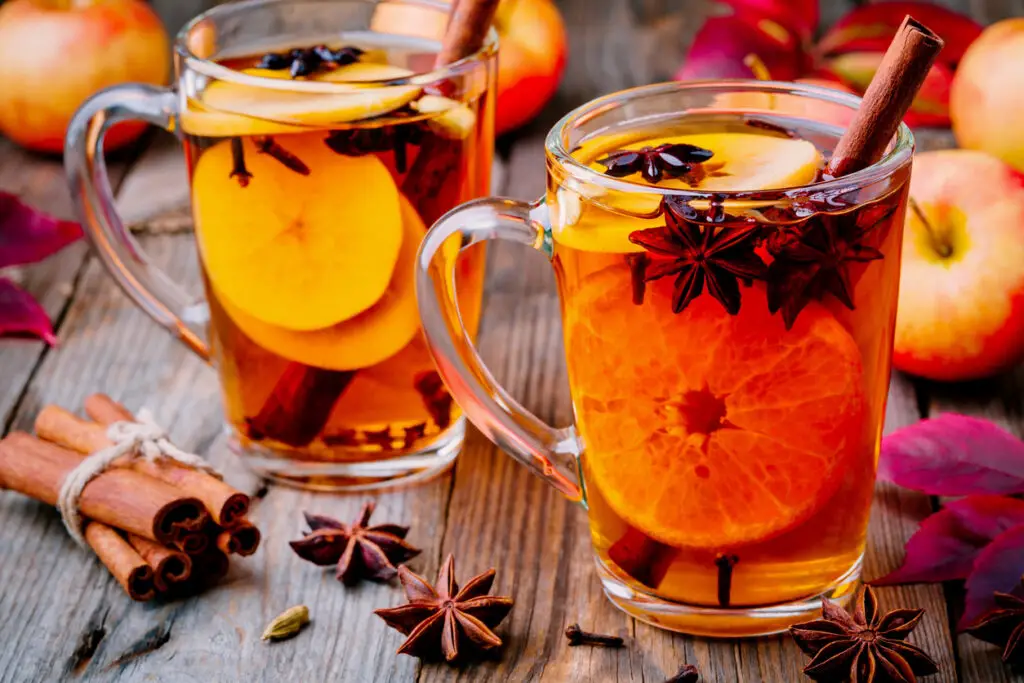 Now let's get to the question at hand. Maybe you have an old batch of mulled wine sitting around, or you just bought a large amount from a market. How to warm up mulled wine so that it's perfect for serving and enjoying?
Well, basically the same way you would make it! Get out your trusty saucepan and pour in your mulled wine. If you wish, you could also add more spices for flavor. Warm it up on low heat until it starts to simmer, then lower the heat and let it rest. Remember to not let it boil.
Otherwise, you will be drinking non-alcoholic spiced grape juice. Once it is done, you can enjoy it!
If you own a crockpot or a slow cooker, you can also pour it inside and let it warm up in there. You can also get super crafty and use a bowl, then place a candle under it, but this will only work for a small amount of mulled wine.
If your guests are running late, you can also pour it into a thermos to maintain the heat for some time until they arrive.
What Type of Mug or Glass Should I Use?
Well, most mulled wine is served in mugs. A mug made of ceramic or porcelain will help protect your hands from the heat of the wine, and the handle will make drinking much easier.
Glass or decorative mugs are also great for serving delicious spiced wine. You can also opt for fancy mulled wine glasses designed specifically for this beverage. The shapes may vary a bit, but they all have handles to help you hold the hot drink. They also usually have a wider brim, so it is easier to drink the wine with the garnishes still being inside.
Of course, this is only optional, so don't stress too much about the cups you have at home!
What Should I Serve with Mulled Wine?
Okay, now your mulled wine is warm and ready, but the table seems slightly empty? You may start to wonder what foods pair well with mulled wine. For a simple evening, you may even need nothing else on the dinner table.
Author Note: The spices and different flavors in mulled wine are already strong on their own, so it may require nothing else. But, if you wish to accompany your wine with food, here are some of our suggestions.
Swedish Dishes
If you are planning to serve some Glögg (Scandinavian mulled wine)? For these nights, serving traditional Swedish snacks like pickled fish and crackers, ginger biscuits, or saffron buns are a great choice. These flavors mix surprisingly well together, so give it a try!
German and Austrian Food
If you are serving Glühwein, you really can't beat classic pairings such as salty blue cheese pastries or schnitzel (pork, of course) with lemon cream sauce. These fatty combinations of salty, sweet, and spice are heaven on earth; once you try, you really won't be able to get enough.
If you want something sweet with your wine, then you can also go for a German apple cake apfelkuchen.
Fondue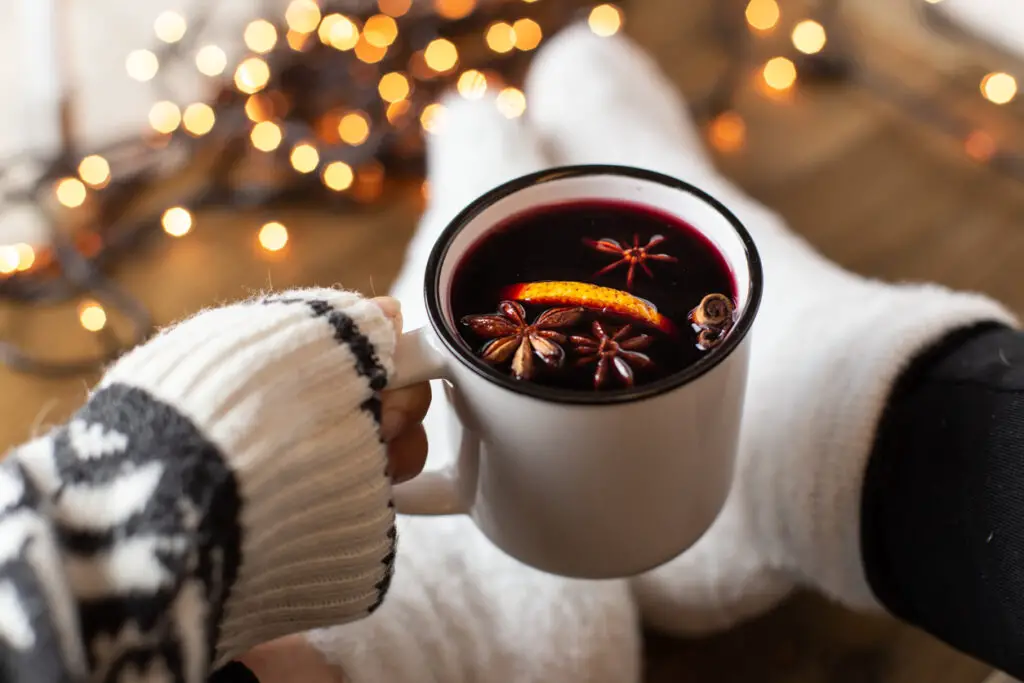 When the winter cold reaches your bones, there is nothing more tempting than a fondue party. After all, who doesn't love an evening of melted cheese, hot wine, and some good company? The mixture of rich, delicious cheese and white mulled wine makes for an amazing dinner course to enjoy on a snowy evening with family or friends.
Cheeses
Wine and cheese are one of the everlasting duos, and this applies to mulled wine. We always suggest opting for a saltier cheese to pair with wine. The contrast in flavors makes for an amazing taste. Blue cheese is ideal when paired with a heavily spiced mulled wine.
Other cheese varieties that go well with mulled wine are Stilton, Gorgonzola, aged Cheddar, Roquefort, Wensleydale, or Comté. The creamy and somewhat sweet flavors of Gruyère or Emmental cheeses are also a great choice.
Sweet Mince Pies
If you enjoy BBC Christmas Specials and other British favorites, you will not find a better pairing than a classic English mulled wine with sweet mince pies. A tradition dating way back to the 16th century, the mix of dried fruits, spices, sugar, and brandy with mulled wine can't be beaten.
Conclusion
Well, ladies and gentlemen, that is all we have for you today! We hope you enjoyed reading about the process of making mulled wine, how to serve it, and what food pairings are best. Don't forget to add your favorite spices, only let it simmer, and enjoy your cozy winter evening with a cup of hot wine!
To living a full-bodied life,
Wesley