Americas started producing wine as far back as 1550 when Spanish conquistadors settled there. Chile and Argentina were leading countries of winemaking. And up to now, Argentina is the 5th largest producer of wine, while Chile is the 8th largest producer. They reverse the export trend with Chile as the fifth largest exporter of wine (behind Italy, France, Spain, and Australia) and Argentina as the eighth largest exporter. And today, we are going to speak about the queens of their wines, Carménère vs Malbec.
Carménère has softer tannins than Cabernet, and in addition to earthy and smoky characters with dark chocolate, tobacco, and leather, red fruits, berries, and cherries are also noticed. Argentine Malbec produces rich, ripe, juicy, and fruity wines – very different from the French counterparts, which are more meaty, rustic, and tannic.
You know enough about Malbec from our other blog posts; therefore, we will start from Carménère and then move on to Malbec in our deep dive of Carménère vs Malbec.
Carménère
Carménère ('car-men-nair') is a medium-bodied red wine from Bordeaux, France, which is now produced almost exclusively in Chile. The wine is admired for its supple red-and-black berry flavors and herbaceous green peppercorn notes (in a similar way to Merlot).
Initially, when Carménère was first transplanted to Chile, it was believed to be Merlot. Perhaps this mistaken identity case is what saved Carménère from extinction when, in the late 1800s, Phylloxera destroyed the Bordeaux vineyards.
What Does Carménère Taste Like?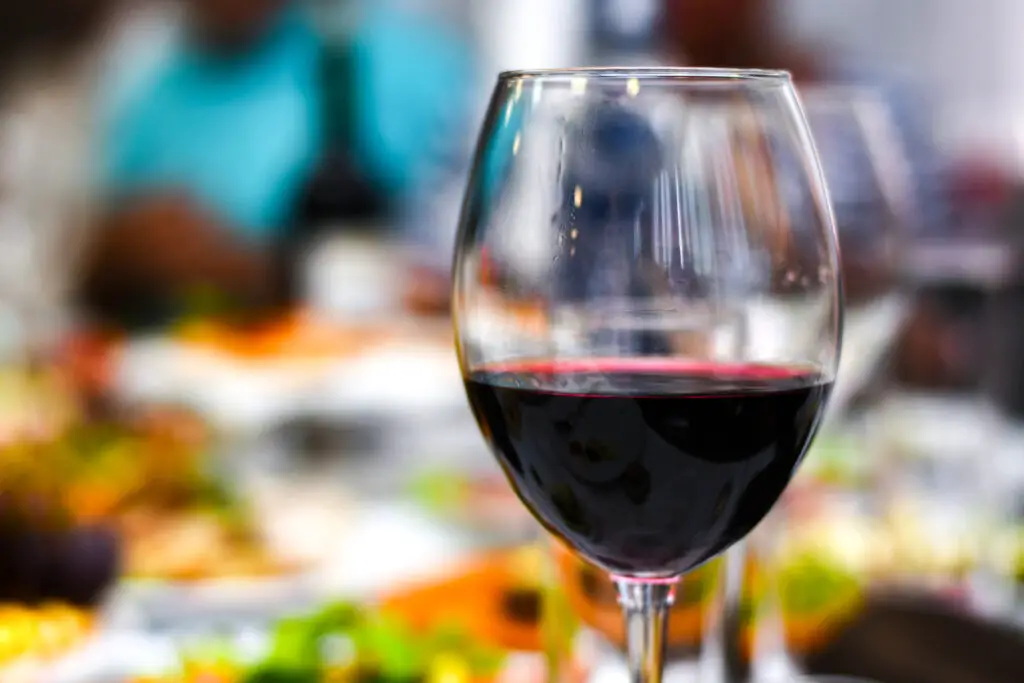 Next let's look at how Carménère vs Malbec taste. There are striking aromas of raspberry sauce, sour cherry, green peppercorn, and a granite-like minerality in most Carménère wines. You should expect to find Carménère wines with truthful fruity red berry aromas at the more accessible end and tart raspberry flavors with a slightly bitter taste close to kale.
Author Note: In terms of body and texture, Carménère has several similarities to Merlot. On the higher end, in favor of sweet berries, refined light tannin, and a bittersweet note, like cocoa powder, the herbaceous, bitter notes depart the scene.
Food Pairings with Carménère
For several reasons, Carménère makes an outstanding daily meal combining wine. Next to foods with acidic sauces, the naturally high acidity makes for exceptional pairing. Moving forward, we want to suggest a perfect match- Cuban-style roast pork Lechon Asado.
The herbaceous peppercorn-like taste of Carménère that often embellishes roasted meats is another excellent advantage (from chicken to beef). Finally, for lighter, less fatty dishes, the lower tannin in Carménère makes it a friendly choice. In brief, for just about anything, this is one to keep around. Nevertheless, make a note of the keen matches to try Carménère with below:
Meat Dishes
All kinds of meat pair well with Carménère. The best dishes you can try with this delicious red are Chicken Mole, Carne Asada, Cuban-style Roast Pork, Roast Dark Meat Turkey, Beef Brisket, Beef Filet Mignon, Lamb w/ Mint, Lamb Stew.
The best part is that you can drink alongside those dishes or put the wine right in there while cooking the sauce; up to you.
Vegetables
Our favorite type of dinner-more veggies. Meat is great but accompany it with veggies, and it is delicious. Besides, if you don't eat meat, it doesn't mean you cannot have Carménère. You can enjoy stuffed peppers with rice or any herbal supplement․
Roasted peppers, capers, sautéed garlic kale, and black-eyed peas can really complete the taste of wine. Think of olives, black beans and white bean or kale soup, pinto bean chili, and lentils. Improvise with the recipes!
Cheese
As you know, reds are not that great with cheese, but here are some Carménère choices. Try Goat Cheese, Mozzarella, Pepper Jack, Farmer's Cheese, Cotija Cheese, Feta Cheese. Those cheeses will bring out the most hidden flavors in Carménère and make your evening even better.
Herbs and Spices
Where can we go without seasoning? Lemon, Green Peppercorn, Red Chili Flake, Oregano, Garlic, Cumin, Coriander, Thyme, Chipotle, Chives, Black Pepper are the additions you want to put into your dishes if you thought of having a Carménère evening.
Cartography of Carménère
The bulk of Carménère comes from within the Chilean Central Valley. Chilean Central Valley is the largest wine-producing region in Chile and includes many areas that grow Carménère:
Maipo Valley
Maipo is the Central Valley Area's northernmost region. This region's quality Carménère is much lighter with lovely floral notes of plum, hibiscus, and rose along with a slight minerality like petrichor/granite.
Cachapoal Valley
With a balance of sweet and sour cherry fruit and a distinctive herbal green peppercorn note, the Cachapoal Valley tends to grow Carménère vines. The wines also have increased acidity, which means that this area could produce age-worthy wines.
Peumo: Peumo wines are consistently ranked among Chile's finest Carménère wines. The region is one of the country's oldest wine-producing regions. Carménère wines in this region have a more full-bodied appearance with sweet red berry aromas and increased alcohol. Carménère Peumo wines are 15 or so years old.
Colchagua Valley
You can find that most of the Carménères on the market today come from the valley of Colchagua. Most wines, along with a distinct green peppercorn herbal note, can exhibit rich raspberry sauce aromas. However, from the coast to the Andes' foothills, the area is very varied in style.
Apalta: There is a sub-region called Apalta within the Colchagua valley, situated in the crosswise range between the Andes and the ocean. Carménère wines contain more formal tannin from this region and are often oaked to show sweet notes of raspberry and very little herbaceousness. As the remainder is protected forest land, the area is home to only six wineries.
Rapel Valley
Rapel Valley-labeled wines are produced from grapes that can come from both the Colchagua and Cachapoal Valleys.
How To Choose a Good Bottle of Carménère Wine?
We have established a few key highlights in a single-vintage tasting of Carménère wines across all regions and quality levels that you may want to note:
Carménère wines with blackberry, black plum, or other flavors of black fruit almost always contain around 10-15% of another type of wine blended (Petit Verdot, Syrah, and Cabernet Sauvignon are the most common). Compared to the 100 percent single-varietal Carménère wines, blended wines consistently outperform in scores.
When buying the more affordable Carménère, make sure to pay attention to vintage. While the top-tier Carménère wines are consistent year after year, the more inexpensive choices can grow a bitter kale-like note on less-than-stellar vintages. The vintages from 2013, 2011, 2010, and 2008 are fantastic.
The valley (Entre Cordilleras) and coastal (Costa) wines tend to have less acidity, richer flavor, and more color than the Andes wines. The Andes' wines appear to be more aromatic with great length in the finish because of the increased acidity. So, if you want a lighter, more sophisticated look, keep your eyes open for higher elevations, wines from the Andes, and vice versa.
Fun Facts About Carménère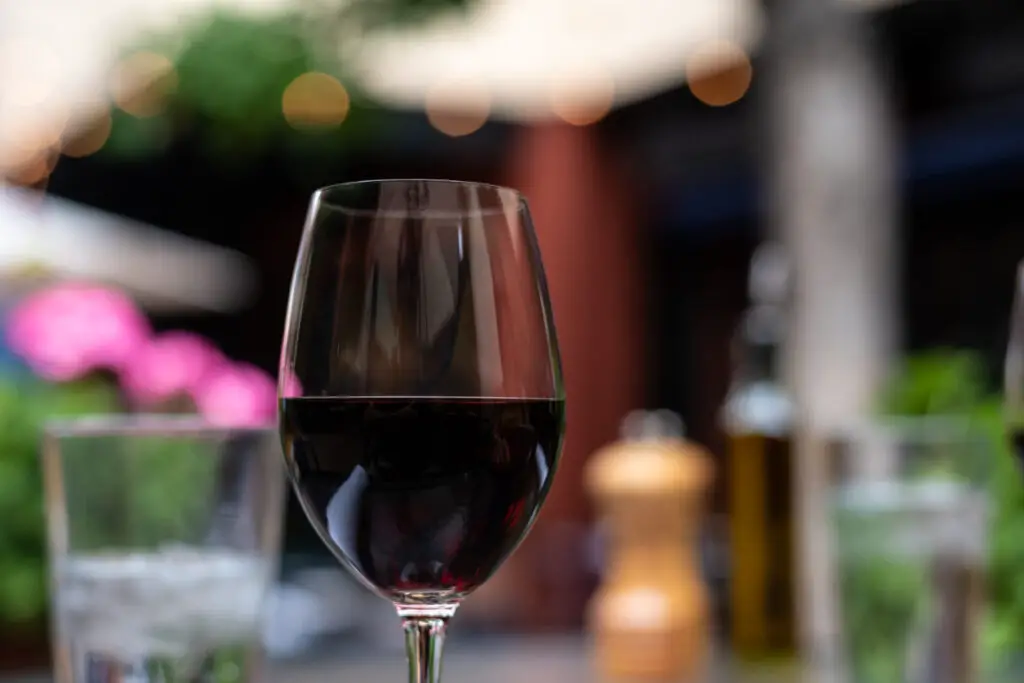 1. Carménère Day is on November 24th
Author Note: In 2018, in Chile, Carménère will mark 20 years as an officially recognized variety. Viña Carmen was the first winery in Chile to release Carménère wine in 1996. Still, it did so under Grande Vidura, as it was not registered with the Ministry of Agriculture or licensed by law until 1998.
2. It Bends
Wines labeled Carménère can contain other grape varieties of up to 15 percent.
In Chile, up to 15 percent of other grape varieties are combined with a single-varietal wine. With Carménère, winemakers have noticed that the wine is made lusher by the addition of Syrah or Petit Verdot!
3. Carménère is Almost Extinct
Carménère is almost extinct in its homeland, but it is Chile's fifth most popular grape. From the Bordeaux region of France, Carménère was born. This was a prevalent blending grape in Bordeaux before the 1870s, found mainly in Graves and the appellations of Pessac-Léognan.
However, almost all the Carménère vines and most of the vineyards in Bordeaux were wiped out because of the phylloxera infestation. However, as vignerons replanted in Bordeaux, they decided to plant the easier-to-grow Cabernet Sauvignon and Merlot, while Carménère was thought to be on the brink of extinction.
It's definitely the harder to find wine between Carménère vs Malbec.
Malbec
At higher prices, Malbec wine offers a great option to Cabernet Sauvignon and Syrah, as it is also praised for its plump, dark fruit flavors and smoky finish.
Malbec is a purple-skinned grape variety that originated in France. The grapes have an inky dark color and robust tannins. It is one of the six grapes used in the blend of red Bordeaux wine. In France, Malbec plantations are now found primarily in Cahors in South West France.
Taste Profile
Malbec has rich, fruity aromas. You will notice black cherry, pomegranate, plum, raspberry, blackberry, blueberry, and raisin. It's a perfect mix of sweet and sour red berries and fruits.
Besides the fruits, you will be pleasantly surprised by cocoa, milk, chocolate, coffee, mocha, molasses, leather, black pepper, regen stem, gravel, and tobacco. Malbec also adopts flavors from oak aging such as vanilla, dill, coconut, chocolate, and mocha.
Food Pairing Ideas With Malbec
Malbec doesn't have a super-long finish (or as aggressive tannins), which ensures that leaner red meats and even lighter cuts such as dark meat turkey or roasted pork can match exceptionally well. Malbec's mixing secret is that it goes well with pepper, sage, smooth mushroom sauces, melted cheese, and blue cheese in particular.
Blue Cheese Burger
A robust, simple Mendoza Malbec bottle tends to have more red fruit notes (versus blackberry flavors) and a slightly lighter body. For this reason, the strength of the combination will intensify blue cheese.
Lamb and Mint
Wines from this San Rafael in Argentina also show more herbaceous consistency, which matches nicely with the mint or other herbs such as rosemary and lavender fragrance. These aromas and flavors mesh beautifully. Try it out for yourself and you will surely agree!
Wild Rice and Mushroom Stuffed Peppers
Cahors is Malbec's place of origin and creates a much lighter Malbec body that often shows slight notes of red pepper-dried leaves. Intriguing!
This French Malbec should be complemented beautifully by a stuffed pepper with ample umami. Make sure to use more fat (oil, butter, nuts, or cream) when creating this recipe so that the dish can endure the tannin. It is all about harmony. Both of these wines, Carménère vs Malbec, will go well with this dish.
French and Argentinian Malbec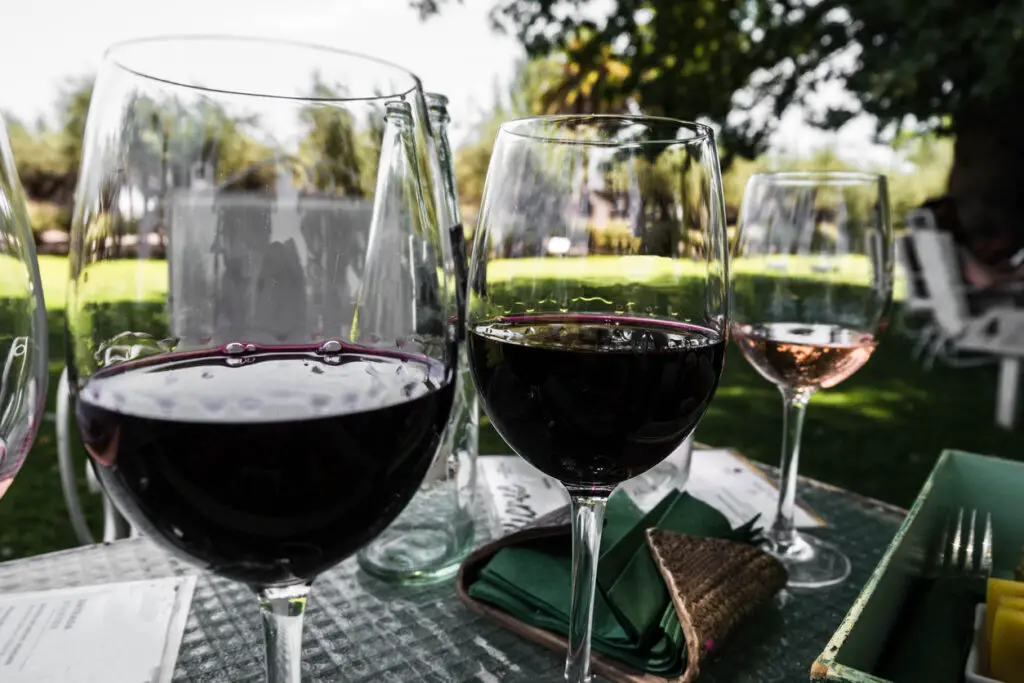 Author Note: France is Malbec's place of origin, but Argentina now hosts almost 70 percent of the world's Malbec vineyards. Your very first taste of Malbec, then, may have come from Mendoza, Argentina. There is a dramatic difference in flavor between the two regions, and this is because Malbec shows how terroir affects wine.
Fruit-forward, plummy with a velvety feel, Argentina Malbec, and Savory, tart, solid tannins, plum, meat, and blackberry is French Malbec.
Thanks to Argentina, this uber-popular varietal is a household name but still has a foothold where it originated in southwest France. Same vine, two wines which are very different. A Malbec from Argentina, with a velvety soft feel, appears to be plummy and fruit-forward. Malbec seems to have more structure in France, firmer tannins, and an inky dark quality of brooding.
Malbec produces its darkest, most tannic manifestation in the limestone soils of the Cahors region, showing blackberry fruit in its youth and tobacco, coffee, and meaty notes as it ages.
This is partly due to the limestone calcium portion, which helps retain acidity for the grape late in the growing season, and contributes to the structure of the glass.In the arid, limestone plateau known as the Causses, which has thin topsoil that causes the roots to dig deep for nutrients, the vines thrive. More concentrated grapes and a deeper wine are similar to hardworking origins.
Parting Thoughts
Latino reds are as hot as the energy they give off. You would have a very passionate evening with either Carménère and Malbec. Both of them are an excellent choice for a dinner night, or you can have them without any food.
No matter which red wine you choose, you will not regret it. We hope you enjoyed this article on Carménère vs Malbec.
To living a full-bodied life,
Wesley