What comes to your mind when you picture a romantic first date? Probably the first thing you are thinking of is candlelit dinner, roses, classical music and of course a glass of wine. Did you know that wine for your first date is associated with romanticism and even helps release oxytocin (the love hormone)? If you or your date prefer white wine, there are plenty of options you can choose from. So what are the best wines for your first date?
Any wine is good for a romantic evening, but there are some which are especially great. The best wines for your first date are Cabernet Sauvignon, Pinot Grigio, Syrah, and Grenache wines. We picked these wines because they are easy to drink for a wide variety of palettes and pair well with many types of food.
Having a glass of wine for a first date is definitely a great idea to impress your partner, but what are some of the best options you can have to make your evening more memorable? Read on for a few more options and just how these fit with your menu!
Cabernet Sauvignon
Cabernet Sauvignon is more complex and layered compared to other red wine types. The dark fruit flavors and savory taste of Cabernet Sauvignon pair excellently with hearty and rich dishes, so whether you are dining at a steakhouse or seafood restaurant, make sure to request the proper meal.
Author Note: The complexity of Cabernet Sauvignon will give your date an impression you may know more than you let on. It's also one of the most common types of wine, and there are usually plenty of good options on the menu. This makes it our top choice for the best wines on your first date
Pinot Grigio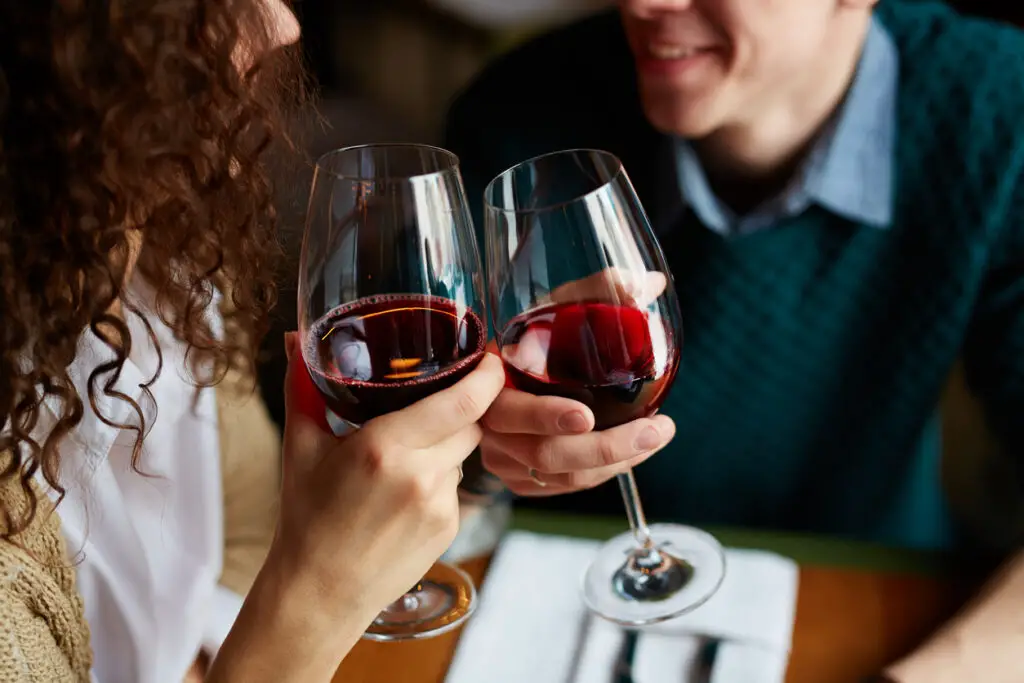 If you are a fan of white wine, Pinot Grigio is probably one of the best options for your first date. Among the family of white wines, Pinot Grigio is considered the most popular. This type of wine is light and crisp with delicate flavors of citrus and honey spices.
One of the main reasons it is among the best options for your first date is because it's a versatile white and goes well with any spicy dish.
Many people love the combination of Pinot Grigio with Thai or Chinese cuisine. So, if you are planning on having your first date at a Chinese or Thai restaurant, Pinot Grigio is one of the most fantastic options! It's our top choice for the best white wines for your first date.
Syrah
This grape is mostly famous for its rich quality and peppery/fruity aromatic taste profile. Mainly grown in France, California, and Australia, Syrah currently has worldwide fame. When tasting Syrah, you will feel a punch of flavors, leaving a spicy, peppery aftertaste.
As this wine type has a full-bodied taste, it pairs great with bold food. As a general rule, Syrah goes well with grilled meats, vegetables, and beef stew. The pairing you would like to avoid include seafood (shrimps, lobsters), delicate and sour dishes. Lovers of this wine type are often associated with being adventurous and confident.
So, if these characteristics suit your personality, Syrah is the one to go with. Impress your date, who will most certainly be mesmerized by your taste in wine. It's another great choice for the best wines for your first date.
Grenache Wine
Grenache is complex enough to keep one interested, but at the same time not at all intimidating and very easy to drink. There are different types of Grenache, including originations from Spain, France, and the US.
Top Tip: If Grenache is grown in Sardinia or Côtes du Rhône, it can have herbal notes like dried oregano and tobacco. While American Grenache is fruit-forward with crispy acidity, the French one is filled with smoky herbal notes of oregano and tobacco.
On the other hand, Spanish Grenache ferments to alcohol levels above 15%, adding both body and spice. As Grenache has a high intensity, it pairs well with Asian cuisine, roasted meat, and vegetables like roast cauliflower. Grenache has an elegant structure; it is a dry and medium-full bodied wine, perfect for a first date to impress your partner.
Other Great Options
Pinot Noir
The light-bodied red color of Pinot Noir, which by the way is Salvator Mundi of reds at the moment, will make your date perfect! Pinot Noir is available everywhere but try to find the California red one, specifically Sonoma. This type tends to be much fuller and fruit-forward compared to its European alternatives.
Pinot Noir pairs well with almost anything, so you don't have to choose your meal according to this wine choice.
Viognier
Mostly loved for its perfumed aromas of honeysuckle, peach, and tangerine, Viognier is a full-bodied white wine that originated from southern France. This type of wine can also be oak-aged to a rich, creamy taste with hints of vanilla.
Viognier is especially for those who like to stop and enjoy the smell of flowers. Depending on the producer and the way the wine was made, the style will range in its intensity from light to bold and creamy. While pairing food with Viognier, you should not forget its delicate floral notes and medium acidity.
It goes perfectly with chicken curry, roasted chicken with vegetables, as well as different types of cheese, including Gruyere and Baked Brie with Apricots. If you want to have a glass of wine for your first date and also try delicious dishes, Viognier is among the best options.
Super Tuscan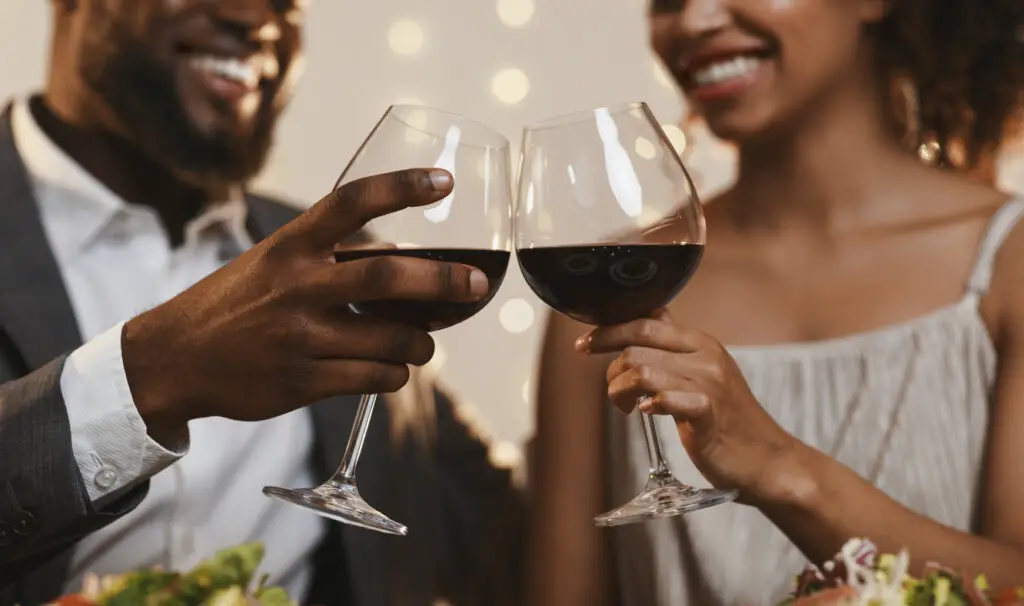 The combination of Italian and French grapes creates a super romantic mood with Super Tuscan wine's deep red color. Some of the blends have distinct notes of lavender and baking spices. Super Tuscan is an excellent choice for having deep and meaningful conversations with your date. You can also try a Tempranillo if you prefer something lighter.
The perfect food pairing for this wine includes herby, spicy meat with mushrooms, or tomato-based pasta dishes like lasagna. No matter which Super Tuscan food pairing you choose, a positive and memorable experience is guaranteed!
Sweet Frizzante
Sparkly, fizzy light and sweet, prosecco or sweet frizzante is a go-to choice if you're thinking about having dessert after your date or initially planning on having a "sweet date," so choose a bottle of Moscato d'Asti or Brachetto D'Acqui.
These sparklers are delightfully sweet and perfectly pair with any dessert. Another added benefit of Sweet Frizzante is its low alcohol concentration, so you have a much smaller risk of getting tipsy on your first date. If you prefer having your first date enjoying delicious desserts, make sure you choose the right prosecco with it.
Carménère
With its complex peppery-minty notes, Carménère is a lot more than a usual fruit bomb of reds. Having Carmenere on your first date is a great way to signal you are not afraid of complexity in real life. This type of wine matches perfectly with smoked, grilled, or roasted meets, including chicken, pork, veal, beef, and lamb.
It also goes well with spicy dishes and stiff, strong cheese. One of the best Carménère wines you can try out is Herencia by Santa Carolina, which is 100% Carménère wine from Peumo in Cachapoal Valley.
French Rosé
Despite the color, French Rosé is considered a manly and sophisticated wine. So which are these gentlemen-friendly wines, and which ones are the most suitable for your date night? Let's see. If you and your date are into fruity tastes, Sangiovese Rosé is the best option.
Author Note: Many wine lovers admire the notes of strawberries, green melon, roses, and yellow peach complemented by mild acidity in Sangiovese. Served cold, it goes perfectly with Moroccan couscous and chicken. If you prefer a more savory style wine, Tempranillo Rosé is perfect for date night.
With this style of Rosé wine, you can expect a pale pink hue with notes of green peppercorn, strawberry, and watermelon. Tempranillo Rosé matches well with Greek cuisine as well as Andalusian Gazpacho soup, beef salad, or massale pork.
Zinfandel
If you want to have a glass of wine for your first date and want it to have a pleasing sweet taste and low alcohol levels, Zinfandel is one of the best options! The primary flavors of Zinfandel are jam, cherry, plum, cranberry, boysenberry, and licorice.
When you first taste this wine, it often explodes with candied fruit flavors followed by a tobacco-like spicy finish. Zinfandel is lighter in color than most other red wines. Since it has a sweet flavor, it is best paired with spiced barbeque dishes and curry.
A pro tip for the ones who prefer this wine is to pick out the spices you taste in Zinfandel and add them to your sauce. A Japanese dish called Pork tonkatsu is an excellent food pairing with Zinfandel. The sweet-savory taste of this dish, along with its herbs, make it a perfect wine pairing.
If you prefer having cheese as a main pairing with your wine, try to pick richly flavored ones like cow's and sheep's milk cheeses Manchego or Trentingan.
Impress Your Date by Sabering a Wine Bottle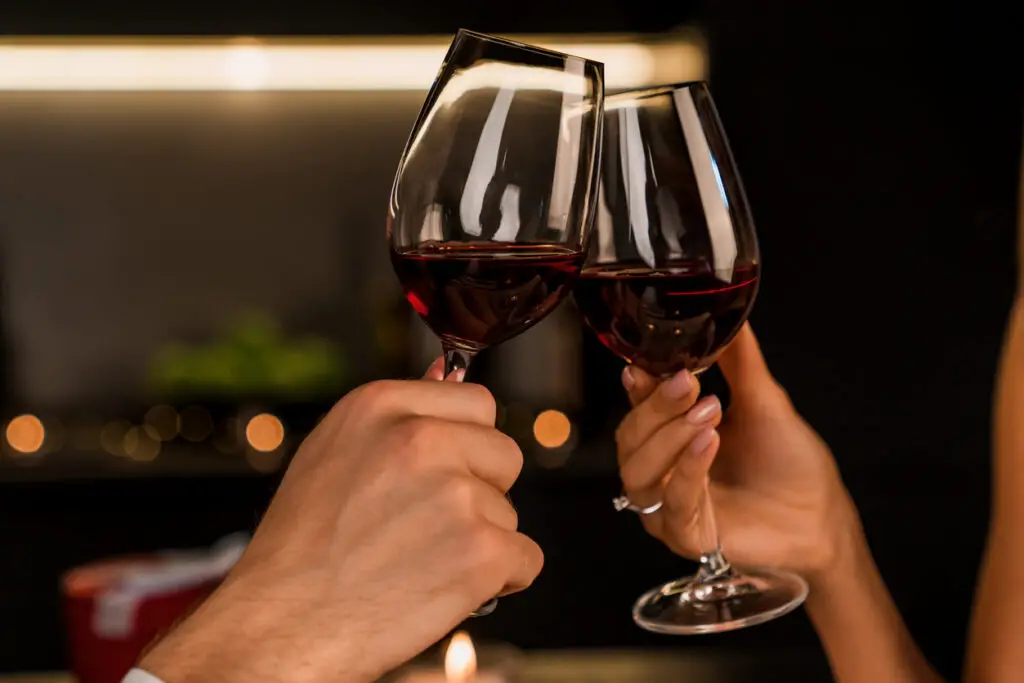 Who said you have to go to a fancy restaurant to have a glass of wine? You can have a glass of wine for your first date at your house too. One impressive thing you can do is to saber a wine bottle. While you may think it sounds dangerous, you will have nothing to worry about if you follow the right steps.
It can also be a lot of fun to show your date how to do it! You have to admit this is a great trick to surprise your date. It will surely be an exciting topic to discuss with your significant other.
Wrapping Up
Have you already come up with romantic date night ideas? Having wine for your first date is sexier and more impressive than a coffee date and less intimidating compared to having a full course meal date. I think wine may actually be your elixir of love.
With a great variety of wines, make sure to choose the right one to fit your date. Whether it is a rich red or a light white, ultimately, the choice depends on what you pick as your main dish. The same way champagne is associated with celebration, red wine links to romance.
Regardless if it's Cabernet Sauvignon or Merlot, white or red wine is a go-to choice for setting a perfect romantic mood on your first date! We hope you found this article on picking out the best wines for your first date useful and informative.
To living a full-bodied life,
Wesley